Flight to Bruges
Bruges has two airports that serve as a destination for flights from US cities. They are Ostend–Bruges International Airport and Brussels Airport. While they are both international flight destinations, Brussels Airport is the terminal where almost all US flights arrive. Ostend–Bruges International Airport is about 19 miles (32 km) from Bruges city center.
On the other hand, Brussels is a tad further at a distance of nearly 66 miles (107 km). When flying to Brussels Airport from the US, your departure terminal can be in any major city such as Washington DC, Chicago, New York, Orlando, Los Angeles, and Atlanta. If you are looking to save time, you can take flights to Bruges via direct trips. However, there are cheaper Bruges flight deals that include a layover or two. The quicker trips take about 7h 05min, while longer ones from the West Coast can require travel times of approximately 33h 05min.
United Airlines to Bruges
United Airlines is a US-based air carrier operating out of Chicago. The flight company's operations trace to the 1920s while it was under a different name. Presently, United Airlines has the pride of being among the three largest air carriers globally. When serving passengers who want to travel by flight to Bruges, United Airlines provides direct trips from cities like Washington DC and New York.
However, the airline allows one-stop Bruges flight deals with layovers in New York or Washington DC if departures are in other cities. Most international Airports in the US allow United Airlines to exit via their runways. Thus, departure stations for this carrier list as Orlando International Airport, JFK International Airport, Ronald Reagan International Airport, Los Angeles International Airport, and Seattle-Tacoma International Airport. On arrival, the airline stops at Brussels Airport.
KLM Airlines to Bruges
Several Daily departures, especially from New York, Atlanta, and Washington DC, are via KLM Airlines. The carrier is Holland-based and has been providing air transit means in Europe and the world since 1919. You may lack a direct flight to Bruges from the US enable by KLM. Usually, the airline includes a stop in Amsterdam. Also, after flying using a different airline and encountering a layover in Amsterdam Airport Schiphol, KLM will be the carrier that completes your trip to Bruges by flight.
In Newark International Airport, Ronald Reagan International Airport, and Hartsfield-Jackson Atlanta International Airport, KLM may find a departure point. Of course, the airline also departs from Amsterdam Airport Schiphol if there was a stopover in the aviation facility. Just like United Airlines, the arrival terminal for KLM Airlines is usually Brussels Airport.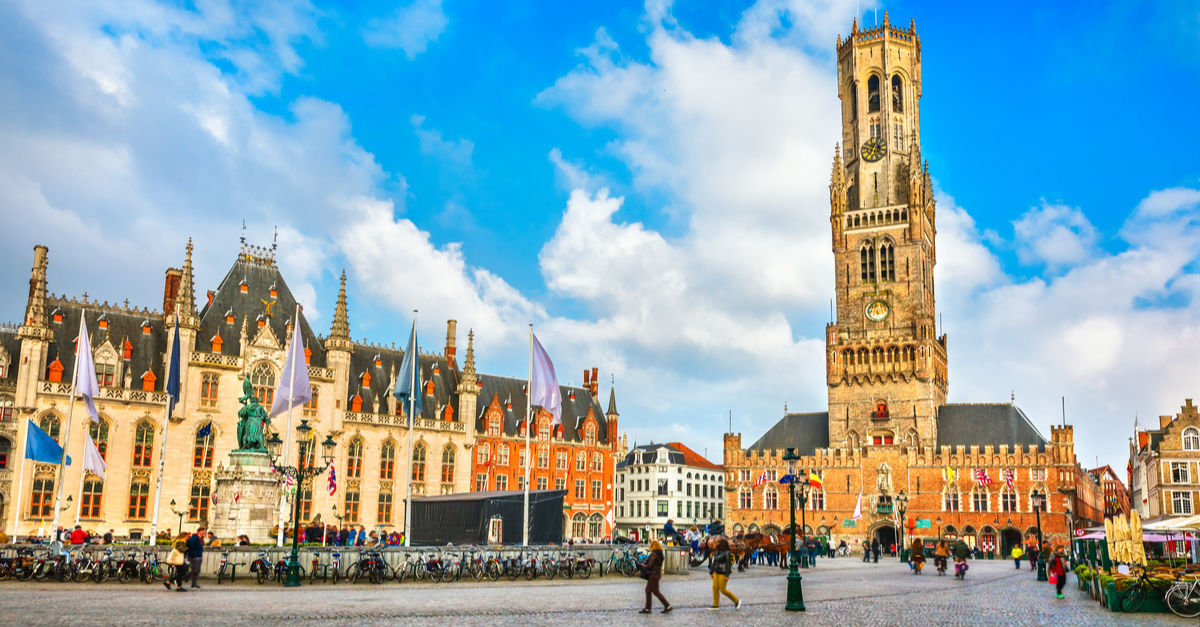 Bruges Square. Source : Shutterstock
Main flight stations in Bruges
A flight to Bruges originating from major US cities will stop at Brussels Airport. The international flight station sits roughly 66 miles (107 km) from the city center at Bruges. When bridging the relatively long stretch, your options include boarding a train. Note that the locomotive doesn't get you central Bruges until after approximately 1h 32min. The route receives no buses, and while taxis are available, they cost much. Thus, if you don't wish to take the train, you may opt for using a car rental service. Brussels has many a facility including sleeping halls on the fourth floor. There is also internet access.
If you would like a snack or light course, there are kiosks, shops, and restaurants available onsite. Ostend–Bruges International Airport is an airport closer to Bruges but usually receives no flights from the US. You can find it nearly 19 miles (32 km) from central Bruges. If you end up in this terminal, you will have a chance to use some of its services, including free Wi-Fi, a restaurant, and children-designated spaces. When getting to Bruges city center, you can buy a ticket for the local bus Line 6, which arrives in downtown Bruges in about 42min. Once in the city center, you can explore the various attractions the city offers.
Onboard facilities Bruges
The services available aboard United Airlines start with fresh cabin air that refreshes at 2min to 3min intervals. You can then relax in cozy chairs, which recline to keep you in a relaxed position. As your flight progresses, you can switch on the backseat screen and select your movie choice. However, it is possible to use personal devices like laptops and tablets on the plane. If you need to access the internet, be prepared to meet additional expenses. However, if your surfing is through the official United Airlines website, you don't have to pay anything. With your charger, you can simply plug in your phone or laptop. One of the commendable perks on United Airlines is the three-course meal.
You can order the delicacies for free. What's more, they include a complimentary drink. It is worth noting that United Airlines doesn't restrict pets. As recommended by the airline, pet owners should pick a window seat. There are crew members that assist disabled passengers in getting in, out, and around the plane. However, to get the aid, you need to indicate so during booking. For relaxed flights to Bruges, KLM supplies all passengers with an optional blanket and pillow. The seats on the plane are comfortable even when trips take hours to complete.
While restfully seated, you can use your phone or laptop to browse using the in-flight Wi-Fi provided at no cost. Also, electric outlets are at your service. For additional entertainment, you can sample the movies presented on the portal placed in front of seats. You may need a quick bite before your plane touches down. In such a case, check the KLM menu and order one of the airline's meals at no cost.
For satisfactory service, each course will include a complimentary drink from a fairly comprehensive collection. KLM also commits to providing favorable travel experiences for pet owners and travelers with reduced mobility. Small pets in carriage can travel with their owners. Besides maintaining staff to assist disabled passengers in getting on the plane, KLM has special seats onboard for the disabled.
Flight tickets to Bruges: Useful to know
After buying the tickets that give you access to the flights to Bruges, most airlines don't need you to print them. For example, both KLM and United Airlines fully accept mobile tickets. However, situations like the unavailability of a boarding pass demand printed check-in confirmations. If you need your tickets kept in one place, which is vital for organized traveling, be sure to book flight deals through Omio. On Omio, buying flight tickets to Bruges is fast and easy, and it's possible to store all your tickets in your Omio account.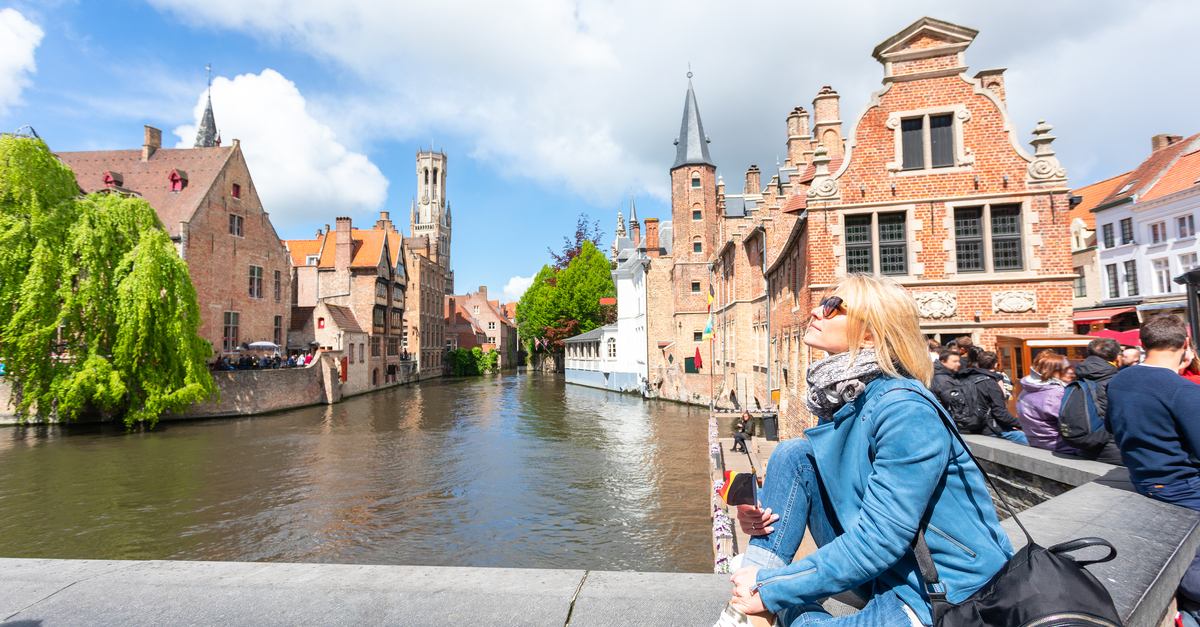 Bruges River. Source : Shutterstock
To Bruges by flight – travel tips
One of the outstanding features of Bruges is the number of castles based in the city. You can spend your entire tour of Bruges visiting the nearly fifty castles present in the relatively small city. To have a taste of what these ancient constructions offer, stay in Le Château de Strainchamps. Here, guests can delight in the classic furniture and modern amenities like Wi-Fi. When navigating Bruges, you may find it more fun to trek through the town. If you aren't into walking, you can cycle around as cycling paths are available throughout Bruges. However, when traveling out of the city, usually to the train station, you may take a bus.
Some of the holiest basilicas as well as among the most tranquil outdoors are in Bruges. In the Basilica of the Holy Blood, you'll find sacred spots where a messiah's blood is said to be preserved. For art admirers, the Museum-Gallery Xpo: Salvador Dalí, where most of Dali's works remain well-kept, is a paradise. Of course, you mustn't leave Bruges without the hand-crafted laces for a souvenir. Be sure to take a walk down Wollestraat and observe various types of laces in the making. When finishing up on your Bruges tour, spend some time in the serene, daffodil-decorated outdoors of The Ten Wijngaerde Beguinage. You will find the peace contained in the eight-centuries–old construction worth exploring.