Bus from Bologna to Matera
The journey on buses from Bologna to Matera will cover a distance traveling south through Italy of around 375 miles (605 km). Your trip can take anywhere from 9h up to about 9h 40min depending on the bus you choose to travel upon. Every day there is one bus that departs in the middle of the day and then there are two overnight buses offered on this route.
Bologna to Matera Bus Time: Daily Departures
Every day of the week you will find three departures on buses to Matera from Bologna. The first of these departures occurs just before noontime while the second one will occur at around 10:20 p.m. and the final one of the day will depart just before midnight. The bus that leaves in the middle of the day and the one that leaves just before midnight are both direct routes with the bus departing at around 10:20 p.m. will require a transfer to another bus at Cerignola but the transfer time on this trip is quite short and will not add substantially to your trip time.
How long is the journey by bus from Bologna to Matera?
The journey on Bologna to Matera buses is a quite long one that covers around 375 miles (605 km). That is part of the reason the two of the buses on this route or overnight buses to help save time on traffic delays between the two cities. The trip time on this route is generally going to be just a little over 9h but since this is a route that covers such a long distance traffic conditions along the way can lessen or increase that time.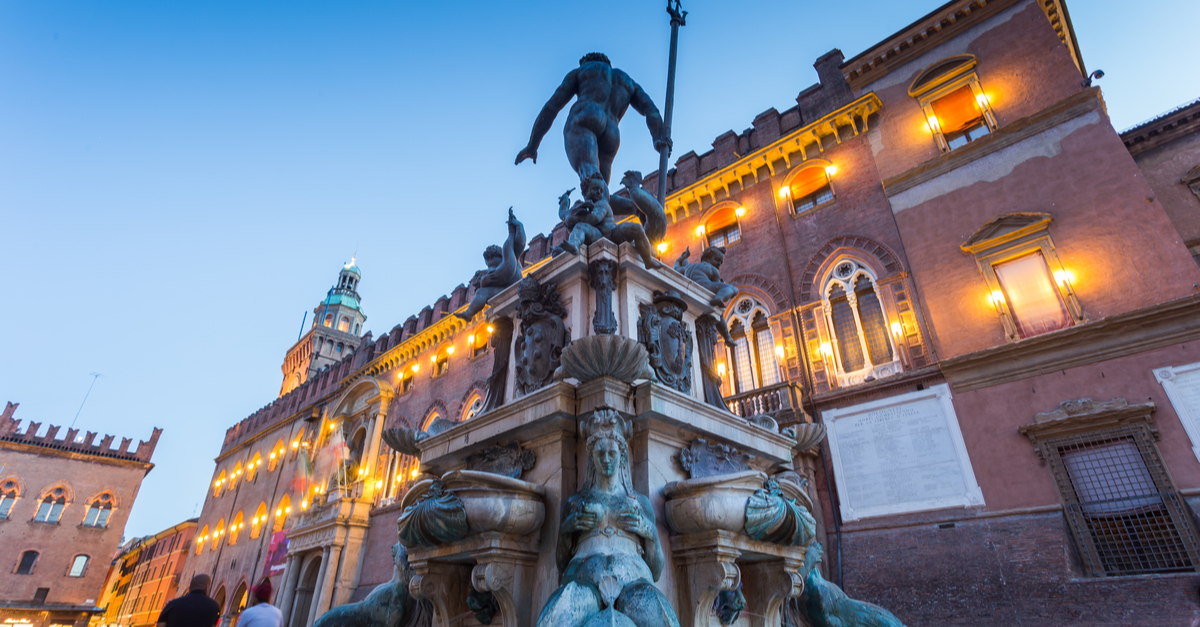 Bologna Neptune Night. Source: Shutterstock
What is/are the departure and arrival stations for bus from Bologna to Matera?
Departure bus station: Autostazione Bologna. A quite nice feature for those travelers making the trip on Bologna to Matera buses is that the station in Bologna has a location that is right near the center of the city. You can take bus routes number 27, 41, or 50 to make the trip from the center of the city to the bus station in around 4min to make the journey of about 0.7 miles (1.2 km). Once you arrive at the station you will find that it offers amenities for travelers such as public restrooms, a good amount of choices for both food and beverages, as well as an information board that will give you all the information you need about your upcoming bus from Bologna to Matera.
Arrival bus station: Stazione Matera. This is a simple station in a small town in Italy but that does not mean you won't find some great amenities here. In fact, just outside of the entrance to the station you'll find a nice coffee bar, as well as a fast_food option, and a supermarket not far from the station. There are no public transportation options to get you from the station to the center of town since the station sits only 0.25 miles (0.4 km) from the center of the city. You could walk that distance in around 6min or you could also drive by car in around 1min.
Which bus companies travel from Bologna to Matera?
The only company offering service on Bologna to Matera buses is Marinobus. They are a large and well_known bus provider in Italy and two of the buses they offer on this route are direct buses. The final bus does require a transfer but with a transfer time of around 15min, the trip on this bus is still rather quick. In fact, this route offers the quickest trip between the two city that is the due to the fact that you will not encounter any rush_hour traffic at either end of your journey.
Marinobus buses from Bologna to Matera
The bus offerings of this company includes three daily departures. The one bus they offer in the middle of the day is the only daytime bus that you can choose while the other two are overnight buses that depart Bologna at around 10:20 p.m. or around 11:50 p.m. Two of the buses are direct routes and while one does require a transfer the transfer time of only around 15min does not add substantially to the trip time.
Traveling by bus is a sustainable journey
As you travel throughout Italy you may start to wonder about the environmental footprint that you are leaving behind during your travels. That is what makes traveling by bus such a great alternative. When you place several passengers into one bus and they all make a journey such as this one in one vehicle, the environmental impact of each individual traveler is reduced significantly.
Bus Bologna to Matera: Services on Board
While you will only find one class of seating on all of these Bologna to Matera buses, do not be dissuaded by that because the seating you will experience is quite luxurious and reclines nicely to make the long journey such as this a pleasure. Once you are on board the bus you will find amenities such as free Wi_Fi plus you can bring a carry_on bag aboard the bus free of charge. If you have more luggage than that you can place two other bags below the bus free of charge and you can even bring it bike or a pet with you on the journey for free. For passengers with disabilities or limited mobility Marinobus strives to make their travel experience the same as any other of the passengers on a bus. If for any reason these passengers require extra assistance in their travels Marinobus will allow a companion to travel with them free of charge.
How to find cheap bus tickets from Bologna to Matera?
When you are looking for Bologna to Matera buses you may want to try to find the most economical option available. A really fine way to do that is to plan on a travel date and then book your ticket well in advance of that date. This will give you the opportunity to find discounts and specials offered on a route more frequently than if you book at the last minute. Another good tip is to be flexible in the days and the times that you travel. On a route such as this, you'll often find that there are days and times that are in higher demand and thus find higher fares on those routes. If time is not an issue try to stick to routes that require transfers and may take longer as quite often these trips come with a lower price tag.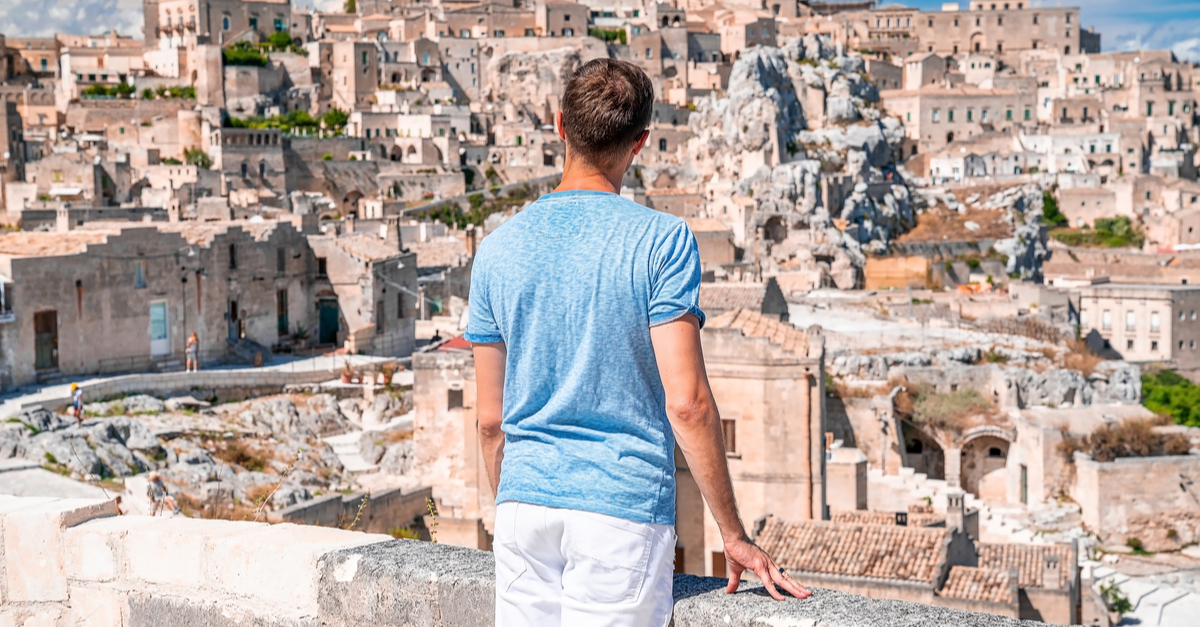 Matera Man Tourist. Source: Shutterstock
To Matera by bus—travel tips
This hilltop town in the southern part of Italy is widely regarded as one of the capitals of culture in Europe. Not so many years ago the small town was regarded as "the shame of Italy." Since that time there has been an architectural, economic, and cultural evolution that make this a town that you must experience. This city is often regarded as one of the most photogenic in all of Italy and this is a place where you can easily spend days on end wandering through the narrow streets marveling at all of the beautiful architecture and artwork you will find in the town. This town offers a vibrant restaurant scene filled with dishes that are typical of this part of Italy. Beyond that, this is a city where you can spend an afternoon sitting at a table at a café sipping on a glass of wine or having an espresso. Some of the places that you will most assuredly want to visit when you are in Matera include:
Sassi di Matera
Casa Noha
Palombaro lungo
Prco Regionale della Murgia
Crypt of Original Sin
Church of Saint Mayy of Idris
Casa Grotta nei Sassi
Eventually, you can check out the Omio Magazine to pick up tips on how to travel more efficiently.