Bus from Bologna to Salerno
When you make the trip onbuses from Bologna to Salerno you will be traveling around 316 miles (508 km) and the trip is generally going to take around 8h 25min as you travel from north to south through the heart of Italy.
Bologna to Salerno Bus Time: Daily Departures
Every day of the week you're going to find around two buses to Salerno from Bologna every day. There is one morning departure and then one very late night departure that serves as an overnight bus on this route. The trip that occurs during the daytime hours is generally going to take about 1h longer due to traffic that you will find during the daytime as opposed to the overnight bus.
How long is the journey by bus from Bologna to Salerno?
For travelers making the trip on Bologna to Salerno buses, you will travel right through the center of Italy and will cover a distance of about 316 miles (508 km). Of the two buses offered on this route, one makes the trip in just a little less than 8h while the other one will make the journey in a little less than 9h. There is one bus that departs in the morning and then another that's a late_night bus that travels overnight.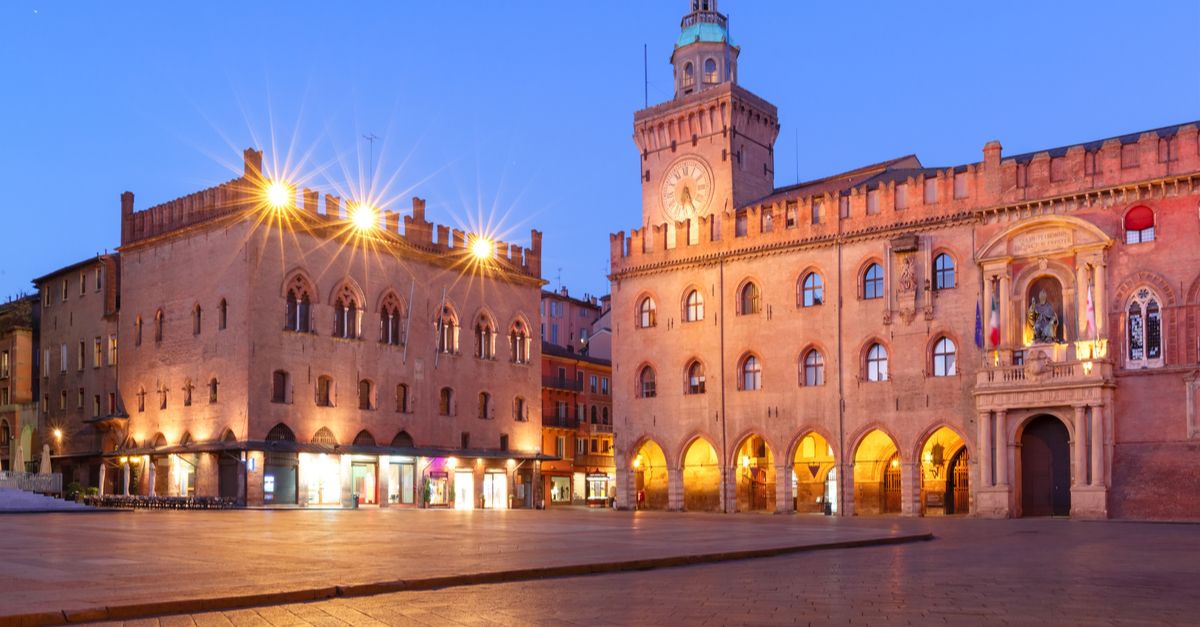 Bologna Night.. Source: Shutterstock
What is/are the departure and arrival stations for bus from Bologna to Salerno?
Departure bus station: Autostazione Bologna. A quite nice feature for people making the trip on buses from Bologna to Salerno is that this bus station in Bologna sits right near the center of the city. You can take bus routes number 50, 27, or 41 and get to the station in around 4min to travel the roughly 0.7 miles (1.2 km). Once you get to the station you will see that it has public restrooms, food and beverage choices, plus a large information board.
Arrival bus station: Salerno, Piazza Montpellier/ Viale Antonio Gramsci. This station is just to the east of the center of town and sits right next to the Piazza Montpellier. For those that will need to get from the station to the center of Salerno after your journey the distance to the city is around 1 mile (1.6 km) and local bus routes number two, 22, and 23 will get you to the city in around 12min. This is a rather simple bus station that only offers limited amenities such as seating for passengers but there are quite a few food and beverage options right around the station.
Arrival bus station: Salerno, Piazza della Concordia. This is a bus station that has a location right along the coast and sits adjacent to the harbor in the town of Salerno. This station also sits right next to the train station in the city. You will find the station is 0.8 miles (1.3 km) from the center of town to the north and while public transportation is not available to make this trip you can drive in around 6min. The station itself is quite simple and only offers things such as restrooms and places to wait for buses but because the location is so close to a bustling part of town there are plenty of food and beverage choice is just outside of the station.
Which bus companies travel from Bologna to Salerno?
There are two well_known bus companies that offer Bologna to Salerno buses and they are Itabus and Marinobus. Itabus offers the bus the travels during the day and the parts bologna at around 9:05 a.m. and has a trip time of just under 9h. Marinobus has an overnight bus that departs just before midnight and has a trip time of just a little less than 8h.
Itabus buses from Bologna to Salerno
This company offers the only daytime travel route on buses from Bologna to Salerno and the departure occurs just a little after 9:00 a.m. every day. The trip time on this route is just a little less than 9h and the bus in question is a direct route with no transfers required along the way.
Marinobus buses from Bologna to Salerno
The Bologna to Salerno bus offered by this company will depart Bologna just before midnight before arriving in Salerno's at around 7:45 a.m. the next day. This is a direct bus between the two cities meaning travelers will not need to transfer to another bus during the route. Of the two buses offered on this route, this one makes the trip in around 1h less than the daytime bus.
Traveling by bus is a sustainable journey
For travelers that have concerns about the environmental impact of traveling through Italy, you will be happy to know that traveling by bus is one of the most environmentally friendly ways you can make trips such as this one. Both of the companies that offer buses on this route have very detailed environmental policies that help them minimize their environmental impact and in fact, Itabus has a great reputation as having one of those fuel_efficient bus flights in the country.
Bus Bologna to Salerno: Services on Board
Each of the providers on this route will offer one class of seating on their buses yet on both buses travelers will find very comfortable seats that recline to make long journeys like this much more pleasurable. When you travel on either of these buses you will find amenities such as restrooms, free Wi_Fi, plus you can bring a carry_on bag on the bus free of charge. You may also store two additional bags underneath the bus free of charge during your journey. On Marinobus you can also bring a collapsible bicycle for free plus if you have a small pet in a pet container they can ride in the bus with you for free. You can do the same things Itabus although there are times when these items will require you to pay an additional fee. Both providers go out of their way to make sure that their passengers with limited mobility or disabilities receive the same experience as all of the other travelers. For travelers in a wheelchair, there is space for the bus for them to travel in their wheelchair and if they need additional assistance a companion can travel with them free of charge.
How to find cheap bus tickets from Bologna to Salerno?
When you were looking to save money on your bus travel this route highlights a great way to do just that. When you look at the two choices offered you will see the daytime bus that takes longer to make the journey costs far less than the overnight bus that makes the journey in about 1h less. If you have some flexibility in the day that you travel try looking around several days and see if there's one day that offers lower fares due to less demand on that day. One final tip for saving money is to book well in advance of your travel date. If there are specials or discounts offered by providers, this is the best chance to find them.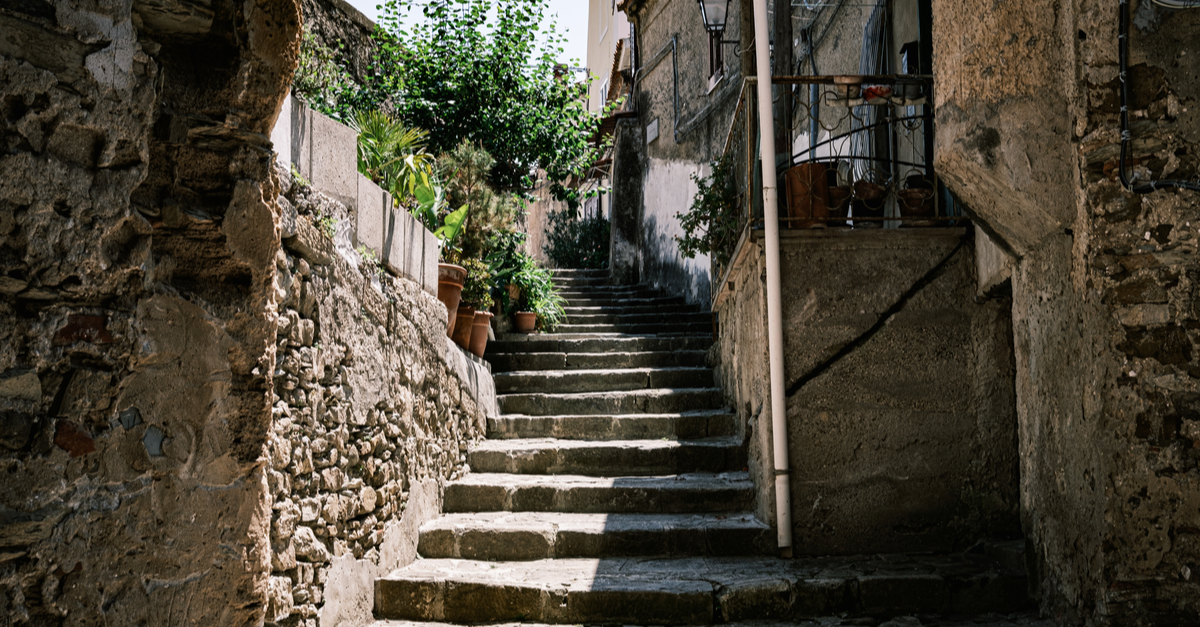 Salerno Alleyway Stairs. Source: Shutterstock
To Salerno by bus—travel tips
Salerno has a location right along the stunning and beautiful Amalfi coast. This is a city that not only offers gorgeous and breathtaking surroundings, it is also a city that has a rich history as well as several traditions and legends that you will discover as you explore the streets of this town. For most parts of the year, you will find it a quite mild climate and the cuisine that you can sample here is on par with any stylish and chic city in Italy. Like a lot of cities in Italy Salerno is a melding of both past and present that combines beautiful historic architecture with parts of the city that offer a modern and stylish look. This is also a city well_known for maintaining beauty and wellness and one of the highlights of that in this city are all of the thermal centers you will find here. Some spots to hit while you are here include:
Giardano della Minerva
Castello di Arechi
Luci d' Artisita
Stazione Marittima di Salerno
Museo Diocesano San Matteo
Provincial Archaeological
Cattedrale di Santa Maria degli Angeli, San Matteo e San Gregorio VII