Buses from Bologna to Turin
The distance from Bologna to Turin is 183 miles (295 km). The fastest buses plying this route take around 3h 50min. If you board the slower buses, it will take you 5h 10min to travel from Bologna to Turin. Every day including weekends, more than 15 buses depart Bologna headed to Turin. On average, the buses make over 100 trips from Bologna to Turin every week.
Bologna to Turin Bus Time: Daily Departures
Every day, more than 20 buses leave Bologna for Turin. The first bus leaves Bologna for Turin at around 3:00 a.m. Departure times from Bologna may vary depending on the time of day. During the peak travel hours, two or more buses leave Bologna for Turin within the same hour. The last bus of the day departs at 8:35 p.m. and arrives in Turin the following day at 1:30 a.m.
How long is the journey by bus from Bologna to Turin?
Travel times from Bologna to Turin may vary depending on various factors. On average, the buses can take between 2h 40min to 5h 10min to cover the 183_mile (295 km) journey from Bologna to Turin. The fastest buses can get you to Turin in under 3h. Usually, travel times are also affected by the transfer stops the bus makes during the trip. Some buses can make an hour_long transfer stop at Milan before heading to Turin.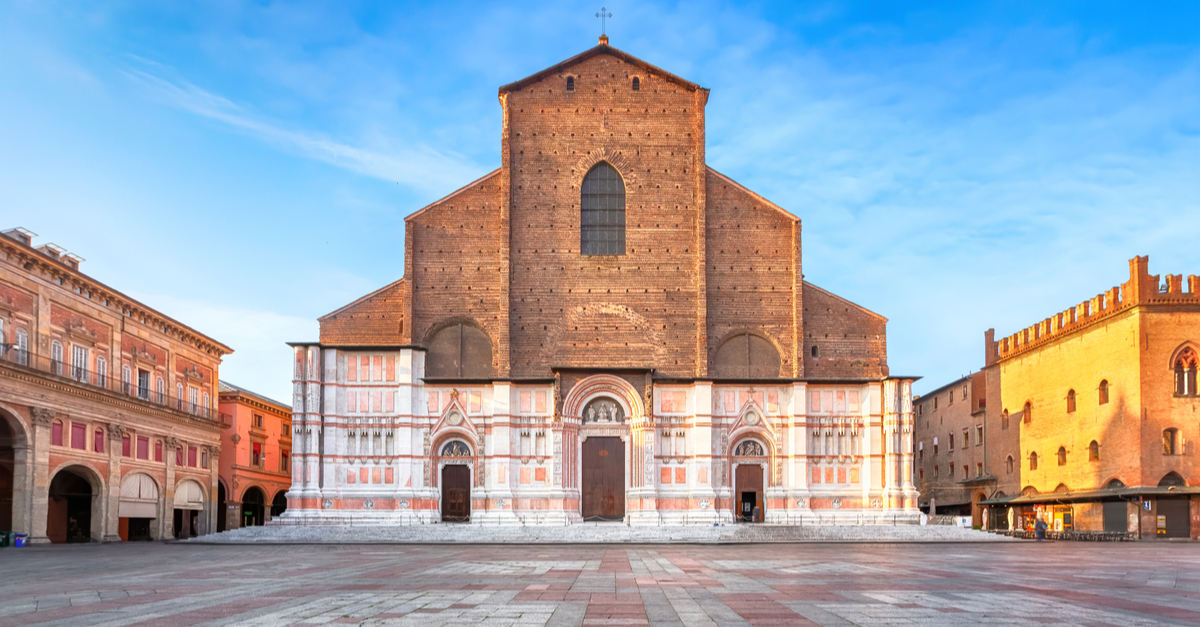 Bologna Piazza Maggiore. Source: Shutterstock
What are the departure and arrival stations for bus from Bologna to Turin?
Departure bus stations: Passengers traveling to Turin from Bologna can board the buses from either Bologna Autostazione. Bologna Autostazione is located next to the Bologna Centrale train station and is Bologna's main bus station. The Autostazione is about a 25min walk from Bologna's main square. Bologna Autostazione is very busy as it serves as the departure and arrival point for buses traveling from other cities within Italy and Europe. The bus station has several ticket booking booths for both local and international bus routes. There are plenty of luggage storage services within Bologna's main bus station.
Arrival bus stations: Buses end their trips at either the Corso Vittorio Emanuele II (Terminal Bus), Stazione Lingotto, or Stazione Torino Stura. The Stazione Lingotto metro station is 3.4 miles (5.5 km) away from the city center and is located next to the Torino Oval Lingotto indoor stadium. The Stazione Lingotto metro station is adjacent to the Torino Lingotto train station. It is one of the busiest metro stations as it is near Turin's major railway station.
Which bus companies travel from Bologna to Turin?
FlixBus, ItaBus, MarinoBus, and BlaBlaCar are the main bus companies that operate buses plying the Bologna_Turin route. Flixbus is a German_owned bus company, and it is one of the major bus companies in Italy, with services on both local and international routes within Europe. Most buses traveling from Bologna to Turin are owned by FlixBus and ItaBus. FlixBus prides itself in providing some of the fastest yet cheapest bus rides from Bologna to Turin.
FlixBus buses from Bologna to Turin
FlixBus buses serve both local and international routes. The fastest FlixBus buses take around 3h 55min to travel from Bologna to Turin, while the slower moving ones can take up to 6 h. FlixBus operates around half of the buses traveling from Bologna to Turin daily. It also operates night buses from Bologna to Turin. The last FlixBus bus leaves Bologna at 10:45 p.m.
ItaBus buses from Bologna to Turin
ItaBus buses are also common along the Bologan_Turin route. Their fleet of buses consists of both single_decker and double_decker buses for long_distance traveling. Around 6 ItaBus buses depart from Bologna headed for Turin. Highspeed Itabus buses from Bologna take 4 h 40 min to get to Turin.
FlixBus Bus Bologna to Turin: Services on Board
FlixBus allows only luggage weighing less than 65 lbs. (30 kg) on board. However, you can bring in more luggage at an extra fee. Some FlixBus buses are fitted with bike carriers. You will need to declare it when buying your ticket so that you can book a bus equipped with a bike carrier. However, pets are not allowed on long_distance bus rides. Passengers can also make seat reservations, though additional fees may apply. You can reserve an extra seat, panorama seats for better views, or an aisle or window seat. If you're traveling with friends or family, you can also reserve a table seat where you can play your favorite card or board games. FlixBus also allows kids between the ages of 10 and 16 to travel alone once their legal guardian signs a consent form during ticket booking. The buses also have easy access features for passengers with disabilities. In addition, the buses also have wheelchair support. The buses are fitted with wide reclinable seats for extra comfort. Passengers also get access to free high_speed Wi_Fi while during the trip.
Itabus Bus Bologna to Turin: Services on Board
Itabus buses have premium, table, and panoramic seats, all of which offer passengers extra comfort and better views. In addition, the buses also have vending machines where passengers can purchase their favorite snacks. Itabus buses have dedicated seats for wheelchair users. Passengers boarding Itabus buses travel in second_class coaches which offer free Wi_Fi, power plugs to keep your devices charged, and extra legroom. The coaches also have food order services available. Passengers are only allowed to carry one handbag and one hold luggage. If you're planning in carrying extra luggage you will need to pay for extra luggage space. You will also be needed to pay for special luggage space if you're carrying bigger items such as a bike or surfboard.
Traveling by bus is a sustainable journey
Both Itabus and Flixbus are focused on providing sustainable transport services. A good percentage of the buses are fitted with modern diesel engines that offer the best performance while low emission rates. Also, the buses run on biofuels designed to reduce the emission of green gases. Nowadays, most metro stations have also digitized their operations to limit the use of paper, while also encouraging better waste collection and management practices.
How to find cheap bus tickets from Bologna to Turin
Buses offer a low_cost travel option compared to cars and airplanes. However, you can still save more by planning your trips to take advantage of cheap ticket prices. Also, make sure you purchase your return tickets at the same time to be eligible for lower rates. Make a point of visiting some of the bus company websites for offers, especially during the holiday season. In addition, adjust your travel dates, ticket prices cost less during the low season when people are not traveling a lot.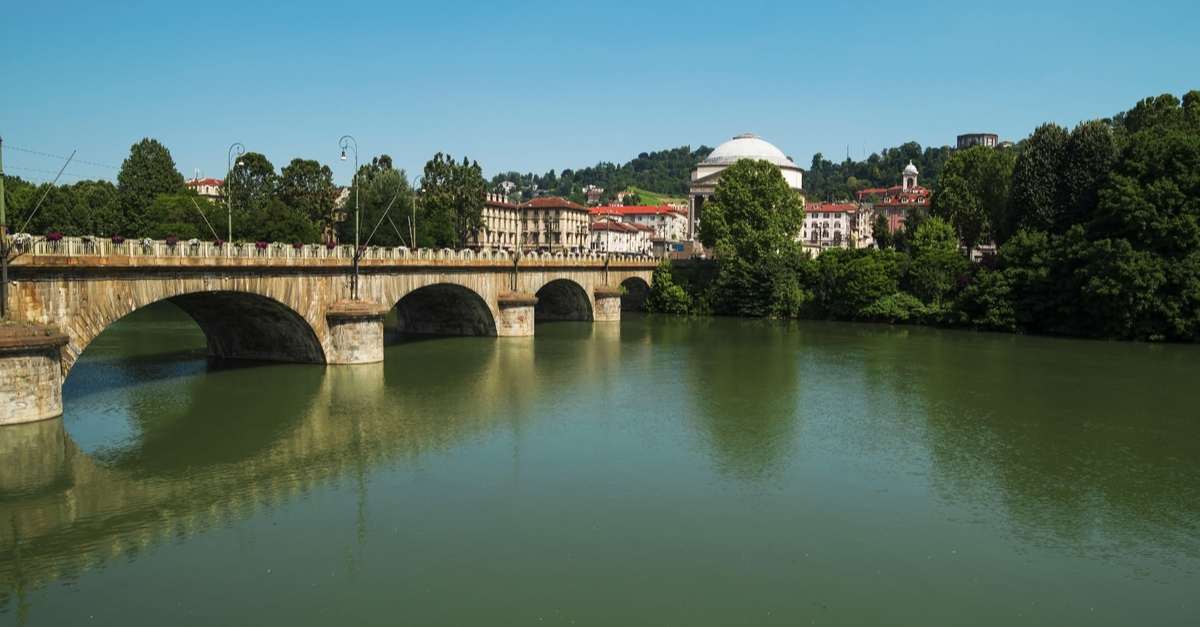 Torino Bridge River. Source: Shutterstock
To Turin by bus—travel tips
Turin occupies a special place in Italy's tourism culture. Most people even liken it to Paris due to the way the city is well planned with classic restaurants and streets decorated with nicely trimmed trees. If it is your first time visiting, there are plenty of activities you can do other than shopping and enjoying Italian delicacies. You can also take a half_day trip around the city if you're short on time.
Visit the Egyptian Museum in Turin
Take a trip to the Cathedral of San Giovanni Battista
Check out the amazing National Cinema Museum located in the Mole Antonelliana tower
Go for a walk inside the Parco Valentino
Visit the Juventus Stadium