Trains from Rome to Civitavecchia
Trains from Rome to Civitavecchia only offer direct connections since the distance between the two cities is not significant. The non-stop train journeys between the two towns are averagely an hour, covering 48 miles (78km). Trains are an efficient way of traveling the two cities without worrying about finding a parking spot or city traffic. Trains also offer travelers a chance to view the stunning scenery between the two cities. Travelers can take the Trenitalia, Frecciabianca, and intercity trains which offer rides from Rome to Civitavecchia.
Rome to Civitavecchia Train Time: Daily Departures
There are about 16-20 trains that depart daily from Rome to Civitavecchia. This means that weekly there are about a hundred trains providing rides between Rome and Civitavecchia. Fridays and weekends offer more rides; about 18-20 trains daily. The first daily train leaves at 6:00 a.m. while the last train departs at 9.00 p.m. on weekdays. During weekends, there are train rides from Rome to Civitavecchia at 11:30 p.m. With regular train rides between the two cities, travelers can get on trains at their convenience.
How long is the journey by train from Rome to Civitavecchia?
The average train ride from Rome to Civitavecchia takes about an hour. All trains on this route are direct connections, but depending on the train type, the travel time varies depending on the type of train. High-speed trains are the fastest trains on this route, taking about 48min. Most high-speed trains are intercity trains, and they are capable of reaching up to 125 mph(200 km/h). Regional trains are relatively slower, taking up to an hour and a half.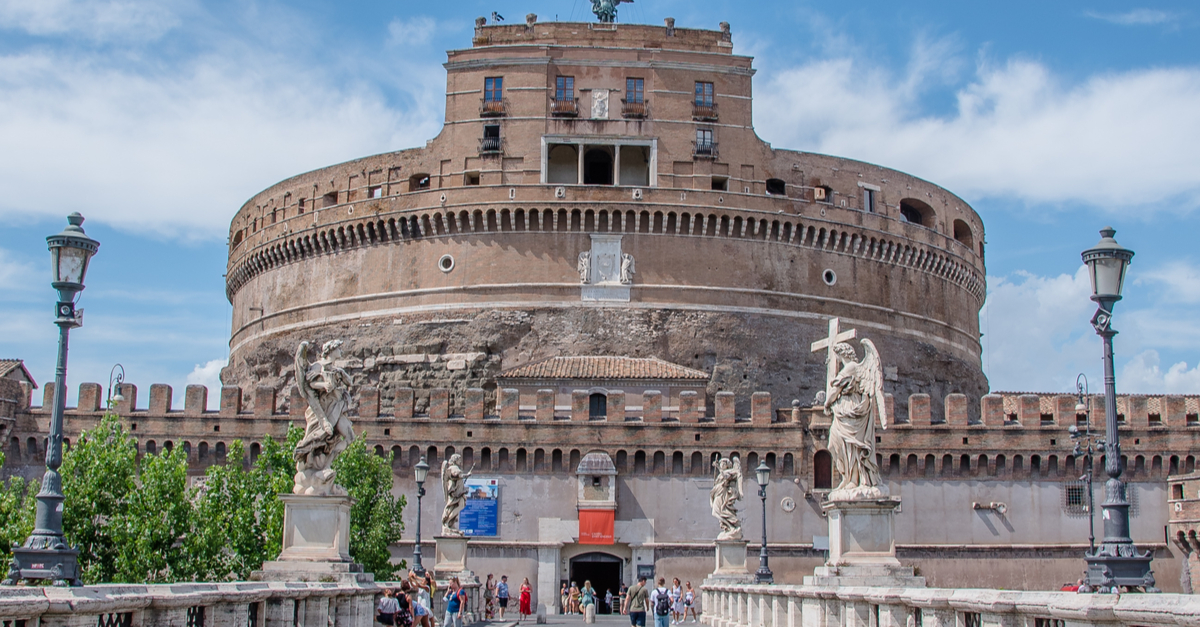 Rome Historic Tour. Source: Shutterstock
What are the departure and arrival train stations for trains from Rome to Civitavecchia?
Departure train Station: The departure train station for trains from Rome to Civitavecchia is Rome Termini Station. The station lies half a mile southeast of Rome city Center. There are several means to get to the station, including bus lines, tram lines, and private transfer. If you are coming from Rome, you can easily walk to the station within 12min. Rome Termini is wheelchair accessible, and it features shops, eateries, a lounge, and currency exchange services.
Arrival Train Station: Trains from Rome arrive at Civitavecchia station located within a 15min walk to the city center. PortLink buses stop at the station and offer rides to other areas of Rome. There is a ticket office and a bar at the station. Travelers that are driving to the station will find luggage storage facilities at the station, a few restaurants, and shops at the station for travelers that need to buy essentials or get meals after travel. It is wheelchair accessible for easier access by reduced mobility travelers.
Which train companies travel from Rome to Civitavecchia
Trenitalia operates all trains from Rome to Civitavecchia. Trenitalia is the national train company of Italy. It provides several types of trains like high-speed trains, including Frecciarossa, Frecciargento, and Frecciabianca. Frecciabianca trains operate outside highspeed lines, and they offer daily train trips within this route. Their maximum speed is 125 mph(200 km/h) and is typically slower than Trenitalia high-speed trains. Intercity trains and Intercity Night trains run on long and medium distance connections and come with night travel facilities like power sockets and cabins with beds.
Trenitalia trains from Rome to Civitavecchia
Trenitalia trains provide rides from Rome to Civitavecchia. All trains offer direct connections and require no changes since the distance is not busy. Trenitalia has regional end intercity trains. Intercity trains depart from Rome to Civitavecchia once a day in afternoons taking 48min along the route. Intercity trains guarantee long and medium-distance connections while regional trains operate within the country. Trenitalia regional trains are typically slower, taking about one hour or one and a half hours to get from Rome to Civitavecchia. Regional trains take longer as they have stops in all train stations within Italy. The slowest regional trains take 1h 38min.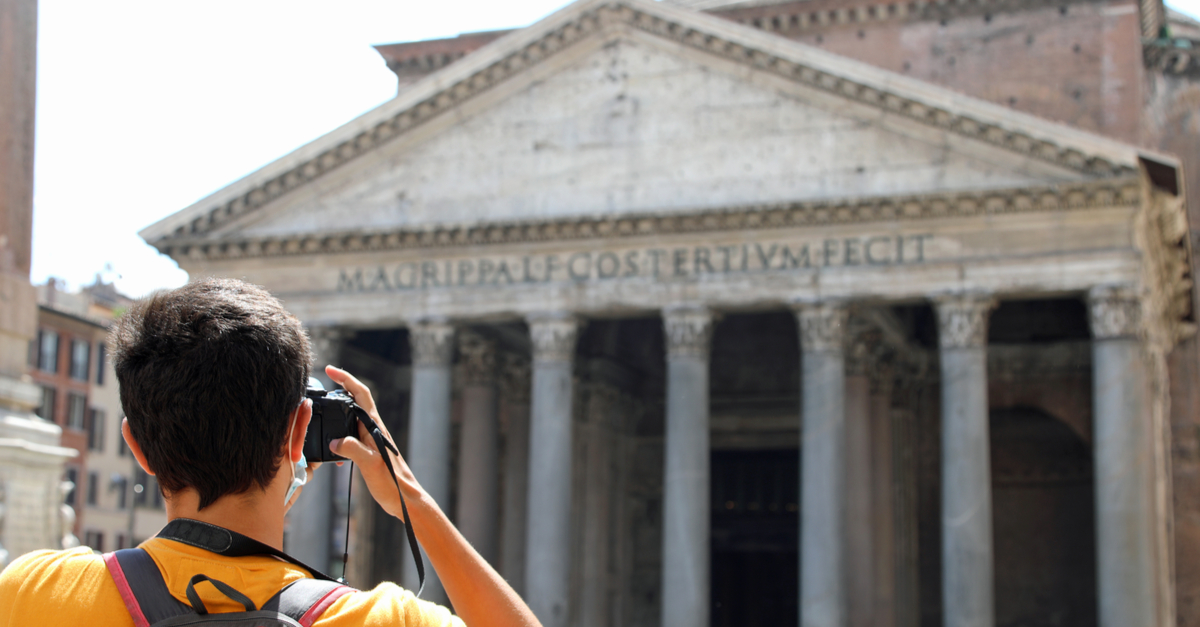 Rome Taking Picture. Source: Shutterstock
Trains from Rome to Civitavecchia: Services on Board
Trenitalia Intercity and Regional trains offer first class and second class seating options. First-class passengers get more legroom and extra comfortable seats. Seats are wider and reclining for the traveler's comfort. There are complimentary drinks, and snacks served on board for first-class passengers. First-class seats also provide more luggage space. Small bikes are allowed on board for a certain fee. Service animals and small pets (under 20 pounds / 9 kg) are allowed on board for free, provided they are confined in carriers stored under the passengers' seats.
Trenitalia has no luggage limit, so travelers can bring any amount of luggage they wish to bring. However, luggage should be stored in overhead racks, under travelers' seats, or in select areas in the train car. Avoid placing luggage in empty seats. There are wheelchair-enabled restrooms and train entrances for disabled passengers on board. If reduced mobility passengers require more services, they can contact Trenitalia before their journey to make arrangements.
How to Find Cheap Train tickets from Rome to Civitavecchia?
Travelers that want to score cheap train tickets from Rome to Civitavecchia should consider booking in advance to get cheaper tickets. Most trains in Europe release their tickets about three to six months in advance, which are more affordable when you book. Plus, flexibility helps when it comes to train journey dates. This means that you can select tickets three days before and after the exact date you intend to travel and choose the cheaper alternative. Sometimes train companies increase their ticket prices during peak hours.
To score cheaper tickets, consider booking tickets outside peak hours (6:00 a.m. to 10:00 a.m. and 3:00 p.m. to 9:00 p.m.). The type of train also affects the ticket price depending on the travel route. Intercity trains are more expensive than regional trains. Even though regional trains are slower, travelers can save money as opposed to intercity trains. Finally, travelers can look out for special deals released by train operators to see if they can get cheaper tickets.
To Civitavecchia by Train Travel tips
A train to Civitavecchia lets travelers explore its scenic laid back area. Civitavecchia is a hub for historical and cultural centers, ports, and harbors, offering something for every type of visitor. Art and history lovers will love visiting Forte Michelangelo, which offers stunning architectural design from the 16th century.
Cathedrale de Civitavecchia and Fontana del Vanvitelli are great destination for travelers that want to take a trip down Civitavecchia's history. Hiking lovers can enjoy a hike up Monti Della Tolfa to get scenic views of the Tyrrhenian Sea Coast, Monti Sabatini, and Monti Cimini. The hillside also features picturesque views of the Mignone River.
Spiaggia il Pergo offers a fine sandy beach with turquoise waters ideal for beach lovers if you love soaking in the water or sunbathing on the beachfront. Water sports available at the beach include swimming, canoeing, kayaking, snorkeling, and boating. Nature lovers will love exploring Monumento Naturale La Frasca, which lies less than five miles from the Port of Civitavecchia. It boasts a jagged cost ideal for snorkeling as it offers clear waters. Visitors will get wildlife sightings like fish, mollusks, and crustaceans.
Families will love a visit to Aquafelix, a large waterpark with water slides for all ages. The park houses a waterfall and rafting equipment for family members. Treat your taste buds at 80 Fame which provides a wide variety of steaks and high-end desserts. Alta Marea is known for its seafood options, while Piccadilly offers vegan and gluten-free dishes.