Baltimore to Washington, DC trains
There are 24 from Baltimore to Washington DC departing at a 30min interval from the Baltimore Penn Station. Amtrak and the Marc trains provide comfortable travel to thousands of travelers daily. If it's your first time traveling from Baltimore to Washington, prepare for the most delightful 1h journey because Omio ensures you get your ticket wherever you are. The route has high-speed trains such as the Penn, the Amtrak Acela, Amtrak cardinal, Amtrak Carolinian, and the Amtrak crest, moving at high speed of 150 miles/h (240 km/h) fastest train takes 40min. The Mark commute only to nearer cities in D.C., while Amtrak provides travel to multiple cities. For instance, the Amtrak cardinal can take days traveling to its final destination.
Booking train from Baltimore to Washington with Omio
Daily, people postpone or miss their train due to late booking and the time-consuming ticket booking process, and that's where Omio comes to the rescue. After Omio discovered the trouble most passengers go through in booking a train, a bus, or airplane, it came with an online booking platform where you can view all available modes of transport and even compare different prices with several providers. The Omio website is user-friendly, simplified to suit any traveler. All you need to do is insert your destination and choose an available ticket. You can also download the Omio app and make you're your travel ticket partner. Omio also provides lists of the transport service providers to enable you to travel with your favorite company. Visit the Omio website for subsidized train prices and time-to-time travel bonuses.
Train companies in Baltimore
Amtrak and the Marc are the two train companies operating in the Baltimore to Washington route. Amtrak provides 10 to 11 trains in a day, with the Amtrak Acela having six departures. Other Amtrak trains such as the Amtrak cardinal and Amtrak Carolinian provide single leaves as they travel beyond Baltimore to numerous cities. The long-distance Amtrak trains are equipped with necessary arrangements to ensure travelers are comfortable. The Marc provides regional rail transport and is handy when travelers are in high numbers.
Popular international routes by train
Around the United States there are many routes that you can take by train to reach the main cities or even travel to Canada. Baltimore Pennsylvania Station is one of the centers for long-distance train travel. There are numerous journeys you can take from Baltimore. Baltimore to St. Albans train travel takes 12h 20min, Baltimore to Virginia train travel takes 6h 20min, Baltimore to Georgia takes 15h 31min, Baltimore to Jacksonville, Baltimore to Indianapolis, Baltimore to Huntington, Baltimore to Cincinnati and many more. Book any of the routes with Omio today.
Arriving by train in Washington
Washington is one of the busiest towns in the U.S. Your arrival station is the Washington Union Station, one of the busiest stations in the U.S., having arrivals and departures after few minutes. You can take a one to a 2min bus to the city center or foot for 6 to 5min. Washington has people from all over the world, some are tourists, and some are on business trips while others are residents. It is a safe city; however, ensure you have everything on the check. As you peruse the beauty of the town, you can relax in one of the restaurants and order your favorite dish.
Train provider in Baltimore
Amtrak has six district trains running from Baltimore to Washington, Dc, and the Amtrak Acela having six departures. Amtrak has the most train coverage of about 81%, facilitating over 500 departures in a day in all 46 states. They operate high-speed, medium speed, and slow short distance trains. High-speed trains are suitable for long-distance travel, such as the Amtrak cardinal, equipped with the latest comfort equipment and accommodation facilities. The Maryland Area Regional Commuter has three lines from Baltimore to the Washington route. The Maryland Transit Administration owns and manages the company. It is also called the Maryland Rail Commuter. Amtrak trains also operate on the lines as it holds part of the lanes. The lines' trains can move to 125 miles/h (200 km/h) on the Penn line. The Marc has emerged as one of the fastest regional train providers in the U.S.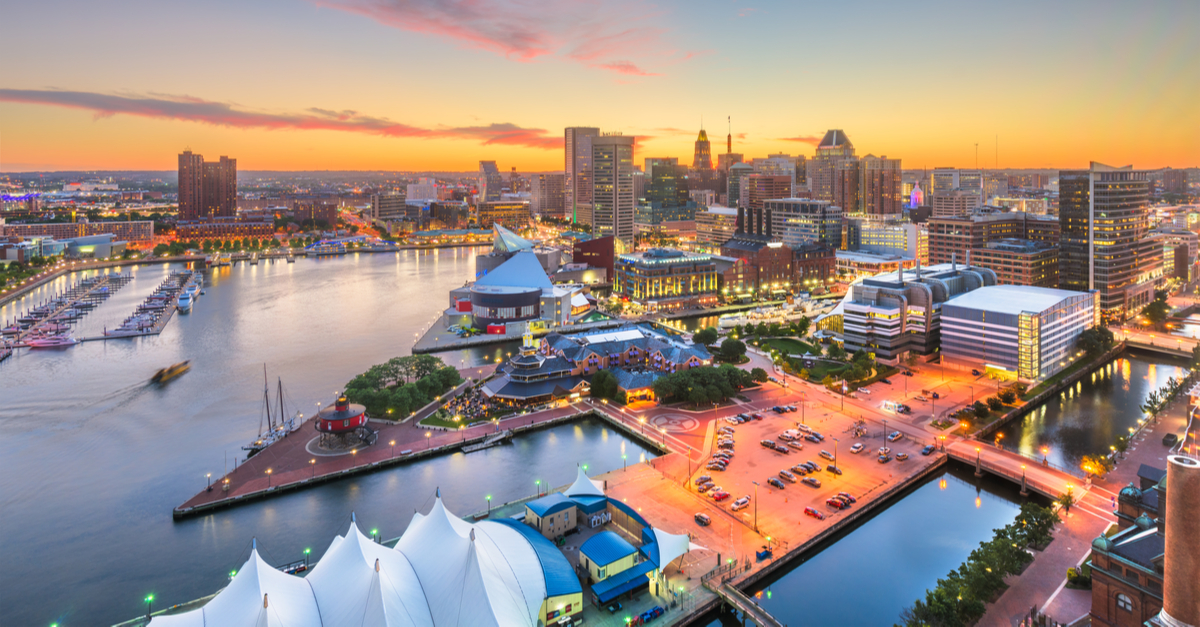 Baltimore Harbour. Source: Shutterstock
Main train station in Baltimore
The central train station from Baltimore to Washington is the Baltimore Pennsylvania Station. The station is constructed with the Beaux-Arts architectural design, and it's located at 1515 N. Charles Street, a mile away from the downtown. The train station has elevators, ATMs, ticket offices, restrooms, kiosks, payphones, and unaccompanied child services. The station receives thousands of travelers in and out of Baltimore city daily.
Popular journey from Baltimore to Washington
The Penn line route of the MARC is the main route. It starts from Baltimore's Penn Station, BWI Thurgood Marshall Airport train station, and the union station in Washington DC. The course takes 30min minimum and a maximum of 1h, depending on the train speed and the number of stops made. Fares cost about $15 along the route. It's a standard route for students who travel to the Bowie State University and passengers traveling to Baltimore city and Odenton.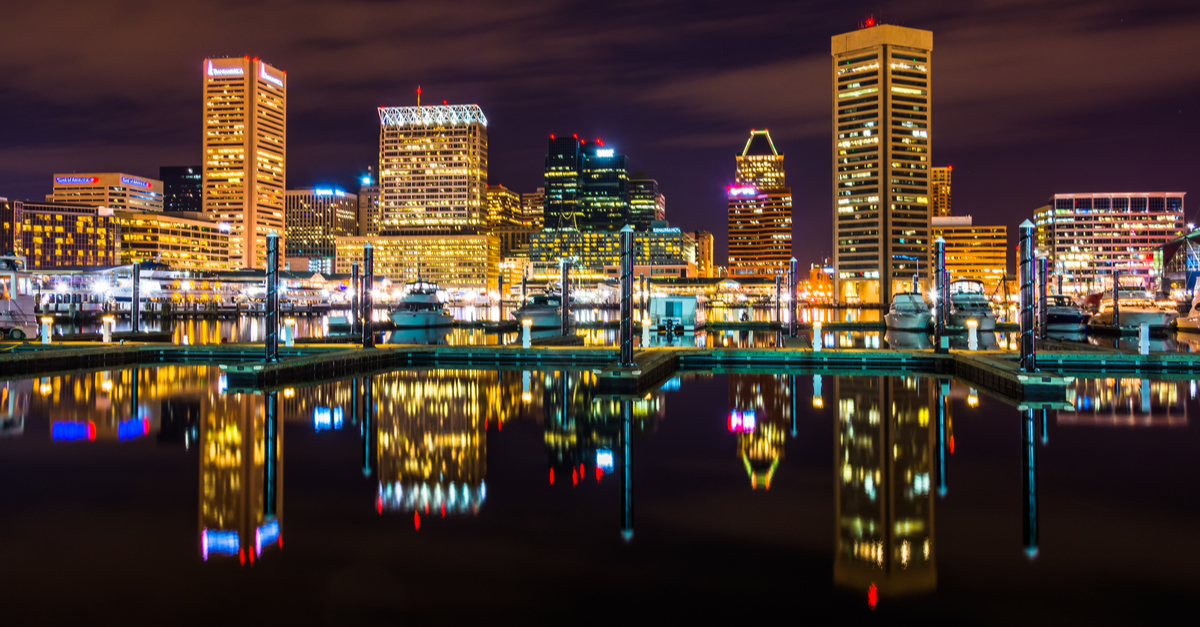 Baltimore Reflections. Source: Shutterstock
Popular train routes from Baltimore to other cities
Baltimore trains move to all parts of the U.S. with the help of the Amtrak trains. Some of the city-to-city travels from Baltimore are to New York ($ 168), Washington, Philadelphia, Atlanta ($145), and Virginia ($145). On the Omio website, you can view available tickets for significant cities from Baltimore. Some distances are short and will take 30min or less, while other travels are long and might take days. The best thing about train travel is that you see nature's beauty as you travel in comfort and style.
Good to know
Traveling from place to place comes with a lot of forgetting. Here are some tips to help you with train travel. First, you need to book your ticket early and avoid ticket inconveniences. Secondly, ensure you arrive at your train station on time; you can buy a cup of coffee as you wait for your train. Put your travel guide in your bag before you leave the house. You can download the Omio travel guide. It will help you choose the best restaurants and provide attraction sites you might love visiting.
To Washington by train--travel tips
Washington has the most museums in the U.S.; better yet, most are accessible to the public! You can enjoy the beauty and history of Washington without paying a penny. Using your tour guide, find at least three museums you'd love to visit. Washington houses United States Capitol and Capitol Hill, Library Congress, Lincoln Memorial and World War 2 Memorial.
If you have a special bond with wild animals, visit the National Zoo. It is probably one of the places you will love: it has over 2000 wild animals from 300 species. You can also make reservations to the white house in advance and experience the beauty in and around the palace. Apart from the beautiful places you can visit, D.C. gives you a chance to taste the most delicious foods in the world; walk in a restaurant and ask for the chef's choice. You will love it.