Trains from New York to Detroit
Detroit is roughly 614 miles (988 km) away from the city of New York. Despite the long-distance, there are usually hundreds of people traveling between the two cities every day. The train is a popular mode of transportation between the cities, with at least four trains departing Penn station in New York for Detroit every day. The journey is usually around 15h long. However, you can expect this figure to rise to about twenty or even twenty-five depending on the number of transfers as well as the stations that you will stop by en route to Detroit.
New York to Detroit Train Time: Daily Departures
Since the New York to Detroit route is a popular one, about four trains service this route daily except for weekends. On Saturdays and Sundays, only three trains are available. The first one departs mid-morning at around 10:00 a.m., and the last one departs late in the afternoon at around 3:00 p.m. As for the weekday trains, the first one departs just before midday while the last one also departs at around 3:00 p.m.
How long is the journey by train from New York to Detroit?
The shortest journey by train from New York to Detroit on average takes 15h 55min. It only includes one transfer which is in Toledo, OH, and lasts just about 30min. Your travel duration could increase depending on the number of transfers. For example, another train departing New York for Detroit takes approximately 20h with two transfers, one in Washington, DC and the other in Chicago, IL.
What are the departure and arrival stations for trains from New York to Detroit?
Departure train station: When traveling from New York to Detroit via train, you are most likely to depart from Penn Station, which is only 20min away from downtown Manhattan. Public transport is available from the city center to Penn Station, with the subway and bus service being the most popular options. Some of the facilities available at the station include an information desk with multilingual staff as well as a good number of restaurants where you can get something to bite on as you wait for your train.
Arrival train station:Upon arrival in Detroit, you will stop at Detroit Amtrak Station. The station is right at the heart of the city, so there is no need to worry about a long commute to your hotel or any other place you plan to visit while in town. The station has some decent restrooms as well as a good number of shops from which you can pop in and see what you like.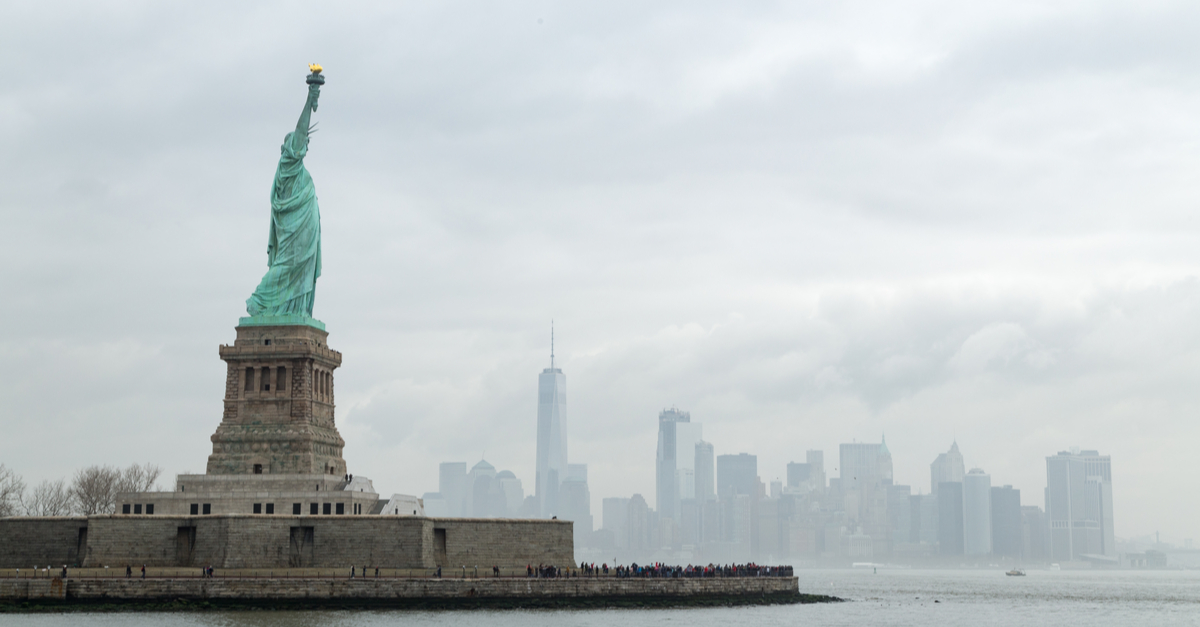 NYC Liberty Fog. Source: Shutterstock
Which train companies travel from New York to Detroit?
Currently, Amtrak is the only train company that serves the New York to Detroit route, with up to four trains available each day. Each of the four trains is well serviced with some top-quality amenities. With that in mind, it doesn't matter which train you choose because you are assured of a smooth and comfortable journey.
Amtrak trains from New York to Detroit
Every day, there are four Amtrak trains available to serve the New York to Detroit route. The trains include 129 Northeast Regional 29 Capitol Limited 6049 bus, 129 Northeast Regional 29 Capitol Limited 352 Michigan Services, 49 Lake Shore Limited 6049 bus and 49 Lake Shore Limited 352 Michigan Services. On weekdays, the four available trains depart in two groups, each following a different route.
For example, the 129 Northeast Regional 29 Capitol Limited 6049 bus follows the New York-Washington-Toledo-Detroit route while the 129 Northeast Regional 29 Capitol Limited 352 Michigan Services follows the New York-Washington-Chicago-Detroit route. The same case applies to the two trains departing late afternoon. However, it is worth pointing out that the morning trains have two transfers while the evening ones have only one transfer. Unfortunately, no trains travel directly from New York to Detroit without any transfers, so if you need to get to your destination quicker, you'll have to contend with the afternoon train that has one brief stop in Washington.
Train New York to Detroit: Services On Board
The Amtrak trains plying the New York to Detroit route have plenty of amazing onboard amenities and features, which is what makes them so popular among the public. Passengers have the option of traveling either coach, first-class, or business class. Each class has its unique features, with the first-class being the most comfortable, as you would expect. Some of the amenities available here include spacious seating, loads of legroom, amazing food and drinks, plus first-class service. On the entertainment front, all passengers have free and reliable Wi-Fi available to them, which allows you to stream anything from movies to TV shows and even live events.
As for luggage allowance, every passenger is allowed two personal and two carry-on items on board. However, there are size and weight limitations, which usually vary depending on the train design, so it would be best to confirm in advance what the limitations are. In addition to that, you can check up to four bags, with the first two being free. Special items such as bikes, sporting equipment, and baby items are also allowed, but they may be subject to additional packing requirements and service fees. Finally, there are services for disabled people, such as ramps to allow easy boarding and space for wheelchair seating, although there isn't a lockdown device.
How to find cheap train tickets from New York to Detroit
Finding cheap train tickets for travel from New York to Detroit is quite easy. One good way to do so is to book in advance. On the Omio booking site, you'll notice that ticket prices gradually decrease in price as the days move along. The ticket price for a train departing tomorrow is likely to be significantly higher compared to the same ticket for a train departing next week at around the same time. For the lowest prices, try booking weeks before your travel date. You can also save on ticket costs by booking connecting trains. The faster the journey, the more expensive it is because people pay a premium for convenience. Direct trains will always be at least thirty percent more than a train with two transfers.
Detroit Fist Monument. Source: Shutterstock
To Detroit-Travel Tips
Detroit is a magnificent city with loads of attractions that bring in tourists from different parts of the world. If you're planning a trip to Detroit, there are a few places that should be on your itinerary. The first one is the Detroit Institute of Arts. Known for its unique collection of over 65,000 works, the Detroit Institute of Arts features various exhibits, including mummies, modern contemporary art, African masks and even Monets.
Another amazing place worth checking out is the Detroit Riverfront. Located towards the southside, it is a great place to catch scenic views of River Detroit and the city's skyline. The area is always a good place to visit if you're looking to chill and appreciate the best that nature has to offer.
Finally, if you are a sports enthusiast, then a trip to Detroit wouldn't be complete without a stop by Ford Field. This is the home stadium of the Detroit Lions, who play in the NFL, so you can always stop by to experience live American sports in the flesh.