Trains to Miami
Trains to Miami have the most scenic routes with sightings of East Coast capitals, historical hot spots, lush sceneries, and scenic waterfronts. Since most of Miami's attractions are outside the city, trains are a great way of experiencing the terrains, neighborhoods, beaches, and interests. Whether you are taking a train from New York, Orlando, or any other city in the country, a train ride to Miami is ideal for exploring scenic areas of the route. Amtrak is the most popular provider for train rides in Miami.
Booking your train ticket with Omio for Miami
Omio simplifies the traveling process so that travelers can save money and time. It features advanced filters to accommodate traveler's needs. If you are planning a tour to Miami, Omio guarantees to get you the perfect journey with the best options for you. Omio has customer services in most languages to help travelers with any issues. Regardless of where you are coming from, Omio provides information on different trains to Miami. Travelers can opt for the cheapest, fastest, and most reasonable prices to Miami. Omio also recommends the ideal train ride, depending on your preferences.
Train companies in Miami
Even though there are various train companies with train rides within Miami, only one company provides train rides to Miami. The Metrorail system has over 20 stations within Miami City. It does not provide services outside Miami city. Amtrak is the only company giving train rides from other towns. Amtrak provides train rides to Miami from 257 cities. The central train station for trains to Miami is the Miami station. Amtrak trains are spacious and relaxing, with wide reclining seats and footrests. All routes feature Wi-Fi and roomettes with bunkbeds for long-haul journeys. Amtrak's Silver Meteor and Silver trains where passengers can walk around between train cars. Travelers can book tickets in advance to save up on fares.
Popular international routes by train
There are various routes to other cities to and from Miami with Omio. There are train rides from New York City to Miami. Travelers can opt to get trains from Chicago, Illinois, to Miami. Amtrak provides trains from Las Vegas to Miami. Other cities with train rides to Miami provided by Omio include Orlando, Tampa, and New Orleans in Los Angeles. Prices vary per route depending on the distance between the cities. The more the distance between two cities, the longer and fewer train rides are available on that route.
When arriving by train in Miami
Miami features pleasantly warm winters and long, muggy summers. The least rainy season is from December to February. Locals in Miami are friendly and take their beach etiquette seriously. When at the beach, avoid littering the area, respect people's spaces. Due to the Latin influence, most locals greet each other with a kiss or two on the cheek. Handshakes are pretty rare. The Miami Trolley is a fun way to bet around the city, but there are public buses all over the city. Most restaurants are fully operational from 9:00 a.m. Miami features a vibrant nightlife, and the most prominent culture is the Cuban culture. If you wish to avoid crowds, consider visiting Miami from March to May.
Amtrak in Miami
Two Amtrak trains stop at Miami Amtrak Station. They include Silver Meteor and Silver Star. The silver service gives Miami and 55 stations rides, including Philadelphia, Tampa, Orlando, Baltimore, Raleigh, and Richmond. Silver Meteor travels between New York and Miami in 28h. It has stops in Philadelphia, Orlando, and Jacksonville. Another popular route is the Chicago-Miami route. Train rides from Chicago to Miami take about 47h 55min with two major stops. Trains from Orlando to Miami take about 6h 40min and depart from Orlando Health station.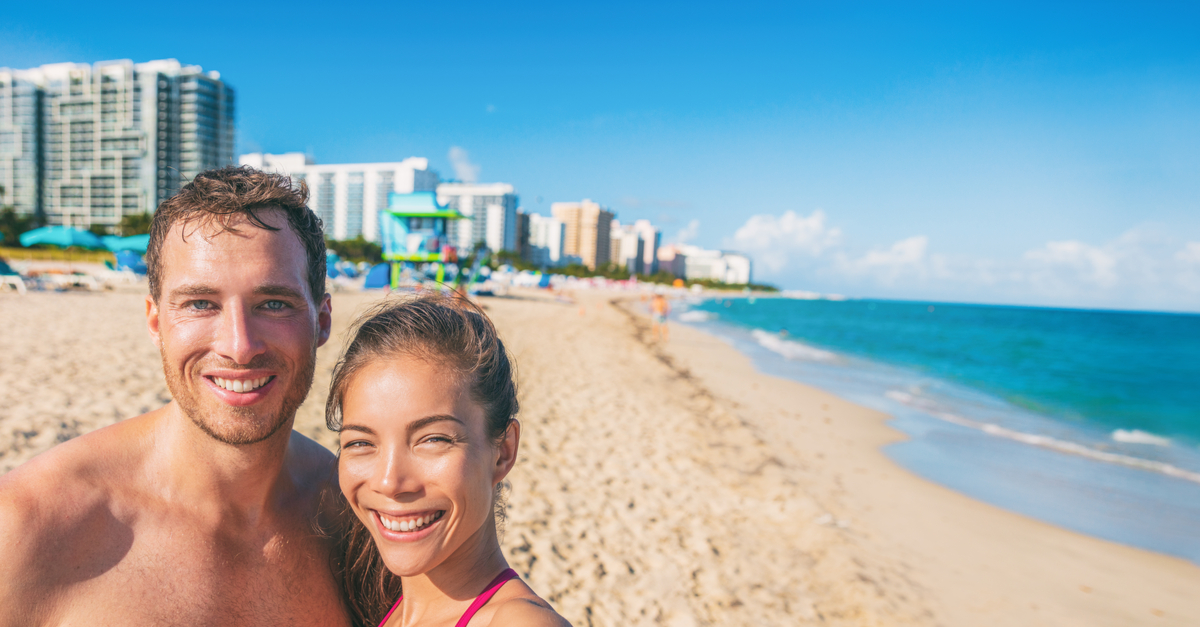 Miami Beach Couple. Source: Shutterstock
Main train stations in Miami
Miami has two popular train stations; Miami and Miami Virgin Miami Central Station. The main train station in Miami for Amtrak trains is Miami Train station. It features vending machines, payphones, and ATMs. It has washrooms for the disabled. There is a sales ticket office and a few food concessions for travelers that need meals or snacks before their train rides. It has elevators to get passengers from the concourse to the platforms. Miami station has several transfer options outside the station for travelers who wish to get to other destinations.
A waiting room is available for passengers to sit before or after their journeys. Trains from New York to Miami start their travels in the late morning hours. Trains from New York to Miami leave Miami to arrive in Miami about 6:00 p.m. The station is situated near downtown Miami where passengers can easily walk to Miami or get public transport to any destination they prefer.
Popular train journeys in Miami
Among the most popular train routes in Miami, trains from Miami to Orlando cost around $49, taking a total of 5h 11min. Train rides between Miami and Fort Lauderdale cost about $34, taking half an hour. The travel time for trains from Mimi to West Palm Beach takes about 1h 50min costing about $22. Another popular train route in Miami is the Pontiac -Miami route. The train journey takes 7h 46min costing travelers $157. Amtrak offers the Fullerton-Miami train ride with various stops taking about 95h 53min.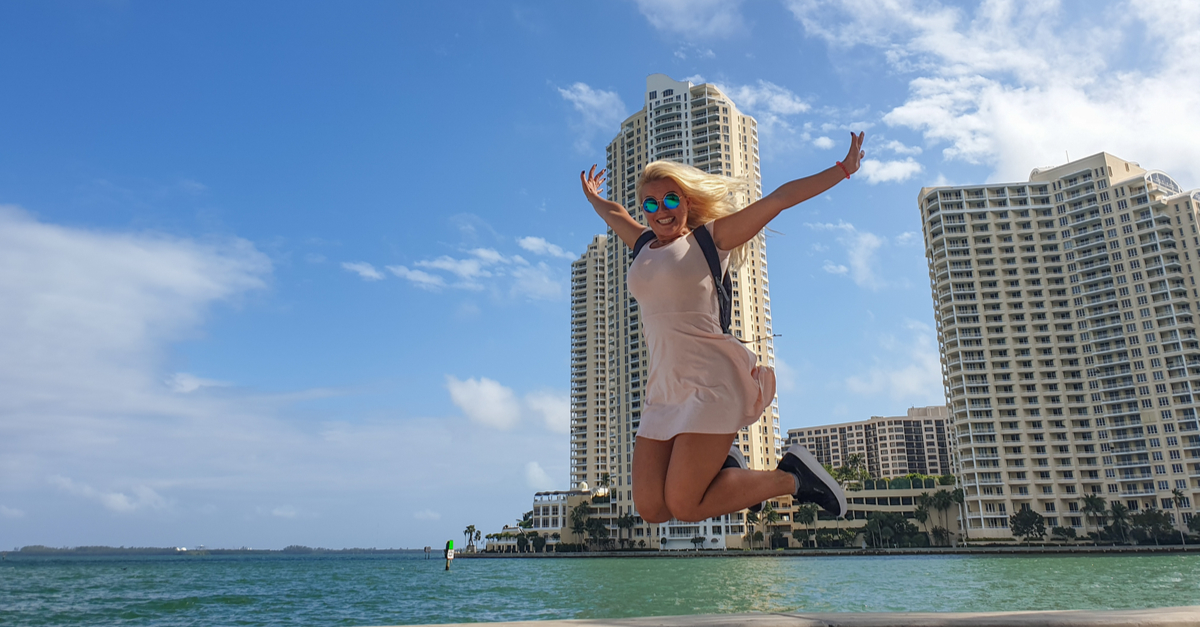 Miami Beach Jump. Source: Shutterstock
Popular train routes from Miami
Popular train routes in Miami include journeys from the south. In this rote, travelers get from Charleston to Miami. The cheapest train on this route costs about $118, taking about 21h 58min. The Washington-Miami route offers scenic outdoor journeys. On average, trains take about 23h 15min on this route, costing about $342. The Key West- Miami train journey takes less than an hour with no stops.
Fares cost about $264, taking an average of 48min. Trains on the North Atlantic Coast-Miami route are popular and feature rich East Coast scenery with classic city views and lush landscapes. The Miami-Boston route takes about 3h 43min costing about $52 on average. Train journeys from Philadelphia to Miami cost about $130, taking an average of 3h.
Good to Know
Trains to Miami offer roomette which can convert to bunk beds, so ensure to reserve one before long haul journeys. Amtraks to Miami have bedrooms with washrooms and sinks. Upon arrival, there are no. Forty-two bus lines outside the station giving rides to the city center. There are also private transfer options, including Uber, Lift, and ridesharing services to get travelers to destinations they prefer. Travelers can save up to 20 percent on regular features if they book in advance or fit in discount groups.
To Miami by train—travel tips
Miami is a blend of culture, art, entertainment, and diversity. The iconic Miami Beach is ideal for watersports and soaking up the sun on the city's beaches. Nature lovers will love visiting Jungle Island, which offers a collection of rare animal and plant sightings. Art Deco District provides canopy-covered dining areas and pastel-painted buildings. Shopping lovers will love the Bayside Market side, an array of charming boutiques, antique stores, and shopping stalls. If you are lucky, you will find live music performances at the facility.
A stroll through Vizcaya Museum and Gardens is a fun and exciting way of spending an evening in Miami. Travelers can enjoy a real sari tour in Zoo Miami, which has open-air exhibits to view different species at a close range. Little Havana houses live Latin music performances and various food concessions. If you are out to learn a few things, Miami Science Museum features interactive exhibits of the scientific fields. The freedom tower features excellent views of the city. Marvel at sea creature in Miami Sea Aquarium hosts daily shows of killer whales, ocean mammals, and dolphins.
The Holocaust Memorial of Greater Miami Jewish Federation is a great place to learn holocaust history. Bayfront Park is a great place to learn history and catch musical performances. Travelers driving themselves can drive along Ocean Drive, which has excellent views of Miami neighborhoods and a unique skyline. Finally, Coral Castle features stunning works of art and impressive structures where travelers can soak up a bit of history.