Trains from Miami to West Palm Beach
The expanse of sun and sand from Miami up to West Palm Beach is one of the most popular things in Florida. However, driving isn't recommended. This is because of the soul-sucking traffic, and would you want to spend your vacation in the car? Taking a train is one of the best ways to travel to West Palm Beach. Amtrak offers top-notch train service in their luxurious and high-speed train shuttles. The train takes approximately 2h 36min to travel 65 miles (106 km) between these two cities. The train journey is around 1h 22min, but it varies depending on the day, weekend, or holiday.
Booking a train ticket from Miami to West Palm Beach with Omio
Omio is the one-stop solution for booking your train ticket from Miami to West Palm Beach. Omio is committed to helping you get around the challenges of train travel by having an easy-to-use website aggregating the most reliable train service company results. Our app is safe, reliable, and legitimate, thus allowing you to have an unparalleled user experience when scheduling transport to West Palm Beach.
We display all the cheapest times and routes on our page, which is helpful if you are traveling on a budget. The most notable thing is that you can easily download our app to keep track of your tickets and find them easily when boarding a train to your ideal destination.
Train companies from Miami to West Palm Beach
Generally, there are two train companies in the Miami-West Palm Beach route. Amtrak is the most popular train company on this route. Whether you want the fastest and cheapest train to West Palm Beach, Amtrak got you covered. The fastest train takes 1h 32min to arrive at West Palm Beach.
Over time, the company has built an excellent reputation for generous baggage fees, sleeping accommodation, dining, and free wireless internet connection. This company provides a relaxing and fun mode of transport between Miami and West Palm Beach. You can use Omio to book our direct train between the two cities.
Popular international routes by train with Omio
Omio is a pioneering booking platform helping you travel from the United States to Canada by train. With this app, you can compare trains offered by Omio and their price tickets. Popular international train routes from the United States include New York City to Toronto, Chicago to Toronto, New York City to Niagara Falls, Los Angeles to London, and New York City to London.
If you are traveling by train, using Omio helps you save time and money while enjoying your journey. If you want a multi-city rail trip or want to travel faster to your ideal destination, we have a wide range of high-speed rail routes to choose from.
When Arriving in West Palm Beach from Miami by train
The Amtrak train takes at least 2h 36min to arrive at West Palm Beach from Miami. There is no time difference between these two cities. However, you'll notice that West Palm Beach is cheaper and easier to navigate when compared to Miami. Both cities approximately have the same size, but West Palm Beach is not as populated as Miami. West Palm Beach is less crowded and more diverse.
Like other cities in the United States, restaurants in West Palm Beach offer various food, especially due to the diverse ethnicities. Regardless of where you go, you can notice the historic inbounds in all corners of the city.
Train Provider from Miami to West Palm Beach
Amtrak is the most popular train provider in the US. It covers 46 states and 500 cities, including Miami to West Palm Beach. Amtrak trains often leave and arrive from central city stations, thus being the most reliable and convenient for travelers. The company ensures that every train offers considerable luggage allowance, seat reservations, and air conditioning.
Amtrak has partnered with Omio to serve several routes in the United States, including Acela, Adirondak, Sunset Limited, Empire Builder, and California Zephyr. The Empire Builder route goes from Chicago – Portland – Seattle, while the Acela route goes from Boston – New York City – Washington, DC.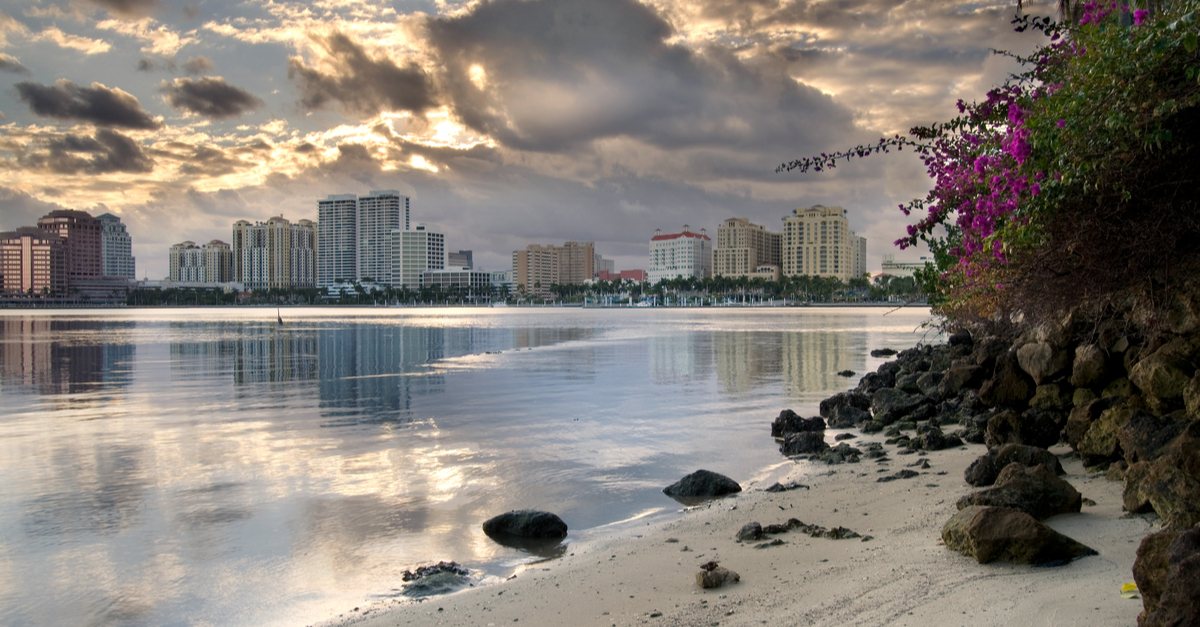 WestPalm Beach. Source: Shutterstock
Main Train Stations from Miami to West Palm Beach
The train traveling to West Palm Beach from Miami covers a distance of about 64 miles (103 km). The train leaves from Miami Amtrak Station, and the destination is West Palm Beach Amtrak Station. Amtrak makes several stopovers in various stations, including 801 N Parrott Ave, Okeechobee, FL 34972, 1400 Sligh Blvd, Orlando, FL 32806, 220 N 11th St, Palatka, FL 32177, 600 S Persimmon Ave, Sanford, FL 32771, and 601 E Center Ave, Sebring, FL 33870, USA.
These Amtrak train stations are equipped with several amenities such as adequate waiting rooms, ATMs, vending machines, payphones, restrooms, ticket sales office, and same-day and overnight parking. It's also wheelchair accessible.
Popular journey from Miami to West Palm Beach
Besides Miami to West Palm Beach, Omio also offers multiple journeys to states and cities across the United States. Some of the most popular journeys include traveling from Miami to New York City, which takes 29h 35min and the train ticket price is $151, from Miami to LA takes 106h 34min and the price is $359.
Traveling from Miami to Boston takes 35h 50min, and the train ticket price is $178. From Miami to Washington, DC takes 25h 3min, and the ticket price is $151, while from Miami to Atlanta, GA takes 45h 25min and the train ticket price is $193.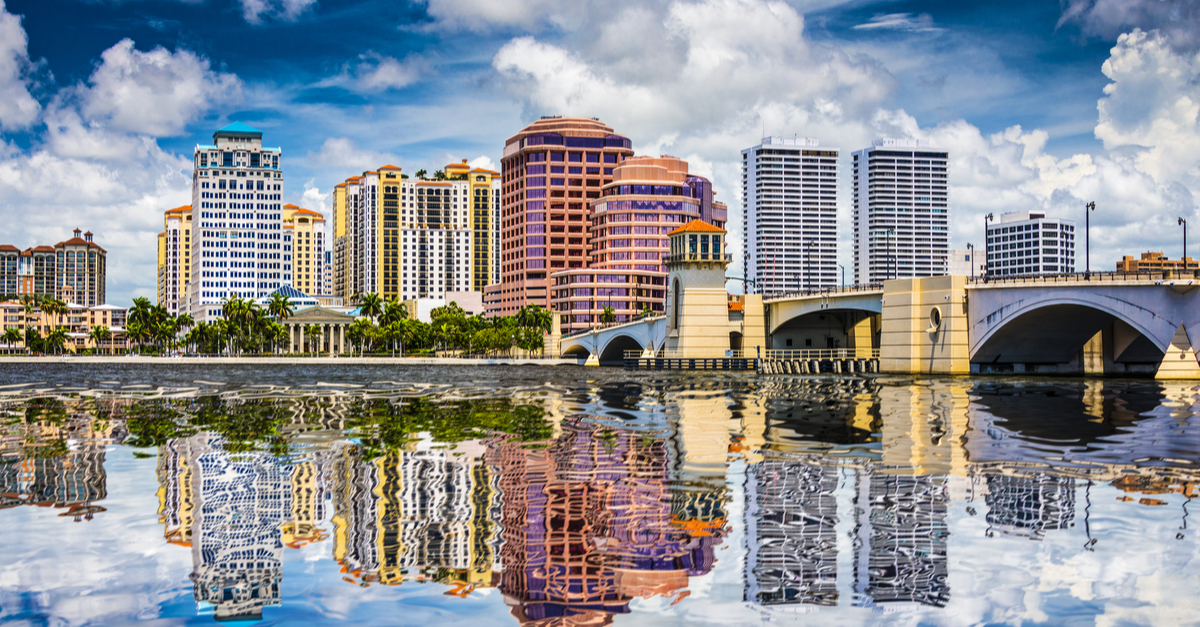 WestPalm Beach Reflections. Source: Shutterstock
Popular train routes from the United States
The main train route from the United States to international countries is the route to Canada. The train departs from various train stations in the United States to different destination cities in Canada. Some popular train routes include Chicago to Toronto or New York City to Toronto. The fastest trip from New York to this canadian city can take around 12h and cost about $130.
Good to know
You can get your Amtrak train ticket through Omio. You need to browse Amtrak train fares and schedules on the website and then place your booking. Rates often vary based on various factors, and that's why you should use a journey planner to identify the most reliable and cheaper travel times. Though traveling by train takes longer than taking a flight, you enjoy several environmental scenes, making your journey adventurous.
To West Palm Beach- travel tips
Arriving in West Palm Beach allows you to explore Florida's capital, where culture continually shines. The city is situated in the heart of the region. It's also home to a significant range of arts and culture. There are various places where you can explore the local culture and destinations that give you a feel of why the city is culturally rich.
You can also enjoy live performances of art and culture in various places, including the Palm Beach Opera, Palm Beach Dramaworks, and the Surfing Florida Museum. If you fancy nightlife, Western Palm Beach is your safe hub. You can also visit Rosemary Square and have fun in the entertainment hub. In Rosemary Square, you can also do a variety of shopping, including home appliances, clothes, and beauty brands.
Thus, you can be assured that you'll never get back home empty-handed. The sidewalk cafes and beautiful fountains on this side of the city create an incredible atmosphere making you enjoy every second. If you feel hungry, this city has the best restaurants, including Elisabetta's Ristorante, Henry's, Farmer's Table, and Stage Kitchen & Bar.
Here, you can enjoy food such as Kingfish fried rice, crispy flatbreads, Cuban Sandwich, and seafood. You can also discover over 50 antiques and specialty stores along the famous Antique Row. All these are within walking distance and helps you create a lifetime experience. If you love sporting events, West Palm Beach has lots of them. Some of the best sporting and fitness events include Leadersport Basketball Skills Academy and LES MILLS Body Pump Class.