Trains from Tampa to Miami
Train travel from Tampa, Florida to Miami, Florida is operated by Amtrak, the largest passenger train company in the United States. There is only one line that runs between these two cities - Silver Star. You can choose between routes that rely entirely on train power and mixed travel with a combination of train and bus travel. There is one train that follows this route per day, leaving from Tampa Union Station around 12:30 p.m. and arriving at Miami Amtrak Station around 6:00 p.m.
The total travel time is about 5h 30min. If you choose to utilize a combination of mixed travel, with some bus segments and the rest train travel, the bus departs at 10:30 a.m. with a connection to the train in Orlando, Florida after roughly 2h 20min.
Booking your train ticket with Omio for Tampa to Miami
How far is Tampa from Miami? With Omio, it is just a click away - plus about 285 miles (458 km). When booking your travel with Omio, you have the convenient tools and filters of the search engine to help you find a great deal that fits your schedule. Use the filters to sort through search results according to the fastest available, or pick from the cheapest options first. There is even an option that combines the best of both worlds - cheapest and fastest. Regardless of how you choose to search, you have the best travel companies at your fingertips.
Omio combines the results of each travel company, whether you are looking for flights, trains, or buses. You can also compare the prices and departure times for multiple dates at the same time. Once you make the purchase, you can save the tickets in your Omio profile for electronic access throughout your trip.
Train companies from Tampa to Miami
The train company operating the journey via train from Tampa to Miami is Amtrak - specifically on the Silver Star line. The line originates in New York City, departing from Penn Station and traveling down the east coast of the United States through major stops like Philadelphia, Baltimore, Washington D.C., Richmond, Raleigh, Jacksonville, and Orlando. Amtrak is the largest passenger train company in the United States, and operates several other routes that follow a similar line, such as the Silver Meteor.
When riding the Silver Star from Tampa to Miami, you will be on Amtrak's primary diesel engine - the General Electric Genesis P42DC. With Omio, you can see the best that Amtrak has to offer, on a schedule that matches your travel and budget needs.
Popular international routes by train
While there are no direct international routes that depart from Florida, you can easily take the train from Tampa or Miami up north to Canada by connecting with routes in New York City. In order to reach New York City, you could take the Silver Star route from Tampa to Penn Station in Manhattan, a 26h journey. From there, you can choose to take the Maple Leaf to Toronto or the Adirondack to Montreal. These are the only two international routes on the East Coast of the United States.
Other popular routes in Florida include the Auto Train, which provides transit from Lorton, Virginia to Sanford, Florida, which includes the transportation of your vehicle, over the course of a 17h journey. These are the only routes that are offered for passenger train travel through the state of Florida.
When arriving by train in Miami
As you prepare for your journey by train from Tampa to Miami, there are a few things you should know before you travel. One of the most important things to plan for is the weather in Florida, which can be temperamental and often includes sudden downpours. It is important to pack for a variety of weather patterns, from hot and sunny days to thunderstorms.
You should also pack sunscreen and clothing to protect yourself from the sun, even if that is what brings you to the Sunshine State. Be sure to stay hydrated, especially if you are visiting from a climate that does not have much humidity.
Train Provider in United States
The main train provider in the United States is Amtrak, operating passenger train services across the country. Amtrak has a unique name for each of its routes, inspired by the scenery and history of the cities through which it passes. For example, Crescent is named after the Crescent City - New Orleans.
This route begins in New York City and provides service to New Orleans over the course of approximately 30h. Another popular route is Capitol Corridor, primarily known for its stop in the stunning and educated town of Davis, California as it travels from along the west coast and into the Bay Area. Amtrak also provides international service into Canada, with Maple Leaf connecting Toronto with New York City and Adirondack connecting Montreal with New York City.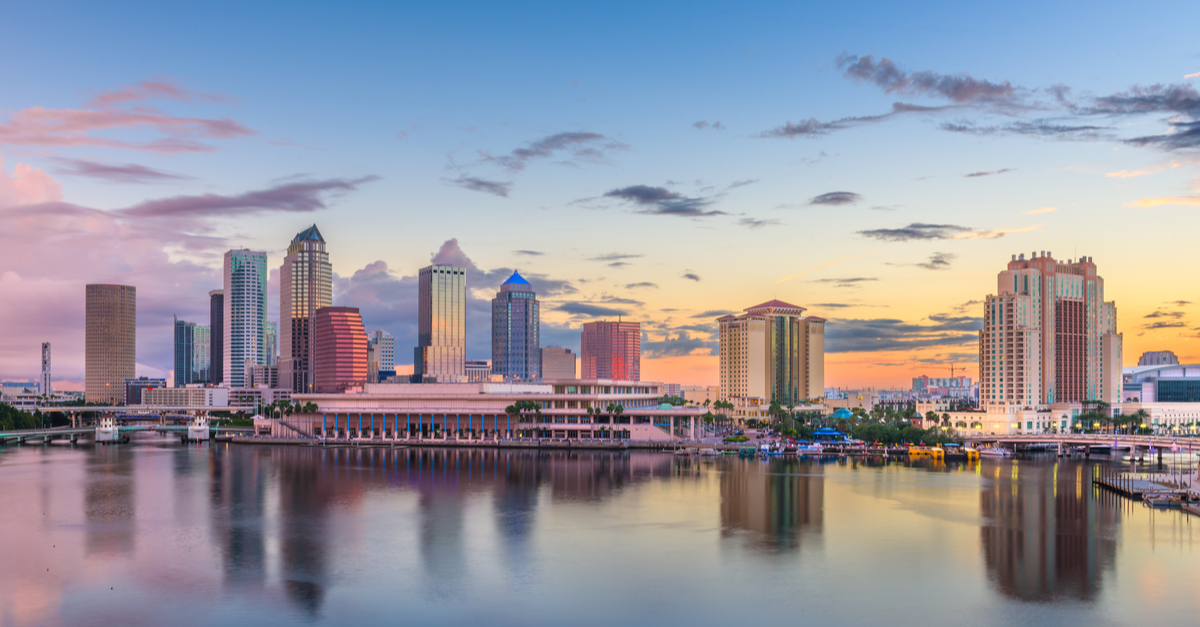 Tampa Skyline. Source: Shutterstock
Main train stations from Tampa to Miami
The departure station for this route is Tampa Union Station in Tampa, Florida. It is registered as a historic landmark, built in 1912 and serving direct service to several major stops such as Miami, Orlando, Washington, D.C. and New York City. It is located less than 1 mile (1.6 km) from the Tampa city centre, accessible in about 5min via public transit. The station has ticketing offices, complimentary daily and overnight parking, checked bag service, bag storage, restrooms, and vending machines.
The arrival station is Miami Amtrak Station, located about ten miles northwest of Downtown Miami. You can use Metrorail or Metrobus - Miami's public transit system - to access the station in about 20min. The station has ticketing offices, daily and overnight parking, checked bag service, bag storage, restrooms, and vending machines.
Popular journey in Florida
There are three train lines that run through the state of Florida - Silver Star, Silver Meteor, and Auto Train. Silver Star offers service from New York City to Miami, including stops in major cities like Philadelphia, Washington, D.C. and Baltimore. It costs $160 for a 31h journey. Silver Meteor follows a similar route, but includes more amenities and meals in the dining car. You can also upgrade to roomettes or private rooms for greater comfort overnight.
It costs $160 for a 27h journey. Auto Train is an overnight train that serves travelers with vehicles from Lorton, Virginia to Sanford, Florida. This train is only available for travelers who wish to bring their vehicles with them. There is one departure per day in each direction, leaving around 4:00 p.m. and arriving at the destination around 9:00 a.m. on the following day. It costs $180 for the 17h journey.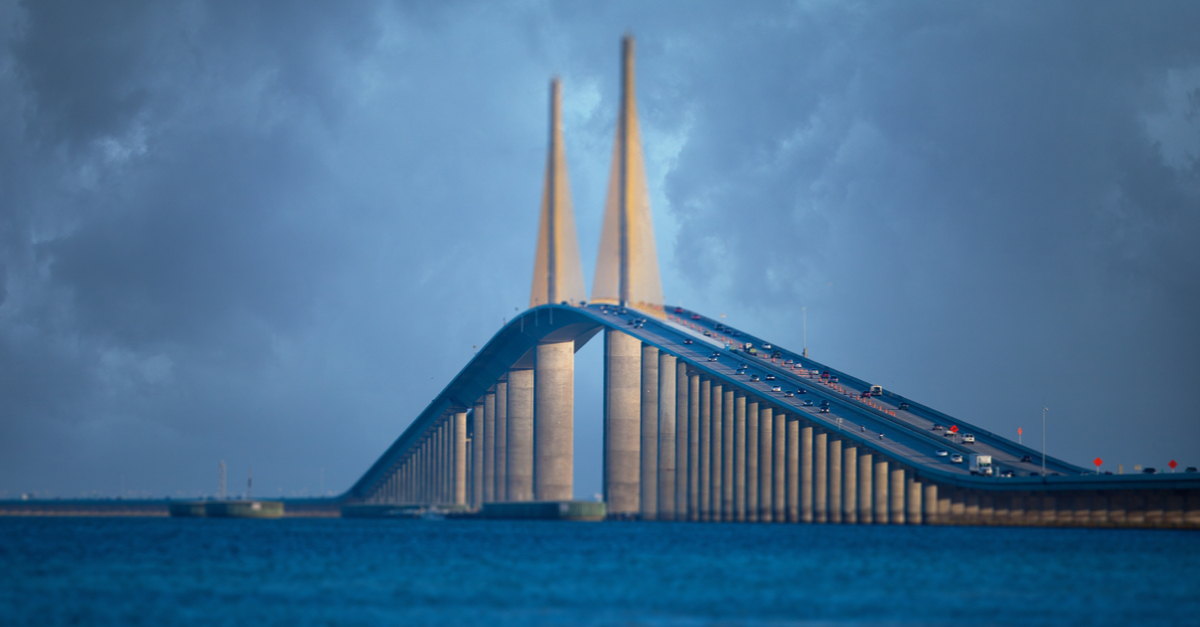 Tampa Skyway Bridge. Source: Shutterstock
Popular train routes from Florida
One of the most popular routes from Florida to other states is the Silver Meteor, which travels between Miami and New York City in about 28h for approximately $275. This line includes stops in popular cities like Philadelphia, Washington, D.C., Baltimore, and Orlando. Another popular route is the SIlver Star, which has the same terminal stations of New York City and Miami but includes additional stops in North Carolina and includes service to Tampa.
The complete journey will take around 31h and costs about $200. The only other route that travels through Florida is the Auto Train, designated specifically for travelers who are bringing their vehicles from Lorton, Virginia to Sanford, Florida in around 19h. The price is dependent on the size and number of vehicles you bring.
Good to Know
Since this is an overnight journey, you can purchase sleeping accommodations like roomettes or private rooms. Roomettes are more appropriate for one to two people, with a fold-out table, storage space, two beds that convert into seats, a sink, toilet, and access to shower rooms. Private bedrooms are larger, meant to accommodate up to three people.
They include a sofa that converts into bunk beds, a sink, toilet, and shower. Bedroom suits are designed for up to six people, with two bunk beds, two lounge chairs, and two bathrooms. They are essentially two private bedrooms combined. Family bedrooms are only available on Superliner trains, with four beds that convert into one sofa and two lounge chairs.
To Miami by train—travel tips
With white, sandy beaches and vibrant nightlife, a visit to Miami is sure to provide a memorable experience. This city is heavily influenced by its large Cuban immigrant population, with Little Havana being one of the most popular spots for visitors and locals alike to soak up the sun and enjoy authentic Cuban cuisine.
You could spend your entire trip enjoying the warm and calm waters of Biscayne Bay, whether it is zipping around on a jet ski or simply playing in the surf. When visiting Miami, there is a good chance that you will be crossing paths with celebrities and not even realize it, as many of the most famous actors and athletes have made this coastal paradise their home.
If you are interested, there are plenty of tours to see the mansions where these celebrities live, including famous figures like Will Smith and Shaquille O'Neal. Of course, nothing compares to a day relaxing on the sand of South Beach. The city truly comes alive at night, with neon lights illuminating the city to keep the party going until the early hours of morning.