Train to Heidelberg
Heidelberg, a picturesque university town in Germany's southwestern state of Baden-Wurttemberg which is well connected by train to other major cities in Germany such as Frankfort, Dusseldorf, and even Cologne. Indirect connections from international destinations like Paris are also available from Heidelberg Train Station ("Hauptbahnhof" in German, often abbreviated as simply Hbf), the city's eponymous railway station located just a short walk to the west of the main commercial district of modern Heidelberg.
Deutsche Bahn to Heidelberg
Deutsche Bahn is the primary rail carrier providing train to Heidelberg from cities across Germany. As an example, Deutsche Bahn trains leave regularly every day of the week for Heidelberg train station from Berlin Hauptbahnhof, often with more than one departure per hour, making the 298-mile (480 km) journey southeast either directly or with connections in cities such as Hanover or Frankfurt. These itineraries range in duration from around 5h up to just over 10h, depending entirely on the route taken and any connections made along the way.
Deutsche Bahn also offers trains to Heidelberg from the north, such as from the Dortmund or Cologne Hauptbahnhof. These regularly departing trains travel to Heidelberg train station each day of the week, typically making the journey in around 4h to 6h with connections made in one or the other city along the way.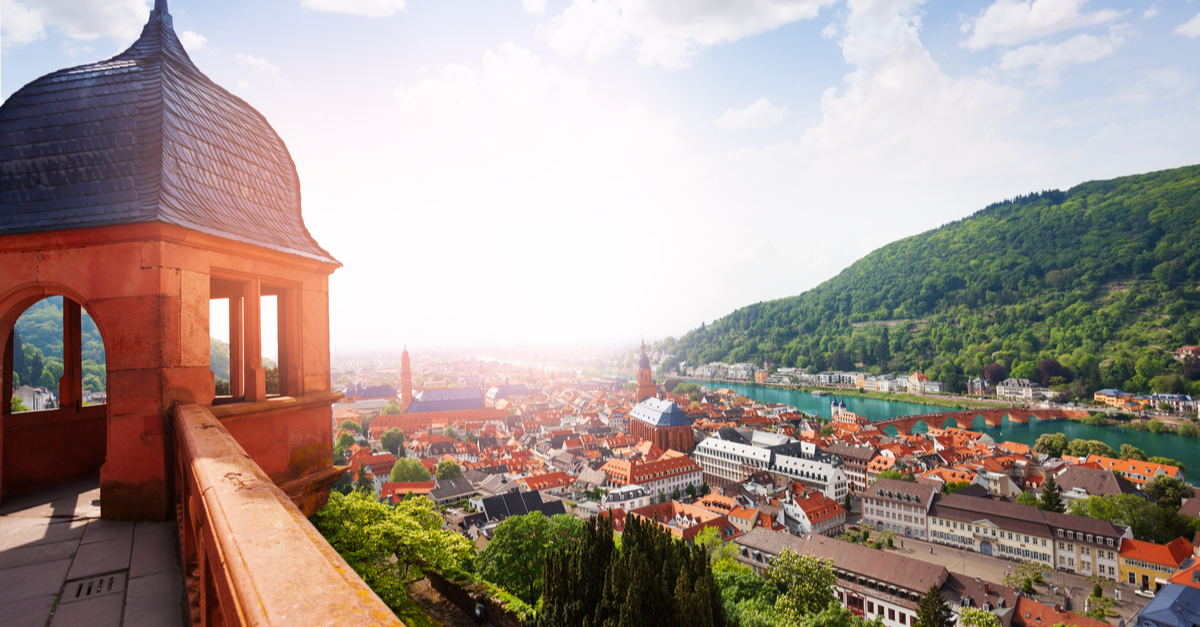 Heildeberg Aerial View: Shutterstock
Main train station in Heidelberg
The main railway station in Heidelberg is known as Heidelberg Hauptbahnhof (or "Heidelberg hbf") and located on Willy-Brandt-Platz only a short distance to the west of modern Heidelberg's commercial city center, a one-mile (2 km) stroll easily made on foot or by taxi if the weather is unkind to foot traffic. City buses run continuously from the station to popular sites in town, such as the famous university or the city zoo, and there are also trams available to carry travelers to the Old Town (known as the Altstadt). The station sits along the charming Neckar River and features a ticket office which is open seven days a week, excluding holidays.
Heidelberg's train station offers many passengers services and has been described as a "cultural monument" for its beauty and regional importance. If your travels extend beyond Heidelberg, this station also serves the regional S-bahn, and nearby destinations such as Frankfort or Stuttgart can be reached in less than one hour.
Onboard facilities Heidelberg
Deutsche Bahn trains to Heidelberg include both inter-city and regional trains, either of which offers both standard and first-class seating. On these trains, passengers may enjoy free WiFi on their journey to Heidelberg train station from anywhere else in Germany, with enhanced internet speeds also offered to first-class travelers so you can download large email attachments or even stream videos while traveling to Baden-Wurttemberg's famous city on the Neckar!
In contrast to standard seating, first-class passengers may also enjoy specific seat reservations, complimentary newspaper service on morning routes, and food catering right to their seats. All Deutsche Bahn passengers may bring their luggage on board for free without weight restrictions, although bicycles are only permitted on long-distance trains.
On those trains, passengers will need to first pay for a bicycle reservation in one of the limited spaces provided on board and ensure that their bikes are foldable. Those passengers traveling with reduced mobility are afforded special assistance, including step-free access at the Heidelberg train station, and of course service animals, such as seeing-eye dogs, etc. are always welcome aboard all Deutsche Bahn trains throughout Germany.
Train tickets to Heidelberg: useful to know
Online or "e-tickets" are readily available for nearly all of Deutsche Bahn's national routes and can be easily booked through Omio either in advance or just prior to departure. As an alternative, it is also possible to book a physical ticket and have it mailed to your postal address if you prefer. If you have booked a First Class ticket for Deutsche Bahn, your seat reservation will be listed midway down on the ticket display, whether physical or electronic.
It is generally advised that all passengers carry a valid government-issued photo ID with them while traveling in Germany, whether by train to Heidelberg or elsewhere, as railway staff may request identification when reviewing your ticket. Good news for travelers: Omio makes it quick and easy to book your train tickets anywhere in Germany and now you can even store your electronic tickets in your online Omio account for greater peace of mind and accessibility while traveling!
Heildeberg Bridge : Shutterstock
To Heidelberg by train: travel tips
Whether summer or winter, it is always the right time to visit Heidelberg, southern Germany's beautiful university town on the Neckar River! This idyllic city of around 160k residents features world-famous attractions such as the Market Square (known as the "Marketplatz"), an excellent place to find a memorable souvenir for yourself or a friend back home, and the location of the city's annual outdoor Christmas Market!
The Old Town (known locally as the "Altstadt") is another must-see while in Heidelberg, with its excellent Hauptstrasse shopping area, iconic Karl-Theodore Bridge, and of course the city's own university, a breathtaking campus which holds the distinction of being the oldest center of higher education in all of Germany!
Perhaps the very best part of all, however, is that all of these and many other attractions in the famed city of Heidelberg are easily accessed either on foot or by using the city's efficient system of buses and trams, many of which can conveniently deliver visitors from Heidelberg's train station to any point in the Old Town or nearby in less than 30min!
Travelers visiting the ancient cities of Germany are accustomed to old castles and unique museums, but makes Heidelberg so special? Some might say the answer is that in Heidelberg, the past isn't kept in a museum display box, but is living all around you! Take for example the city's university in Altstadt.
Here visitors to the city can not only explore Germany's oldest center for higher education but can actually watch students as they make their way from lectures to the local pubs, just as so many others have before them over the centuries! And of course, Heidelberg also boasts its iconic castle, called the "Schloss" by locals. Here visitors can walk the same cobblestones as the knights and peasants did so long ago, peer through slits in the walls designed for archers to defend the keep, and of course, marvel at the collapsed tower, a relic of the destruction left behind by World War II and the struggle between freedom and tyranny.
This and many other aspects of Heidelberg's past and present can be pondered as you take a slow stroll in the actual footsteps of some of Germany's greatest thinkers along the peaceful Philosopher's Walk, a path which crosses the Neckar River at the Old Bridge and includes some of the most moving vistas of the city and its ancient castle perched on a hill overlooking all the Heidelberg has been and will continue to become! When you book your ticket by train to Heidelberg through Omio, you're not just booking a trip to someplace new, you're booking an experience that will also result in a new you!