Trains from Fresno to San Diego
You can conveniently travel from Fresno to San Diego via train at various hours of the day. There are approximately eight train trips from Fresno to San Diego. The distance between Fresno to San Diego via train is about 322 miles (508km). The journey takes around 9h and 14min through this route but could take a shorter period of around 7h and 40min. The time the train takes from Fresno to San Diego depends on how fast or slow the train is moving and the variation of time the train takes in the transfers.
Fresno to San Diego Train time: Daily Departures
The first train from Fresno to San Diego departs at around 11:49 a.m., another at 1:49 p.m., and you can also get another train that leaves at about 3:49 p.m., and you can still find other departure times of the train. You can also check the train schedule to see the various departure times and train times that suit your preferred travel time. However, the train time for return journeys for this route may be different as it varies from Fresno to San Diego.
How long is the journey by train from Fresno to San Diego
The distance between Fresno and San Diego by train is around 322 miles (508 km). The length of the journey for this route depends on the speed of the train, if it is a fast train or a slow train. The shortest journey takes around 7h and 40min, and the longest journey takes approximately 9h and 14min. The difference between the longest and the shortest is a duration of 2h only. Most of the trains take around 8h and some minutes from Fresno to San Diego.
What are the departure and arrival stations for trains from Fresno to San Diego?
Departure train station: the train departs at the Fresno station in Fresno City in California and arrives at the old town station in San Diego. The train journey is not a direct train but one with transfers at certain stations. There are two transfers at the Bakers field station in Bakersfield, California, and the other at Union station Los Angeles California. The Fresno station is around 0.5 miles (5.6 km) from the city center, and therefore you can conveniently get there by bus or personal car. You can purchase parking at the station where you can park your vehicle. Also, there are car rentals and accommodation where at least two passengers can stay in a room. You can access and use public Wi-Fi, but you are responsible for your device's safety.
Arrival train station: After departing from the Fresno station in California on the journey to San Diego, the train arrives at the old town station in San Diego. The old town station is around 4 miles (6.4 km) from the San Diego city center, and you can take around 18min through tram, which is the available alternative if you don't have your car. The station only has a platform but no shelter or Wi-Fi.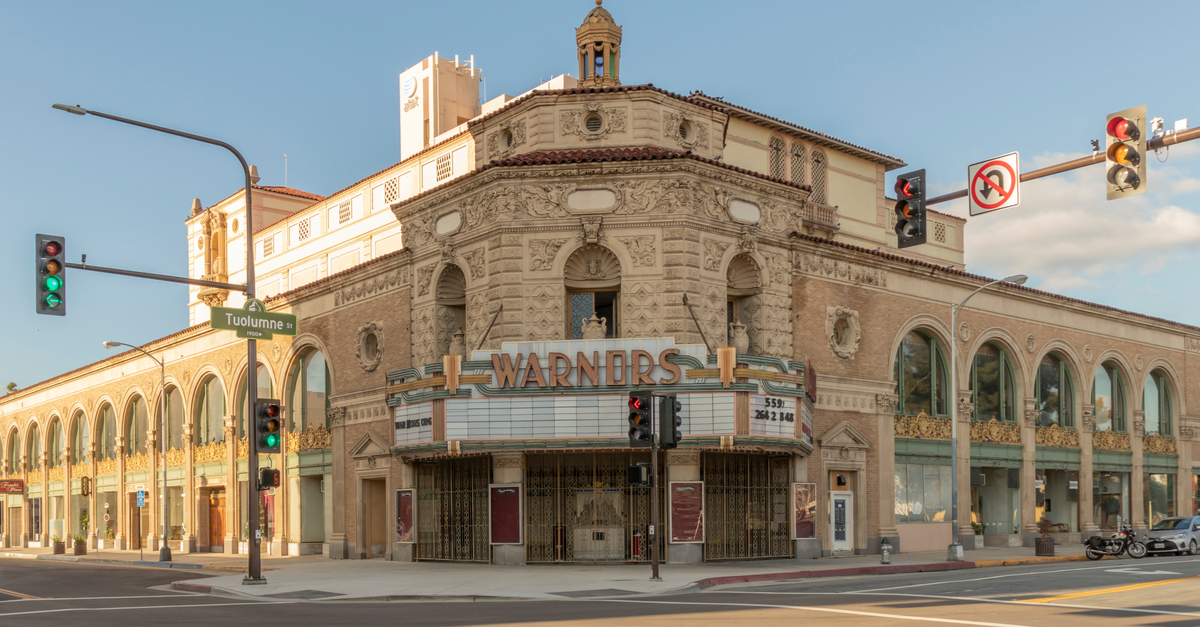 Fresno Theater. Source: Shutterstock
Which train companies travel from Fresno to San Diego
Amtrak train company facilitates all train travels between Fresno and San Diego. Amtrak provides the 5810 Amtrak, the cheapest and the fastest, and the 5710, the second cheapest and second fastest. Amtrak is the only train company on this route and operates almost all intercity train travels in the US. With Amtrak, you can get the cheapest train, you can also get the slowest train, but these variations come with the time of travel and the cost of each train ticket. You will get two transfers along the route and use a different train for the rest of the journey but still under Amtrak.
Amtrak trains from Fresno to San Diego
Amtrak provides both long and medium inter travel between cities in the US. It includes passenger travels between Fresno city and the City of San Diego. There are approximately eight trains scheduled for each day. Amtrak does not provide any direct trains from Fresno to San Diego. You have to use connecting trains, with two transfers at Bakersfield station and another at Union station. The transfer time between these trains is less than an hour. The transfer at Bakersfield takes around 8min, and the transfer at Union station takes approximately 40min. The fastest train takes about 8h and 4min.
Train from Fresno to San Diego: Services on Board
You can get various dining services on the train, and also all your special dietary needs could also be taken care of. You can also bring personal medication that you can self-administer in case you need it throughout the journey. The train also offers a beautiful experience with private accommodation in case you need it. Private accommodation is being provided to passengers seeking privacy, comfort, and space. Various seating options are offered according to your preference, including the coach and the business or the first-class seating. These classes vary according to the ticket you have purchased. The train provides a luggage allowance for your luggage, and you can bring two personal and two carry-on items but with size and weight limitations. Baggage that is beyond the standard size may require additional parking services and service fees. Pets are allowed on board with special trains and purchase tickets. Dogs and cats of up to 20 pounds are welcome on trips of up to 7h.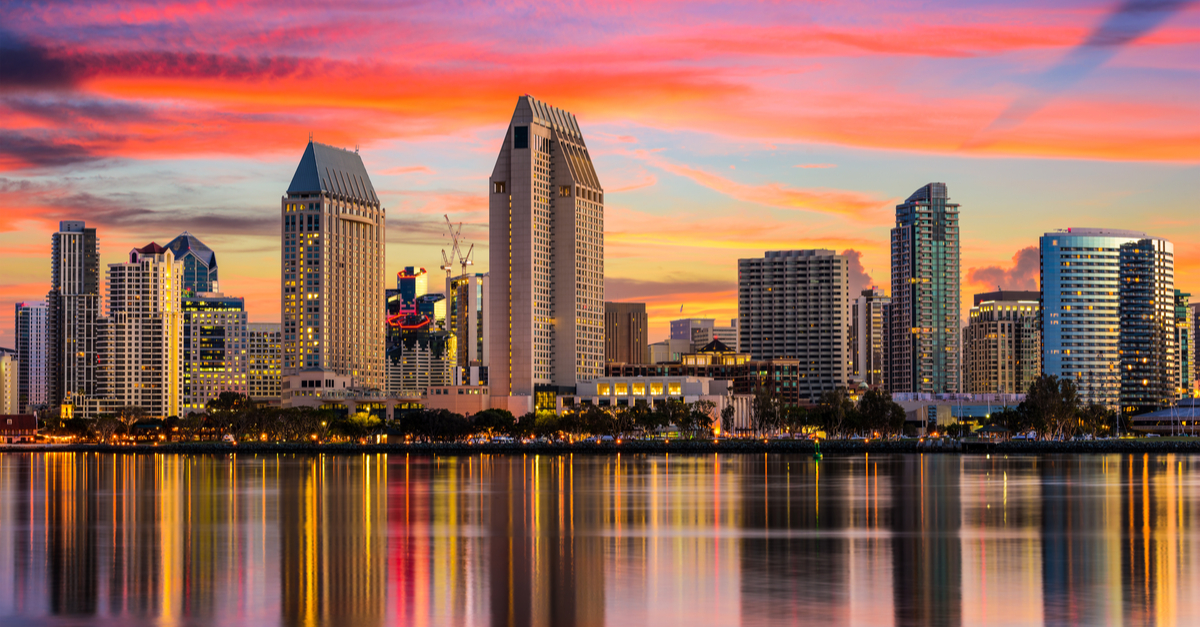 San Diego Skyline. Source: Shutterstock
How to find cheap train tickets from Fresno to San Diego
The best way to secure cheap tickets is to book your advance tickets before the prices or demand increase. The booking services for a ticket are open months earlier, and therefore you can book your travel ticket as early as possible. You can also try to be flexible with your travel dates to secure the best-priced tickets. By taking slower journey trains, you may acquire cheaper tickets for your journey. If there is an option of direct and connecting trains, it is wise to choose them as they provide cheaper tickets for customers.
To Fresno by train: travel tips
Fresno is full of very many adventures to uncover. It is the fifth-largest city in California and has a lot to keep visitors entertained. The city has underground gardens that are an attraction to anyone visiting the city. The gardens are both exciting and unusual attractions to all kinds of tourists. The gardens were created over forty years ago and had many fruit trees such as oranges, lemons, and grapes.
Yosemite national park is another reason to visit Fresno. Over 3 million people visit the national park, which covers a vast area across the Sierra Nevada mountains and is a designated UNESCO world heritage site. If you desire an outstanding shopping experience, you can have one at Riverpark in Fresno, with over 75 shops, movie theatres, and many restaurants.
You can enjoy various cuisines in the restaurants, such as tacos and Fresno corn. You can also attend the Fresno fair for two weeks, and more than 600,000 people are in attendance. Various exhibitions take place, such as the livestock show, horse racing, and live music.
You can also have a chance to a wine tasting at Moravia winery, LoMac winery, and try some craft beers at Tioga Sequoia. Tourists come from all over the US and various countries to enjoy the town's good things, which brings more curiosity why you should travel to Fresno. You will have these and even many more reasons to visit Fresno city, preferably by train.