Trains from San Diego to Fresno
If you are planning on traveling to Fresno from San Diego by train, Amtrak has a choice of departures for you to choose from. There are usually eight trains a day, every day of the week, which leave in the morning. These journeys take from around 8h 10min to about 9h 47min. You will need to make two changes during the trip, usually in Los Angeles and in Bakersfield.
San Diego to Fresno Train Time: Daily Departures
There are normally eight trains departing San Diego and heading to Fresno every day of the week. All these trains leave in the morning. Typically, the first train leaves at about 6:00 a.m., and the last train leaves San Diego at around 8:30 a.m. There are usually two trains that leave at the same time for Fresno during that period.
How long is the journey by train from San Diego to Fresno?
The train journey from San Diego to Fresno can take from about 8h 10min to approximately 9h 47min. Each journey makes the same stops, one in Los Angeles and one in Bakersfield. However, the length of the stops is why the travel times are different. For the fastest trip, the stops are for about 24min and around 17min, while the slowest trip has stops of around 1h 40min and approximately 17min.
What are the departure and arrival stations for trains from San Diego to Fresno?
Departure train station: You will be departing from either Old Town Transportation or Santa Fe Depot. Santa Fe Depot is a station located about 10min from central San Diego by the Blue Line Tram or by walking along Broadway. The station has disabled accessible facilities including waiting room, restrooms, and ticket sales office. There is no wi-fi service available, but there are vending machines and an ATM. Old Town is just a platform located about 25min north of the city center by the Sycuan Green Line. There are no services or facilities, although there are vending machines, and the only disabled assistance is wheelchair lift availability. You should arrive at the station at least 30min in advance if you do not have to check luggage, 45min if you do.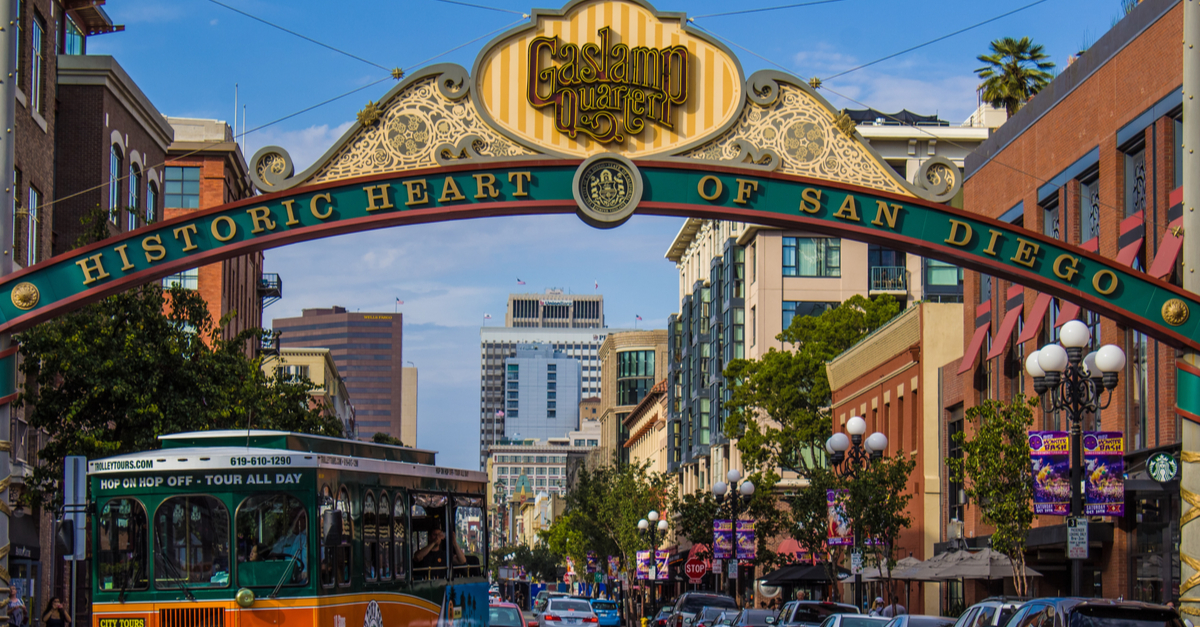 San Diego Historic Heart. Source: Shutterstock
Arrival train station: You will arrive at Fresno Station. The station is a 5min walk to the city center, or a 2min ride on Bus 22. The station has a waiting area, restrooms, sales office, and vending machines, but there is no wi-fi service available. Disabled visitors will find accessible restrooms, waiting areas, and platforms.
Which train companies travel from San Diego to Fresno?
Amtrak, also known as the National Railroad Passenger Corporation, is the main provider of train services between San Diego and Fresno. It provides train service in the United States for long- and medium-distance travel between cities. The Pacific Surfliner is the train service that runs the route that includes the trip from San Diego to Fresno and is Amtrak's second busiest intercity passenger corridor, transporting over three million riders with 26 trains on the schedule every day.
Amtrak trains from San Diego to Fresno
Amtrak's Pacific Surfliner service covers the journey to Fresno from San Diego. There are eight trains departing every morning, with two trains leaving at the same time four times a day. These are generally electric-diesel locomotives, and the journey requires travelers to make a change twice. There are currently no direct service. Normally the changes are in Los Angeles and in Bakersfield.
Train San Diego to Fresno: Services on Board
Amtrak Pacific Surfliner service to Fresno from San Diego offers two classes: coach and business. In coach you get a reclining seat with leg room and a fold down table as well as an individual reading light and electrical outlet access. There are coach seat reservations available on a limited basis on this route. Business class travelers get more comfortable seats with more leg room as well as complimentary snacks, beverages, and newspapers.
There is a café car available for all passengers, and free wi-fi service onboard, as well as restrooms. There is limited space available for bicycles onboard, so you need to make a special reservation for your bike when you book. Generally, you can bring up to six pieces of luggage on board for free. This comprises two personal items of up to 25 pounds each and measuring no more than 14" x 11" x 7", such as a briefcase or purse; two carry-ons that can measure up to 28" x 22" x 11" and weigh up to 50 pounds each; and two checked bags that can measure up to 75 linear inches (length + width + height).
Amtrak only allows officially certified service animals on board. You can bring required medical devices on board at no extra cost as long as you purchase a mobility impaired fare. Amtrak also offers a full range of disabled accessible services from accessible train cars to wheeled mobility device assistance. You should notify the company in advance to ensure that they can accommodate your needs.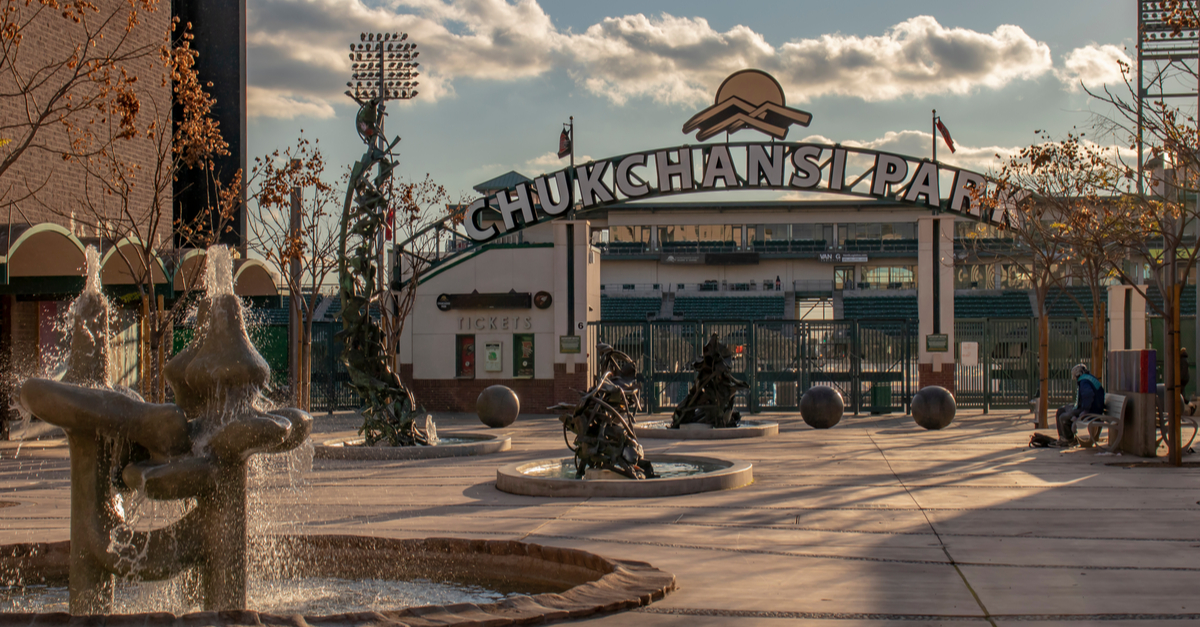 Fresno Chukchansi Park. Source: Shutterstock
How to find cheap train tickets from San Diego to Fresno?
There are a number of ways you can find cheap tickets for trains to Fresno from San Diego. Often, fares are cheaper for advance purchases. Also, if you are flexible with your travel dates, you may find better rates a day earlier or later than you planned. You can also look for special promotion or discounts. If you are traveling with friends and family, you may qualify for a group rate.
Amtrak offers discounts for children and senior citizens as well as for military personnel. You can also check for limited time promo codes such as for buy one get one free or rail passes for multiple rides or regional travel.
To Fresno by train—travel tips
Outdoor lovers and adventure seekers will love how close they are to three national parks. Yosemite, Kings Canyon, and Sequoia National Parks are just an hour and a half drive away. Or you can head closer to Woodward Park where 300 acres in the city offer something for everyone, including five miles of trails, a Japanese garden, and three playgrounds.
The Forestiere Underground Gardens fascinate visitors as they tour through patios, grottos, and gardens that were lovingly cultivated underground for decades with enough sunlight still to grow fruit trees. Families can frolic together at Island Water Park or enjoy an old-time movie experience at the massive Tower Theater that seats over 700 people.
If you happen to be stopping by in the beginning of October, you should try to stop by the Big Fresno Fair. Held in the traditional of American state fairs across the country, you can enjoy carnival rides, fair foods, concerts, exhibits, competitions, and more.
You could visit one of the many vineyards or breweries – you don't need to drink as most of these locations offer wonderful views and vistas as well as having restaurants featuring the best in farm to fork menus with ingredients from nearby farms. Or you could pick your own produce along the Fresno County Fruit Trail, where you can always find something in season to savor.