Trains from Fresno to San Jose
The trains from Fresno to San Jose run a few times a day. There are different routes available to get between these two cities in California, from trains with one stopover to mixed options with a train and a bus transit. The journey takes from about 4h 19min to a total of around 8h 40min. The duration depends on the route option you choose to take, as well as the day of the week you wish to travel on.
Fresno to San Jose Train Time: Daily Departures
There are daily departures out of Fresno, CA heading to San Jose, CA. Depending on the day of the week you want to travel on, the frequency of trains departing out of Fresno with connections or direct trips to San Jose, varies from about two departures per day during the week, to about three options on the weekends. However, there are multiple transit options to get to San Jose, depending on where you make your stopover. The first train leaving out of Fresno departs at approximately 6:12 a.m., and the last one is at about 2:16 p.m.
How long is the journey by train from Fresno to San Jose?
The journey from Fresno to San Jose covers more or less 123 miles (199 km). However, there aren't any direct trains that can take you to San Jose from Fresno. All the route options you can find on Omio have at least one stopover. This change is either in Stockton, CA or Oakland, CA. These routes take from about 4h 19min to more or less 8h 38min.
What are the departure and arrival stations for trains from Fresno to San Jose?
Departure train station: The Fresno Station is where you'll be catching your train. The station is located right by Downtown Fresno. Even though the station is walking distance from the city center, less than 15min away, there is also public transportation that gets you there from downtown in about 5min. The Fresno Train Station doesn't offer a lot of amenities, but it does have a waiting room, restrooms, a ticket office and vending machines.
Arrival train station: Your final destination is San Jose Diridon Station. The station is located just out of Downtown San Jose. To get to the city center you can either walk less than 20min, or catch one of the public buses available right by the train station. The public transportation makes the trip to Downtown San Jose in under 15min. San Jose Diridon Station has a ticket office as well as bike lockers and an elevator.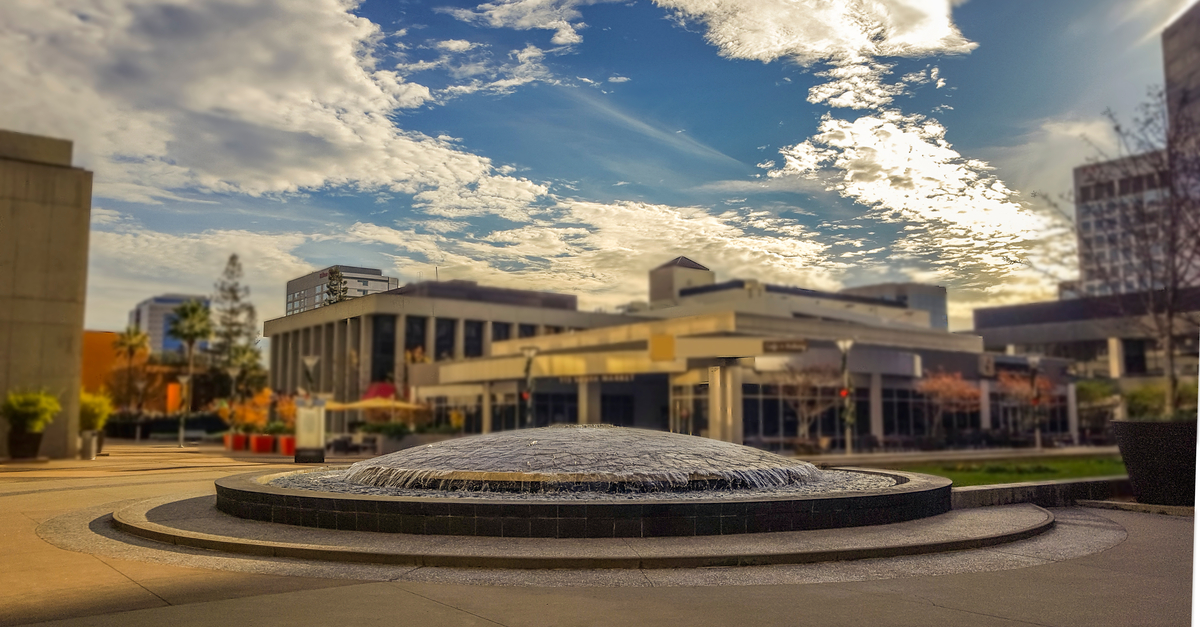 San Jose South Market Street. Source: Shutterstock
Which train companies travel from Fresno to San Jose?
The train company operating the routes from Fresno to San Jose is Amtrak. The combination of trains and bus transits are all offered by Amtrak. The mixture of routes is with the San Joaquin trains out of Fresno, CA, combined with either the Amtrak's Capitol Corridor train or Amtrak's connecting bus service. The San Joaquin train goes from Bakersfield, CA to San Francisco Bay Area, stopping in Fresno along the way. The Capitol Corridor route rides from Auburn, CA to San Jose, CA stopping in Oakland, CA where you would get off the San Joaquin from Fresno to make the train change. The bus transit option would be from Stockton, CA to San Jose, CA. Stockton is another stop on the San Joaquin train route. The faster option is generally the bus transit through Stockton.
Amtrak trains from Fresno to San Jose
The Amtrak train routes offered by Amtrak, vary in duration and type of service. The faster option to get from Fresno to San Jose is by taking the San Joaquin route out of Fresno, stopping over in Stockton, CA and riding the San Joaquin Amtrak Transit Bus from there to San Jose. This route can take as little as 4h 19min in total and is offered at least twice a day. The other option does not involve a bus segment, however it does normally take longer to get to San Jose. This route implies riding the San Joaquin train from Fresno to Oakland, CA. In Oakland you will change trains and take the Capitol Corridor to San Jose. This route can take over about 5h 51min.
Train Fresno to San Jose: Services on Board
When traveling by train to San Jose from Fresno, the only class option for all segments is traveling in Coach Class, whether it is the San Joaquin train, bus transit or Capitol Corridor train. Luggage allowance is also the same for any of the route options. Each passenger is allowed two carry-on items and two personal items along with two checked bags. However, pets are not allowed on the ride from Fresno to San Jose, no matter the journey type.
You can bring your bicycle with you, though. Both train routes allow carry-on bikes and the San Joaquin bus transit normally does as well, although it's subject to space in the storage compartment. Any route you decide to ride on, both San Joaquin and Capitol Corridor, has accessible amenities such as accessible platforms and ramps, including the bus transit. Both Fresno Station and San Jose Diridon Station have accessible ticket offices and restrooms as well.
How to find cheap train tickets from Fresno to San Jose?
The main way to find affordable train tickets from Fresno to San Jose is by booking in advance. Generally, ticket prices are at their highest when the departure dates are near, so choose to book as soon as possible. If you are flexible with your travel dates, it can also help to find cheaper train rides, especially avoiding to travel on certain popular holidays.
In the case of the routes from Fresno to San Jose, choose the journeys with the bus transit in Stockton, CA, even though the route is faster it is more affordable that the routes only by train. In this circumstance, you can benefit from a shorter journey as well as more affordable prices.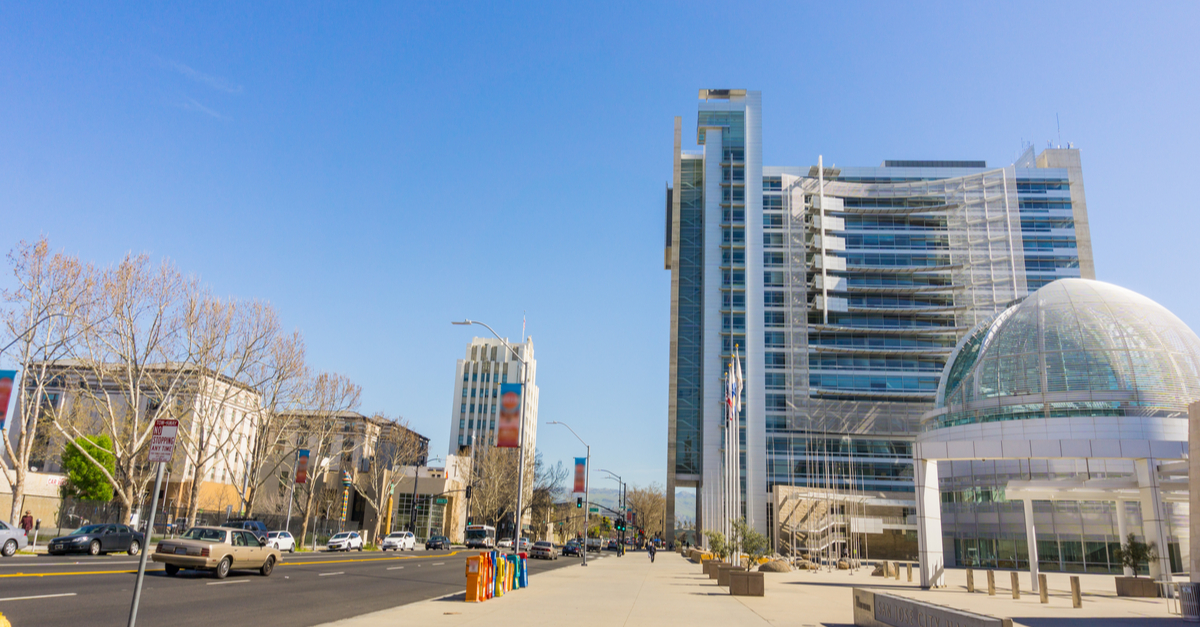 San Jose City Icons. Source: Shutterstock
To San Jose by train—travel tips
Take a train to San Jose to explore the heart of Silicon Valley, known for being headquarters of various digital icons. While you're in town, walk around downtown and check out some great hands-on museums like the Children's Discovery Museum of San Jose and the Tech Interactive. A San Jose must is also the Winchester Mystery House famous for its quirky and odd design.
San Jose also has a vibrant dining scene with a variety of excellent restaurants and breweries, from global cuisines to more traditional steakhouses. For those who love and enjoy the outdoors, San Jose is surrounded by lots of greenery and parks. Take a hike up Mission Peak or maybe spend the day with the family enjoying the trails and lake at Vasona Lake County Park or Ed. R Levin County Park. Right by Downtown San Jose in the Rose Garden District, you'll find the Municipal Rose Garden.
If you're planning on being in town for a significant amount of time, take a day trip to see more of the San Francisco Bay Area like exploring the surfer town of Santa Cruz, or San Francisco and its iconic Golden Gate Bridge and Pier 39.