Trains from Frankfurt to London
All trains from Frankfurt to London have layovers along the journeys. Trains take 6h 12min to get from Frankfurt to London. The distance between the two cities is 396 miles (638km). Riding the train on the Frankfurt- London route offers travelers a unique experience exploring the passing scenery. Trains are not only cheaper, but they get travelers in the middle of London, saving you the hassle of dragging luggage from the station to the city center. Deutsche Bahn offers the most train rides from Frankfurt to London.
Frankfurt to London Train Time: Daily Departures.
There are 14 daily train rides from Frankfurt to London. This means that weekly, there are over 80 train rides to choose from. The earliest train departs Frankfurt at 8:38 a.m. and reaches London at 5:01 p.m. taking 9h 23min. The last train departs Frankfurt at 2:27 p.m. and reaches London at 7:39 p.m. taking 6h 12min. These hours may vary depending on the day of the week and the provider. Omio provides all rides available so that customers can choose the most convenient ride for them.
How long is the journey by train from Frankfurt to London?
The average train takes 6h 12min to get from Frankfurt to London. The fastest train takes 5h 50min with one transfer along the route. The slowest train takes 9h 23min to travel between the two cities. These times vary as each train ride has a layover along the way. Hours are typically affected by the number of layovers along the way and the type of train.
What are the departure and arrival train stations for trains from Frankfurt to London?
Departure train station: trains leave Frankfurt from Frankfurt (Main) Hauptbahnhof train station. It lies at 60329 Frankfurt AM Main and operates daily from 7:00 a.m. to 10:00 p.m. Travelers can get a taxi from their destination to the station. Bus lines N84, N13, 012, 135, N1305, N277, and N952 have stops at the station. The station provides DB information counters for travelers that have any queries about their journeys. Travelers can get advice or help from the mobile service staff at the station. There is a lounge for first-class passengers with a stylish ambiance, comfortable seating, and attentive staff. There are luggage lockers, washrooms, a tickets office, and ticket sales office. Food concessions at the station include a Starbucks and the Uddin's bar. All tracks at the station are wheelchair accessible, and there are elevators to get from the platform to the concourse. There is a lost and found section for passengers to retrieve their lost items. Drivers can find long-term and short-term parking options at the parking lot.
Arrival train station: Trains from Frankfurt to London arrive at London St Pancras International station that sits at Euston Rd, London N1C 4QP.It is a hub for intercity, continental and regional trains. It operates 24 hours a day. Travelers will find car hiring services at the station if they wish to drive to their preferred destinations. There are several trains and buses at the station to get to other parts of London. The station provides ticket machines and a ticket office. There is a tourist information office at the entrance of the station. Travelers will find washrooms and baby changing pods for nursing travelers. There is a lost and found property area, luggage storage facilities, and trolleys to help handle baggage. There are cash machines, public phones, a pharmacy, and a photo booth. It features over 40 ships and 20 eateries. The station is wheelchair enabled for easy navigation of reduced mobility passengers. Reduced mobility passengers can get extra assistance if they make prior arrangements with their train operators.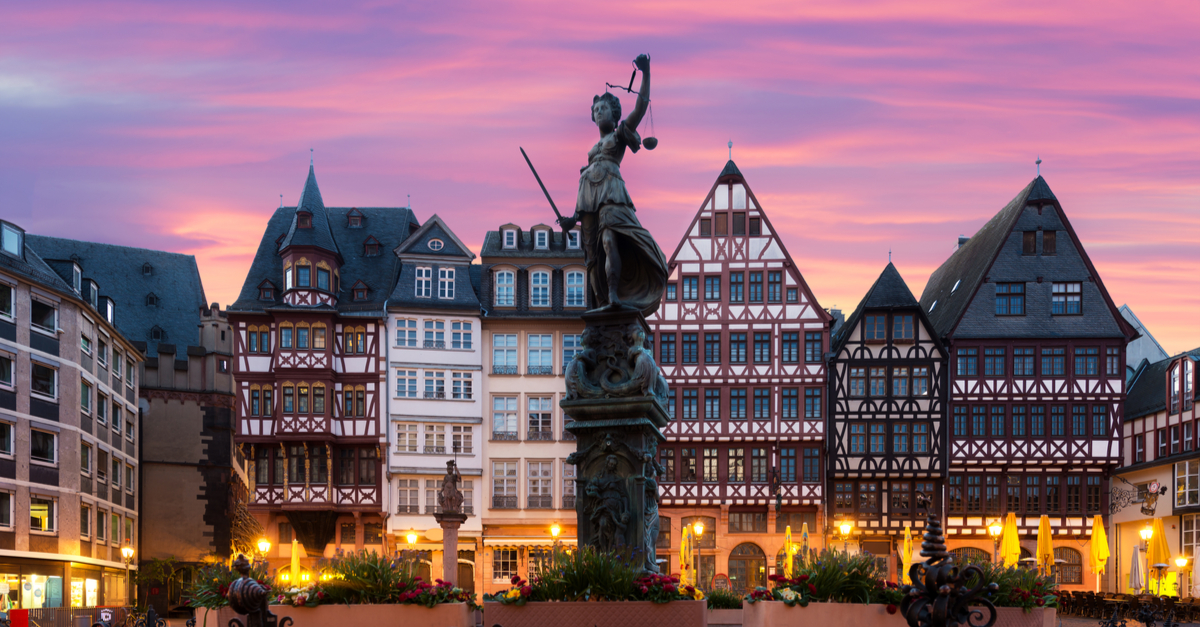 Frankfurt Statue. Source: Shutterstock
Which train companies travel from Frankfurt to London
Trains on the Frankfurt-London route are provided by Deutsche Bahn. Deutsche Bahn trains provide DB Intercity-Express and Deutsche Bahn along the Frankfurt London. Deutsche Bahn trains have more trains on this route, with about eight trains daily. DB intercity Express trains have about six trains daily on this route.
Deutsche Bahn Trains from Frankfurt to London
Deutsche Bahn is a popular train company with routes and destinations in over 15 countries. It uses different types of trains like the Intercity Express, Intercity, Euro city, Regional Express, and Regional Bahn trains. These trains vary in the journey durations, comforts, and amenities. Intercity-Express trains provide the fastest services from Frankfurt to London. Intercity-Express trains are the fastest as they can cover up to 200mph (320km/h). The regular Deutsche Bahn trains take an average of 140 mph (230km/ h).
Trains from Frankfurt to London: Services on Board
Deutsche Bahn trains offer two types of seating classes. They include first class and second class seating. First-class tickets typically cost more than second-class seating. First-class travelers get extra luggage storage facilities, comfortable seats, power charging sockets, seat reservations, at-seat meals, quieter carriages, and unlimited free Wi-Fi.
First-class passengers also get free daily newspapers and access to the lounge at the stations. Second-class seating has a two-by-three seating arrangement, ample legroom, and overhead racks to store luggage. Luggage racks measure 27*17*12 inches. Luggage does not have weight restrictions as long as they fit in these luggage racks. Travelers can get any amount of luggage on the train for free of charge, including items like trolley bags and strollers. Each passenger is responsible for the security of their luggage.
Travelers can also store luggage in an open section of the train car, near doors or the middle of the car. There is free Wi-Fi to keep travelers entertained, trains come with restrooms, and onboard café with a wide variety of meals and snacks. Bicycles are allowed on board with separate tickets. You can travel with your pet for free as long as they fit in carriers or hand luggage. Larger pets are allowed on board, and travelers can pay fees equivalent to children's fares. They also have to be in leashes and muzzles. Each train is wheelchair enabled with washrooms, entrances, and services for reduced mobility passengers.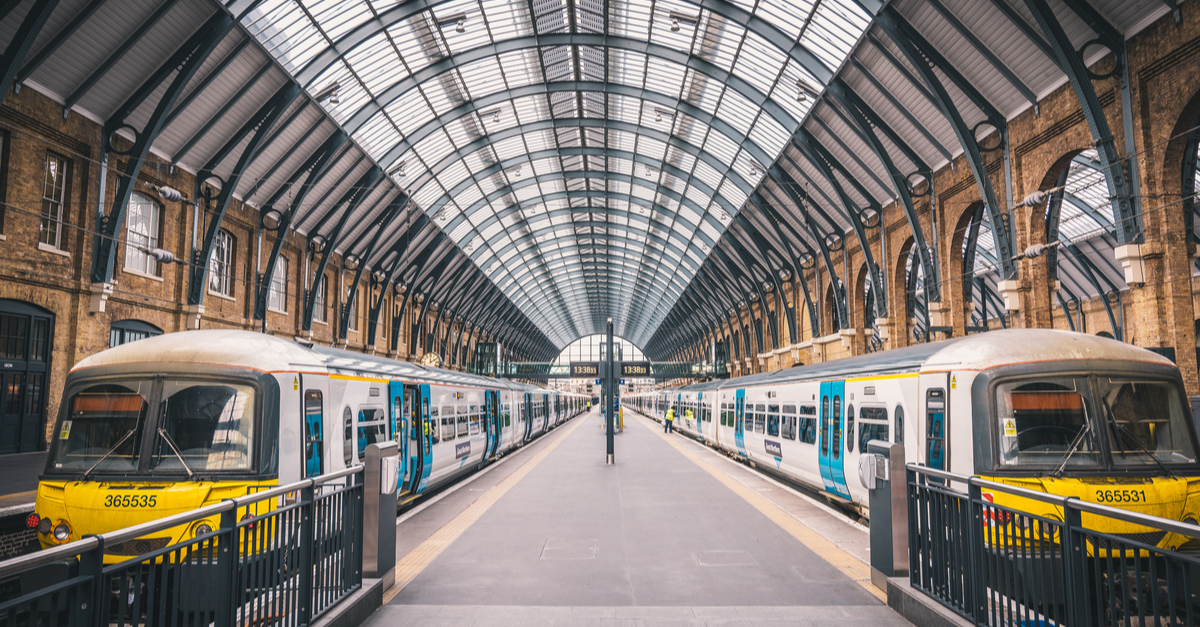 London Kings Cross. Source: Shutterstock
How to Find Cheap Train tickets from Frankfurt to London?
Travelers that need cheaper train tickets should consider buying tickets in advance. Providers release train tickets a few months before their scheduled time. If you get one in advance, you are likely to get a cheaper deal. Flexibility counts when scoring cheaper ticket deals. If you are flexible with your dates, you are likely to score cheaper train tickets. Train tickets are often affected by the route the provider takes. Journeys with more layovers tend to be cheaper than direct journeys. Also, keep an eye out for cheaper discounts and deals that provide cheaper tickets for train journeys from Frankfurt to London.
To London by train- travel tips
A train ride to London is ideal for traveling the passing scenery between the two cities. London, Britain's capital, blends rich art and entertainment scene with cultural attractions. It provides something for any traveler, making it an ideal destination to explore. Art, culture, and history lovers will love a visit to Buckingham Palace.
Visitors can enjoy a display of the precision marching, music at the James's Palace, and a tour of the Royal Mews and State Rooms. The British Museum is an ideal destination for art and culture lovers as it displays a global collection of the finest antiques from around the globe. It has an on-site book shop with an exhaustive array of famous book titles and a shop with souvenirs.
London is home to The Shard, a popular landmark famous for its resemblance to a shard of glass. Nature and outdoor thrill enthusiasts will love visiting Hyde Park, a massive green space with museums. Travelers can also enjoy boating and swimming at the Serpentine Lake in Hyde Park. Piccadilly Circus and Trafalgar Square are popular tourist's spot that showcases a 183-foot granite monument overlooking bronze reliefs and fountains. Kew Gardens lies in the southwest of London, and it features numerous plant exhibits alongside musical and cultural events.
Thrill-seekers will love a ride on The London Eye, which provides spectacular views of the city. A tour of the Thames Cruise offers great views of Tower Bridge and the House of Parliament. For vibrant nightlife, travelers can consider visiting Soho, which features plenty of bars, clubs, theatres, and jazz bars. Treat your taste buds to Kiln's Smoking Goat and Thai Barbecue. The Barbary is popular for its tandoor and grilled meals, while Hoppers provides top-notch bone marrow varuval and curries.