Trains from Boston to Newark, NJ
The distance from Boston to Newark, NJ, is approximately 195 miles (315 km). Trains traveling from Boston take between 3h 58min and 6h 25min to cover the distance. Highspeed trains on this route can get you to Newark, NJ, within 4h. Every day, an average of 15-20 trains departs from South Station, Boston, headed for Newark, NJ. The trains plying this route make around 80 trips per week.
Boston to Newark, NJ, Train Time: Daily Departures
An average of 15-20 trains makes the trip from Boston to Newark, NJ, every day. The earliest train departs for Newark, NJ, at around 6:00 a.m. The last train from Boston to Newark, NJ, leaves at around 9:30 p.m. and arrives at Newark, NJ, the following day at 3:35 a.m. The departure time intervals do vary depending on the time of day. The peak travel hours happen between 6:00 a.m. to 2:00 p.m., where you might come across 2-3 trains leaving Boston at the same time.
How long is the journey from Boston to Newark, NJ?
Travel times from Boston to Newark, NJ, may vary depending on the type of train and the number of transfer stops it makes during the trip. Highspeed trains plying this route can take around 4h to travel from Boston to Newark, NJ. The slower trains can take up to 6h 25min to get to Newark, NJ, from Boston. Also, some of the trains do make a transfer stop at New York City-NY before proceeding to Newark, NJ.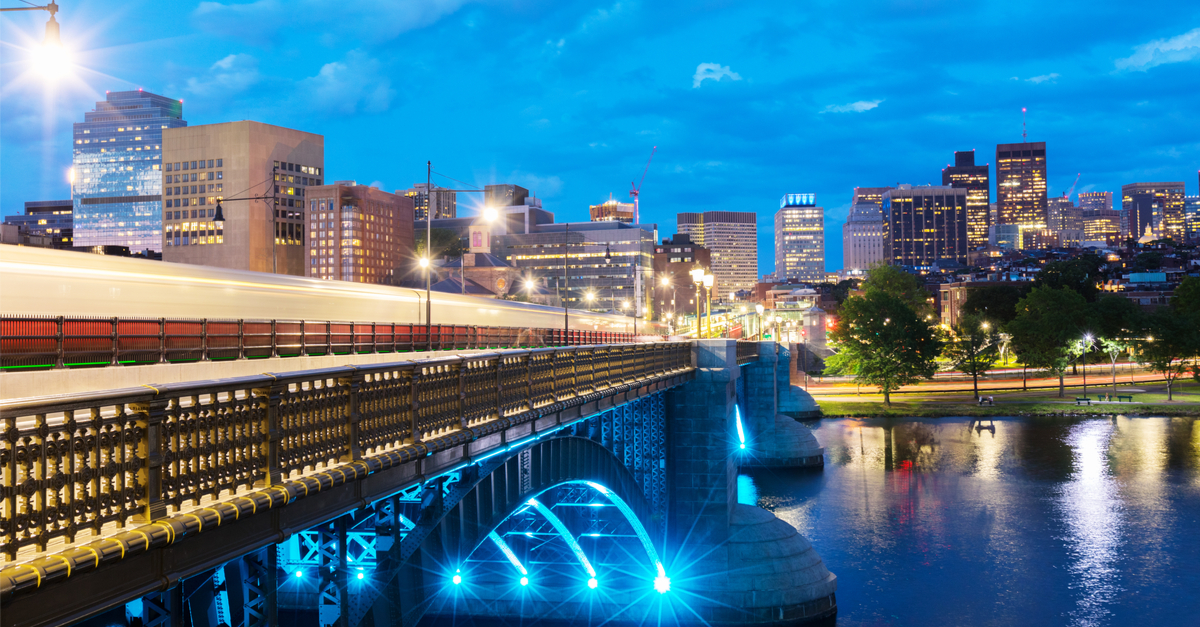 Boston train at night. Source: Shutterstock
What are the departure and arrival stations for trains from Boston to Newark, NJ?
Departure train stationsPassengers headed to Newark, NJ, can board the trains from South Station in Boston. The South Station train terminal is one of the biggest transport hubs in the Greater Boston region. The train terminal is 3.8 miles (6 km) away from Logan International Airport. Taxi or bus rides from the train terminal to Logan Airport take around 11min. The train station has free Wi-Fi and public restrooms where passengers can relax before boarding. Bus and train companies operating from the South Station also offer luggage storage services. The South Station also has banks, food courts, and some excellent shops.
Arrival train stationsMost trains from Boston end their trips at the Newark Penn Station, Newark, NJ. The Newark Penn Station is located at Raymond Plaza, along Market Street. Train rides from Newark Airport to Newark Penn Station take around 3min. The train station offers free Wi-Fi to the public. It is also fitted with accessibility features to assist passengers with disabilities to move around with ease. The train station offers parking services at competitive rates. Also, there are several cafes within the train station.
Which train companies travel from Boston to Newark, NJ?
Most trains from Boston to Newark, NJ, are operated by Amtrak. It is one of the biggest transport companies in the US, operating both train and bus services. Amtrak operates both mid- and long-distance trains across the USA. In addition, it also provides railroad services to a couple of cities in Canada. Amtrak Northeast Regional trains ferry passengers within the East Coast region. Amtrak also offers thruway services, including vans and buses that offer connecting rides to other destinations from the train stations.
Night trains Boston
If you like night travels, you can board the last train for Newark, NJ, that leaves Boston at 9:30 p.m. The train gets to Newark, NJ, the following day at 3:35 a.m. Most night trips are made by the slower Amtrak Northeast Regional trains. However, they are quite cheaper compared to the faster Amtrak Acela high-speed trains.
Amtrak trains from Boston
Amtrak trains offer convenient train rides, including connecting transport services from the train stations to nearby airports. Passengers traveling with Amtrak can choose between either Coach, Business, or First-Class seats. In addition, the train also offers private rooms known as roomettes for those looking for extra privacy and comfort during night travels. Pets weighing less than 20lbs (9 kg) are also allowed on board. Amtrak also allows passengers to bring standard bicycles weighing less than 50lbs (22 kg) on board. Passengers are allowed to board the train with two carry-on bags, though size and weight limits may apply. Bigger luggage that may require special handling may attract extra fees. Amtrak trains provide onboard bistro services and free Wi-Fi. The trains are also equipped with accessibility facilities for the disabled. Passengers with disabilities can make special reservations when purchasing their tickets. Amtrak staff also assist passengers with disabilities in accessing washrooms and various amenities within the train.
Trains from Boston to Newark, NJ: Sustainability travel
Traveling by train emits fewer greenhouse gases and is more energy-efficient than traveling by car. Amtrak has incorporated sustainability in its service delivery to make traveling by train safer for the people and the environment. The rail company has also helped reduce the emission of greenhouse gases by up to 80%. Most of their trains also feature an aerodynamic design to help improve performance while consuming less energy. Amtrak has expanded its rail service, adding more trains that are energy efficient.
Trains from Boston to Newark, NJ: Services on Board
Amtrak is focused on delivering convenient travel on both mid- and long-distance train services. All Amtrak trains come with roomettes, onboard cafes, and free Wi-Fi. Passengers with disabilities can also make special reservations when purchasing their tickets. You can choose between three seating options: first class, business class, and coach class. Passengers riding on Amtrak's Acela first-class coaches get spacious seats accompanied by complimentary meals and drinks during the journey. Sleeper coaches, also known as roomettes, are also available. These coaches have private rooms complete with seats that can be turned into double-decker beds at night. The roomettes also have a private washroom, shower, and dedicated attendant who takes care of your meals and any other onboard service that you may require.
How to find cheap train tickets from Boston to Newark, NJ
Making your travel plans in advance can help you take advantage of any upcoming ticket sales. Try to set your travel dates on days not so close to the holidays. You can also take advantage of group travel packages which cost less than paying for individual tickets. Amtrak offers special discounts for senior citizens, students, and military veterans. You can also accumulate your Amtrak guest reward points and use them to pay for your next trip. For more travel by train tips please visit our online magazine The Window Seat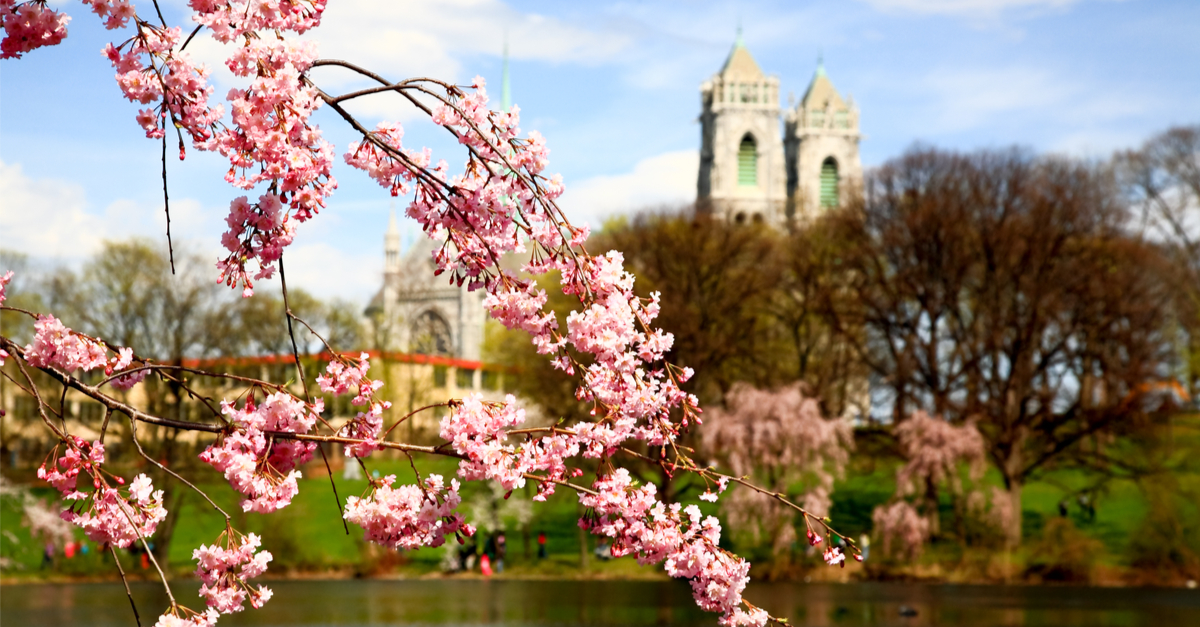 Branch Brook Park in Newark. Source: Shutterstock
To Newark, NJ, by train – travel tips
Newark, NJ, is not a famous tourist destination. However, Newark, NJ, still has a lot to offer, especially to those willing to learn more about its history. You can head over to the Newark Museum and see the collections from American and Tibetan cultures. It is also home to the New Jersey Devils hockey team. There are also plenty of cool shopping spots and restaurants within the city. If you're a foodie, be sure to visit the Brazilian, Spanish, and Portuguese restaurants located within Ironbound, Newark.
Visit the Red Bull Arena.
Check out and purchase amazing glass art at the GlassRoots Studio.
Take a trip down to the amazing Branch Brook Park.
Go shopping at the Outlet Collection, New Jersey's biggest mall.
Check-in for a performance at the New Jersey Performing Arts Center.
Visit The Cathedral Basilica of the Sacred Heart.