Trains in Boston to Philadelphia
Many locals and tourists enjoy traveling around and outside Boston via train, making the railway a popular means of transportation in the region. Amtrak is the company operating the trains in Boston, providing comfortable and efficient ways of accessing neighboring and distant cities. You can get different train types such as the standard models, high-speed options, and long-distance services incorporating sleeper carriages. Boston's skyline provides a lovely view during your regional travels.
Booking your train ticket with Omio for Philadelphia
You can book your ticket when journeying from Boston to Philadelphia via train using Omio. The website comes with a user-friendly design, requiring you to enter your travel departure station, date, and preferred arrival station. After that, the Omio leads you to a page displaying the several train options available, enabling you to choose your desired duration, train type, and price. Moreover, you can conveniently receive your ticket on your mobile phone, facilitating a hassle-free experience for all travelers.
Train companies in Boston?
Amtrak is the provider servicing the trains from Boston to Philadelphia, offering regular options and high-speed services via Acela. It presents two main train types on this route called Northeast Regional and Acela. Northeast Regional is the standard model that provides most of the weekend and national holiday operations, including some non-stop trains daily. Acela, Amtrak's express train, has fewer weekend operations, with all operating directly to Philadelphia from Boston. Acela also provides the fastest travel times and more expensive rates compared to the popular Northeast Regional rides.
Popular routes by train
Amtrak runs the popular routes in Boston using the various train types, including Northeast Regional, Acela, Downeaster, and Lake Shore Limited. Northeast Regional model connects the city to New York City, Springfield, Norfolk, Richmond, New York, Petersburg, Virginia Beach, and Washington D.C. You can also conveniently board the high-speed Acela, which delivers some of the shortest durations per day. This express model operates in various towns such as New Haven, Philadelphia, New York, Washington D.C., and Baltimore. Lake Shore Limited runs through New York to Albany and Chicago, whereas Downeaster services Brunswick and Portland.
When arriving by train in Philadelphia
Your voyage from Boston to Philadelphia via train stops at the 30th Street Station. You can get a tram, train, subway, or bus to get to the city center in approximately 15min. This station features a checked baggage service, bag storage room, parking, waiting area, Wi-Fi, and restrooms. Philadelphia residents generally have breakfast from around 7 a.m. to 8 a.m., lunch between about 12 p.m. and 2 p.m., and dinner from approximately 5 p.m. to 11 p.m.
Train Provider in Boston
Amtrak trains in Boston depart and arrive at major stations in multiple cities to enhance your convenience when connecting to central town, making it more comfortable for first-time travelers. You can get numerous services from the company operating around the country, including trains from Boston to Philadelphia. The provider includes regular and high-speed train models on its routes, with most coaches featuring spacious storage compartments, Wi-Fi, and comfortable seats. Popular Amtrak routes include Boston to New York City, Boston to Washington D.C., and Boston to Brunswick.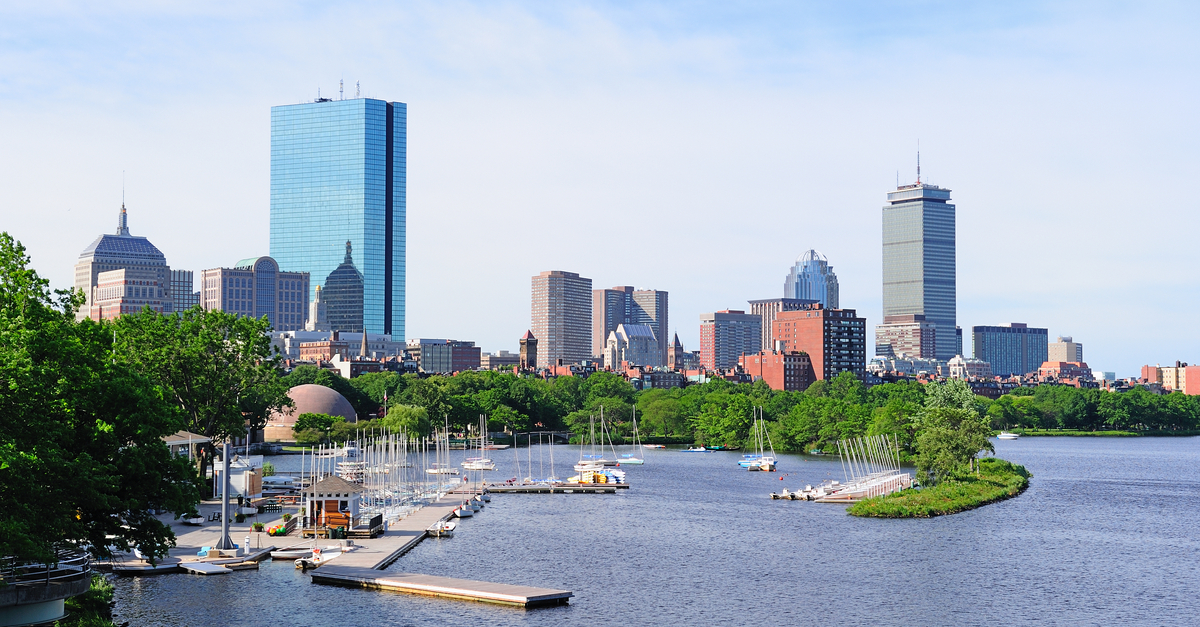 Boston Aerial. Source: Shutterstock
Main train stations in Boston
Back Bay Station sits on 145 Dartmouth Street, and it takes about 6min to reach it from the city center by train. It features an elevator, restrooms, payphones, an ATM, vending machines, and Quik-Trak kiosks. Boston's primary station is the South Station at 700 Atlantic Avenue, which you can access from central Boston in around 11min via bus. South Station has public restrooms with wheelchair-accessible stalls and toilets, a lounge, lost & found office, luggage storage area, eateries, and a free Wi-Fi network.
You can also access the North Station on 135 Causeway Street using a bus, tram, or subway in approximately 5min. It offers parking lots, bike racks, and an accessible elevator and platform. Additionally, you can find Broadway Station on Dorchester Avenue and W Broadway and the nearby Fields Corner Station on Dorchester Avenue and Charles Street. The two stations have an elevator and escalator, with the latter providing bike storage racks. They are both accessible via bus or Red Line trains, taking anywhere from around 16min to 55min.
Popular journey from Boston to Philadelphia
The most popular journey from Boston to Philadelphia by train comes via Northeast Regional train types, departing daily from the South Station and Back Bay Station. These rides arrive at Philadelphia's 30th Street Station and take anywhere from around 5h 4min to about 7h 39min. The fares start from approximately $65 on weekends and about $138 on weekdays. Another well-liked ride along this course comes via the high-speed Acela train type, which can complete its voyage in approximately 4h 51min, delivering one of the fastest durations between these two towns.
You can get a seat on board this model starting from about $277.Notably, some high-speed Boston to Philadelphia trains include transfers on the way, leading you to change to a Crescent or Silver Star service at Penn Station. The voyage with a Silver Star train change takes between about 7h 33min to 7h 38min and costs approximately $239 per ticket. If your service to Philadelphia from Boston requires a shift to Crescent, you can expect your ride to last from about 6h 33min to 6h 38min, costing around $239 for every seat.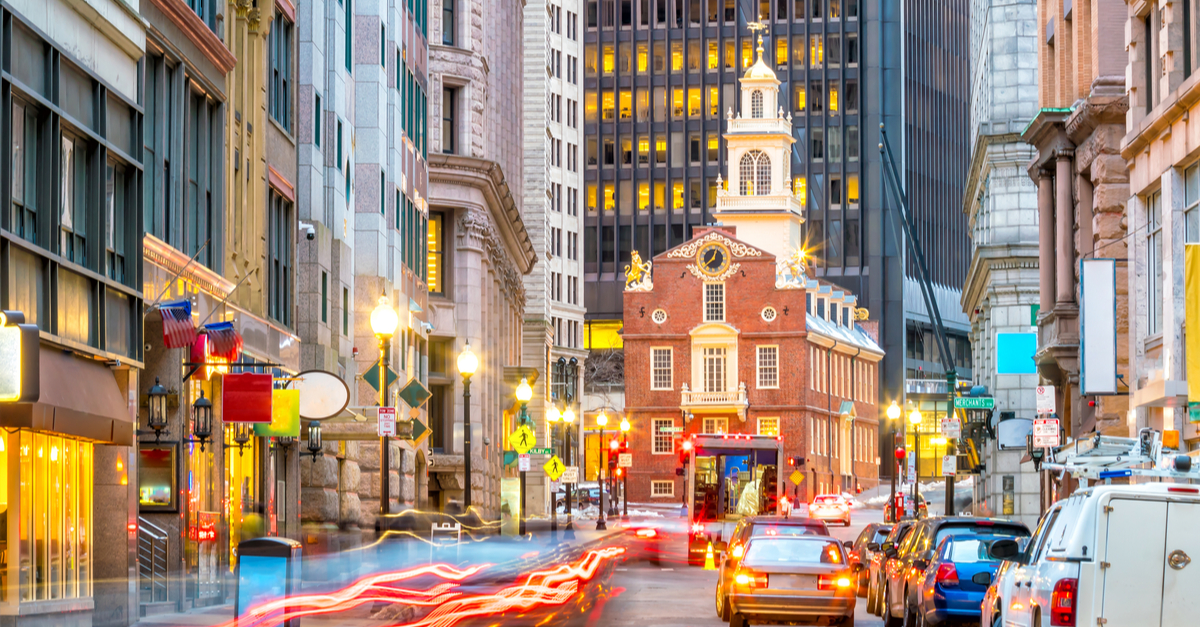 Boston Financial District. Source: Shutterstock
Popular train routes from Boston
Trains from Boston to New York are popular among travelers, taking between about 3h 27min and 5h 4min and tickets beginning from approximately $39. Another well-known course is Boston to Washington D.C. that lasts anywhere from around 6h 41min to 9h 36min, with fares starting from about $46. You can also ride to Virginia Beach from Boston in around 13h 45min and pay approximately $68 for a seat. Boston to Brunswick trains ensure that you can visit the Maine city in about 3h 15min and purchase a ticket for around $25. Lastly, you can enjoy a long voyage to Albany from Boston for approximately 75h 58min, with ticket prices starting from about $262.
Good to Know
Philadelphia has designated bike paths and trails to enhance your convenience when moving around the town and save on taxi costs. You can also find several outdoor areas and parks with free admission to make touring more comfortable for all visitors.
To Philadelphia by train – travel tips
Philadelphia has multiple sites to attract locals and tourists, such as the Eastern State Penitentiary, a historic prison with daytime and evening tours. The site enables you to visit what once was the most expensive and famous prison globally. You can see the cells that held Al Capone and Slick Willie Sutton, some of America's notorious lawbreakers. If you travel as a group, you can enjoy a visit to the Philadelphia Museum of Art and take in the quality collections depicting various cultures, from early American galleries to China artworks.
Moreover, you can learn about American history by going to the Liberty Bell, the iconic symbol of the country's independence. This venue also offers access to the Independence Hall, where the Declaration of Independence and signing of the Constitution occurred. You can enjoy educational tours around the Betsy Ross House, home of Ross, a woman credited with creating the first stripes and stars flag. She provided the flags for the government for more than 50 years and represented the numerous skilled women that supported their families during the Revolution and early Republic.
The Philadelphia Zoo provides an exciting option for wildlife lovers since you can look at different animals, including the African lion, bears, lemurs, an Amur leopard, tiger, and birds of prey. You can enjoy various dishes in Philadelphia, such as Greek and Italian plates, at the family-friendly Pete's Famous Pizza or dine on elevated traditional Israeli menus at the well-known Zahav restaurant.