Flight to Utrecht
Amsterdam Airport Schiphol is the airport that receives international flights from the US to Utrecht. The flight station doesn't operate in Utrecht city. On the contrary, it is in the Southwestern part of Amsterdam. A distance measuring about 31 miles (50 km) exists from the flight station to downtown Utrecht. You may use a high-speed train to travel from the terminal after your Utrecht flight deals from the US is complete. Travelers from the US have a variety of cities where their flights to Utrecht can depart.
One of the popular departure cities is in the East Coast is New York. However, your flight can also exit Chicago, Atlanta, Seattle, and Los Angeles. You can expect maximum comfort when getting to Utrecht from the US as many flights are direct. However, at a lower cost, you may experience one or two stopovers on some trips. The minimum travel time required by the Utrecht flight deals from the US is about 7h 15min if departing from the East Coast. Durations of nearly 14h 15min are necessary if the flight's origin is the West Coast.
KLM Airlines to Utrecht
Known as KLM Royal Dutch Airlines, this air carrier services most direct flights from major US cities to Utrecht. KLM established itself in 1919 and committed to connecting various cities in Europe and other continents. While the company can provide a direct flight to Utrecht, you may end up using its planes if you encounter a stop in the US or European cities like Chicago and Frankfurt. You will find KLM departing from major US flight stations like JFK International Airport, Washington Dulles International Airport, Hartsfield–Jackson Atlanta International Airport, and Los Angeles International Airport. Of course, KLM may also depart from other airports in Europe, such as Frankfurt Airport, when used to connect flights. The usual destination for KLM is Amsterdam Airport Schiphol.
American Airlines to Utrecht
American Airlines, which happens to be among the largest air carriers, also provides deals for passengers in the US who wish to travel by flight to Utrecht. The company has years of experience in air transport. Most flights to Utrecht serviced by American Airlines are not direct, and they may require one transfer. However, with this airline, you don't need to change carriers. You may continue flying via American Airlines even after the layover. Examples of airports from where American Airlines can depart are Hartsfield–Jackson Atlanta International Airport, Los Angeles International Airport, Newark Liberty International Airport, and LaGuardia Airport. After completing trips, the airline finds a destination at Amsterdam Airport Schiphol.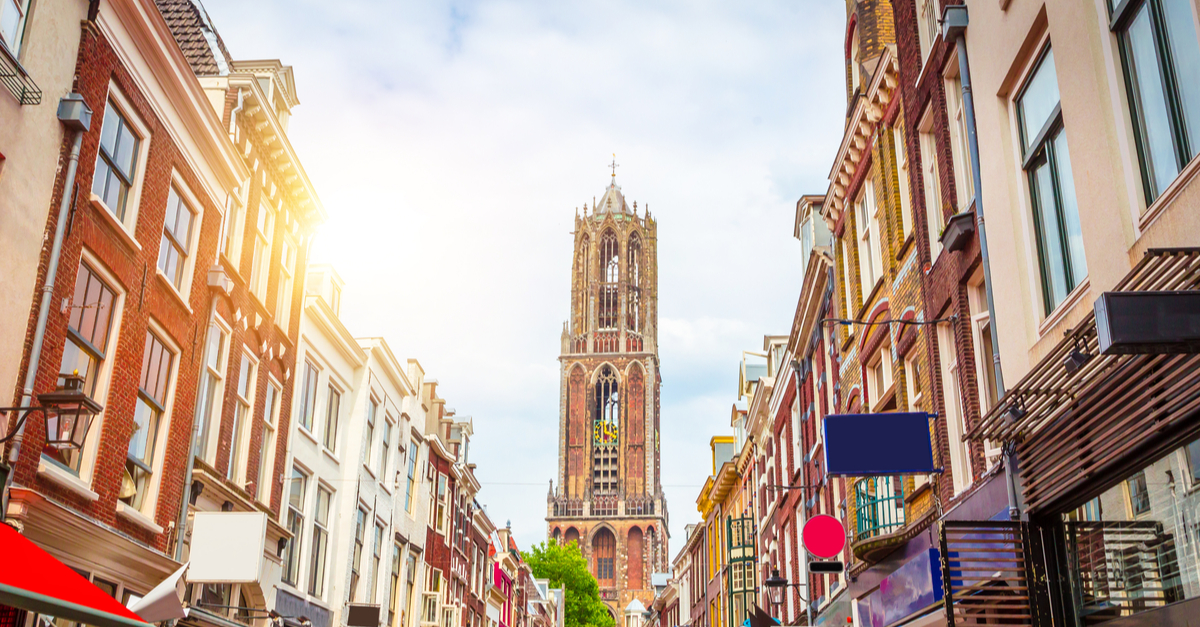 Utrecht Dom Street. : Shutterstock
Main flight stations in Utrecht
Utrecht harbors no flight station accepting any international flight to Utrecht within its borders. Flights, therefore, can make their final halts at Amsterdam Airport Schiphol, the closest international terminal to Utrecht city. The airport features the amenities of a modern terminus such as bars and restaurants. If you prefer purchasing pre-packaged refreshments, there are retail stores onsite. Additional amenities include ATMs, a currency exchange facility, clean washrooms, and a rare airport library. Amsterdam Airport Schiphol is nearly 31 miles (50 km) from Utrecht.
After getting off the plane, you can explore the transfer options to get you to the destination city. The quicker means is the Intercity train. The locomotive departs the terminal at an approximated 15min interval and arrives in Utrecht in around 49min. If interested in a quick arrival, you can ride in the available town cars that get to Utrecht in roughly 38min. It is worth noting that transport is relatively expensive in the Netherlands. Thus, board a taxi if you have no problem spending a little extra above your travel budget. While expensive, a cab can travel from the airport to Utrecht in approximately 38min.
Onboard facilities Utrecht
The services provided aboard a KLM make the airline an ideal travel option. You will find comfortable and adjustable seats available for all travelers. Also, you can access a personal screen that delivers entertaining content, including the latest movies. Bedding, which comprises a blanket and pillow, is available if you feel like slipping into some quality slumber before you land. KLM allows you to bring your personal computer on board. As there is also free Wi-Fi, you can browse through the entire travel time of your voyage. If your battery drains, make use of the power outlets available near your seat.
Meals and snacks are also among the perks KLM offers. You are free to order your preference, ranging from cold drinks to hot dishes. The relaxed pet policy by the airline does not exclude pets from the cabin. However, there is a reservation that passengers can only travel with small pets in a carriage that allows air circulations. KLM also has a special division called KLM Cares, which dedicates to assisting travelers with reduced mobility or mental disabilities. American Airlines is also keen to make sure you travel in style and coziness.
Onboard, you can enjoy various beverages and meals. Water, juice, and other canned drinks are available at no charge. You may also order a cookie for free. If you would like to surf the internet while relaxing on the comfy seats, be sure to download the American Airlines app before you get on the plane. The app will allow you to remain online even after you activate the airplane mode. Using the free Wi-Fi, you can watch movies via allowed streaming means. Be sure to charge your phone or laptop via the power outlets available on the plane.
While traveling aboard American Airlines, you can bring as many as two small pets with you. You can even stay with them in the cabin if they are in a prescribed carriage. For travelers with visual or mobility disabilities, American Airlines is ready to help if they receive notification about such a situation 48hs before the plane leaves.
Flight tickets to Utrecht: Useful to know
When getting to Utrecht by flight, you are free to use e-tickets. However, some situations call for printing. For example, you might find that your boarding pass is missing from the online portal. You can then go ahead and print the check-in confirmation, which you can as a boarding pass. To avoid inconveniences at the airport, you can have a hard copy of your ticket as well as your ID.
An alternative solution that can curb missing tickets would be to book your flights through Omio. Among other useful tasks, the platform collects your passes in a central place for easy access. On Omio, buying flight tickets to Utrecht is fast and easy, and it's possible to store all your tickets in your Omio account.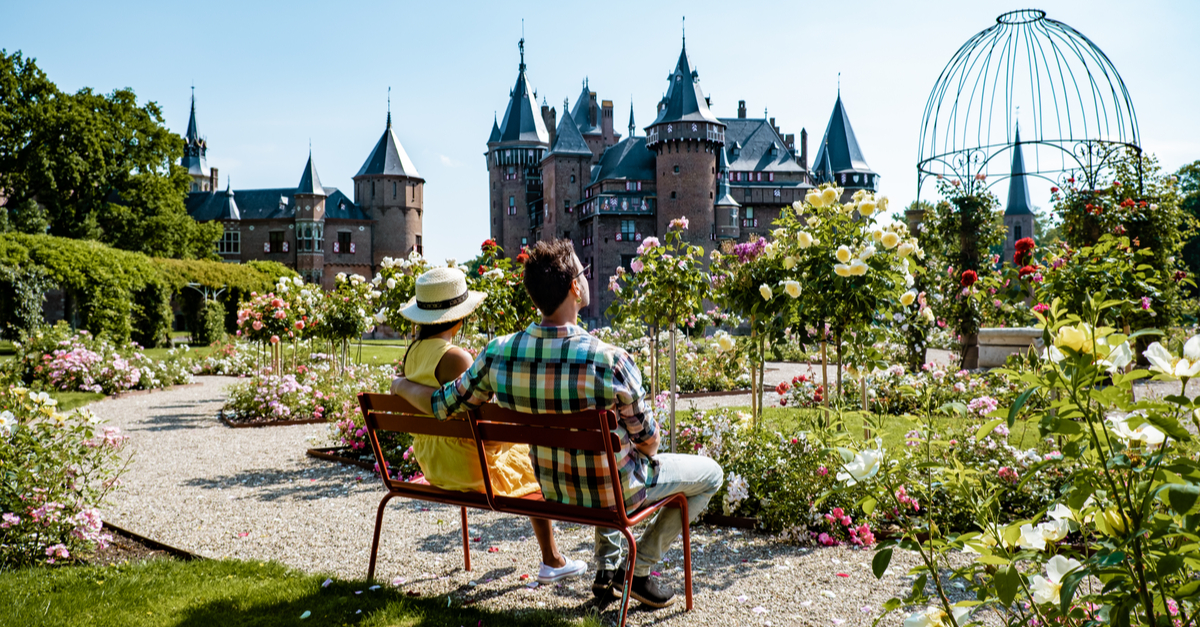 Utrecht Couple Castle. : Shutterstock
To Utrecht by flight – travel tips
The Dom Tower, among Holland's tallest and oldest church towers, is one of the reasons why you may visit Utrecht. You can stretch your legs going up the staircase that leads to the top of the structure. At its highest point, you can have a panoramic view of the city and even see the distant Amsterdam. When navigating to the tower, you will find it easy to use the public transport means available in the city.
Firstly, you can use the U-OV buses and trams that meander through to the city center. Utrecht also features numerous cyclists, and you can rent a bicycle as you cruise your way around the medieval town. If traveling to far neighborhoods, you can use trains that depart from Utrecht Train Station.
Being a historic town, Utrecht has no shortage of ancient, heritage-rich structures to offer tourists. These include De Haar Castle and Museum Speelklok, where prehistoric, self-playing musical instruments are on display. However, the city features a modern side that culminates in the Tivoli Vredenburg. The structure is home to five stages that host world-class acoustics.
In addition, Utrecht University Botanic Gardens give you a chance to bond with nature. At the site, you will find several divisions that feature a variety of plant species.