Flight to Sorrento
The coastal town of Sorrento has multiple attractions to offer tourists from the US. However, Sorrento doesn't have a local airport that receives domestic or international flights. Therefore, if you take a Sorrento flight deal with a US origin, you will arrive at Naples International Airport in Naples city. The flight station is approximately 31 miles (49 km) from Sorrento. Due to the lack of airports in Sorrento, you have to take a bus or train to access Sorrento. The US cities from where you can get to Sorrento by flight are numerous. You can depart from East Coast cities like New York and Washington DC.
Further, you can take flight deals originating from Midwestern cities like Chicago or the West Coast in urban centers like Los Angeles and Seattle. Expect to spend anywhere from 14h 45min to 1d 8h while flying to Sorrento from the US. Additionally, you may encounter up to three stopovers during your voyage. Such stops usually occur in European cities like Frankfurt, London, Paris, Brussels, and Madrid.
Air France to Sorrento
Air France is among the companies that will enable you to make a flight to Sorrento. The company has been serving passengers connecting various cities in Europe and beyond since 1933. With Air France, you can fly from the US to Sorrento without changing carriers along the way. However, your trip will include one to three stopovers before arrival. Air France departs from several airports, including Hartsfield–Jackson Atlanta International Airport, Seattle-Tacoma International Airport, and John F. Kennedy International Airport. Also, you may use Air France to depart from a French city like Paris if your flight has a stop there. The usual arrival flight station for Air France is Naples International Airport.
United Airlines to Sorrento
The world's third-largest airline by fleet, United Airlines, also allows passengers to leave US cities and tour Sorrento. Its headquarters are in Chicago, making Chicago O'Hare its busiest hub. United Airlines doesn't provide direct trips. Instead, it ferries travelers in comfy planes to stops in established European cities like Munich, Istanbul, and Frankfurt. From then onwards, you may have to transfer to a different carrier. You will find United Airlines departing from flight stations like Chicago O'Hare International Airport, Seattle-Tacoma International Airport, and Los Angeles International Airport. In New York, United airlines may find departure points in multiple stations, including Newark Liberty International Airport and LaGuardia Airport. United Airlines will usually make final stops in Munich, Paris, or Frankfurt and pave the way for other carriers to complete the flight to Sorrento.
Lufthansa Airlines to Sorrento
You may fly to Sorrento via Germany's flagship air carrier, Lufthansa. While the company doesn't offer nonstop flights to Sorrento, it enables taking Sorrento flight deals that don't call for changing carriers as the journey progresses. You will find Lufthansa departing from Newark Liberty International Airport, Chicago O'Hare International Airport, and Los Angeles International Airport. Also, you may be using Lufthansa if your flight has a stop in a German city like Munich. When traveling to Sorrento, Lufthansa will typically find a destination flight station in Naples International Airport.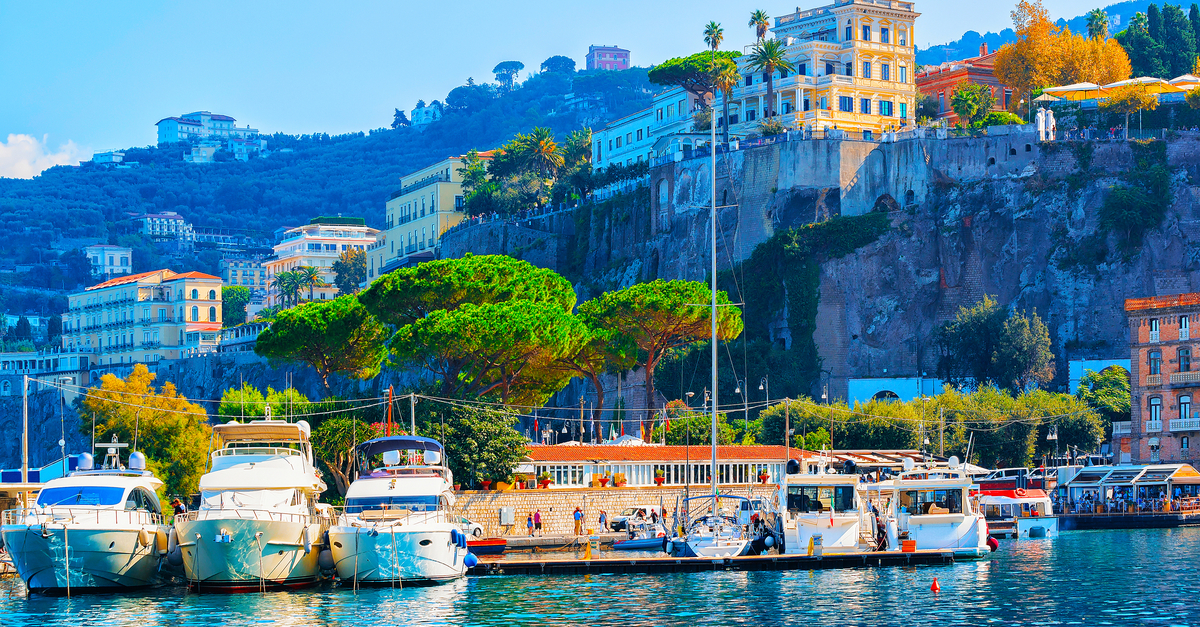 Sorrento Mairna Sea. : Shutterstock
Main flight stations in Sorrento
You may not find flight stations operating in Sorrento city. However, an international flight to Sorrento can dock at Naples International Airport. The terminal happens to be the closest flight station near Sorrento, and it is about 31 miles (49 km). From the station, you can get to central Sorrento via a variety of transfer options. The faster but relatively expensive means is the taxi, which takes about 48min to arrive in Sorrento. If you don't wish to overspend, board the Napoli buses or the Ente Autonomo Volturno S.r.l trains to downtown Sorrento. Both trains and buses require about 1h to 1h 36min to complete their trips.
Also, for a scenic journey from Naples to Sorrento, you can take a ferry. The affordable vessel takes about 1h 20min cruising over the relaxing waters that connect Naples and Sorrento. At Naples International Airport, you can use amenities like an information desk, restaurants, bars, cafes, and shopping spots. There are also ramps and lifts to help with the mobility of disabled travelers.
Onboard facilities Sorrento
Aboard an Air France, passengers can comfortably fly seated in chairs fitted with ergonomic foam. You can adjust the seats to create adequate legroom and elbow room during the flight. While relaxing on your chair, you can use the medium-sized screen that allows seeking entertainment or ordering meals. If you would like to remain online as you fly, you can Air France's in-flight Wi-Fi. However, the internet connection is not free. When it comes to dining options, Air France provides an "A la Carte" menu from which you can select various French dishes. Some snacks and beverages are free, but meals may require additional costs.
As a passenger, you can rightfully travel with a small pet provided it remains within a carrier. If you have reduced mobility, Air France helps you with various tasks provided you alert the staff 48h in advance. Some of the services you can anticipate enjoying on United Airlines include a seatback TV that streams an enormous number of movies and other entertaining content. In addition, you can send and receive messages through SMS and other applications that require an internet connection while on board.
However, you may have to pay for Wi-Fi if you browse sites other than the United Airlines ones. You also don't have to worry about drained phone batteries as every seat features a power outlet for charging electrical devices. If a journey is long, such as the flight to Sorrento from the US, you can enjoy meals on the plane. If traveling with a pet, United Airlines recommends that you sit near a window. For passengers with reduced mobility, the airline requires that you indicate so when booking. Lufthansa also provides you with a unique combination of onboard services, including comfy seats and complimentary drinks and beverages.
In addition, there is a TV screen available for accessing blockbuster films, paid-for Wi-Fi for your browsing, and USB ports for charging. Pets can find their way on the plane, but you must first check with the airline if your pet fits the travel criteria. For assistance to disabled passengers, you can notify Lufthansa while booking or give them a call afterward.
Flight tickets to Sorrento: Useful to know
Most airlines recommend that you print your ticket before boarding a flight to Sorrento. These include Air France and Lufthansa. However, the airlines are quick to note that ticket printing is a recommendation rather than a rule. Thus, if you misplace a printed ticket, you can request the airline to send an e-ticket to your phone and use it to board. Whether you have a hard copy or e-ticket, you must carry your ID for verification purposes. Remember, you can make the ticket management process easy by booking your flights through Omio. On Omio, buying flight tickets to Sorrento is fast and easy, and it's possible to store all your tickets in your Omio account.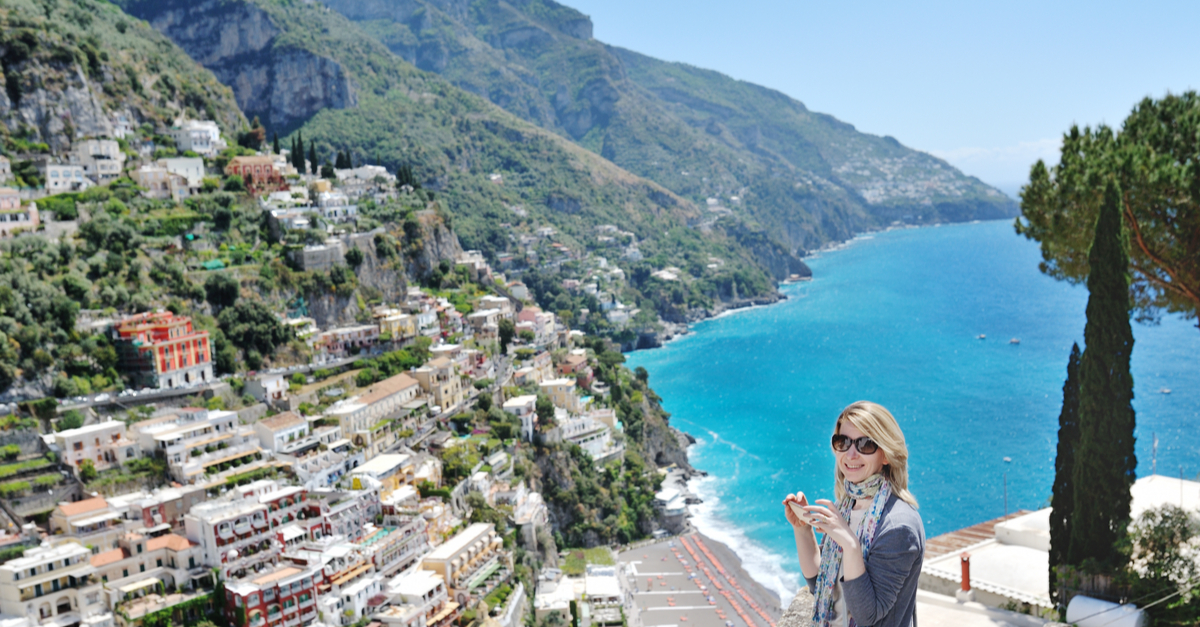 Sorrento View. : Shutterstock
To Sorrento by flight – travel tips
While Sorrento has numerous attractions, the region's lemons are known all over the world. So be sure to spend time in the terraced lemon farms of the city that grace you with a refreshing smell. To get maximum sweetness off the Sorrento lemon pulps, eat it fresh from the farm but sprinkled with sugar. You will find that touring the farms is straightforward via the city's networked public transport system. You can board the Cooperativa Tasso and EAV buses that service the city center. If traveling in regions further from central Sorrento, you can use the Sita buses or the Circumvesuviana Trains. There is also a ferry service that allows for tours and travels to neighboring towns.
A combination of some scenic outdoors, water sports, and heritage sites makes Sorrento worth visiting. You can start by hiking the Sorrento–Portsea Artists' Trail and later enjoying a swim with the dolphins at Polperro Dolphin Swims sites. For an even livelier experience with aquatic life, you can go snorkeling at Portsea pier. You may also head out to enjoy the yellow skies in the Sorrento sunset, visible from the Sorrento pier. Further, if the city's heritage is among the reasons you want to travel by flight to Sorrento, trek through the miles-long yet history-rich Sorrento Historical Walk.