Flights from Greenville to Atlanta
You can find flights from Greenville, SC to Atlanta, GA through Omio departing multiple times throughout the day. There are over ten route options leaving out of Greenville with connecting flights that get you to Atlanta. Since these flights are not direct and have a connection in between, depending on how long the layover is and where, the duration of the flight can be from about 3h 6min to approximately 7h 44min. The fastest flight option has one short layover in Charlotte Douglas International Airport in North Carolina.
Greenville to Atlanta Flight Time: Daily Departures
There are over ten flight options per day departing out of Greenville, SC with connecting flights to Atlanta, GA. Departures from Greenville heading to Atlanta are every one to two hours. The route options vary depending on the day of the week and time of year. However, you can find flights leaving Greenville as early as about 5:45 a.m. and leaving as late in the day as about 8:25 p.m. These flights are generally with one layover in between, mainly in Charlotte, North Carolina. Currently, through Omio you won't find a non-stop route from Greenville to Atlanta.
How long is the journey by flight from Greenville to Atlanta?
The journey by plane, through Omio, from Greenville to Atlanta covers the distance of more or less 136 miles (220 km) in at least 3h 6min. The trips available have a layover before landing in Atlanta, GA and the total flight duration depends on where that layover is and for how long you have to wait before catching the connecting flight to Atlanta. The longest trip can take up to at least 7h 44min.
What are the departure and arrival stations for flights from Greenville to Atlanta?
Departure flight station: The flights depart from Greenville-Spartanburg International Airport (GSP). The airport is located about 14 miles (22 km) east of Downtown Greenville in South Carolina. It's about a 20min drive away from the city center. The Greenville-Spartanburg International Airport has one terminal with a variety of shopping and dining options for travelers. The airport has accessible services and facilities to make traveling easier for passengers with reduced mobility.
Arrival flight airport: The flights arrive at Hartsfield-Jackson Atlanta International Airport (ATL). The airport in Atlanta is located more or less 11 miles (18 km) south of the city center. There is a public transport station at the airport that takes you directly downtown in under a half an hour. The Hartsfield-Jackson Atlanta International Airport has two passenger terminals. Within these two terminals you'll find many restaurants as well as shops and travel services to make your experience better. From the airport you may also hire a rental car.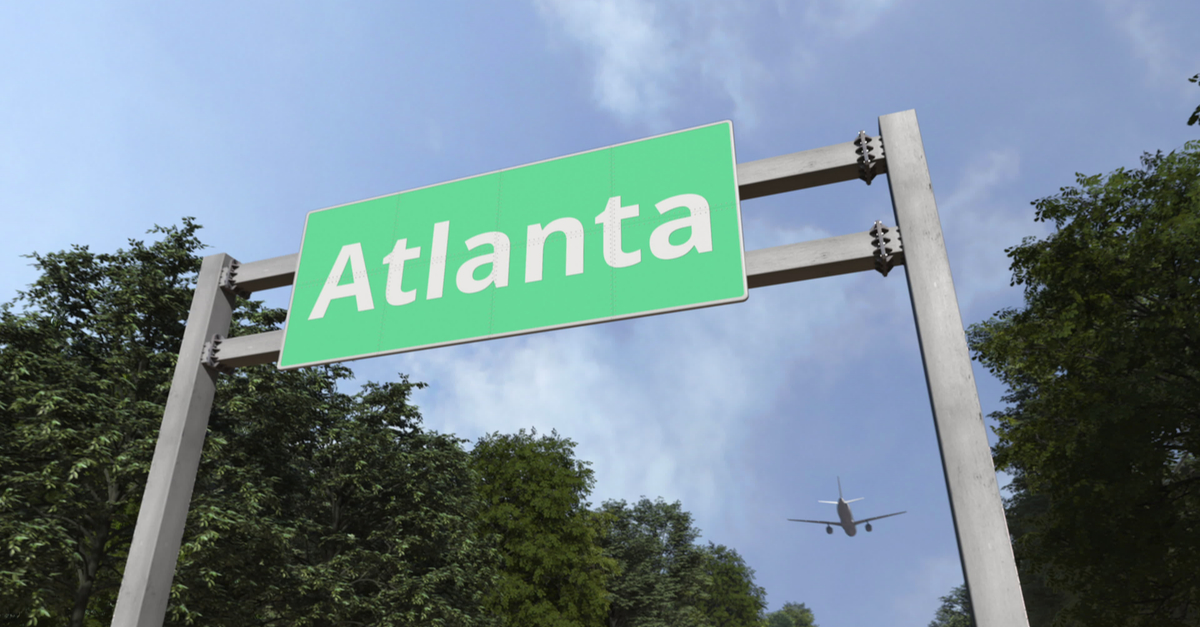 Atlanta Sign Airport Flight. Source: Shutterstock
Which airlines travel from Greenville to Atlanta?
American Airlines has flights operated partially by either Envoy Air or PSA Airlines. All flights offered operated by either Envoy Air or PSA Airlines have one layover. The flights with one layover have different durations depending on where and how long the stopover is. The total duration of the flight can be from either about 3h 6min long or up to more or less 7h 44min long. The Envoy Air route is only offered about once a day and generally is 5h 44min long including the layover time. As for the routes with PSA Airlines, the options are more frequent throughout the day, operating on every day of the week as well.
Envoy Air flights from Greenville to Atlanta
Envoy Air with American Airlines has a daily flight out of Greenville, SC with a connection to Atlanta, GA. This flight option is not direct and the layover with Envoy Air is generally in Miami International Airport, taking up to about 5h 44min to make the entire journey. The Envoy Air flight departs every day around 6:15 a.m. putting passengers in Atlanta at around 11:59 a.m. The segment from Miami to Atlanta is operated by American Airlines. However, Envoy Air is a subsidiary of American Airlines.
PSA Airlines flights from Greenville to Atlanta
The flights to Atlanta from Greenville operated by PSA Airlines, or partially by both PSA Airlines and American Airlines, depart every one to three hours out of Greenville-Spartanburg International Airport on every day of the week. These routes with PSA Airlines are not direct and have one layover generally in either Charlotte Douglas International Airport or Philadelphia International Airport. The first flight of the day with PSA Airlines to Atlanta departs from Greenville at around 5:45 a.m. As for the last flight, it leaves at around 8:25 p.m. The routes can take from about 3h 6 min to more or less 7h 44min.
Flights Greenville to Atlanta: Services on Board
The flights operated by PSA Airlines, or partially operated by either PSA Airlines or Envoy Air and American Airlines only offer one standard fare. The standard fare with PSA Airlines allows one cabin bag and one personal item on board, as well as a checked bag limited to 50 lbs (23 kg). As for Envoy Air, the standard fare only includes one cabin bag onboard as well as a personal item.
Dogs and cats are the types of pets allowed on American Airlines flights and its subsidiaries like PSA Airlines and Envoy Air. Pets are allowed onboard with passengers if their kennel fits under the seat. If not, the animal must travel in the cargo compartment in their kennel. If you require special assistance to board the aircraft or in the airport, please contact your airlines before traveling so they can provide accessible services and aid. You may also request a wheelchair at the airport to get around easily, if you have reduced mobility.
How to find cheap flight tickets from Greenville to Atlanta?
The most essentially thing to know to be able to find more affordable flights from Greenville to Atlanta is to book in advance. The sooner you purchase your tickets, the more likely they will be cheaper. Prices tend to go up the closer it is to the departure date. If you are flexible with your travel dates you may also have a wider selection for affordable tickets. All the flight options through Omio have one layover. The flight prices may also vary depending on the time of the departure, there may possibly be higher demand at specific departure times. The this case, the faster options aren't necessarily more expensive.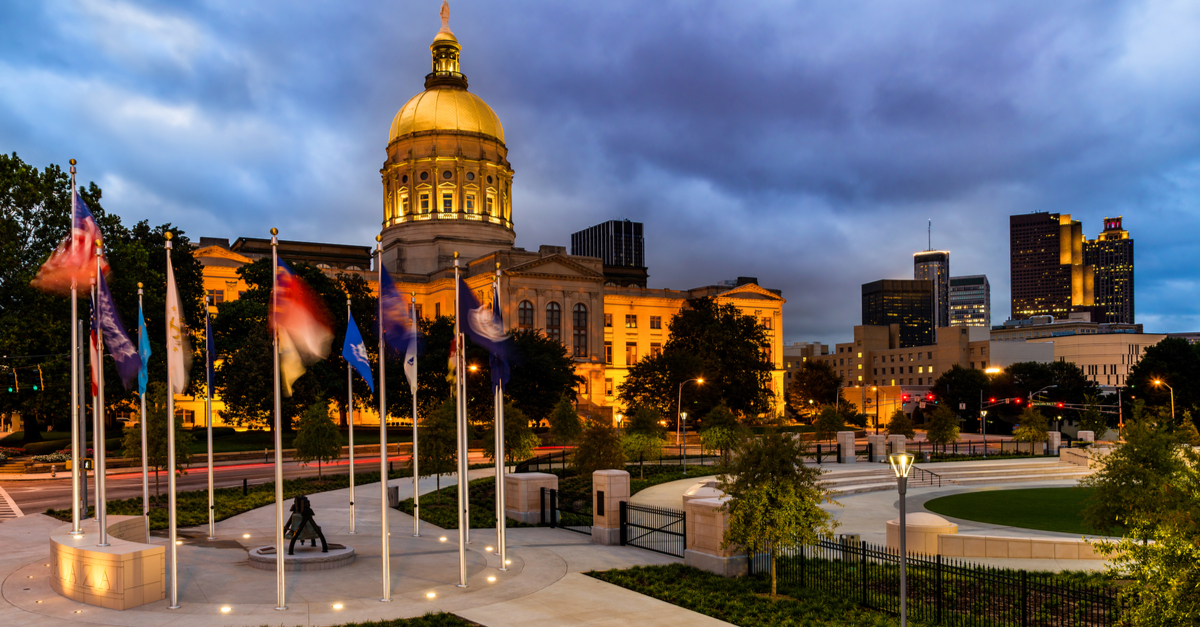 Atlanta Night Plaza. Source: Shutterstock
To Atlanta by plane—travel tips
As Georgia's capital city, Atlanta is a popular destination known for its diverse musical heritage as well as its southern hospitality. While you're visiting Atlanta there are a few top attractions that you can't miss. For instance,
The World of Coca-Cola is a popular museum about the famous soft-drink, or you can check out MLK's birthplace and tombstone at the Martin Luther King Jr. Historical Park. The Centennial Olympic Park, Zoo Atlanta and the Georgia Aquarium are all great spots to visit if you're in town with children.
When you're looking for a place to eat there are tons of good spots. You'll have no trouble finding a restaurant in either neighborhoods of Downtown or Midtown Atlanta, or hit Buford Highway for a global dining selection.