Flights in Canada
Flights in Canada are usually the preferred means of travel for long_distance journeys in and out of Canada. This is primarily because flights in Canada usually cover long_distance journeys quicker than trains and buses. Given that flights in Canada are comfortable, affordable, and safe, it's fair to say that traveling on one would be a memorable experience. Air Canada is the flag carrier of Canada. It is also the largest airline in fleet size and number of passengers carried. Time and again, it has been ranked as one of the leading international airlines globally. This is because, since its establishment, this air travel company has continually offered its passengers exceptional air travel services. Currently, this airline serves 64 domestic destinations and 158 international destinations in Africa, Europe, Asia, Oceania, and the Americas.
Booking your flight ticket with Omio for Canada
If you'd like to book a flight ticket in Canada from the comfort of your home, you can do so by visiting our online booking platform, Omio. Regarded by many as one of the best online ticket booking platforms in operation, we pride ourselves on having assisted thousands of passengers in getting the tickets they are looking for with ease. If you choose to book the tickets you require from us, you'll enjoy getting them without overspending, as we offer all our tickets at affordable rates. You'll also enjoy having ticket options to choose from, as we always have a variety of tickets on offer. Additionally, you'll enjoy getting great tickets.
Flight companies in Canada
There are numerous flight companies in Canada. Some of the most notable include Air Canada, WestJet, Swoop, and Flair Airlines. Of all these airlines, Air Canada is the largest. Founded in the late 1930s, this airline is convenient if you value traveling comfortably. WestJet is the second_largest airline in Canada. Just like Air Canada, it is highly reviewed. Given that its flight tickets are usually affordable, this is the airline you should travel with if you're on a budget. Swoop, and Flair Airlines are also highly_reviewed airlines in Canada. These airlines have been making headlines for their environmental conservation efforts in recent years. This being the case, if you'd love to fly sustainably in/from Canada, these airlines are the ones you ought to look into.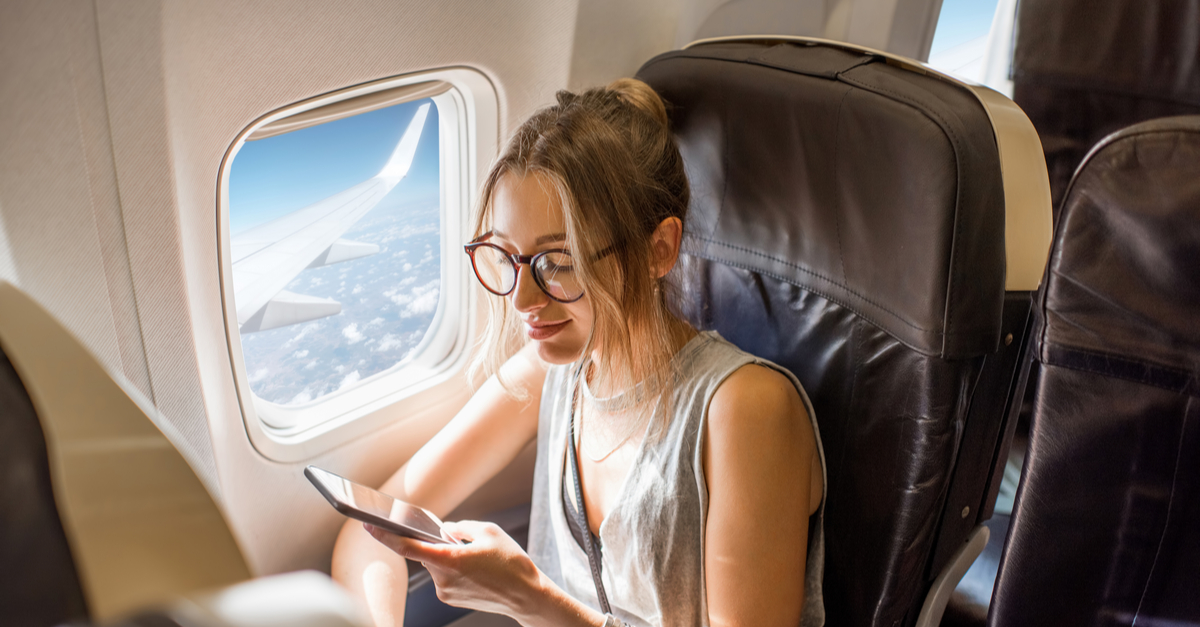 Flight AirCanada Phone. Source: Shutterstock
Popular international routes by flight
Air Canada serves about 158 international destinations. The notable routes it covers include the Toronto to New York route, Toronto to London route, Montreal to Brussels route, Montreal to Madrid route, and the Vancouver to Los Angeles route. The flight distances from Toronto to New York, Toronto to London, Montreal to Brussels, and Montreal to Madrid are roughly 357 miles (574 km), 3,541 miles (5,700 km), 3,461 miles (5,570 km), and 3,459 miles (5,566 km), respectively. To cover these distances, Air Canada flights usually take about 1h 30min, 7h, 6h 50min, and 10h 30min, respectively. On the other hand, the flight distance from Vancouver to Los Angeles is approximately 1,081 miles (1,739 km). To cover this distance, Air Canada flights normally take about 2h 55min.
When arriving by flight in Canada
When you arrive by flight in Canada, it's essential that you have your travel documents in check if your flight is from a foreign country. If you're an American and intend to stay in the country for a short duration, you only need your passport and proof that you have enough money to sustain your stay. However, if you plan on staying in the country for more than 180 days, you'll also need a visa. When you arrive by flight in Canada, you should also convert your money to Canadian dollars. By doing so, you'll be able to transact easily. Given that most airports in Canada have foreign exchange bureaus, you'll easily find one to convert your money.
Flight Provider in Canada
The flight providers in Canada are Air Canada, Swoop Airlines, Flair Airlines, and WestJet. Air Canada is the go_to airline for most travelers in Canada. This is because its flights feature amenities in good condition and exceptional staff members. Swoop Airlines is, according to many Canadian, one of the go_to airlines for domestic flights. This is because it offers several domestic flights at budget_friendly rates. Like Swoop Airlines, Flair Airlines is, in the opinion of many Canadians, a good airline to travel domestically with. If you'd like to travel quickly to your destination, you should consider traveling with this airline, as its flights have a reputation for being remarkably fast. WestJet Airlines is the second_largest airline in the country. For years, this airline has built a reputation for itself as an airline that delivers. Given that it operates both domestic and international flights, if you settle on this airline as your airline of choice, you can count on easily finding a flight to your preferred destination. These airlines' notable routes include the Toronto to Vancouver route, Vancouver to Ottawa route, and the Ottawa to Edmonton route.
Main airports in Canada
Canada is home to approximately 50 working airports. The five leading ones are Toronto Pearson International Airport, Montreal_Pierre Elliott Trudeau International Airport, Calgary International Airport, Vancouver International Airport, and Ottawa International Airport. Toronto Pearson International Airport is located at 6301 Silver Dart Dr, Mississauga, ON L5P 1B2, Canada. The largest and busiest airport in the country, this superb transportation hub features clean washrooms, expansive lounges, and strong Wi_Fi. Montreal_Pierre Elliott Trudeau International Airport is located at Romeo_Vachon Blvd N, Dorval, Quebec H4Y 1H1, Canada. Formerly known as Montreal_Dorval International Airport, this iconic airport features several restaurants, cafes, and shopping outlets. Calgary International Airport is situated at 2000 Airport Rd NE, Calgary, AB T2E 6W5, Canada. On numerous occasions, this airport, located northeast of downtown Calgary, has been ranked as one of the best places in Canada to land. This is because it boasts amenities like well_maintained washrooms, spacious passenger lounges fitted with comfy seats, and great staff. Given that it boasts baggage storage facilities, you can leave your baggage at this airport.
Vancouver International Airport is located at 3211 Grant McConachie Way, Richmond, BC V7B 0A4, Canada. It is the second_busiest airport in Canada. At this airport, passengers enjoy access to amenities like a front desk, payphones in working condition, complimentary Wi_Fi, elevators, and comfy waiting rooms. Ottawa International Airport is located at 1000 Airport Parkway Private, Ottawa, ON K1V 9B4, Canada. Like all other airports in Canada, it features amenities like public restrooms, clean passenger lounges, and onsite restaurants. All these airports are located miles away from the cities they are based in. Thus, to get to any via public transport, you'll either have to board a bus or take a taxi.
Popular journeys in Canada
The popular journeys in Canada that Air Canada serves include the Montreal to Vancouver route, Toronto to Ottawa route, Calgary_Winnipeg route, Toronto to Montreal, and the Vancouver to Edmonton route. To cover these routes, Air Canada flights normally take about 5h 23min, 59min, 1h 56min, 1h 13min, and 1h 32min, respectively. These flights cost $752 (CAD 962), $406 (CAD 522), $498 (CAD 640), $386 (CAD 496), and $424 (CAD 545), respectively.
Popular flight routes from Canada
Just like there are popular journeys in Canada, there are also popular journeys from Canada. These journeys include Toronto to Mexico City, Montreal to Kingston, Ottawa to Paris, Winnipeg to Manchester, and Vancouver to Las Vegas. Air Canada flights normally complete their journeys to these destinations after about 14h 30min, 7h 00min, 8h 25min, 14h 35min, and 5h 30min, respectively. The flights normally cost $1,465 (CAD 1,883), $1,288 (CAD 1,656), $1,289 (CAD 1,619), $1,384 (CAD 1,780), and $367 (CAD 472).
Good to Know
Booking with our online booking platform is pretty easy. To book the tickets you require, all you have to do is fill in the route you're looking for and the date you'd like to travel, and our platform will show you your available options. Prior to leaving your place, it's in your best interest to ensure that your flight supports mobile tickets. If it doesn't, you'll have to print out a physical ticket.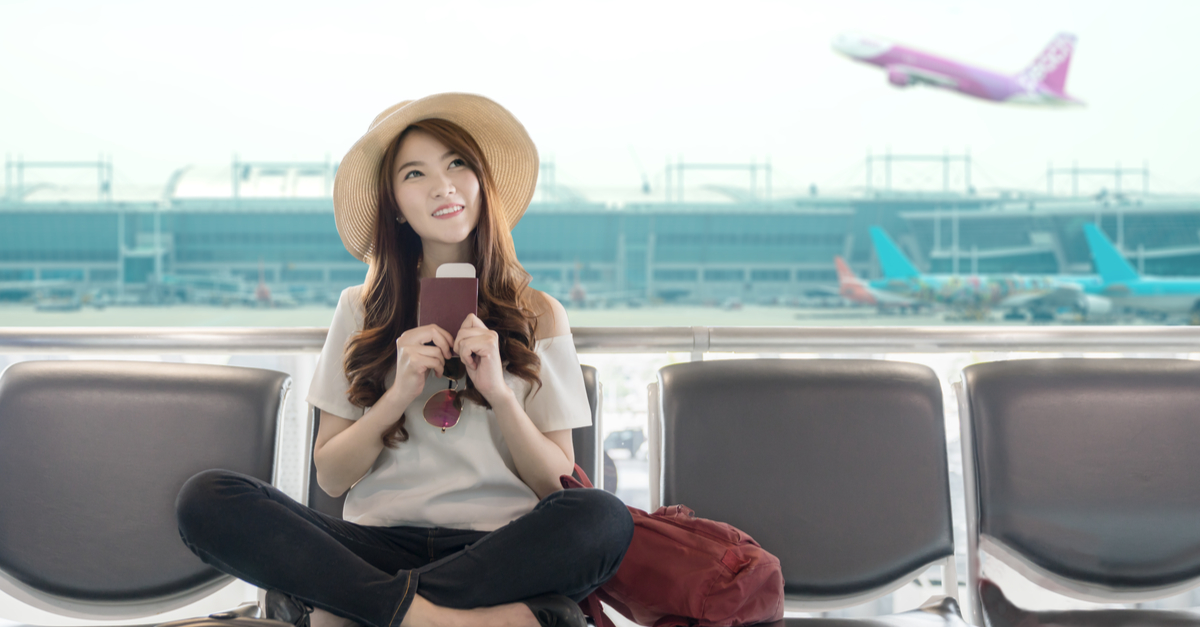 Flight AirCanada Woman. Source: Shutterstock
To Canada by flight—travel tips
Each year, Canada welcomes millions of tourists. This can be attributed to the fact that this country is home to lots of fantastic destinations. It's worth noting that this country has something for everyone. Hence, if you've been planning a trip with your friends or family, this country is one you should seriously consider touring. Suppose you're a fan of the outdoors. In that case, some of the awesome destinations you can visit while in Canada include Niagara Falls, Banff National Park, Jasper National Park of Canada, Montreal Botanical Garden, Yoho National Park of Canada, and Emerald Lake.
Other outdoor destinations you can visit include Athabasca Glacier, Peyto Lake, and Stanley. If you're a fan of art, culture, and history, some of the destinations you can visit while in Canada include the Royal Ontario Museum, Canadian History of Museum, Notre_Dame Basilica of Montreal, Casa Loma, and Canadian Warplane Heritage Museum. In Canada, you can also visit:
Whistler Blackcomb
CN Tower
Algonquin Provincial Park
Granville Island
The Montreal Museum of Fine Arts