Buses from Washington DC to Philadelphia
Buses are the most convenient and comfortable mode of transport, especially if you are traveling by bus from DC to Philadelphia. DC is the country's capital, and many people travel to the city for many reasons, including business, leisure, and education. Several bus companies ferry people from DC to Philadelphia, and they offer multiple amenities in their buses to ensure their passengers are as comfortable as possible. The amenities include onboard entertainment, free Wi-Fi, power outlets, reclining seats for extra comfort, and reduced fares. There are at least ten buses available daily to ferry people from DC to Philadelphia. Some buses will charge transportation fees of as low as nine dollars for the trip.
How long is the journey by bus from Washington DC to Philadelphia?
The journey from Washington DC to Philadelphia by bus is approximately 123 miles (199 km), which takes 3h 30min by bus on average. Some bus companies allow their passengers to track the bus's exact location during the trip, and the passengers expect the bus to arrive in Philadelphia. However, there may be some changes in the scheduled arrival time because of terrible weather or traffic on the route. Book with Omio and have a chance of comparing different buses: prices and time of departure.
How many buses are there from Washington DC to Philadelphia?
There are 13 buses from Dc to Philadelphia in a single day. Some of the buses take direct routes with no stopovers delaying journeys that might bring many changes along the way. The earliest bus leaves DC at midnight, while the last bus for the day leaves at 11.00 p.m.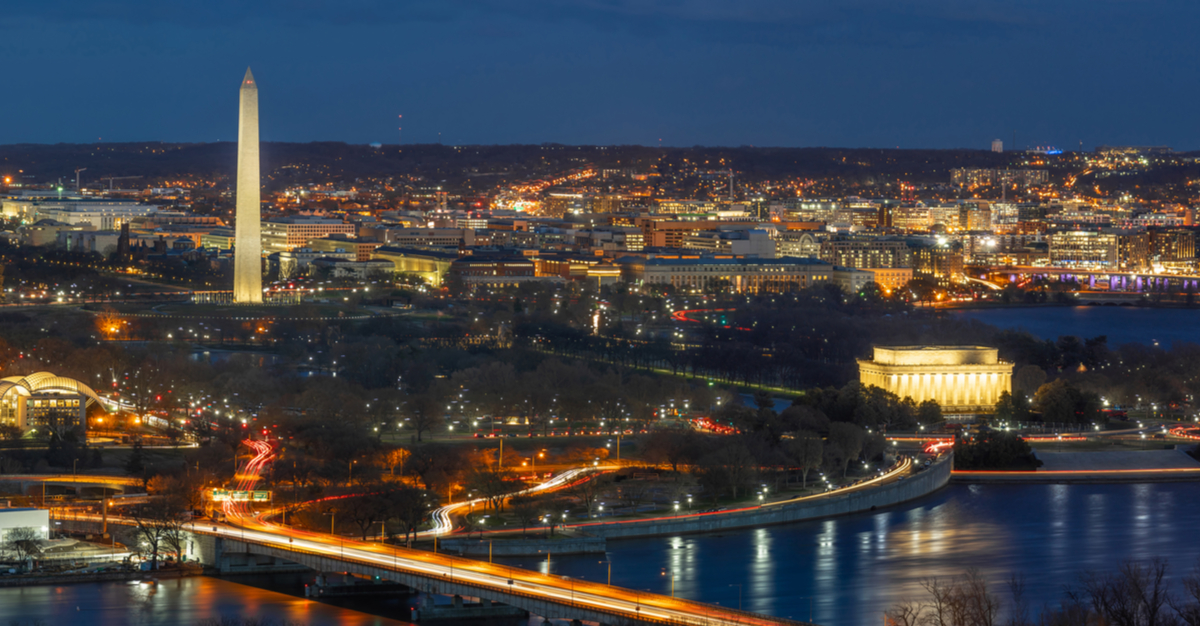 Washington DC Panoramic. Source: Shutterstock
What are are the departure and arrival stations for buses from DC To Philadelphia?
Departure bus station: Buses on the DC-Philadelphia route depart L'Enfant Plaza or Dupont Circle. L'Enfant Plaza is located on 600 Maryland Avenue SW Washington, DC 20024. It offers daily parking options and internet. Travelers can get to the station by walking if they are in Washington. Travelers from other areas can take a taxi or the bus to the station. Dupont Circle is located on 152 20th St. NW Washington, DC 20036. It is accessible by bus or trains depending on where travelers are coming from.
Arrival bus station: When the bus arrives in Philadelphia from DC, they go to the Greyhound Bus Terminal. Greyhound terminal offers passengers various amenities such as restrooms, parking garages, and vending machines for a quick bite. The bus station is popular and serves different intercity bus companies from DC, including the Greyhound and Peter Pan Bus Lines. The Greyhound Bus station is in a strategic place, a walking distance from Reading Terminal Market or the Pennsylvania Convention Center.
Which bus companies travel from Washington DC to Philadelphia?
Four bus companies travel from Washington DC to Philadelphia, and they include The Greyhound, Our Bus, Peter Pan Line, and FlixBus US. The number of trips per company, the average time, and the price for each varies from company to company. The company that takes the most trips is the Greyhound, with an average of five bus trips per day and an average time of 3h 50min for each trip.
FlixBus US has the second number of journeys taking four trips per day and each taking an average of 2h 50min each trip. Peter Pan Line and OurBus take the least number of trips per day, taking two and one trips respectively and an average time of three hours per trip. Some bus companies will require a change from time to time during the journey to Philadelphia. Omio will help you book your ticket and secure your most preferred seat.
To Philadelphia by bus—travel tips
Philadelphia is a beautiful city in Pennsylvania. It is full of amazing things to do for sole traveler's couples and families. People traveling from DC by bus will only take an average time of 3h 30min. The bus is convenient because there is usually too much traffic, especially on the one-way streets. During the less busy seasons of the year, and during the fall and spring, the Hotel's rooms get charged fair prices and they are very clean and accommodating.
Despite the above, there is several other attraction in Philadelphia, for example, the eastern state penitentiary which is the oldest prison that offers tours and exhibition, the liberty bell a symbol for Americans freedom, The Philadelphia zoo home for many animals and also acts as an education center, the Franklin institute which is ideal for people who are into interactive science and parents traveling with their kids. It doesn't matter why you travel from DC to Philadelphia; you will enjoy your stay, however long or short.
FlixBus US from DC to Philadelphia
It makes at least five trips from DC to Philadelphia. They provide free Wi-Fi to their travelers and drinks and snacks for a small fee. The seats have adequate leg room to stretch.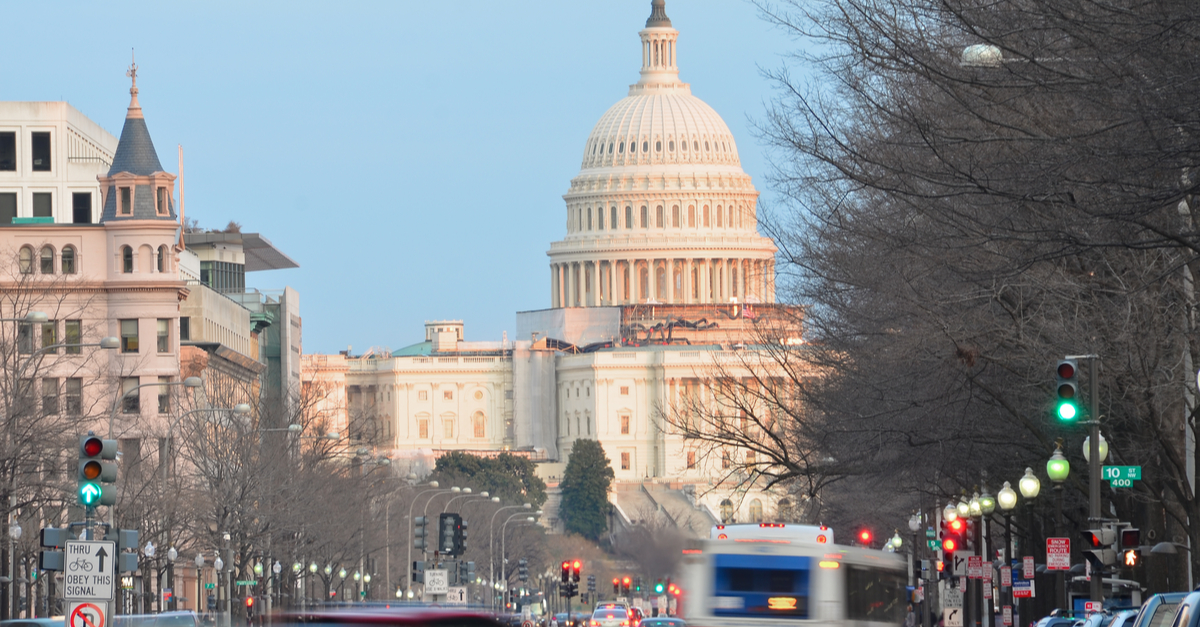 Washington DC Traffic. Source: Shutterstock
Greyhound from DC to Philadelphia
Greyhound is the most preferred bus company by frequent DC and Philadelphia routes. They offer the cheapest ride and also have the most trips per day. The company has at least five buses per day and can book a ticket for any time of the day, starting at 12.00 a.m. to 11.00 p.m. The trips only take 3h 45min on average to cover a distance of 123 miles (199 km) from Washington DC to Philadelphia.
They also offer the most affordable rides for each trip. Greyhound Company also has the best and polite drivers who drive carefully and ensure everyone on the bus is comfortable. The Greyhound fleet also ensures the safety of the passengers is their number one goal. For a decade, the Department of Transportation has named the company number one regarding protection after their regular Compliance checks.
OurBus from DC to Philadelphia
They provide low-cost tickets and only offer one trip to DC to Philadelphia. Their buses are modern, equipped with Wi-Fi, restrooms, and comfortable recliner seats. You can also charge your phone on the bus and get free drinking water on the bus.
Peter Pan Lines from DC to Philadelphia
They provide two busses daily from DC to Philadelphia. Their busses have free Wi-Fi and recliner seats with a leg allowance. The bus stops at the Philadelphia bus terminal.
Washington DC to Philadelphia Bus Services on Board
Buses that travel from DC to Philadelphia offer the best onboard services to their passengers. For instance, the Greyhound offers the best onboard entertainment, including TV shows, Over 30 movies from different games, and free high connectivity Wi-Fi. In addition, all the buses come with personal power outlets and comfortable reclining leather seats that offer good head and legroom to accommodate every passenger. You will get window seats or an aisle seat as there are no middle seats on the bus.
The buses also offer spacious overhead storage for your luggage. The buses provide onboard restrooms to avoid delays caused by restroom breaks throughout the journey. Some buses also provide access for the disabled and on wheelchairs. However, most bus companies do not allow any pets on board apart from service animals. Therefore, the disabled person should train and accompany the service animals to travel comfortably with no additional charges. Some buses allow bikes on board, but they are oversized luggage likely to be charged. The bikes are permitted on the bus if they get appropriately packaged in their boxes.