Bus from Newark, NJ, to Philadelphia
The journey from Newark, NJ, to Philadelphia by bus takes about 2h for the fastest direct bus while buses with connection may take up to about 15h. The frequency of this trip depends on the time of day but on average, the buses depart every hour to every hour and a half with more departures during rush hours. This is an efficient and affordable mode of transportation for anyone from Newark and looking to explore Philadelphia. The bus ride takes you through New Jersey and Delaware with few stops along the way.
Newark, NJ, to Philadelphia Bus Time: Daily Departures
The journey from Newark, NJ, to Philadelphia Bus Time has about 11 buses per day, 20h per day. Every bus departing at every 1- 4 block from 6:00 a.m. to 3:45 a.m. However, this also depends on the bus operator. You can check the bus schedule from Bus from Newark, NJ, to Philadelphia. You can do this online, in person, or by phone. Checking the schedule online through Omio is preferable because of the availability and easy-to-use interface. The first bus of the day departs at 12:00 a.m, the last bus departs at 11:45 p.m.
How long is the journey by bus from Newark, NJ, to Philadelphia?
The distance between these two cities is about 75 mile (121 km), so it's best to set aside a full day for this excursion. The time taken depends on whether you are taking a direct bus or connection but on average, the journey takes about 4h 40min. The journey has stops at Newark Liberty International Airport and Philadelphia's 30th Street Station. The changes are frequent and the bus will drop you off at your destination.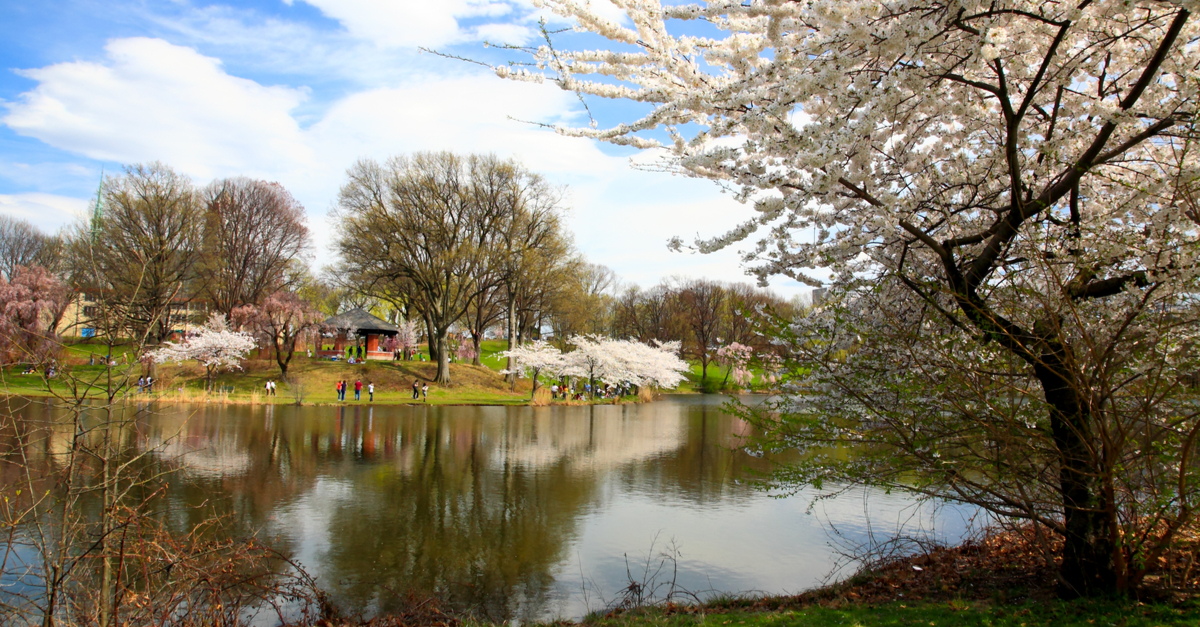 Newark Blossoms. Source: Shutterstock
What is/are the departure and arrival stations for buses from Newark, NJ, to Philadelphia?
Departure bus station: The departure bus station is at 60 Park Place, Newark, NJ 07102. From the city center, the station is about 1 mile (1.6 km) away. Some notable facilities available at the station are ATMs for withdrawing cash, baggage storage, luggage storage, and a cafe for breakfast. There is also a ticket office for buses to Philadelphia.
Arrival bus station: The arrival bus station is at 30th Street Station - the main railway terminal for Southeastern Pennsylvania in Philadelphia. It's about 20min walk away from the city center. The station has a very easy-to-navigate layout with all the major facilities like ATMs, baggage storage, and a cafe. Other amenities available at 30th Street Station include tourist information where you can get information about Philadelphia as well as a train station.
Which bus companies travel from Newark, NJ, to Philadelphia?
The main bus companies that operate the journey from Newark, NJ to Philadelphia are Bolt Bus and Megabus. The main difference between these two is that Bolt Bus takes a more direct route while Megabus stops to pick up passengers at other locations.
Megabus buses from Newark, NJ, to Philadelphia
Megabus operates a bus from Newark, NJ to Philadelphia every day, departing at 12:00 a.m. Megabus mainly operates long-distance buses and it takes about 11h 50min and arrives at 30th Street Station, Philadelphia. The delay is majorly due to the stops it makes at other locations. Before getting to Philadelphia's 30th Street Station most Megabus buses have changes at Newark Liberty International Airport and Greyhound Station.
Bolt Bus from Newark, NJ to Philadelphia
The bus Bolt Bus departs from the departure station at 60 Park Place in Newark every day at 12:00 a.m. It will take an average of 4h 50min with no stops along the way and arrive at Market East Station at 30th Street, Philadelphia. The bus will drop you off at Market East Station and the passengers can take a shuttle from there to 30th St Railway Station. Bolt bus mainly deals with high-speed buses.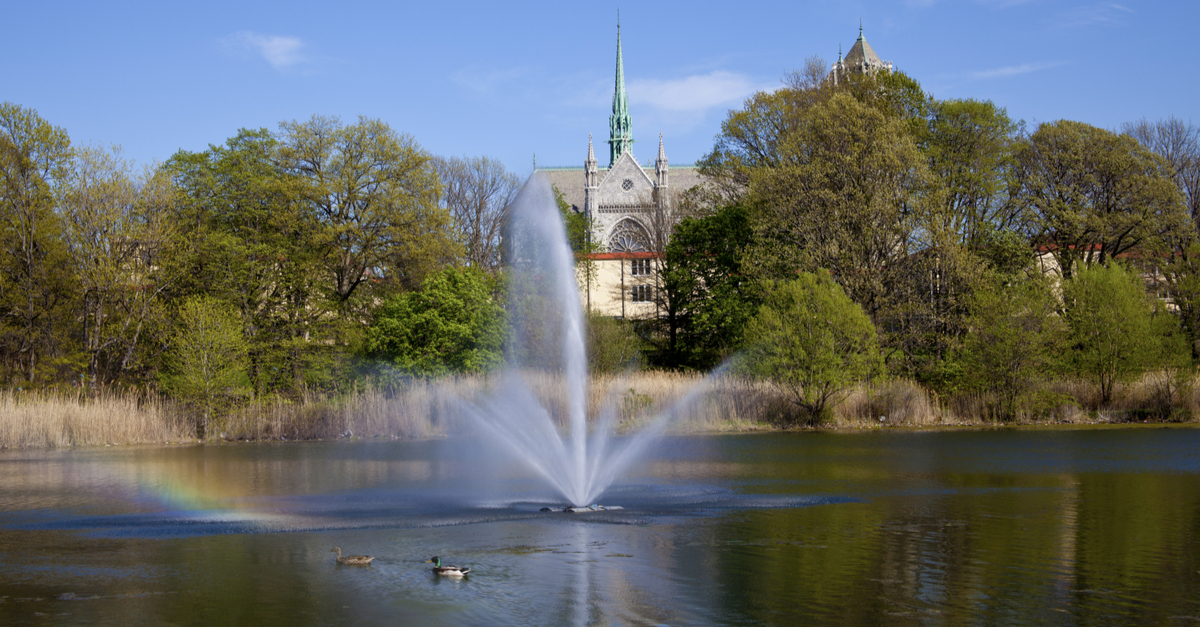 Newark Ducks. Source: Shutterstock
Bus Newark, NJ, to Philadelphia: Services on Board
Megabus has a cafe onboard that serves food and snacks, however, alcohol is prohibited. It also has Wi-Fi and power outlets. The seats are comfortable with enough legroom. The seats are not assigned and will be available on a first-come, first-served basis. For luggage allowance, Megabus has a holds a capacity of one carry-on item plus two personal items such as a laptop, handbag. Passengers with bikes will have to place them in the luggage hold. Megabus allows passengers with pets on board and you can carry one small pet in the cabin up to 10 lbs (4.5 kgs) at a fee. The pet must be in an approved carrier and stay on your lap through the journey.
Bolt bus buses from Newark to Philadelphia do not sell onboard refreshments, but you are allowed to bring food and drinks on board. All buses allow pets that fit in a carrier underneath the seat or next to your feet if there is no space left. The bus drivers will also provide assistance with storing luggage under seats or at the back of the bus so make sure they know when boarding. Other notable services on board are Wifi, power outlets for charging devices, and extra space for wheelchair passengers. Bolt bus buses from Newark, NJ to Philadelphia have a wheelchair lift and an attendant for wheelchairs that will help out if needed. Bikes will be placed in the luggage hold to avoid taking up space.
How to find cheap bus tickets from Newark to Philadelphia
There are several ways to find cheap bus tickets. One option is to book the ticket in advance, which will usually be cheaper than buying it at the station on the day of departure. You can book your ticket online in advance through Omio as it offers deals on tickets as well as convenience to avoid the last-minute rush. The other option to save on ticket prices is to go for the slower or connecting buses. These buses are cheaper as they will take longer to reach Philadelphia. You can also save big if you are flexible with your travel dates the bus companies would usually have discounts on some offpeak days or seasons. This depends on the bus company and the route but generally, the best deals are found on offpeak days when the bus station is less busy.
To Philadelphia by bus - Travel Tips
Philadelphia is an attractive city. The bus service in Philadelphia is very economical and convenient for tourists as well as business travelers. Notable attraction sites in Philadelphia include Independence Hall and the Liberty Bell, National Constitution Center, The Franklin Institute, Eastern State Penitentiary, Rodin Museum etc. Market East Station is a great place to visit if you want to try fresh fruits and vegetables from Amish markets. As a visitor, you can easily buy foodstuff like breads, cheeses etc at local shops in this area.
There are several shopping malls in the Philadelphia like South Street Shopping Center, Walnut Shopping Center etc which contain various shops selling unique items. Carnegie Museums of Art and Natural History provide an insight into the world of art and science through various exhibits at their locations.The Philadelphia Zoo is a wonderful animal park where people can see different species of animals from around the world roaming freely in the zoo. The Art Museum steps are also great places to visit in Philadelphia.