Bus to Philadelphia
Philadelphia's bus transportation system is extensive, making it easy for you to travel to the city. The Southeast Pennsylvania Transportation Authority (SEPTA) services public transport into and within Philadelphia, and its vast road network has made transportation effortless. Buses to Philadelphia arrive at two main stations, Filbert St/N 10th St bus station and 30th Street Station.
Filbert St station, also Philadelphia Bus Station, along Filbert Street, is the primary intercity bus station receiving most Philadelphia buses. You can take regional buses from the station to Pennsylvania towns and cities like Scranton or bus rides to cities outside Pennsylvania. Two bus companies provide Philadelphia buses, Greyhound and PeterPan. Omio allows you to book bus journeys with these bus providers to destinations like New York City, Atlantic City, Washington, and Pittsburg.
Greyhound Bus to Philadelphia
Greyhound is the popular bus company providing buses to Philadelphia. The company offers long-distance and short-distance journeys into Philadelphia. Popular routes that Greyhound operates along include Pittsburg-Philadelphia, Atlantic City-Philadelphia, Washington-Philadelphia, and Boston-Philadelphia. Greyhound has Philadelphia Bus Station as its primary station for its buses into Philadelphia.
However, some of its buses also have 30th Street Station as the arrival station. Greyhound serves many routes to and from Philadelphia compared to other bus providers. You are sure to get buses to Philadelphia from most cities in the country's northeast region and as far as the west coast. Thanks to Omio, you can now book your journeys with Greyhound. Greyhound's services include cheap bus tickets, even for long-distance journeys. The buses have amenities like power outlets, Wi-Fi, and reclining seats.
Peter Pan Bus to Philadelphia
Peter Pan is one of the biggest bus companies serving the northeast region of the country. Its most popular routes are those serving big cities like New York City, Washington, and Boston. Omio has made Peter Pan bus tickets accessible from anywhere, anytime. The tickets are cheap, and with Peter Pan's multiple departures to Philadelphia, you are sure to find a convenient bus ride into the city. You can book Peter Pan bus tickets for routes like New York City to Philadelphia and Boston to Philadelphia. The buses ensure you are comfortable during your trip by providing reclining seats with headrests, an onboard restroom, and Wi-Fi. All Peter Pan buses use Philadelphia Bus Station as the arrival station.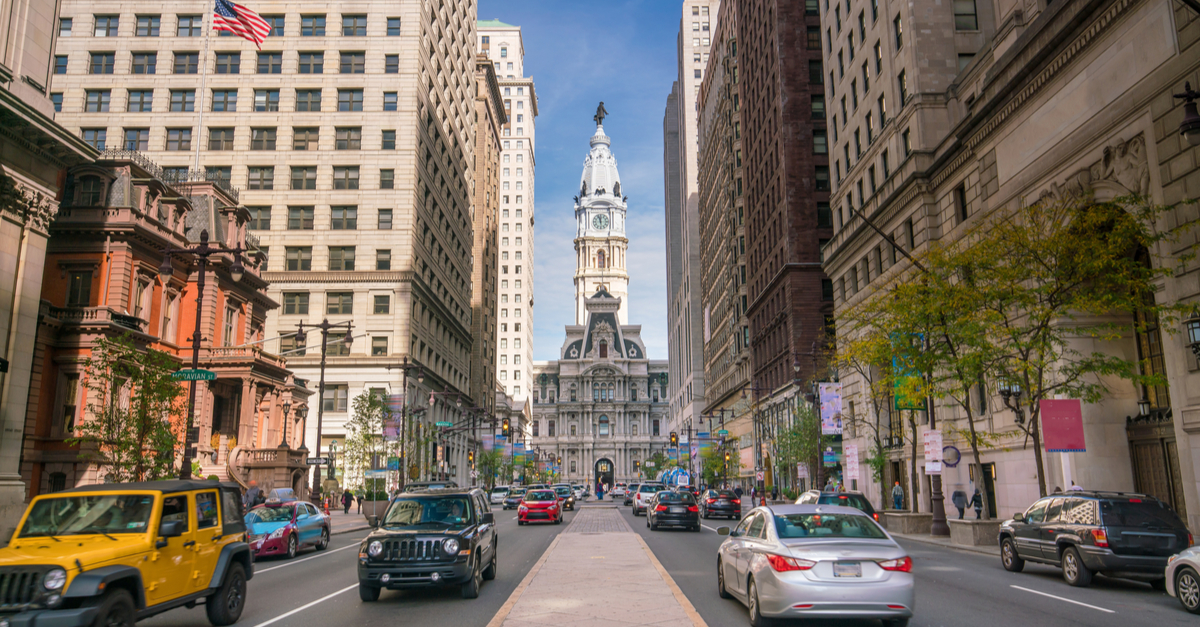 Philadelphia Street City Center. Source: Shutterstock
Main bus stations in Philadelphia
Philadelphia Bus Station along Filbert Street and 30th Street Station along Market Street are the main stations for Philadelphia buses. If you're traveling on a Peter Pan bus to Philadelphia, you will use Philadelphia Bus Station as your arrival station. On the other hand, Greyhound buses use both stations. Philadelphia Bus Station is closest to the city center of the two stations, with its location being less than half a mile from downtown. It is a single-mode transit station handling only buses, both regional and local buses. You will access amenities like payphones, vending machines, ATMs, waiting lounges, and restrooms at the station.
30th Street Station is about 2 miles (3.2 km) from the city center and is an intermodal transit station for buses and trains. It is busier than Philadelphia Bus Station with both intercity and regional buses plus Amtrak connections. The amenities at 30th Street Station include ATMs, vending machines, wheelchair-accessible restrooms, Quik-Trak kiosks, and Wi-Fi.
Onboard facilities: Bus to Philadelphia
Greyhound only offers economy seats for all bus journeys to Philadelphia. Even so, you will find these seats to be comfortable enough for long-distance journeys. Greyhound's economy seats are spacious with extra legroom and a recline function. No middle seats are available, so you will have enough space to sit comfortably. You will also have a personal power outlet for your devices and free Wi-Fi to keep yourself entertained during your trip. An onboard restroom is also available, which is decent, clean, and well-equipped. Overhead compartments are present for your carry-on luggage, and if this is not enough, under-seat storage is also available.
Moreover, no pets are allowed on board with the exemption of service animals. Peter Pan buses offer economy seats only for buses to Philadelphia. Nonetheless, the seats are comfy as they have a headrest and are adjustable. You will also have your power outlet and free Wi-Fi. Clean restrooms are also present on board, and you don't have to hold it until the next stop. You are only limited to luggage weighing less than 25 lbs (11 kg) on your trip, and you can store your luggage in the overhead compartment or under your seat. Your furry friend can also tag along on your trip, as Peter Pan welcomes small cats and dogs of less than 25 lbs (11 kg) onboard.
Bus tickets to Philadelphia: useful to know
Book your Philadelphia bus tickets with the Omio app and enjoy the benefits of the platform. One significant benefit is booking Philadelphia bus tickets with all bus providers like Peter Pan and Greyhound. These tickets will be in the form of e-tickets, and you can store them on your Omio account. When you board the bus, you will need to show your ticket on your phone, no need to print it.
You also need to show the ticket along with a valid form of identification like a permanent resident card or a driver's license. Download the Omio app, create an account, and enjoy the convenience and efficiency of booking your tickets online. Booking your bus tickets with Omio is fast and easy, and you can store all your e-tickets in your account.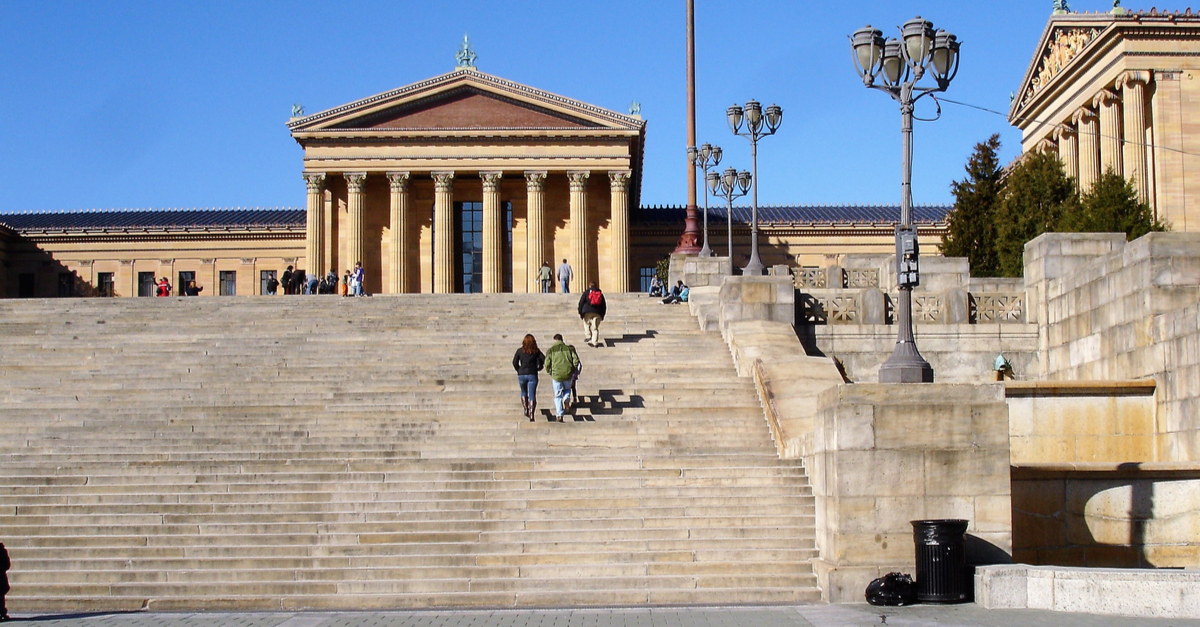 Philadelphia Art Museum Visitors. Source: Shutterstock
To Philadelphia by bus-travel tips
Getting around Philadelphia is easy thanks to SEPTA's initiative of having a vast transportation system into and within the city. You can get around using a taxi, bus, subway, trolleys, or bikes. SEPTA operates the subway, trolley, and buses within Philadelphia. The subway offers 24h services to parts like University City, Old City, and attractions in north Philadelphia like Divine Loraine Hotel.
Uber and Lyft offer fast and affordable ride-hailing services, and you can easily get a cab with their mobile apps. Bike rentals like Wheel Fun Rentals and Fairmont Bicycles are also available throughout the city, and there are dedicated bike lanes in most parts of the city. With bikes, you do not have to worry about traffic on busy roads, and you can explore Philadelphia at your own pace. Similarly, rental cars are also available that help you get around at your pace.
To Philadelphia by bus-travel tips
One of the biggest US cities on the east coast, Philadelphia has plenty of authentic experiences waiting for you and yours. It can be hard deciding where to start your exploration of this vibrant city since it boasts many attractions, museums, historic sites, and eateries.
Nonetheless, hit the ground running by exploring the rich history of America bestowed upon this city. History lovers would most appreciate the Liberty Bell, Museum of American Revolution, and Independence Hall. Those captivated by democracy should have the National Constitution Center on top of their list.
You can later head to Fairmont Park at the heart of the city to enjoy outdoor activities like hiking and biking. The park also features the oldest zoo in the country and Philadelphia's awe-inspiring Boathouse Row. The Reading Terminal Market and Italian Market are the ideal places to visit for food lovers who want to sample the best of Philadelphia's cuisines.