Buses from Matera to Rimini
The route from Matera to Rimini is full of magical environmental sceneries. Therefore, traveling by bus is the best way because you never miss a single adventure. Buses from Matera to Rimini cover a distance of 311 miles (501 km). bus from Matera to Rimini These buses depart daily from morning till evening following the set schedule. Therefore, you can take a direct or a connecting bus for your journey.
Matera to Rimini bus time: Daily departures
Several buses leave to Rimini from Matera every day. The earliest bus leaves in the early morning and the last one leaves in the evening. There are also night buses that leave Matera at around 7:00 p.m. However, departure times may change during holidays and weekdays. There are multiple journeys daily, hence, you can book a bus that travels at your convenient day and time.
How long is the journey by bus from Matera to Rimini?
The distance from Matera to Rimini is 311 miles (501 km). Buses in this route take an average duration of 9h 41min. bus from Matera to Rimini These are the fastest buses offering direct services. However, connecting buses are slower because they stop in major regions such as Bari, Ancona, and Vasto. Therefore, they take at least 11h 15 min to arrive at the final destination. Thus, you can choose to travel quickly with the direct buses or have more adventure with slower buses.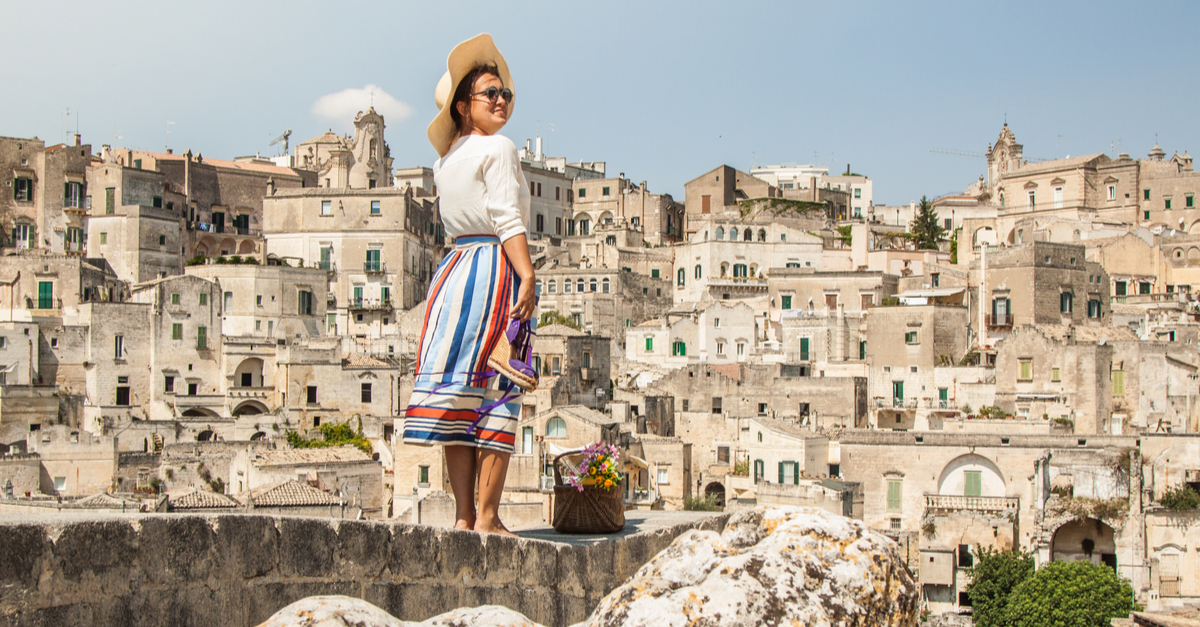 Matera Woman Tourist. Source: Shutterstock
What are the departure and arrival stations for bus from Matera to Rimini?
Departure bus station: Departure stations in Matera include Matera, Centrale, Matera, Via Nazionale staz. FAL Villa Longo, and Matera, Via Don Luigi Sturzo / Via Donato Bramante. Mostly, buses depart from Matera Centrale, located 0.2 miles (250 m) from the city center. This is a short and walkable distance. However, if you need public transport, there's a bus line. There are many facilities in this bus station, including restrooms, a waiting area, and shops.
Arrival bus station: There are several arrival bus stations in Rimini, including Rimini, Viale Regina Elena 131 Hotel Panama Majestic. Rimini, and Rimini, Viale Regina Margherita. Trains depart from Rimini, Viale Regina Margherita, located approximately 2 miles (3.2 km) from the city center. The available public transport is a bus line which drops passengers at the entrance of the bus station. The available amenities in this station are restrooms, shops, a waiting area, and parking.
Which bus companies travel from Matera to Rimini?
Marino Autolinee is the leading bus company from Matera to Rimini. These buses offer domestic and international services. bus from Matera to RiminiDirect buses have no transfers but connecting buses require a transfer and a change or two along the journey. The fastest buses cover long_distance routes at 62 mph (100 km/h). Buses covering domestic routes and offering night services are slower because they connect major cities. Marino Autolinee bus company has partnered with Omio to ensure that all passengers enjoy their journey. Hence, you get all information about this bus company on the Omio app making it easy to book and choose your preferred bus for your journey.
Marino Autolinee buses from Matera to Rimini
Several buses depart from Matera to Rimini every day. Most buses offer direct services and a few offers connecting journeys. The average bus duration is 9h 41min. However, connecting buses take around 11h 15min to arrive at Rimini bus station. Therefore, you enjoy amazing countryside views but reach your destination late than when using a direct bus. High_speed buses travel at 62 mph (100 km/h) and cover long_distance trips. Marino Autolinee has also partnered with Omio to ensure that all travelers enjoy reliable services and a smooth journey.
Traveling by bus is a sustainable journey
Marino Autolinee buses are your best choice if you need sustainable travel via road. These buses are built using environmentally friendly materials. Again, they provide recyclable utensils in the bus to avoid filling the landfill. Modern buses are fuel_efficient and produce less carbon which is a greenhouse gas. This way, there is a reduced carbon footprint in every kilometer these buses travel compared to air transport. Thus, Marino Autolinee buses are your greener choice because they have less impact on climate change. This protects the environment even for future generations.
Bus Matera to Rimini: Services on board
Most Marino Autolinee buses offer first_class and second_class seating. If you need more comfortable and spacious seats, you should book at first_class. Services on board for buses on this route include an electrical outlet, a toilet, color TV, stereo hi_fi, air conditioning, and free Wi_Fi. However, they vary depending on your bus ticket. You can carry a piece of luggage measuring 40 x 30 x 15 cm. If you have two bags, they shouldn't exceed 140 cm in height, length, and width. Again, they should be a maximum of 26 lbs (12 kg) each. Bikes are also allowed on board, but you should fold yours in a bag or disassemble it into two. You also need to pay an additional 20€ to board the bus. Passengers with pets should carry only one pet with a maximum weight of 22 lbs (10 kg). Also, you should carry the pet should be in a cage measuring no larger than 30 x 30 x40 cm, and pay a 40% additional charge. Disabled travelers can get into and off the bus easily because they have wheelchair_accessible features. However, these passengers should request assistance at least 48h before the travel date.
How to find cheap bus tickets from Matera to Rimini?
If you need to save a few pennies, you can find a cheap bus ticket from Matera to Rimini. One way is by booking your bus ticket a few months in advance. Early booking helps you enjoy special deals and discounts. Another way is to be flexible with your travel dates. Flexibility helps you to avoid traveling at peak hours which charge expensive bus tickets. Again, you can save money by choosing slower journeys. Thus, you take connecting buses which take longer to reach the arrival bus station. However, it's the best way to travel if you need your trip to be adventurous.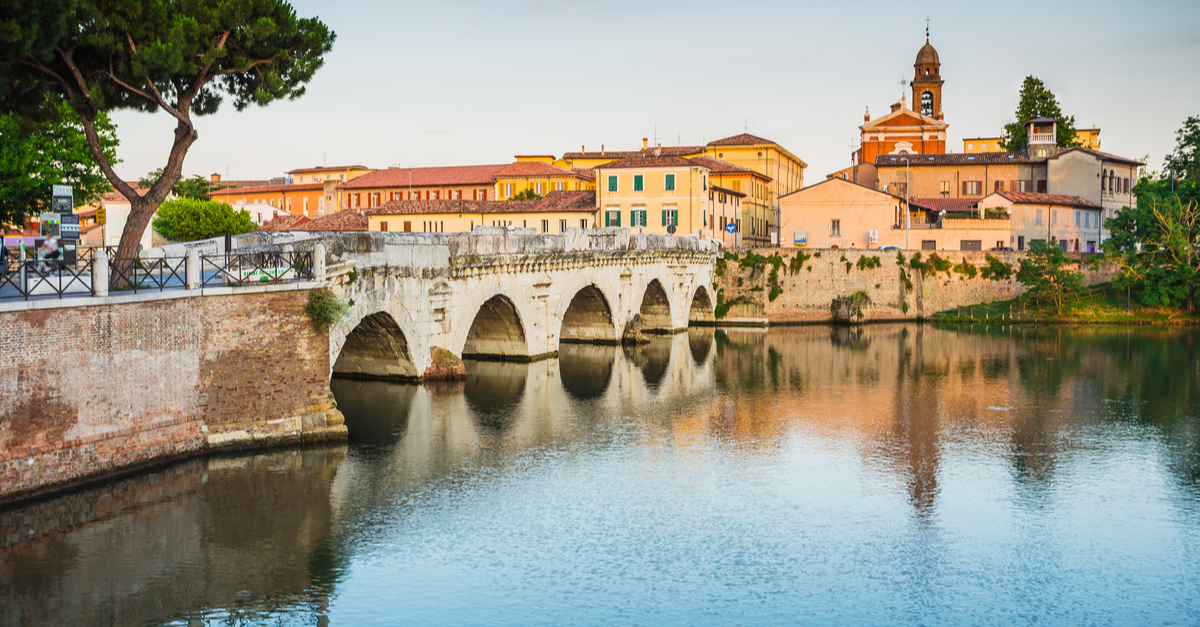 Rimini Tiberio Ponte. Source: Shutterstock
To Rimini by bus – travel tips
Rimini is one of the vibrant cities to visit if you need a great holiday. Some of the top tourist attractions in this city include Rimini beaches, Borgo San Giuliano, Riccione beaches and spas, and Fiabilandia. You can take pictures and create beautiful memories of these attractions. Things to do in Rimini include joining Rimini walking and cultural tours. Other interesting things to do include crossing The Tiberius Bridge, joining other believers at Basilica Cattedrale, riding a boat, and tasting street food in the city. After a long day, you can enjoy delicious Italian, American, and Mediterranean cuisines, seafood, and vegetarian dishes. The best restaurants to eat these foods include Beach Café Rimini, Eurobar, Maracuja, Chef Burger, Rossopomodoro, Ristorante Libeccio, and Ristorante Abocar Due Cucine. If you love having fun at night, the best nightlife in Rimini includes Long Street Bar 127, Capogiro Rimini, and Enzu Asian Street Food. Rimini is also rich in art and culture. It has some of the best museums, including;
Parco Tematico dell'Aviazione
Italy in Miniature
Museo Nazionale del Motociclo
PART _ Palazzi dell'Arte Rimini
Federico Fellini Museum
Far Fabbrica Arte
Museo delle Grazie
Museo Delle Conchiglie E Della Marineria
A Rimini Caput Viarum
Fellinimuseum