Bus to Atlanta
With its rich musical heritage, delicious cuisine, and interesting history, it's no wonder why Atlanta is such a famous destination for tourists and visitors of all backgrounds. There are a few major bus stops that you will find in the city, including the station on Cleveland Avenue and the station at Hartsfield-Jackson Atlanta International Airport, which are two of the largest stops in the area. Because Atlanta is such a popular city in the United States, there are numerous domestic buses for you to choose from. If you're interested in booking a bus to Atlanta, even if it's a cheap bus to Atlanta, you can choose from a selection of departure cities, including places like Houston, Orlando, and New York.
FlixBus to Atlanta
When you book a bus to Atlanta, you will find that many of the journeys that are offered are serviced by FlixBus. A German company that was created in 2011, FlixBus has become one of the largest transport providers in the world. Each day, the company offers thousands of voyages to more than 2,500 travel destinations. Buses to Atlanta that are operated by FlixBus will typically arrive at one of two stations, which are the station at Hartsfield-Jackson Atlanta International Airport and the Atlanta Bus Station on Forsyth Street.
Greyhound to Atlanta
In addition to FlixBus, Greyhound is known for servicing buses to Atlanta. Founded in the early 1900s, Greyhound is another major transport provider in the United States and offers journeys to more than 3,500 cities in North America. Like trips that are serviced by FlixBus, when you book a bus to Atlanta that is operated by Greyhound, you will arrive at either Hartsfield-Jackson Atlanta International Airport or the Atlanta Bus Station on Forsyth Street.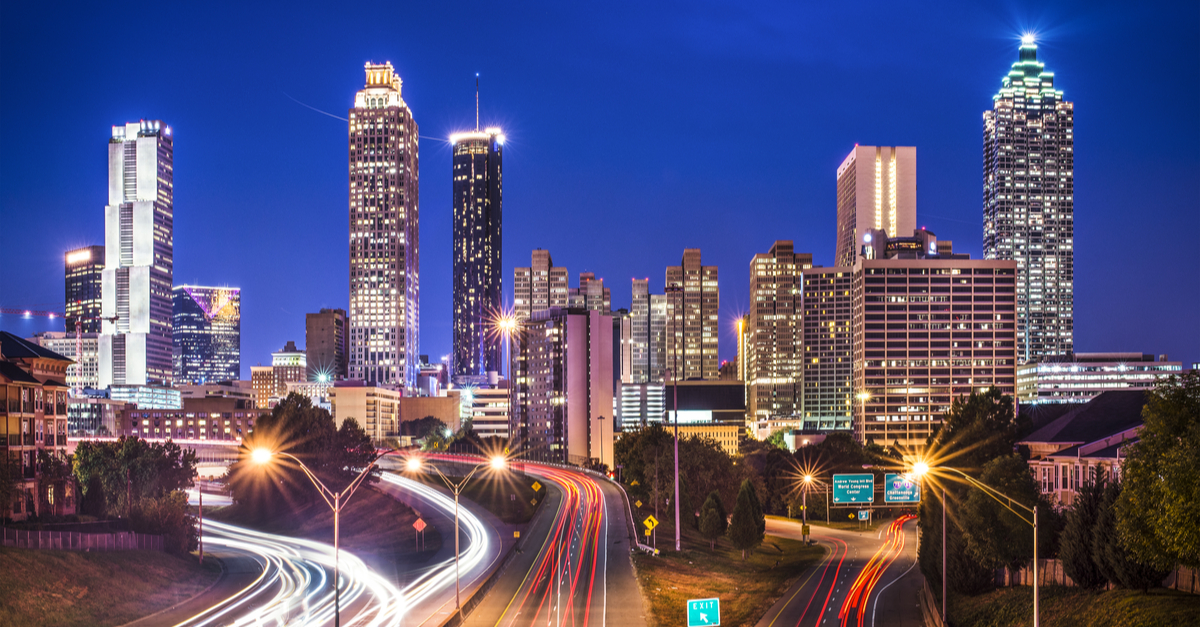 Atlanta Night Lights. : Shutterstock
Main bus stations in Atlanta
Whether you're traveling with FlixBus or Greyhound, your bus to Atlanta will arrive at Hartsfield-Jackson Atlanta International Airport or the Atlanta Bus Station on Forsyth Street. The bus station at Hartsfield-Jackson Atlanta International Airport is approximately 9 miles (14.5 km) south of the city center. If you need to go from the airport to the city center, you can always choose to drive, which will normally take you around 10 to 20min depending on what traffic is like at the time. Public transportation is an option as well, and if you take either the red or gold metro lines, the journey will last you around 30min in total.
The Atlanta Bus Station is just under one mile (1.1 km) from the city center. If you walk from here to the city center, it will usually take around 15min. Keep in mind that public transportation for the journey is not an option. Both stations have a few different amenities for travelers to take advantage of. For example, there are public restrooms that you can use, as well as sitting areas, drinking fountains, outlets, free access to unlimited Wi-Fi, and shops that sell light refreshments.
Onboard facilities Atlanta
Both FlixBus and Greyhound have a few different facilities and services onboard their buses for customers. Most of the buses that are operated by these companies are equipped with a public restroom. You will also have access to a spacious and comfortable seat that reclines and has plenty of foot space. Almost every bus has free and unlimited Wi-Fi to help travelers stay connected while on their bus to Atlanta. On some journeys, you may have the opportunity to purchase snacks and drinks. You will also have your own power outlet to help you charge your electronic devices.
FlixBus has its own entertainment portal which is known as FLIXtainment Onboard Entertainment. To access this, simply connect to the Wi-Fi on your bus and go to the official FlixBus website. Once you are connected, you can access a selection of movies, television shows, and news programs. Greyhound has its own entertainment system as well, which you can access in the same manner. Through this system, you will also find films, television shows, news programs, and some games.
Bus tickets to Atlanta: useful to know
Whether you're traveling with FlixBus or Greyhound, you have a few options for how you can present your ticket to your driver before boarding your bus to Atlanta. You will typically receive your ticket via email, and you can choose to print out a physical copy that contains a barcode that your driver will scan. You can also use a digital copy on your phone instead, which includes a barcode as well. With both digital and physical tickets, you will need to have an official form of identification with you that matches the name that is on your reservation. There are a few different documents that you can use for this, including a government-issued driver's license or a passport. When you book a bus ticket with Omio, the experience is easy and quick. With our online platform, you can even store your tickets directly in your account.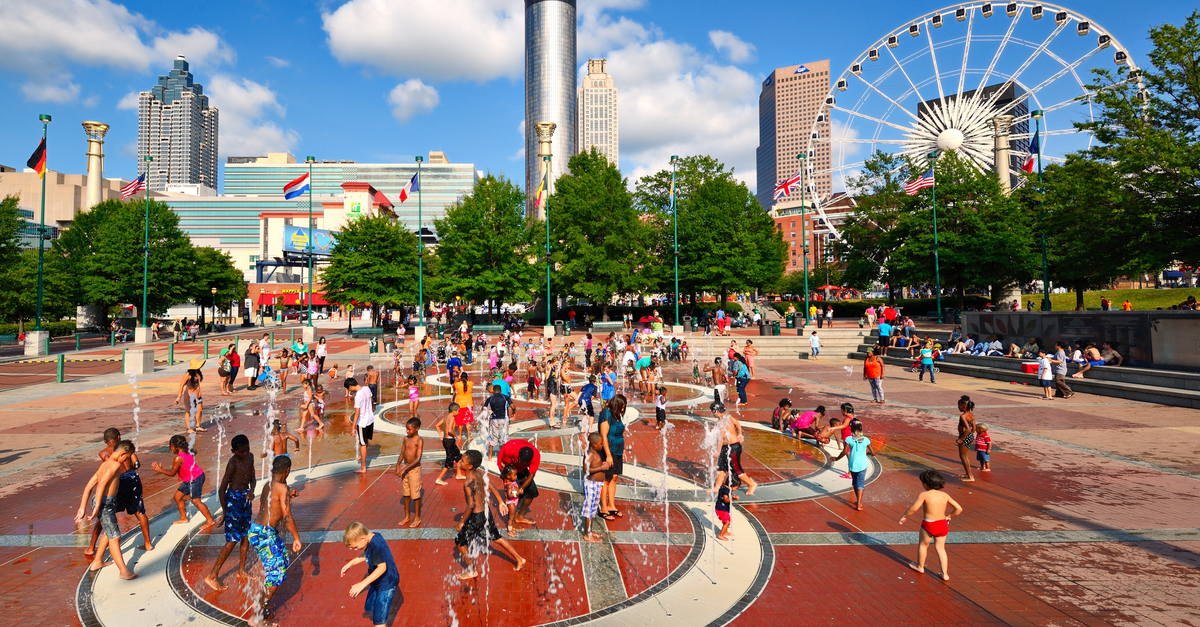 Atlanta Olympic Park. : Shutterstock
To Atlanta by bus - travel tips
There are many reasons why travelers visit Atlanta, whether it's for business, general tourism, or to visit a student that goes to one of the many colleges in the city. Between the numerous museums and interesting attractions in the area, you'll never run out of things to see or do. It's easy to travel around the city with public transportation, as the metro and bus systems connect a majority of the neighborhoods in town. To be in an area that is just a short walking distance from a few different types of public transportation, look for lodging that is in the city center.
No matter what your interests are, there's something for you to see in Atlanta. For a unique experience, you can pay a visit to the World of Coca-Cola. If you want to spend some time outside and enjoy the area's natural scenery, go to Piedmont Park, which is known for its sports complex and outdoor farmer's market.
To learn more about the city's regional fauna, spend some time at the Atlanta Botanical Garden, which is made up of over 30 acres. Art enthusiasts will want to make sure that they take a tour of the High Museum of Art, which is located in Midtown. Learn about the unique history of MLK by going to the Martin Luther King, Jr. National Historical Park, which is his birthplace and also where his tomb is located. Treat yourself to a play, ballet, or opera at the famous Fox Theatre, a performing arts venue that is housed in a former movie palace.
If you want to learn more about the city's rich local history, you'll want to visit the Atlanta History Center, which dates back to the early 1900s and has over 30 acres of exhibits and gardens. Those that visit the Margaret Mitchell House can see the former home of the iconic author that wrote the famous book Gone With the End.
When visiting the region with your family, it can be convenient to pay a visit to the Children's Museum of Atlanta, a fun interactive attraction that travelers of all ages are sure to love. Kids will also love spending time at the LEGOLAND Discovery Center Atlanta, which has a variety of activities and games for visitors to participate in.