Bus to Dallas, TX
The bus infrastructure in Dallas is a lot like that in Houston. There is a large public transportation system, the DART which has buses and trains for use at various prices depending on where you're going. There are also plenty of smaller bus companies to choose from as well--but they may be more expensive than the larger company routes. It's difficult to know who would be the best to use without trying them first. Bus tickets can usually be purchased at the bus terminals, even if they're not for a specific bus company--but it's always better to buy early in order to get one of the seats you want.
However, some bus companies also allow for online booking. The bus stations in the city are located conveniently near the airport, making it easy for travelers to get from one destination to the next. There are 16 bus stations in Dallas and the surrounding areas, and they are always well-signed for easy navigation. Some of the surounding cities connected to Dallas by bus are Arlington, Fort Worth, Irving and Richardson.
Greyhound to Dallas
The main bus company travelling to Dallas is Greyhound. Greyhound has been serving this route for over 100 years and is the best-known bus company in America. There are also other companies that serve Dallas remotely, such as Megabus or BoltBus which may be cheaper but cannot provide service to all of Dallas' destinations. The main benefit for travelers on buses to Dallas is convenience. The buses can travel through cities without being slowed by traffic, and the cost of travel is more affordable than taking a plane. One of the buses will transport you to Dallas from a starting point close to where you are, and another bus that has already travelled there will bring you back home--making for some efficient travel without having to do all the driving yourself.
While in Dallas, Greyhound uses the Dallas Greyhound Station, which is located at 100 South Central Expressway. It's about a mile away from the Arts District and offers many amenities for travelers to use--including free Wi-Fi on their buses, power outlets in almost every seat, and televisions available for passengers who are travelling longer than 6h. The main endpoint for Greyhound buses from other cities is the Dallas Greyhound Station.
Main bus stations in Dallas
There are a number of bus stations in Dallas but the main ones are the Dallas Greyhound Station, West End Transit Center (near downtown), and Southwestern Medical District/Parkland Hospital. All are within easy walking distance of one another--meaning you can hop on a bus to go from one place to another without having to worry about car rental or driving yourself around. Dallas Greyhound Station is the largest bus station in Dallas and is located near downtown. It has many amenities for passengers, more routes to other destinations than any of the other stations (although they may be pricier), and a nice waiting.
On the other hand, West End Transit Center is smaller and specializes in routes from Dallas to other cities. It's a good place for those who are only travelling within the area or close by--but there aren't as many places nearby, so you're not able to walk around when waiting for your bus like at the Greyhound station. Southwestern Medical District/Parkland Hospital is the smallest bus station in Dallas, but it's also one of the most convenient. It has routes to other Texas cities and serves as a good starting point for some that are travelling from out-of-town. The stations offer amenities that you can't find elsewhere, such as free Wi-Fi, power outlets, and televisions, as well as comfortable seating.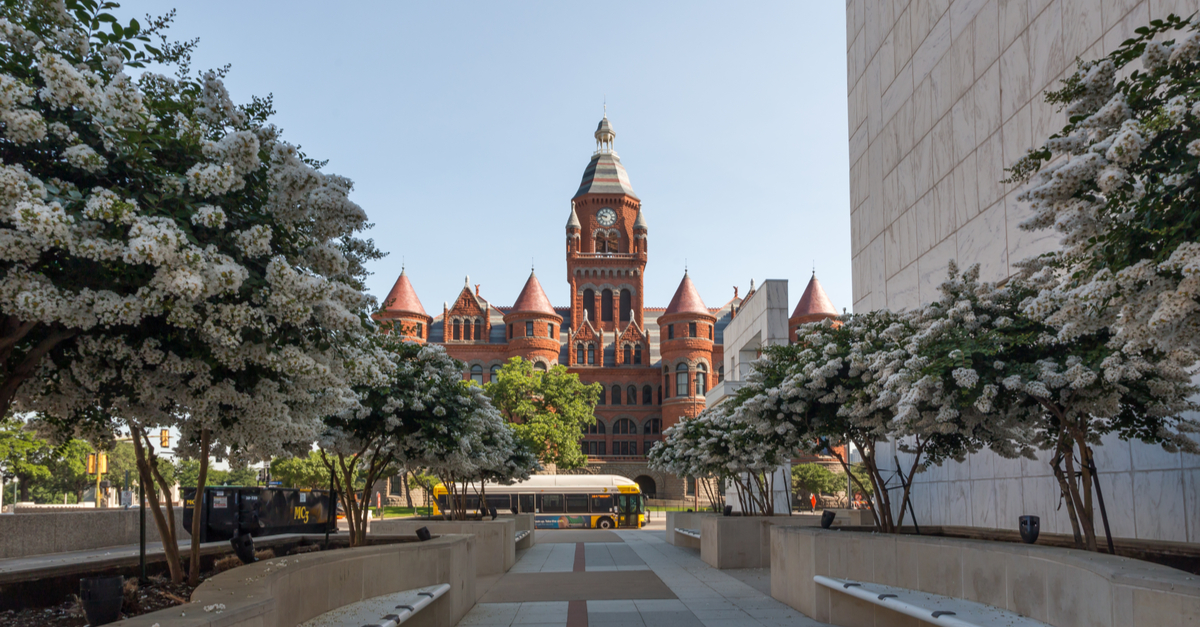 Dallas Museums. Source: Shutterstock
Onboard facilities Dallas
Greyhound prides in its onboard facilities and the Dallas Greyhound Station is no exception. It offers a number of amenities that make your travel experience more comfortable and enjoyable--including free Wi-Fi on buses, power outlets in every seat, televisions available for passengers travelling longer than 6h. The buses also offer closed captioning, a lost and found service, and luggage storage for up to 24h. While on board, passengers can also enjoy their snacks and drinks with the help of a friendly Greyhound staff.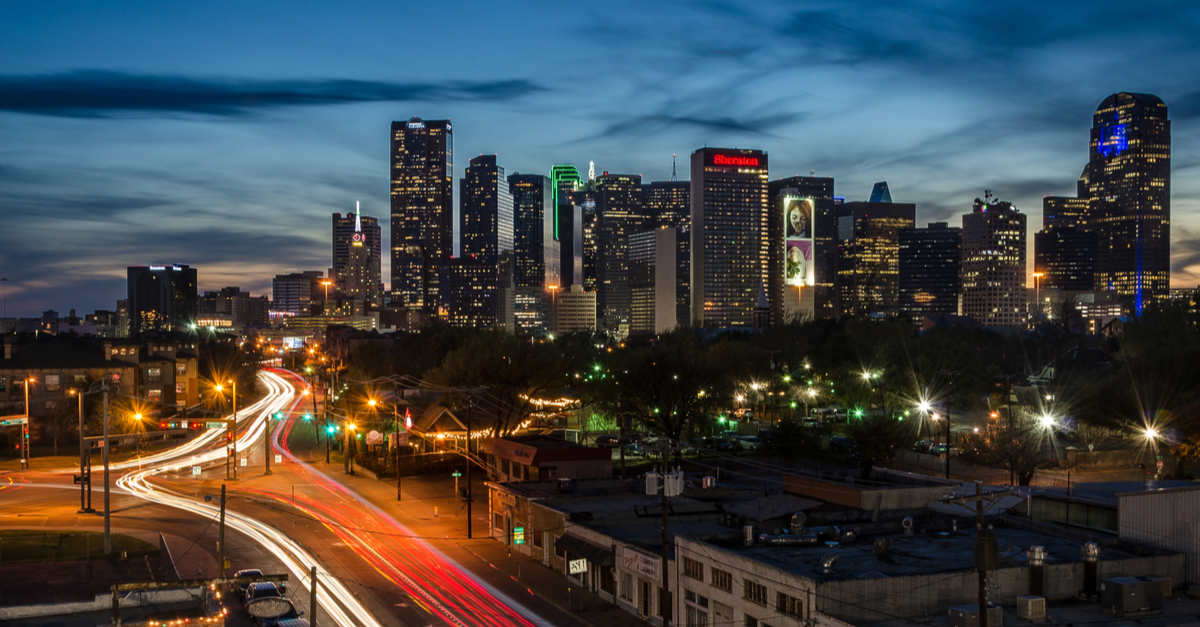 Dallas Lights. Source: Shutterstock
Bus tickets to Dallas: useful to know
Bus tickets to Dallas can be purchased online--or at the bus station. It's difficult to know which company would offer a better price without trying them first, so it might be best for you to buy your ticket in advance of travelling and avoid any issues later on. You'll still need proof of identification when purchasing a bus ticket (usually driver's license or passport), and you'll need to leave your baggage at the security checkpoint. If you're travelling with children, they will be charged an additional fare--so it's best if you keep that in mind when purchasing tickets online or if booking a ticket over the phone.
You can also purchase discounted fares for seniors (65+) and students (13-18), so keep that in mind too. Passengers travelling with animals (pets) will require an additional fee as well--so it's best to plan ahead when purchasing tickets or booking a ticket over the phone. You'll need proof of your pet being up-to-date on shots and vaccinations. You can buy tickets to Dallas through Omio enjoy the liberty to browse through the various providers and choose the one that suits you best.
To Dallas by bus—travel tips
Visitors travelling to Dallas have always been intrigued by the unique culture and taste of the city. With its close proximity to other well-known cities like Houston, Austin, Oklahoma City, etc., it's easy for visitors to see what all Dallas has to offer--especially with a bus ticket at your disposal. Public transportation around the city is also a great way to see what you're interested in, and getting around is easy since there are many bus routes. You can move around the city using bus routes.
It's also a good idea to get an all-day bus pass--which is more affordable than purchasing one ticket at a time, especially if you're visiting for the day. You can even purchase a one-way bus ticket if you want to see what Dallas has to offer. When travelling around the city, remember to always be aware of your surroundings for easier navigation. You can also look for the Dallas Police Department bus station to ask any questions you may have about safety, and it might even lead to a tour.
To Dallas by bus—travel tips
Since the Greyhound Station is located near downtown, it's also easy for people who are visiting and looking at attractions like the aquarium (which can be found in Turtle Creek) or museums like the Fort Worth Museum of Science & History--or even food trucks at the West End Marketplace. Other notable attractions in Dallas include the Sixth Floor Museum, Texas Theatre and American Airlines Center.
The hospitality from the locals is enviable and something that is talked about, making Dallas a great city to visit. Alternatively, you can enjoy sightseeing from the bus and get a glimpse of what Dallas has to offer. Dallas is also home to a number of restaurants, shops and parks--making it a great city to visit if you're on the go. The most notable of these parks is Reunion Tower--a Dallas landmark.