Bus to Los Angeles
As one of the largest cities in the United States, Los Angeles is a popular bus destination from nearly every corner of the country. It has two primary bus stations that serve as the destination for these routes - Union Station and Los Angeles Greyhound Station. While nearly every major city in America seems to have a regular route that provides service to Los Angeles, some of the most popular routes come from within California - Sacramento, San Francisco, San Diego, and Oakland. Other western locations also have frequent and popular bus routes, such as Las Vegas, Nevada and Seattle, Washington. There are also popular bus lines that cross the country to reach LA, coming from major east coast cities like New York City, Washington, D.C. and Boston.
Amtrak to Los Angeles
Amtrak is one of the primary operators for buses to Los Angeles, often using a combination of trains and buses for longer journeys - especially those originating in the eastern United States. Amtrak routes use Union Station in Los Angeles as the endpoint for journeys arriving in this city, whether it is via train or bus. The buses arrive at Patsaouras Transit Plaza, which is attached to the east side of Union Station. This station was previously known as Gateway Transit Plaza.
Greyhound to Los Angeles
Greyhound is another company that operates buses to Los Angeles, but uses the Los Angeles Greyhound Station as its primary endpoint instead of Union Station. Unlike Amtrak, the Greyhound routes are only available as bus transit.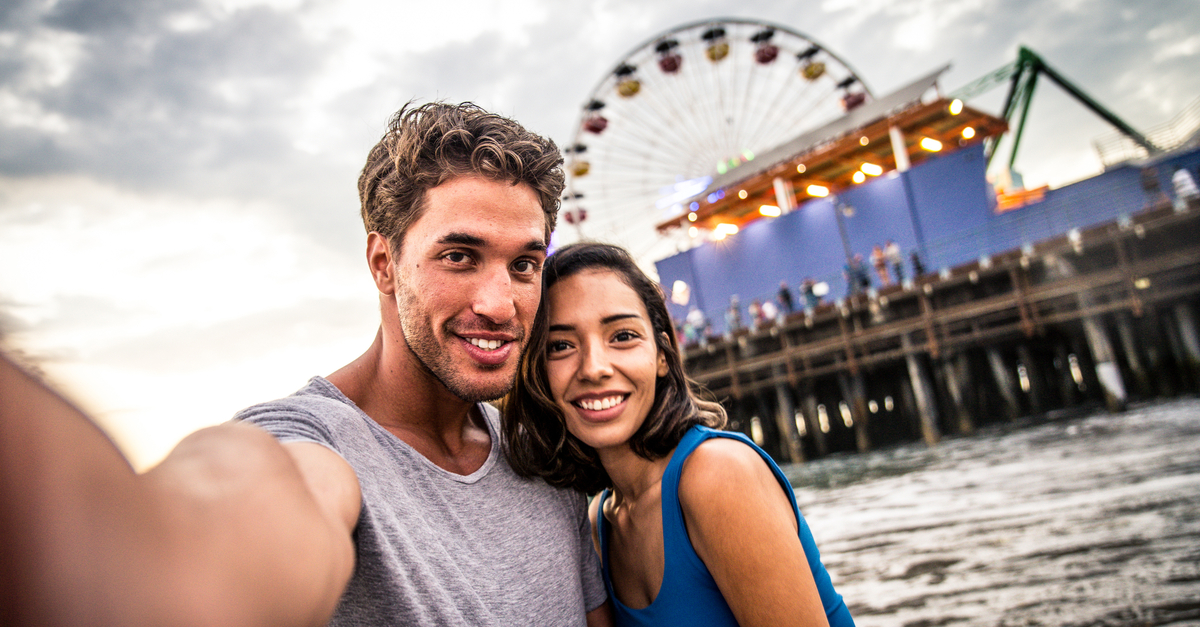 Los Angeles Park. Source: Shutterstock
Main bus stations in Los Angeles
There are two stations used as the endpoint for buses to Los Angeles - Union Station and Los Angeles Greyhound Station. Union Station is located in the heart of Downtown Los Angeles, with Patsaouras Transit Plaza (previously known as Gateway Transit Plaza), attached to the east side of the building. Only Amtrak buses stop at Union Station. The Los Angeles Greyhound Station is located on 7th Street to the south of the Arts District and east of the Fashion
The Los Angeles Greyhound Station is located on 7th Street to the south of the Arts District and east of the Fashion District. Only Greyhound buses stop at Los Angeles Greyhound Station. They have similar amenities, but Union Station has far more connections to local transit such as MTA and Metrolink. Union Station is also located in a more convenient location, directly in the heart of Downtown Los Angeles, while Los Angeles Greyhound Station is about 2 miles (3 km) south.
Union Station is the busiest passenger terminal located in the Western United States. It serves nearly 110,000 travelers each day. Inside the station there are granite seating sculptures, decorative murals, glass mosaics, and electronic art mounted on the walls.
Onboard facilities Los Angeles
Give information about the onboard facilities from the providers available on this journey While traveling with Amtrak or Greyhound, passengers can enjoy free Wi-Fi and charging outlets attached to their seats, so you can keep devices charged and useful throughout the journey. Every bus features restrooms on board and plenty of storage space located above the seats or beneath the bus. You can also store smaller items under your seat itself.
As far as luggage policy goes, these companies allow three pieces of luggage per passenger. These pieces of luggage can be stored under the bus or in overhead storage. The heavier items typically belong in the space beneath the bus, while the smaller and lighter items can come on board. Unusual or oversized items - such as bicycles, skis, or golf clubs - can be stored beneath the bus, but will also require an additional fee. Traveling with a stroller or car seat? No need to worry - these do not require any additional fee and can be stored under the bus on your journey. Both Amtrak and Greyhound are committed to providing excellent service and support throughout their journeys, including services for travelers with disabilities. This service should be arranged in advance by contacting the company once you have booked your trip.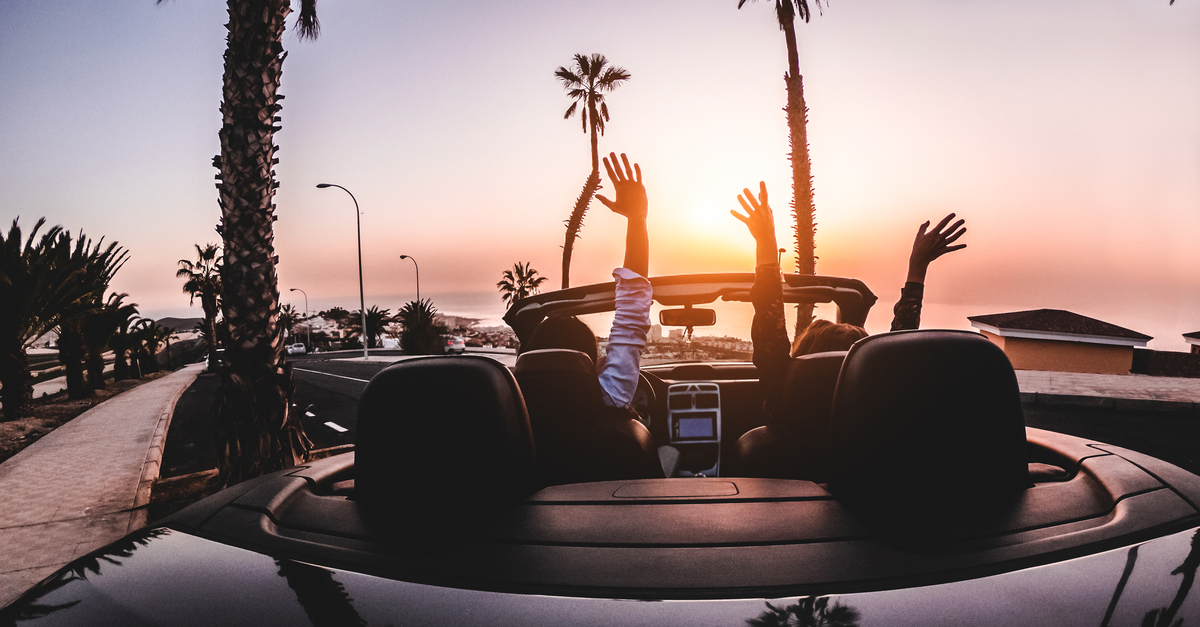 Los Angeles Road Trip. Source: Shutterstock
Bus tickets to Los Angeles: useful to know
Both Amtrak and Greyhound Lines utilize e-tickets and mobile tickets for all of their routes. You do not need to print them, and can simply scan your tickets to board the bus. When you purchase tickets with Omio, your ticket experience becomes even simpler. All of your travel details, from departure dates and times to the tickets themselves, are stored in your Omio account. When you need to access something, simply open up your account on a mobile phone or smart device, and access all of this critical information on the go.
To Los Angeles by bus—travel tips
Getting around Los Angeles with public transit often feels like you are traveling through time. When you board the bus or the metro and take a trip through Downtown Los Angeles or into Hollywood, you can feel the nostalgia of the Golden Age of Television seeping through the buildings and streets. Take a ride down Melrose Avenue and cruise past the gates of Paramount Studios. If you recognize this place, it is probably because you remember the iconic scene from Blazing Saddles where the entire movie cast pours out onto the streets in a brawl.
This movie studio has produced some of the biggest movies with the biggest names - all in the heart of Hollywood. Speaking of Hollywood, if you are looking for proof that you are really in La La Land, just take a look up at the hills. The Hollywood sign looms over this valley much like Christ the Redeemer gazes out over Rio de Janeiro in Brazil.
Considering how easy it is to book bus tickets on Omio to Los Angeles, the most difficult part of your journey will probably be stepping off the bus and realizing you have to decide what to do first. If you are traveling with the family, it is almost a requirement to make a visit to the Happiest Place on Earth - Disneyland. Whether you have teenagers who want to scream along Space Mountain or little ones who just want to ride the spinning tea cups, Disneyland is a must-visit for families who are looking to make incredible memories in Los Angeles.
For the avid sports fan, every major professional sport in America beckons you to L.A. Go cheer on Lebron James and the Los Angeles Lakers at the iconic Staples Center. If you really love this arena, we have good news - you can catch another sport, as the Los Angeles Kings compete in ice hockey under the same roof. The Los Angeles Clippers play there, too. When you are ready to enjoy America's pastime, visit one of the most iconic ballparks in the country - Dodger Stadium. From Kirk Gibson's walk-off home run in the 1988 World Series to the greatness of Clayton Kershaw, fans of the Los Angeles Dodgers have experienced their fair share of iconic moments here.
You can also make the quick trip to Anaheim to witness one of the greatest baseball players of our generation - Mike Trout of the Los Angeles Angels of Anaheim. Yes, that is really their name. When it comes to football, Los Angeles has one of the greatest stadiums ever built - SoFi Stadium, the home of both the Los Angeles Rams and the Los Angeles Chargers. No matter what brings you to the City of Angels, there is surely something here that will make your journey worth it.