Buses from Houston to Dallas
The distance between Houston and Dallas is 225 miles (362km). Daily, around 23 buses leave Houston headed for Dallas. This leaves travelers plenty of options to choose from depending on their schedules and convenience. Bus stops are often in many parts of cities, so travelers can easily get on board without worrying about commuting to one station. On average, buses take 4h 22min to get from Houston to Dallas.
Houston to Dallas bus time: Daily Departures
Daily, there are about 23 scheduled bus rides from Houston to Dallas. This leaves over a hundred options weekly to choose from. Weekends are the busiest days, and they may schedule daily rides than the average weekdays. The earliest bus departs Houston at around 2:10 a.m., while the last bus leaves at around 6:10 p.m. Omio provides all daily schedules for travelers to get the most convenient options.
How long is the journey by bus from Houston to Dallas?
On average, buses take 4h 22min to get from Houston to Dallas. The fastest bus can take you from Houston to Dallas in 3h 55min. However, this is the average journey time for direct bus services. Journeys with stops can take up to 6h 10min with a few layovers along the journey.
What are the departure and arrival bus stations for Houston to Dallas buses?
Departure bus station: Buses leaving Houston for Dallas start their journey at either Downtown Greyhound Station, Harrisburg Greyhound Station, Harrisburg Senda Station, Milan St& Franklin St. Downtown Greyhound Station is located at 2121 Main St Houston, TX 77002. The station is a hub for Greyhound, Flixbus, and Tumerix buses. It features a bus ticketing office and operates 24 hours a day. Houston's Bus Terminal at 2121 Main Street lies in downtown Houston, and it is a hub for Greyhound and Tornado Bus. Travelers can get to the station by bus from Dallas, Austin, New York, San Antonio, and Los Angeles. The station operates 24 hours a day, and it provides restrooms, a waiting area, and several food concessions. Travelers can find car rental agencies, parking lots, and gas stations near the bus station. Buses headed to Dallas from Houston also stop at 7011 Harrisburg Blvd and 2525 Southwest Fwy.
Arrival bus station:The arrival bus station for buses from Houston to Dallas is either Tornado Bus Station, Swiss Ave, Harry Hines Blvd, or Jefferson Blvd station in Dallas. These bus stops operate Greyhound, Flixbus, and Tornado buses. The bus stations operate 24 hours a day. Some provide a waiting area and restrooms. Travelers will find limited amenities at the stations like payphones, restrooms, and gas stations. Drivers can also find parking spaces near the stations.
Houston Statue. Source: Shutterstock
Which bus companies travel from Houston to Dallas?
Two bus companies provide bus rides from Houston to Dallas. Flixbus and Greyhound both provide direct services and connecting services between Dallas and Houston. Flixbus provides more buses than Greyhound. Omio provides all their schedules and prices for travelers to pick the best rides for them.
Greyhound buses from Houston to Dallas
Greyhound provides eight daily trips from Houston to Dallas. The first Greyhound bus. The earliest Greyhound bus departs Houston at 2:10 a.m. and arrives at 6:20 a.m. taking 4h 10min. the last Greyhound bus departs at 6:35 p.m. and arrives at Dallas at 10:45 p.m.
Flixbus buses from Houston to Dallas
Flixbus provides 14 daily bus rides from Houston to Dallas. The first Flixbus departs Houston at 7:10 a.m. and arrives at Dallas at 11:25 a.m. The last daily Flixbus departs Houston at 2:30 p.m. and arrives at Dallas at 6:45 p.m.
Buses from Houston to Dallas: Services on Board
Flixbus from Houston to Dallas only provides regular class seating. However, travelers can get reserved seating in various seat categories. Travers can choose between window or isle sears, table seats located on double-decker seats, panorama seats in front of the buses, or reserve free seats near travelers. Flixbus buses have two-two seating, so travelers won't need to fight for an armrest. Buses come with comfortable reclining seats, ample legroom, power charging outlets, and free Wi-Fi for passengers' entertainment. Buses also provide onboard restrooms and luggage storage compartments. Buses come with cafes that provide low-cost snacks and drinks. Flixbus' luggage policy restricts each passenger to one item of hand luggage and one travel bag. Hand luggage must be less than 16* 11*7 inches and less than 15 lbs. (7kg), while travel bags must be less than 32*20*12 inches and less than 44 lbs. (20kg). Luggage is stored in overhead racks or luggage compartments.
Flixbus only allows service animals on board. Greyhound provides two fare classes, including economy and economy Extra. Economy extra passengers can get refunds upon cancellation, priority boarding, and additional luggage allowance. Economy extra passengers are also entitled to complimentary snacks and beverages onboard. Greyhound buses feature a two-two seating arrangement so that all travelers get armrests. Buses come with an onboard restroom in case you need to relieve yourself during the journey. Buses provide AC power charging outlets at all seats. The luggage restriction on Greyhound buses is a maximum of two checked luggage under 50 lbs. (23kg) and 62 inches (157cm). Greyhound only allow service animals on board.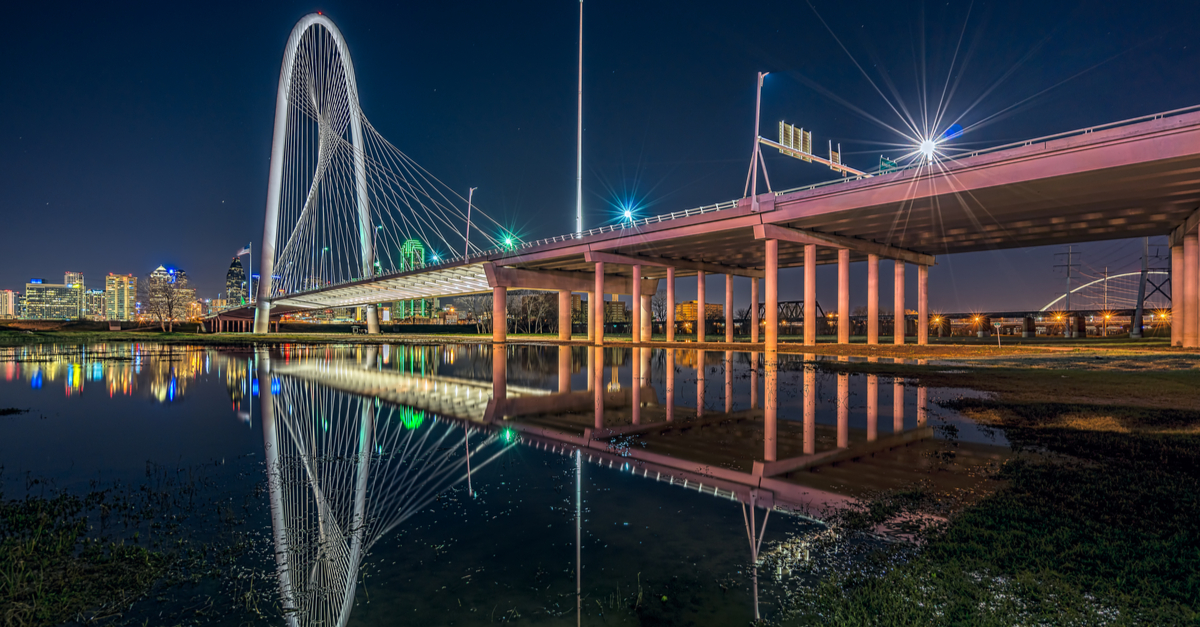 Dallas Bridge. Source: Shutterstock
How to find cheap bus tickets from Houston to Dallas
If you are looking for cheaper tickets, use the Omio Platform. Omio provides a list of all bus providers on the Houston-Dallas route with different schedules and prices so that travelers can choose the cheapest and most convenient bus. When it comes to cheaper tickets, consider booking in advance. Ticket providers often release tickets a few months before their travel dates, and the sooner you buy the ticket, the cheaper it costs. Flexibility is also key for finding cheaper tickets. When you are flexible with your travel dates, you might land a cheaper ticket deal. Travelers can get cheaper tickets if they buy their tickets during off-peak hours. During peak hours, several travelers buy tickets, and prices can get higher than during off-peak hours.
Finally, travelers should consider getting buses with layovers for cheaper train tickets. Buses with direct routes often charge more than routes with layovers. If time is not a factor for your journey, consider getting buses with stops.
To Dallas by bus-travel tips
Dallas is a well-rounded city in North Texas with high-quality museums and vibrant nightlife. It also boasts upscale restaurants and high culture, making it an ideal destination for any traveler. Travelers that want to soak in some history can tour The Sixth Floor Museum at Dealey Plaza. The museum is dedicated to remembering the assassination of President J.F. Kennedy with multimedia exhibits and guided tours.
Art and charm lovers will love a tour of the Dallas Museum of Art. It features over 20,000 works of art from Greece and Rome. Its exhibits highlight works of prominent artists and a rich collection of antique carpets, Impressionists paintings, and Chinese Porcelain. Nasha Sculpture Center is also ideal for art lovers as it boasts a jaw-dropping sculpture collection with pieces by Giacometti, Picasso, Matisse, and Richard Serra. Meadows Museum features artworks from the 900s in Impressionists landscapes, sculptures, sketches, images, and graphic art.
Nature and outdoor lovers will find plenty of destinations in Dallas ideal for them. In downtown Dallas, travelers can visit the Klyde Warren Park, which houses a botanical garden, a children's park, and a lawn fringed by a tree-lined pedestrian promenade. Visitors can enjoy a picnic, a stroll, or catch various games at the urban games area. Dallas Arboretum and Botanical Garden feature 19 gardens with vibrant seasonal beds of tulips, daffodils, azaleas, ferns, and mature trees.
Dallas Zoo is also an ideal destination for nature lovers as it features animal collections of giraffes, impala, ostriches, guinea fowls, cheetahs, warthogs, and zebras. Dallas World Aquarium houses an Orinoco Rainforest with river others, red howler monkeys, electric eels, and toucans. The aquarium also has ten main tanks with exhibits of angelfish, butterflyfish, moon jellyfish, and giant Japanese spider crabs.
Families will love a visit to Fair Park, which features green space, a Ferris wheel, and gondola rides. During September, the park houses the Texas State Fair, which attracts visitors from all over the globe.
Dallas houses the famous Reunion Tower, a 560-foot building with a geodesic ball perched at five cylindrical concrete poles. It features a revolving restaurant with 360-degree views over Dallas. The dining scene in Dallas features excellent spots and a wide variety of cuisine from each part of the globe. Korean Street Eats features street dishes of Kore like sweet and spicy cake skewers and toasts loaded with egg and avocado. Treat your taste buds to Zoli's NY Pizza, popular for its thick-crusted cheesy pizzas or Cattleack Barbecue's smoked meats and briskets.