How to Travel from London to Venice
Traveling to Venice is easy if you are staying or live in London, with buses and flights available. Flying is by far the most comfortable the fastest way to travel with direct flights taking just over 2 hours. If you have a little more time on your hands, take the train to a big European destination like Milan and Paris along the way. Buses are also a cheap option, but take over a day to make the journey, so make sure you bring a good book!
London to Venice Travel Comparison
| | Average Price | Travel Time | Cheapest Time to Book |
| --- | --- | --- | --- |
| | €112 | 29:00 h | 1 Week Before |
| | €35 | 2:05 h | 1 Month Before |
What is the best way to travel from London to Venice?
Cheapest way to travel from London to Venice

Flights are the cheapest way to travel between Venice and London, however, affordable buses are available on the route. Baltour provides a single indirect connection every day with Eurolines. It leaves at 8:00 a.m. and takes 29 hours to reach Venice via the Eurotunnel, with a stop in Paris. Buses leave from Victoria Coach Station, which can be easily reached via the Tube (Victoria, District and Circle lines). Keep in mind that the bus leaves at 8:00 a.m. and be sure to leave some extra time to collect your tickets and get a seat, as it's during the peak time for London's transport network.
Fastest way to travel from London to Venice

Flying is the easiest route to Venice from London, with a flight time of 2 hours 5 minutes. Companies operating on the route include British Airways, Monarch and Easyjet. Depending on the airlines you can choose to depart from London Heathrow, Gatwick or City airports. The earliest flight of the day takes off at 6:40 a.m., and the final departure is at 8:30 p.m. All flights land at Venice Marco Polo airport.
Most popular way to travel from London to Venice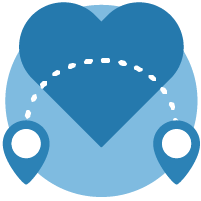 Most travelers from London to Venice who book with Omio choose to fly. Though there are regular trains from London to Venice departing every day, with a change in Paris (from Gare du Nord to the Gare de Lyon) and further changes in Turin and Milan.
Where to go next
Did you know Italy is one of the cheapest countries to travel around? With bus and train fares at such a low price, why not take advantage of this and discover more of Italy's highlights. But it's not just cities such as Milan and Rome that are only a few hours away. Eager explorers can grab the train a few hours north and discover the beauty of Innsbruck in the Austrian Alps.