Trains from New York City to Colorado Springs
Getting to Colorado Springs from New York City takes a long time, about 45h each way. There are several different types of trains from New York City to Colorado Springs. They vary on travel time and price range, with the most expensive being an Acela Express ticket. The California Zephyr, operated by Amtrak, is the only daily train from New York City to Colorado Springs. There are three trains per day in each direction on this route.
New York to Colorado Springs Train time: Daily departures
Passengers can start their train journeys from any four available stations along the 554 mile route. There is a daily Amtrak service from New York to Colorado Springs. There are a total of five trains that travel from New York City to Colorado Springs each day. The first train departs New York at 10:05 a.m., and the last train departs at 9:45 p.m.. There are over 18h between the first and last departures from New York to Colorado Springs.
How long is the journey by train from New York to Colorado?
The journey from New York to Colorado Springs takes approximately 45h 58min, including the layovers in different cities. The fastest train can, however, get to Colorado Springs within 41h 35min. This journey can be broken up into multiple segments, with the longest being from New York City to Chicago and the shortest being from Denver to Colorado Springs. This route is served by Amtrak's Empire Builder, which travels at an average speed of 54 mph. There are many different trains that you can choose for your trip. You can either get a sleeper or a coach car on the train that you take.
What are the departure and arrival stations for trains from New York to Colorado Springs?
Departure train station: Penn Station. If you are looking at Amtrak trains, you will use Penn Station in Manhattan as your departure point. Penn Station, located between 8th Avenue and West 31st Street, is approximately 1h away from Manhattan. There are several facilities available at Penn Station in Midtown. These include food and drink, retail, a lost and found section for items that have been found but not yet claimed, a visitors center providing information about the city. You can find these on the main concourse and in dedicated areas of the station's various underground levels.
Arrival train station: Union Station, located about three miles from the city center. It is also the largest train station in Denver. The large Union Station hub makes it easy to travel from New York City to Colorado Springs via multiple routes. Union Station facilities include a 24h waiting room, baggage check, indoor parking for buses and cars, accessible escalator service to the upper level, restaurants, outdoor dining, and a convenience store. There is a food court on the upper level of the station.
Colorado Springs People. Source: Shutterstock
Which train companies travel from New York to Colorado Springs?
Amtrak provides train service throughout the United States. Travelers can choose between several trains which leave New York every day, including the Empire Builder, Lake Shore Limited, and California Zephyr. All Amtrak trains going from New York to Colorado Springs make a stop in Chicago, Illinois. Amtrak trains to Colorado Springs take lesser time with no transfers necessary. Via Rail provides service between New York and points south, including Washington DC and Miami. One train travels directly from New York to Colorado Springs every week, making a stop in Albany. Via Rail takes longer to travel from New York City to Colorado Springs, with one transfer in either Albany or Chicago.
Amtrak trains from New York to Colorado
Amtrak can take you from New York City to Colorado Springs on three different routes: the Empire Builder, the California Zephyr, and the Southwest Chief. The Empire Builder route takes 57h to complete a single trip from New York City to Colorado Springs multiple times per week. The California Zephyr route takes 57h 30min only once per week during the off-peak season but operates multiple times per week during the on-peak season. The Southwest Chief route takes 57h 10min daily from May to September, but only one trip per week is made during the off-peak season. The high-speed Acela train allows travelers to get from one destination to another in about 47h.
Trains from New York to Colorado Springs: Services on Board
Service from New York to Colorado Springs is provided by Amtrak. Trains from New York to Colorado Springs have both first and second-class cars. First-class cars are private, while second-class cars offer opens seating. There is usually an attendant who will help you find your seat in the car. Each car has restrooms, reading lights, outlets for laptops, tables where you can place a meal or drink during the trip, and a window to see the scenery. Luggage allowance varies on both which class you are in and the type of train you are taking.
First-class cars have a luggage allowance of three pieces per person, while the second class has a limit of two pieces per person. Amtrak aims to provide a comfortable travel experience for disabled passengers, from the point of leaving their home, being dropped off at the station or hotel, through boarding and riding to arriving at the next destination. Additionally, pets and bikes can be taken on the train as long as they conform to the policies. There is a fee for pets, but an Amtrak customer service representative stated that the pet policy has been liberalized and allows cats and dogs.
How to find cheap train tickets from New York to Colorado Springs
Be sure to find cheap train tickets to Colorado Springs from New York through the Omio website. Here you can find all the information about return tickets from New York to Colorado Springs, including available departure times, travel duration, and best deals on each route. In many cases, you might find that a multi-city journey with a stopover is cheaper than a direct train.
And if you're traveling with a partner, splitting the trip into two one-way tickets will also save money. Try to be as flexible as possible about your travel dates and time - you might find a good deal if you book later or earlier. Buying tickets in advance will often work out cheaper than paying when you get to the station. If you have to buy on the day of travel, try to arrive at the station early. This allows you a better chance of buying a ticket from a ticket machine before all the seats sell out.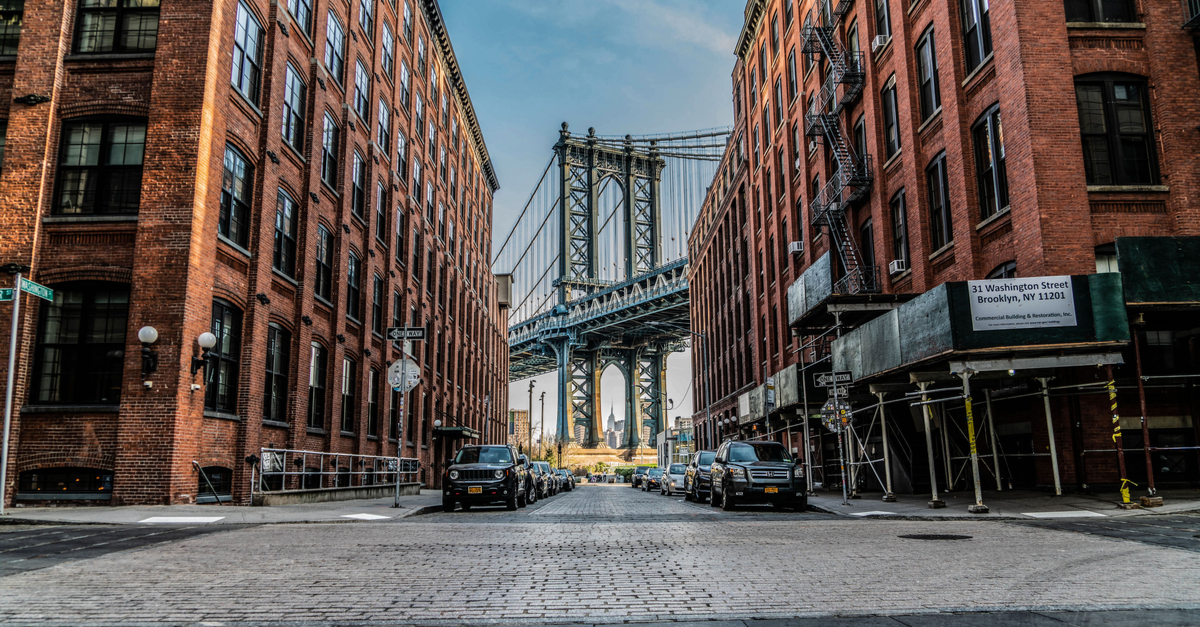 Manhattan Bridge Through Buildings. Source: Shutterstock
To Colorado Springs by train- travel tips
A holiday in Colorado Springs is the perfect escape for those who love exploring and discovering new and exciting destinations. The area has many fantastic things to see and do designed specifically to entertain, educate and inspire all ages. There is plenty of history here, along with cutting-edge galleries, intriguing museums, and lots more to find out about - making it the perfect destination for a family holiday.
El Paso County is home to hundreds of restaurants that serve American food such as steak and chicken. Some well-known local dishes include sopapilla, Chile Colorado, beef simmered in red chile sauce. There are several parks throughout the city that offer hiking trails through nature.
Hiking is one of the most popular activities in Colorado Springs due to its picturesque landscape and numerous trails. Garden of the Gods Park is a favorite location for this activity which also offers scenic views of Pike's Peak.
The Cheyenne Mountain Zoo is an excellent place to see the nocturnal side of animals, with few activities during the day. Colorado Springs has much to offer in terms of activities for outdoorsy people, making it an excellent vacation destination.