Trains in Los Angeles to San Jose
Traveling by Amtrak train from LA to San Jose, a distance of 305.61 miles (491 km), can never be more fun. When traveling by train, you can see magnificent views through the Cascade Mountain range and Mount Shasta that keep you entertained. You have ten trains to choose from depending on the time that you need to travel. Amtrak train offers two types of service which are morning and afternoon departures or the overnight options. In addition, you have the option to travel through the Coastal Starlight route, which is a continuous train from Los Angeles to San Jose, or choose the train that makes between eight to ten stops in certain cities, especially if you are enjoying an extended trip.
Booking your train ticket with Omio for Los Angeles to San Jose
At Omio, we intend to give every customer a great booking experience. Booking your train with Omio has never been easier because it's fast, accurate, reasonable prices, and you can also book your ticket in advance. Our customer service is reliable because we have 18 different languages for customers to choose from. Our booking services also help customers to avoid last-minute bookings that can be stressful and inconvenient. We also listen to what customers have to say regarding our booking services to better our services every day. Be assured that we are the best train service to make your trip from LA to San Jose easier and more enjoyable.
Train companies in Los Angeles to San Jose
Amtrak is the main train company from LA to San Jose. You can take the continuous train or take one that makes several stops throughout the trip. Amtrack is reliable because it follows the scheduled time and never keeps you waiting, whether you book to depart in the morning, afternoon, or travel overnight. Working with Omio has made train booking easier for customers and ensures the entire process is smooth and efficient. The ten trips daily via Amtrak have never been compromised because Omio has got your back. If you need to enjoy your trip, all you need is to contact Omio and have your ticket ready when you need to travel.
Popular international routes by train from Los Angeles to San Jose
Omio doesn't only serve you through Los Angeles to San Jose route but also through international routes. The most popular international route by train is London to Paris. Though there are flights through this route, traveling by train is cheaper hence you save lots of money, especially if you are on a tight budget. Not only is the train comfortable, but you can enjoy various scenic views that make your journey more entertaining. Other international routes include Paris to Madrid and Madrid to Barcelona. Again, you don't have to waste time waiting in long checking-in lines. You can trust Omio to help you reach your destination happy and stress-free.
When arriving by train in Los Angeles to San Jose
After arriving by train to San Jose from Los Angeles, you can enjoy coffee and food like LA. There's a newsstand in the station where you can purchase your favorite snacks and relieve your hunger. However, the cost of living in San Jose is higher, so you should carry enough money to use throughout your stay. If you are a baseball, soccer, basketball, and ice hockey fun, San Jose has major leagues in these sports that you can enjoy watching. You can also enjoy the beaches and traveling to the surrounding cities. San Jose is also known due to its cultural diversity, mainly due to the diverse ethnic communities. Therefore, you should feel welcomed throughout your trip.
Train provider in Los Angeles to San Jose
Amtrak is the available train provider if you need to travel by train from LA to San Jose. It travels in different routes that help to connect you to various bus stations. The routes are categorized into Northeast Corridor, State-supported, and long-distance routes. These routes enable you to arrive at multiple destinations such as a winery, beach, or national park. Amtrak's main routes in the united states include Acela, Adirondack, Amtrack Cascades, Auto Train, and Blue Water. In addition, Amtrak Cascades serves several routes, including Vancouver – Seattle – Portland – Eugene, while Acela serves Boston – New York City – Washington, D.C. routes. The number of trips on each route varies depending on the category of the route.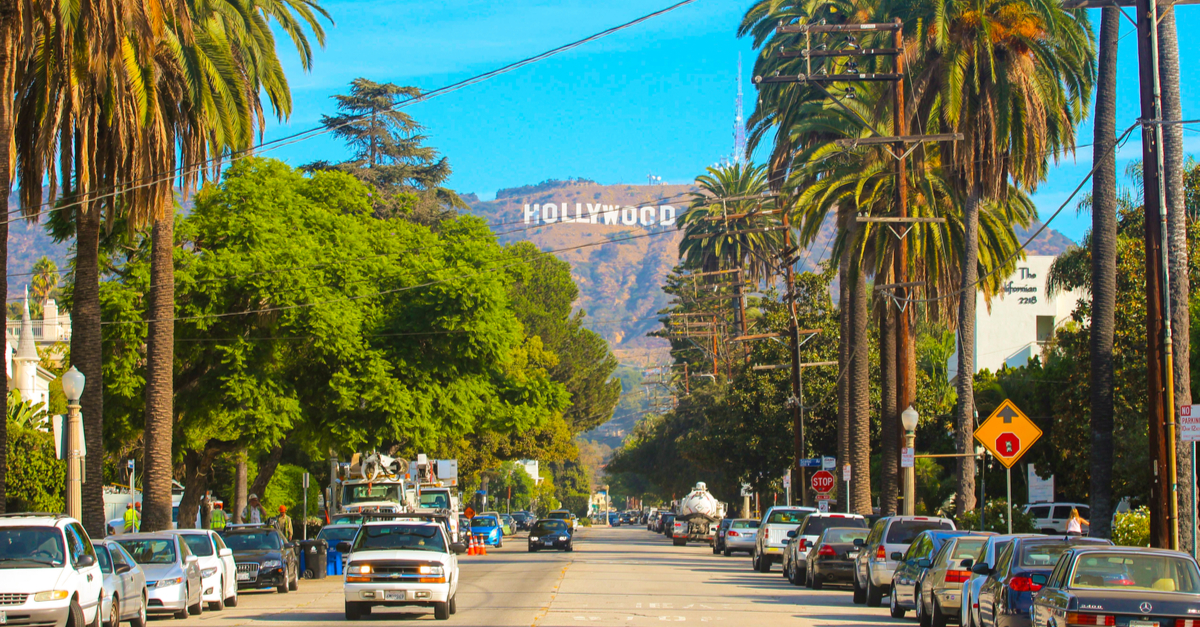 Los Angeles Hollywood. Source: Shutterstock
Main train stations in Los Angeles to San Jose
Traveling from Los Angeles to San Jose is one trip connected by various bus stations. You depart from Union Station, the largest in Los Angeles, and the final station is Diridon station in San Jose. You can alight in between several stations, including Bakersfield, Stockton, and Santa Barbara, and take a bus for the rest of your journey. The direct train passes through Santa Barbara, the San Francisco Bay Area, Sacramento, and Portland. You can enjoy different amenities such as ticket sales, waiting rooms, restrooms, payphones, and ATMs in these stations. Thus, you are comfortable as you wait for the train to arrive.
Popular Journey in Los Angeles to San Jose
Traveling from Los Angeles to San Jose is usually a direct trip connected with various bus stations. Omio charges each train ticket at $56, which is affordable to most travelers. The entire trip takes between 9-10h with an average of 10h 22min depending on the train's route. However, the fastest train takes you to the last station within 9h 10min. The slowest trains take at least 11h 16min. It takes only minutes or a few hours to stop in Portland, San Francisco, Bakersfield, Stockton, and Santa Barbara bus stations. Despite taking longer, you save lots of money that could have been wasted taking a flight.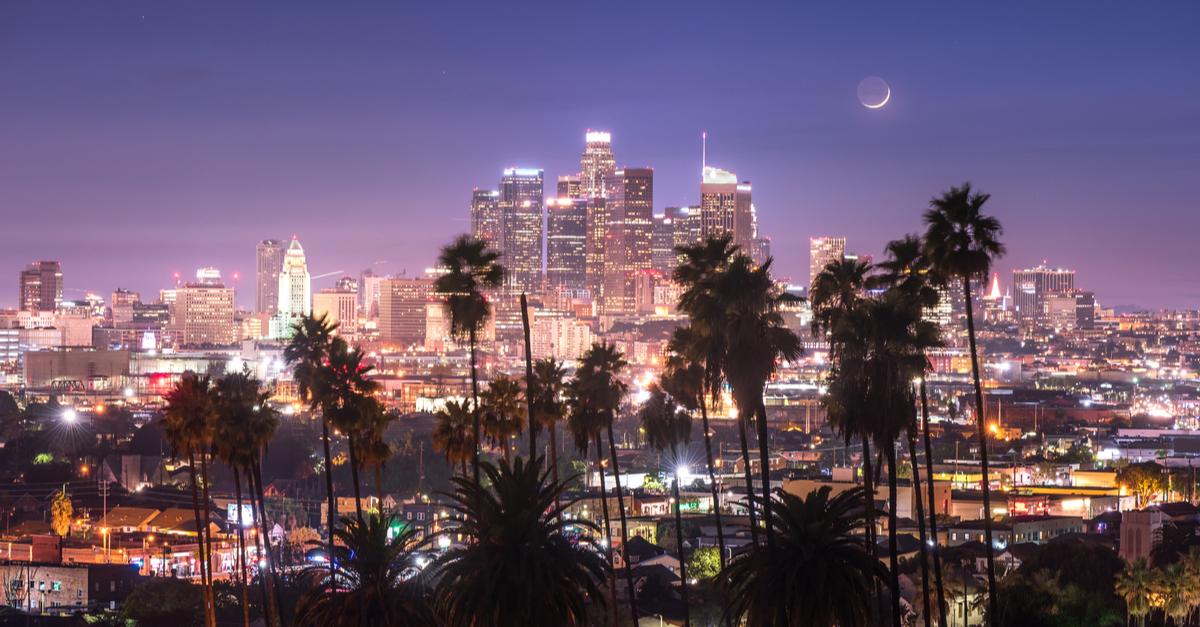 Los Angeles Night Lights. Source: Shutterstock
Popular Train Routes from Los Angeles to San Jose
The train travels twice from Los Angeles to Canada, which makes it limited. In Canada, you can travel between cities, including Vancouver, Quebec, and Canada. The entire trip takes 3 days 1h to arrive at the final destination in Vancouver. Booking tickets with Omio is has made the whole process easy because you pay, and the ticket is delivered directly to your phone.
Good to know
When traveling by train from Los Angeles to San Jose, you should know that it takes longer because of the stops at various bus stations. Again, the slow trains take longer and take more hours to reach the final destination. However, you can travel faster by taking the direct train. Despite this, it's more comfortable than traveling by bus and saves you money compared to traveling by air.
To San Jose by train – travel tips
San Jose is a suitable destination if you enjoy dining options, outdoor activities, and shop to the fullest. There are several reasons why you should make San Jose your final destination. First, there are hiking opportunities where you can enjoy swimming and biking. There are also fascinating views in Castle Rock State Park and Almaden Quicksilver County Park. Again, there are epic wineries such as Mountain Winery and J. Lohr Vineyards & Wines if you are a wine lover.
You also enjoy live concerts with every sip of your wine. If you feel hungry, you can enjoy Vietnamese delicacies and a milkshake from Falafel Drive-in. Hockey lovers can get entertained by San Jose Sharks wearing teal and blue in their magnificent world-class hockey field. Travelers who are into technology can visit eBay, Cisco, Adobe, and Paypal, meet technology experts and enjoy a conversation while learning more about the advancing technology. Something else that is more fun is the Bay Area, where you can enjoy surfing and cool off in the water. Here, you can also you can visit vintage shops and buy whatever catches your eye. Finally, if you still got energy, you can visit the thrilling theme parks in the Golden State. Here, you can also enjoy playing arcade games, thrilling rides, and eat a variety of foods from the vast dining options. At the end of the day, you can enjoy window shopping at the massive shopping facility. You can also do some premium shopping in Santana Row.