Trains in Los Angles to Santa Barbara
Amtrak provides the most convenient train services when you are traveling from Los Angeles to Santa Barbara. The journey, which is 117 miles (188 km) between the two cities, is never dull because of the beautiful view of the Pacific Ocean. Though only six trains travel each day, Amtrak always sticks to the scheduled time. However, you should book your ticket in advance because of the fewer trains. When boarding a train from LAX to Santa Barbara for adventure, Pacific Surfliner is the best route for you. Traveling by train is comfortable and fun because it travels along the coast and you can view California's fascinating beaches.
Booking your train ticket with Omio for Los Angeles to Santa Barbara
Whether you need a direct flight or a train that makes stopovers, booking is easier because Omio has the best services for you. We have partnered with Amtrak to ensure that you enjoy your flight from the beginning to your destination. We ensure that you're your booking services are fast, efficient, and accurate. Again, our customer service is ready to listen to you and so that you are satisfied throughout your trip. We save you from paperwork and send everything you need for your trip directly to your phone. So don't stress yourself with last-minute booking; instead, contact Omio and let us offer you our unique services.
Train Companies in Los Angeles to Santa Barbara
Amtrak is the leading train company operating between Los Angeles and Santa Barbara with two train routes: The Pacific Surfliner and the Coast Starlight. Generally, there are six trains, and every half operates on either route. The Coast Starlight makes several stopovers between the cities, while The Pacific Surfliner offers luggage storage for travelers carrying stowing bikes and surfboards. Partnering with Omio has made Amtrak a reliable train company because travelers don't have stress booking and traveling. With the Omio App on your phone, you get the best Amtrak services for all travelers. Thus, traveling gets more fun and stress-free.
Popular international routes by train from Los Angeles to Santa Barbara
Omio also helps you book and travel internationally from various states in the United States by train. Some popular international routes include New York City to Toronto, Chicago, IL to Vancouver, BC, New York City to Montreal, QC, New York City to Niagara Falls, ON. Despite traveling internationally by train, it's fast, convenient, and affordable. These routes have magnificent scenes that you can enjoy watching and keeps you entertained throughout the journey. At Omio, we ensure that you enjoy your international trip from your departure to your destination. We book your ticket on time, and you don't have to waste time waiting for check-in.
When arriving by train in Los Angeles to Santa Barbara
Once you arrive by train to Santa Barbara from Los Angeles, you realize a slight difference because of the architecture. This city treasures art and culture and has red tile roofs that make the place colorful. If you love sports, you can watch Santa Barbara Breakers professional basketball and cheer for your best team. If you are a football lover, you'll enjoy watching the Dallas Cowboys live as they train. Aside from basketball and football, you can visit Foxenwood Tennis & Swim Club, a professional sports team, and watch as the swimmers compete. Finally, if you need to eat and drink, there are many restaurants you can enjoy Mexican food and wine.
Train provider in Los Angeles to Santa Barbara
The train provider in Los Angeles is Amtrak. They offer two train services, including Coast Starlight and Pacific Surfliner. The Pacific Surfliner has racks where you can store your luggage if you are traveling for adventure. These trains also have paranomic windows to allow you to view the fantastic west coast. Also, you can never get bored because of the strong Wi-Fi connectivity throughout your journey. Amtrak serves through several scenic routes, including Adirondack, Sunset Limited, Empire Builder, Coast Starlight, California Zephyr, Amtrak Cascades, and Pacific Surfliner. All these routes go to various destinations, with Empire Builder going from Chicago – Seattle – Portland and Amtrak Cascades route goes to Vancouver – Seattle – Portland – Eugene.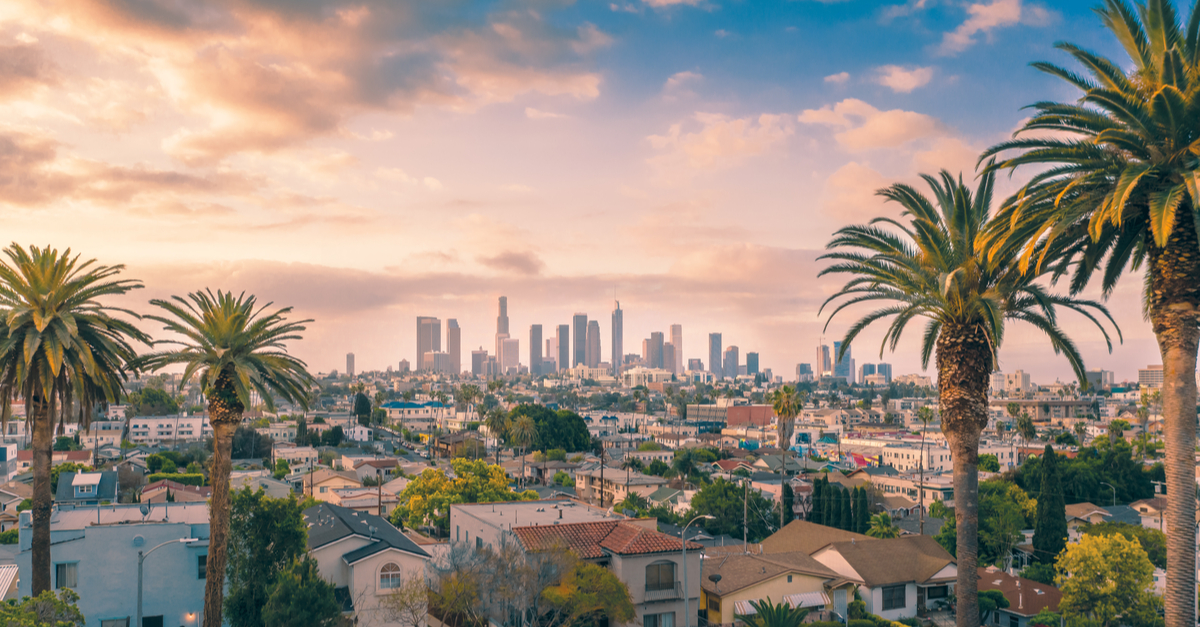 Los Angeles Palms. Source: Shutterstock
Main train stations in Los Angeles to Santa Barbara
When traveling from LAX to Santa Barbara, your final destination is Santa Barbara Amtrak Station. This train station is in the city center and near the beach. However, the train makes stopovers in several cities, including Seattle, San Francisco, Atlanta, and Los Angeles. You can alight in several train stations, including 1050 Kettner Blvd, 303 South Jackson Street, King Street Station, 800 North Alameda Street, and 592 Gayley Ave. These train stations have exceptional amenities, including restrooms, vending machines, and Quik-Trak kiosks. After alighting, you don't have to worry about public transport because you can get a free ride on either the electric bus or shuttle bus.
Popular journey in Los Angeles to Santa Barbara
You can travel to other cities in the United States from Los Angeles using Amtrak. Omio has made these journeys more enjoyable as you reach various destinations, including New York City, San Francisco, CA, Atlanta, GA, Seattle, WA, and Washington, DC. Moving by train from Los Angeles to New York City takes 87h 57min, and the price $256. Traveling from Los Angeles to San Francisco, CA takes 10h 44min, and the price is $60. Traveling from Los Angeles to Atlanta, GA takes 70h 00min, and the price is $201. From Los Angeles to Seattle, WA takes 34h 35min, and the train ticket price is $126, while from LA to Washington, DC takes74h 5min, and the price is $224.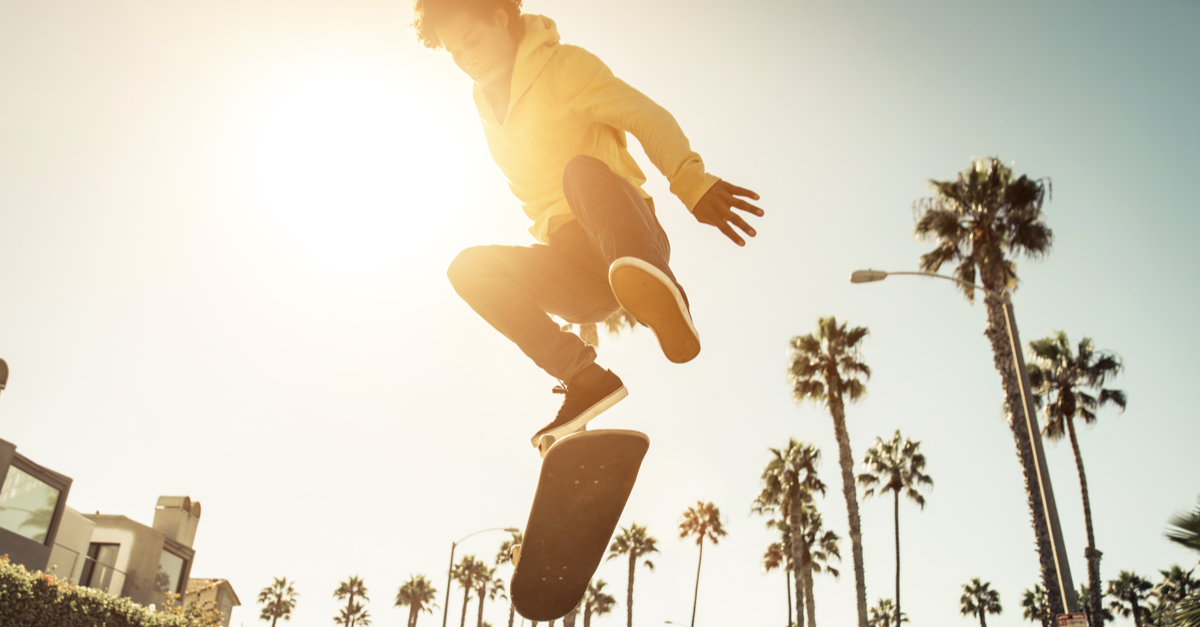 Los Angeles Sunset. Source: Shutterstock
Popular train routes from Los Angeles to Santa Barbara
Main international train routes are from various cities in the United States to Canada. In addition, the train departs from Santa Barbara Amtrak station to Ontario in Canada. One of the most popular international routes served by Omio includes New York City to Niagara Falls, ON, which takes 9h 4min, and the train ticket price is $76.
Good to know
Traveling from Los Angeles to Santa Barbara takes longer if the train makes stopovers. However, you get to enjoy beautiful scenes of the west coast and the beaches. If you are on an adventure and have luggage on you, don't worry because the train has racks to store your luggage. However, you can take a direct and faster route, but you still enjoy various environmental scenes.
To Santa Barbara by train – Travel Tips
Santa Barbara is a beautiful city to visit. The fascinating coastline keeps you refreshed as you breathe the fresh air. You can also enjoy watching the Santa Ynez Mountains and the waterfront that are eye-catching. There are several restaurants, including Bouchon, Stella Mare's, Olio E Limone Ristorante, Zaytoon, and Persona Pizzeria. In these eateries, you can enjoy freshly cooked foods such as lobster ravioli. It would be best if you also tried the French chocolates which come in different shapes and flavors. There is also a tasty taco made from avocado, mango, and pistachio, which is finger-licking.
If you love wine-tasting, Santa Barbara's Urban Wine Trail holds a collection of more than 2000 wineries. Here, you can ask questions to understand more about wine, especially those named after celebrities or musicians. Santa Barbara's culture is found in every corner of the city. You can visit several museums, including the Santa Barbara Museum of Natural History, Santa Barbara Maritime Museum, Casa del Herrero, Reagan Ranch Center, and Karpeles Manuscript Library. In these museums, you can learn more about the history of the city.
If you visited Santa Barbara for adventure, you could enjoy whale watching, sunset cruises, and sunset Kidd sailing. Again, you can ride past the beaches and enjoy this moment with other riders having a good time. You can also engage in adrenaline-pumping activities such as hiking, island kayaking, watching the night lights of Stearns Wharf, channel island outfitters, and enjoying the Channel Islands National Park by kayaking in the water. However, life is expensive in Santa Barbara than in LA, so you should carry enough money.