Trains from Los Angeles to Bakersfield
Most trains from Los Angeles have stops along the way, but there are direct services between Los Angeles and Bakersfield. The distance between Los Angles and Bakersfield is 101 miles (163km). The average journey time for trains from Los Angeles to Bakersfield takes 7h and 3min. Trains are an ideal way of traveling between the two cities as travelers explore the passing scenery. A train ride will get travelers in the middle of Bakersfield, so they won't have to commute to the city center from the arrival station.
Los Angeles to Bakersfield Train Time: Daily Departures.
There are about three trains daily that provide rides from Los Angeles to Bakersfield. This leaves about 18 train options weekly for travelers to select the most convenient. The earliest train departs Los Angeles at around 5:00 a.m. The last train departs Los Angeles at around 9:00 p.m. Hours and schedules may vary depending on the route taken and the day of the week. Omio provides all schedules for train providers from Los Angeles to Bakersfield for travelers to choose the most convenient schedule.
How long is the journey by train from Los Angeles to Bakersfield
On average, trains take 7h 3min to get from Los Angeles to Bakersfield. The fastest train can get from Los Angeles to Bakersfield within 2h 25min. Faster trains do not have layovers along the way. However, since most trains have one or two layovers along their routes, traveling may be slightly longer or shorter than the average train ride.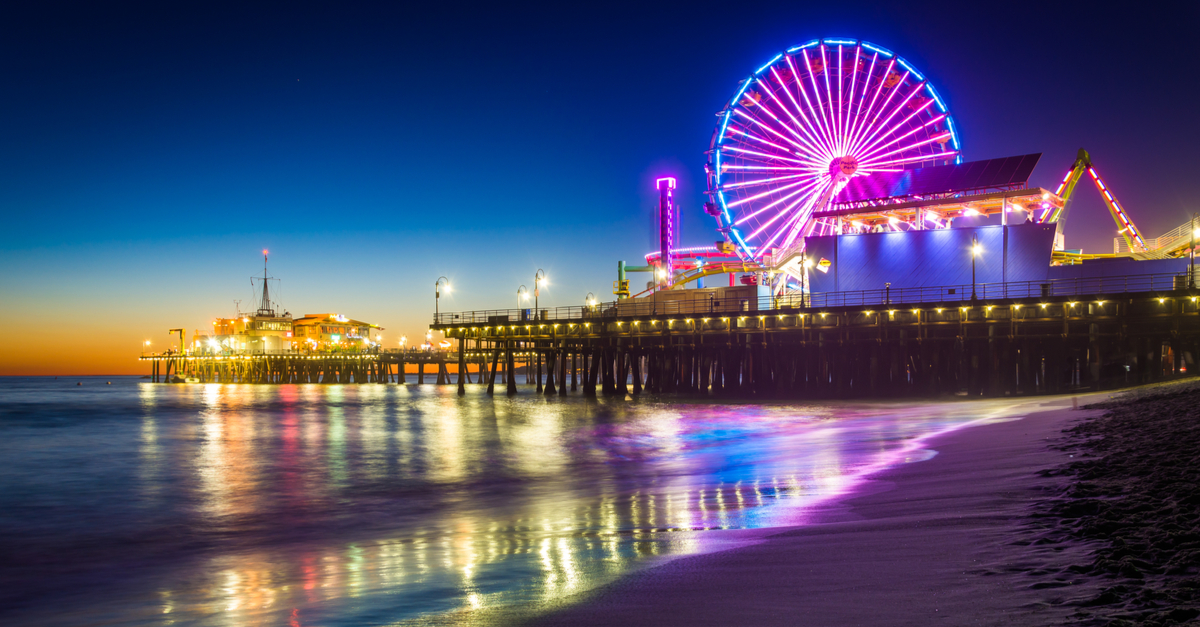 La Beach. Source: Shutterstock
What are the departure and arrival train stations for trains from Los Angeles to Bakersfield?
Departure train station: Trains start their Los-Angeles- Florida journey at Los Angeles Union Station. The address of the station is 800N Almeda St, Los Angeles, CA 90012. The facility operates 24 hours daily. It features the Metropolitan Lounge for first-class travelers using the facility. Union Station provides ATMs, payphones, Quik-Trak shops, tickets sales offices, and restrooms. Travelers who require luggage help will find bag storage services, bike boxes forsake, shipping boxes, and checked-baggage services. Drivers can find same-day and overnight parking options at the facility. The station features TTY payphones, accessible platforms, restrooms, a waiting room, and a tickets office for reduced mobility passengers.
Arrival train station: Trains from Los Angeles to Bakersfield arrive at at the Bakersfield train station. Its address is 601 Truxtun Avenue Bakersfield, Ca 93301-5319. The station operates daily from 3:45 a.m. to 9:00 p.m. It features ATMs, payphones, Quik-Trak shops, restrooms, sales ticket offices, vending machines, and elevators. If you require help with luggage, there are checked luggage services, storage, shipping boxes, and free baggage carts at the station. Station staff can also provide luggage assistance. The facility is wheelchair enabled; it provides a courtesy wheelchair, wheelchair lifts, and enabled restrooms for easy use by reduced mobility passengers. Bus lines 1209, 44, and 45 have stops at the station and can get travelers to other parts of Florida.
Which train companies travel from Los Angeles to Bakersfield
Amtrak is the main source for trains from Los Angeles to Bakersfield. Trains on this route only provide connecting services. There are no direct transfers from Los Angeles to Bakersfield. Amtrak provides three trains daily from Los Angeles to Bakersfield.
Amtrak Trains from Los Angeles to Bakersfield.
Amtrak provides the San Joaquin trains to ride from Los Angeles to Bakersfield. San Joaquin trains operate from between the San Francisco Bay area to Bakersfield. They operate at a maximum speed of 79mph (127km/h). Sa Joaquin provide three daily trains from Los Angeles to Bakersfield.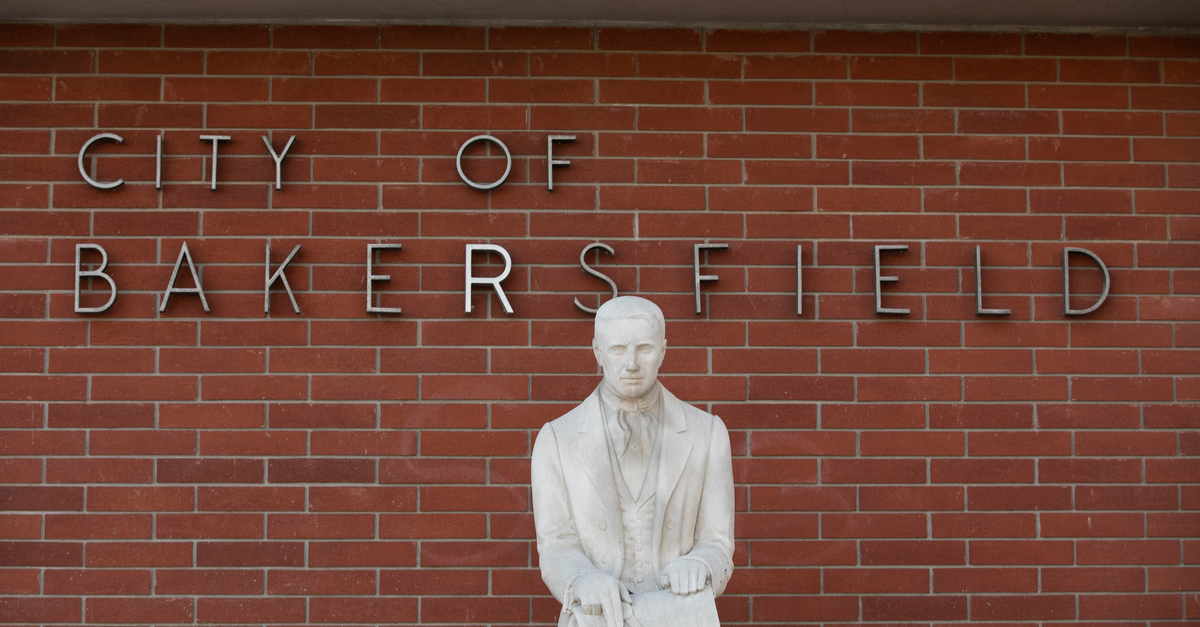 Bakersfield City Hall. Source: Shutterstock
Trains from Los Angeles to Bakersfield: Services on Board
San Joaquin rains only provide coach class types of seating. Travelers can reserve seats earlier to get seats near windows. These trains have cafe services that provide a variety of sandwiches, snacks, and beverages. There is a public telephone for travelers that need to make calls on board. Each passenger can bring two items of carry-on luggage and two personal items. Personal items include small bags, purses, and laptops. Amtrak trains limit bags to 50lbs. (23kg) and less than 22*28*14 inches. Bags that exceed these limits have to be repacked and fit in standard-size bags.
Travelers must visibly tag carry-on luggage with the name and address of the passenger. Bags go in overhead racks and designated areas of the train cars. Avoid placing luggage on seats. Cyclists may bring bikes on board, but they go on secured storage areas. San Joaquin trains provide a café car that offers various snacks, breakfast options, and beverages. Passengers can bring pre-prepared food and non-alcoholic drinks on board.
San Joaquin trains have no middle seats, and seating is o two-by-two arrangements. There are power charging electric outlets at each seat and restrooms. Trains are typically wheelchair accessible for reduced mobility passengers. Pets are allowed on board, provided they weigh less than 20 pounds and are older than ten weeks.
How to Find Cheap Train tickets from Los Angeles to Bakersfield?
Travelers that need to score cheaper train rickets from Florida to Bakersfield should consider booking in advance. Ticket providers often provide tickets a few months before their scheduled dates, and they cost cheaper when you buy them in advance. Also, consider flexibility for traveling schedules. When you are flexible with your schedule, you might land a cheap ticket. When you are fixed with your travel dates, you might miss great discounts and offers. Remember to keep an eye on ticket providers with promotions and offers for tickets as you might land cheaper deals.
To Bakersfield by train- travel tips
A train ride is an ideal way of exploring California's rich scenery. Bakersfield is a city in Kern County, and it boasts a rich history of agriculture and oil. Bakersfield blends modern attractions, rich art, cultural scene, and various natural attractions, making it an ideal destination for any traveler. Nature lovers or outdoor enthusiasts will love a tour of the Hart Memorial Park. It sits on the foothills of the Sierra Nevada Mountains, and it provides several entertainment options. Several playgrounds, picnic tables, and hiking trails allow families to enjoy BBQ, cycling, and hiking.
Nature lovers can also explore the Park at Riverwalk, popular for fishing, hiking, and picnics. The park features an amphitheater that hosts occasional events and live music performances. If you are out to do cycling, hiking, jogging, running or walking, Kern River Parkway Trail is ideal for you. It features breathtaking scenes on the bank of Kern River.
During your visit to Bakersfield, soak in some history at the Buena Vista Museum of Natural History and Science. The museum exhibits numerous displays of artifacts and fossils from Kern County. It also features a large collection of ocean fossils and skeletal remains. Art lovers can explore the Bakersfield Museum of Art, which features a huge collection of artworks from the 20th century. There are paining, sculptures, and painting exhibits all over the facility. Adjacent to the museum, there is a sculpture park and Mill Creek Park ideal for nature lovers. The park provides several playgrounds, ample green space, park benches, and a scenic hiking park.
Be sure to visit Lake Ming during your visit to Bakersfield, as it provides several camping grounds, picnic tables, and fishing shade spots. Bakersfield boasts a diverse culinary scene with fares from all parts of the globe. Hodel Country Dining restaurant is popular for its homemade cinnamon rolls and homemade salads. Narducci's Café serves Italian fare, while Mamba Roomba specializes in traditional Caribbean cuisine.