Trains from Seattle to Eugene
Eugene is one of the biggest and busiest cities in Oregon. It is 247 miles (399 km) from Seattle, via rail, which is a popular means of getting from Seattle to Eugene. There are five daily departing trains from the train station at Seattle, all provided by Amtrak. The trains are Amtrak Cascades and Coast Starlight. Three of the daily trains are direct trains, while two are connecting trains. The journey from Seattle to Eugene is about 6h 20min, regardless of whether you book a connecting or direct train. Omio provides you with a platform where you can easily book your Seattle to Oregon tickets from the comfort of your home.
Seattle to Eugene train times: Daily departures
A total of five trains depart from King Street Station, Seattle, for Eugene. The first train leaves the station at 7:25 a.m. and is a direct train. Two trains depart as the last trains at 6:10 p.m., both connecting trains with different arrival stations. If you don't want to arrive at the main station in Eugene, which is Eugene Station, you can opt for the train to Eugene, University of Oregon School of Law. The connecting trains both have a changeover at Union Station, Portland, Oregon.
How long is the journey by train from Seattle to Eugene?
The journey from Seattle to Eugene takes around 6h 20min with Amtrak Cascades to 7h 18min if you book the Coast Starlight train. You can get direct trains to Eugene from the train station in Seattle, saving you from a changeover en route. All the trains departing in the morning and afternoon are direct trains. Evening trains will need you to make a changeover at Portland. The changeover at Portland will have little effect on the duration of your trip because it is only 15min.
What are the departure and arrival stations for trains from Seattle to Eugene?
Departure station: The primary departure station in Seattle is King Street Station on Jackson Street. The station is about 3 miles (4.8 km) from the center of Seattle and less than 2 miles (3.2 km) from downtown Seattle. The tram is the fastest way of getting to the station. You can access amenities like vending machines, ATMs, and comfortable waiting lounges at the station. Most of the areas within the station are also accessible with a wheelchair.
Arrival station: The main station receiving trains from Seattle is Eugene Station at Willamette Street. The station is less than a mile from downtown Eugene. You can use bike share or a taxi as a fast means to the station. Available facilities at the station include payphones, vending machines, onsite restaurants, ATMs, and QuickTrak kiosks. Restrooms and ticket offices are also wheelchair accessible. The station also offers short-term and overnight parking.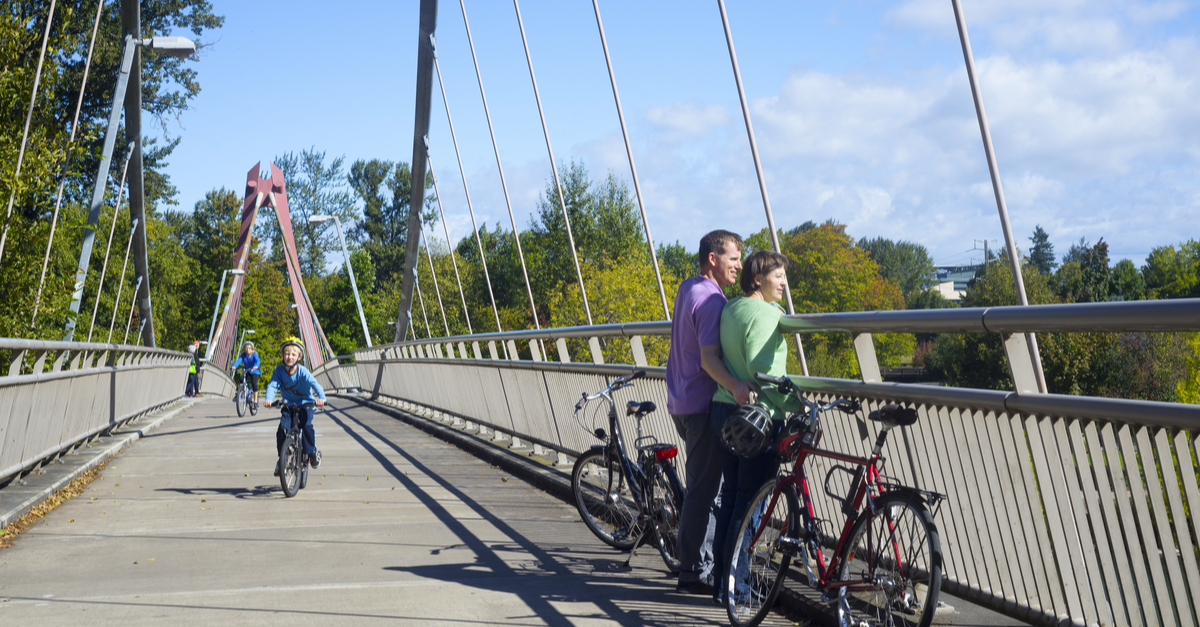 Eugene Bridge Family Trip. Source: Shutterstock
What train companies travel from Seattle to Eugene?
Amtrak is the main and only train company with trains operating between Seattle and Eugene. Amtrak's trains to Eugene from Seattle include Coast Starlight and Amtrak Cascades, each departing at different times. Amtrak's train services to Eugene from Seattle include both connecting or direct trains and high-speed or slower trains so that you can book the most suitable journey based on your needs.
Amtrak trains provide you with comfortable and scenic trips, making them a popular train company operating many routes in the US. In addition to comfortable seats, Amtrak's services also include onboard amenities that can help you relax and enjoy your trip. These include onboard Wi-Fi so you can have an entertaining journey and food and drinks served on board. Download the Omio app for a fast and convenient way of booking your train tickets from Seattle to Eugene.
Amtrak trains from Seattle to Eugene
Amtrak is the sole train provider for trains from Seattle to Eugene. Two main trains operate the Seattle to Eugene route - Amtrak Cascades and Coast Starlight. With the former, your journey to Eugene from Seattle will be about 6h 20min, as long as 7h 18min with the latter. You can book either connecting or direct trains as both take about the same time to get to Eugene. Amtrak Cascades is the train that provides connecting journeys with a 15min changeover at Union Station, Portland, bringing your total journey duration to 6h 35min.
Seattle to Eugene trains: services onboard
You can book either coach reserved or business class seats with Amtrak's Coast Starlight and Amtrak Cascades. Coach seats offer you power outlets for your electronic devices, reclining seats with a fold-down tray, and a reading light. You will enjoy a more spacious seat with extra legroom compared to coach seats in business class seats. You will also have AC outlets, lighting, and tray tables.
Business-class seats are preferable for those using wheelchairs as they have enough space for you to move from the wheelchair to your seat and still leave room for storing the folded wheelchair. You can also take a walk to Cafe Acela, where you can get food and drinks in addition to the complimentary ones offered to business class passengers. You can also bring your service animal or pet weighing less than 20 lbs (9 kg) on your trip.
How to find cheap train tickets from Seattle to Eugene
You can travel comfortably from Seattle to Eugene and save more in four easy steps. First, ensure to book your train tickets with the Omio app. It is convenient as it allows you to book your tickets at any time and from anywhere. It also gives you great deals where you can spend less and save more. Second, be flexible with your traveling dates.
Some train tickets are more affordable on days compared to others. By being flexible with your dates, you can score cheaper tickets. You can also save more by booking connecting or slower trains to Eugene compared to high-speed or direct trains. Lastly, book your train tickets before your actual travel dates as tickets are cheaper when you book them in advance.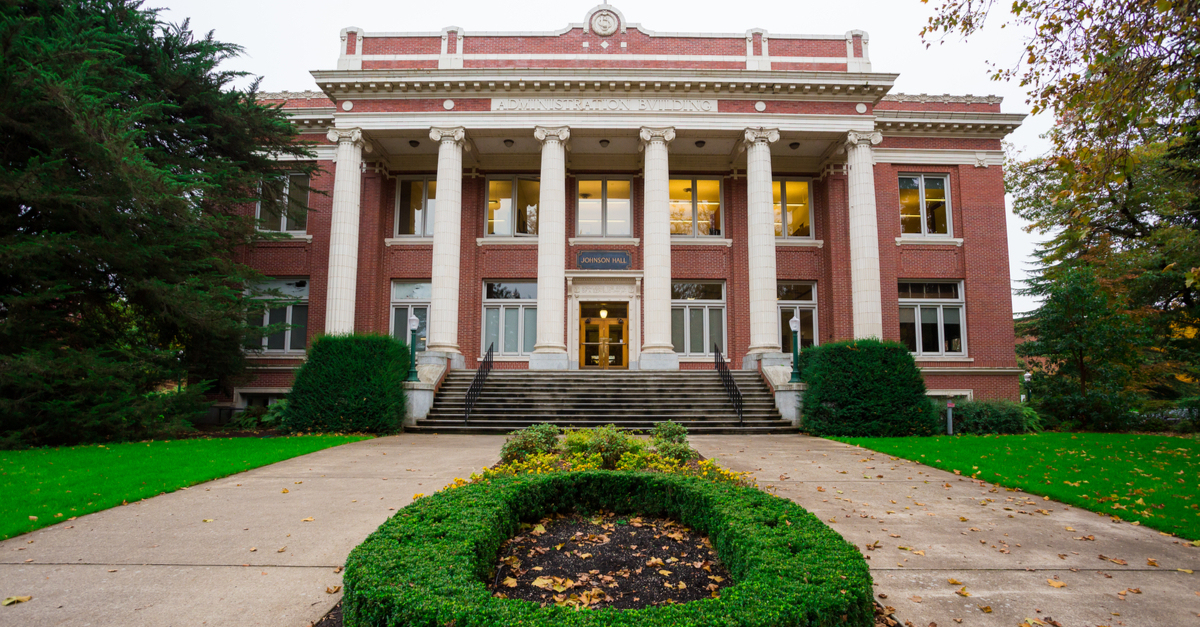 Eugene Johnson Hall University. Source: Shutterstock
To Eugene by train- travel tips
Eugene's nicknames TrackTown USA and Emerald City make it a must-visit town when you're in Oregon. If you want the full Oregon experience, make sure you add Eugene to your list. This city has one of the most enriched representations of Oregon compared to other cities in the state. It is vibrant with the integration of art galleries, wineries, parks, golf courses, museums, street fairs, markets, hotels, and fine dining all in one. It is home to the famous Oregon ducks and boasts one of the biggest stadiums.
Eugene has something for everyone, be it watching exciting games at the Autzen Stadium, enjoying scenic waterfalls, or old-growth forests at the McKenzie River National Recreation Trail. If you're a lover of arts and culture, the Hulk Center for the Performing Arts and the Museum of Natural and Cultural History will enlighten you on the town's history.
You can also satisfy your taste buds at King Estate Winery and later explore Oregon's iconic representation at Eugene's Saturday Market. If you're an outdoorsy person, you can go hiking at Mount Pisgah or bird watching at Cascades Raptor Center. Eugene also provides you with a dedicated bike lane, like the Willamette River bike trail, giving you a chance to explore the city on a bike.