Flight to Cannes
The resort city of Cannes has two airports near it, one of which receives flights from US cities and other places around the world. The first is Nice Côte d'Azur Airport, a popular destination for international flights to Cannes. A distance of nearly 12 miles (20 km) separates the flight station from Cannes city center. When flying from the US, Nice Côte d'Azur Airport will be your arrival terminal.
The second airport is Cannes – Mandelieu Airport. Compared to the first station, this airport is smaller and usually serves as a destination for local flights. Its distance from downtown Cannes is 1.2 miles (1.9 km). When taking Cannes flight deals, you can depart from several cities in the US, including Chicago, Atlanta, Seattle, and Los Angeles. You will find that most flights are indirect and require a changeover or two. The usual cities where stops occur include Amsterdam, London, Paris, and Vienna. As for the travel duration, you may spend approximately 10h 5min and up to 17h 10min on a flight to Cannes.
Lufthansa Airlines to Cannes
Lufthansa is among the main airlines enabling a comfortable flight to Cannes. The company commenced operation in 1926 and has undergone numerous restructurings over the years to be Germany's major air carrier. Lufthansa doesn't provide direct trips to passengers connecting the US and Cannes. Instead, it allows stopovers in renowned German cities, including Frankfurt, the airline's base of operations. If your Lufthansa flight has a secondary layover, it is usually in the airline's second base, Munich.
Lufthansa dominates departures to Cannes from Midwestern United States cities. Thus, it exits flight stations like Chicago O'Hare Intentional Airport and Hartsfield–Jackson Atlanta International Airport. However, you may also find Lufthansa departures from Los Angeles International Airport. Also, if your flight has a stop in a German city, you may end up using Lufthansa from the stop to your destination. On arrival, Lufthansa stops at Nice Côte d'Azur Airport.
British Airways to Cannes
You may fly aboard British Airways when getting to Cannes from a US city, especially when departing from the West Coast. British Airways came to be in 1974 and is now a member of the International Airlines Group. Similar to Lufthansa, you may not find direct trips from the US arriving in Cannes. Instead, the airline usually allows a transfer in London, specifically Heathrow Airport. The station is also its primary hub. The departure station for British Airways includes Seattle-Tacoma International Airport. Of course, you may be a passenger in British Airways if your airline from the US ends up having a stop in London. As British Airways flights to Cannes are international, your landing will be at Nice Côte d'Azur Airport.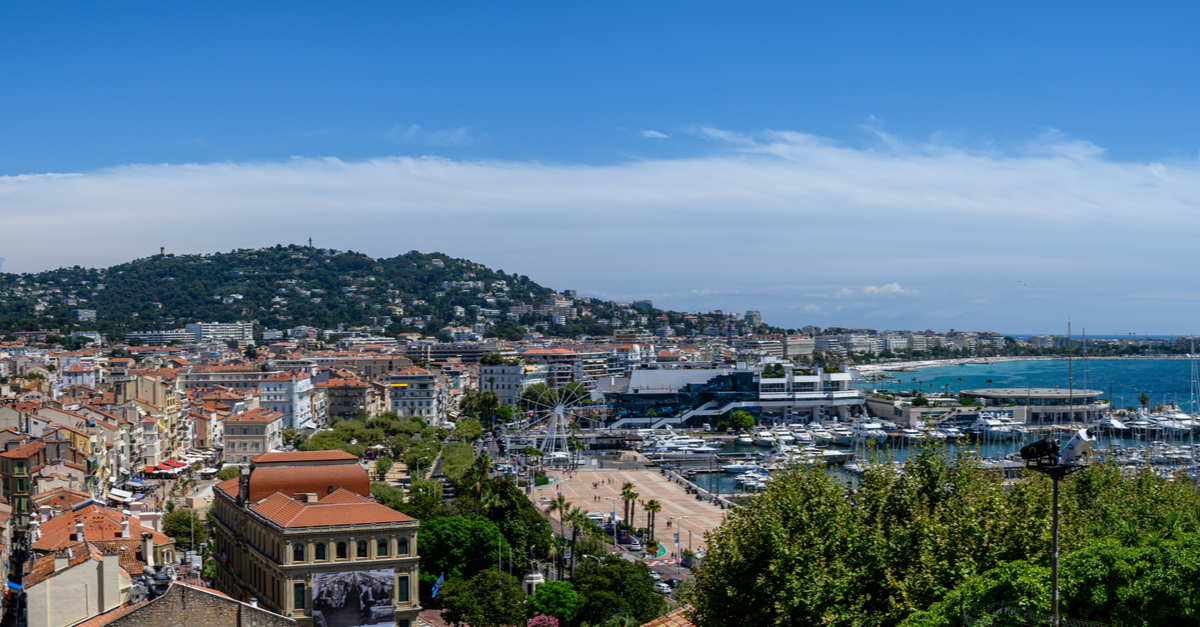 Canes Overview. Source : Shutterstock
Main flight stations in Cannes
Nice Côte d'Azur Airport is a flight station situated 12 miles (20 km) from Cannes. It is the primary receiver of a typical international flight to Cannes. On-site, you can enjoy a range of facilities that include well-maintained washrooms and numerous shops. You can also browse via the free Wi-Fi available in the station while relaxing in the paid-for lounges. Moreover, some restaurants and cafes in the station cater to your hunger needs. After getting off your plane at Nice Côte d'Azur Airport, you can board bus number 210 to Cannes and arrive in the city center within an approximated 23min. There are also other public buses that, although affordable, take about 45min traveling.
You can also consider taxis as a possible transfer option if your travel budget isn't very tight. The comfortable cabs arrive in Cannes after roughly 23min. Cannes has a secondary airport, Cannes – Mandelieu Airport, which is the usual destination of domestic flights to the city. Notably, the terminal is closer to Cannes, as it operates about 1.2 miles (1.9 km) away. Some facilities at the station include shops and cafes.
You can also find free internet and luggage storage facilities available. For travels from the airport to Cannes city center, you can get aboard a Palm Bus that arrives in Cannes in about 31min. Further, taxis are available for the relatively short trip that takes cabs roughly 16min to complete.
Onboard facilities Cannes
Lufthansa remains determined to make your flights to Cannes from the US as cozy as possible via numerous services. You are free to bring electronic devices such as phones and laptops inside the cabin. You can use the in-flight Wi-Fi, which attracts an affordable fee, to check updates or entertaining content online. When surfing, you will be seated on cushy chairs that include a convenient armrest. USB ports are available for charging if your phone runs out of power.
Onboard, there is a large selection of complimentary drinks that can be hot or cold and alcoholic or non-alcoholic. Complimentary yet good-tasting meals are also offered. If you need your pet in the cabin, you must first let Lufthansa examine them. Generally, the airline will allow most small pets. Lufthansa also maintains a team, which, if alerted when booking, assists travelers with a disability.
British Airways pampers you with comfortable seats that you adjust for added relaxation. Near your seat, you will find an electrical socket, allowing you to charge your phone. When you travel by flight to Cannes via British Airways, you might have to pay an affordable fee for the Wi-Fi. On all long-haul flights, passengers can access a backseat TV from where they can watch movies or play games.
Aboard British Airways, you can receive free meals and complimentary drinks depending on the travel duration of your flight. Pets less than 13 pounds (6 kg) can travel with their owners in the cabin. If you need assistance due to a disability, you will find crew members in the aircraft willing to help. You can identify them via a lanyard that displays the service they are offering.
Flight tickets to Cannes: Useful to know
Different airlines have varied rules regarding e-tickets. Some, like British Airways, require a hard copy of the ticket. You may print it at the check-in kiosks present in the flight stations. Other air carriers, such as Lufthansa, only recommend ticket printing but also accept mobile tickets. The common requirement by the airlines is that you bring your ID during boarding. Minor can present tickets boarding passes only, but adults have to present tickets together with formal identification. Whether you travel frequently or once in a while, it would be beneficial to book your flight seat through Omio. On Omio, buying flight tickets to Cannes is fast and easy, and it's possible to store all your tickets in your Omio account.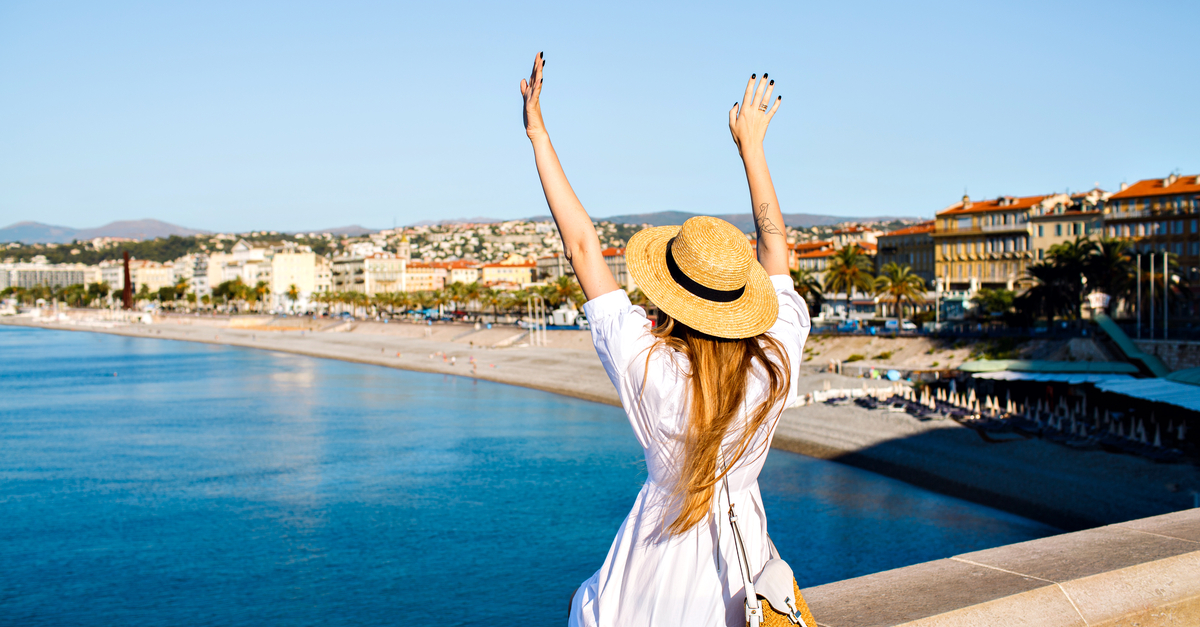 Canes Bay. Source : Shutterstock
To Cannes by flight – travel tips
Being a restaurant city, Cannes treats its tourists to a superb experience with quality meals and snacks. You can move around the city, sampling the best of French cuisine or learning how to prepare the delicacies as the locals do. Along a street called Le Suquet, a cluster of restaurants is waiting to awe you with affordable courses. Getting around the city is easy via the public buses, named Palm Bus, which serves tens of routes during the day and night. Cannes also features over a hundred taxis that can get you to various destinations. If you prefer to sail the Cannes waters, feel free to try the boat riding services that connect various beaches in the city.
Whether you are a foodie, hiker, or heritage fanatic, there is something for everyone in Cannes. After flying to Cannes by flight, commence your tour by getting some sun on the long beaches of Cannes. There are plenty of pocket-friendly public beaches such as Plage de la Bocca. Afterward, you can stroll or ride a bicycle through the city and admire the artwork displayed in sculptures like Atlante. Along streets such as Le Suquet, you can find restaurants and clubs where you can eat to your fill. Afterward, you can don your hiking attire and spend time in The Lérins Islands or the delightful outdoors of La Croix-des-Gardes.