Buses from Tampa, FL to St. Augustine, FL
The bus from Tampa, FL to St. Augustine, FL is a low-cost way of traveling between the two cities. The number of buses per day and prices varies by departure location and time of year. There are two buses each day between these two cities. Depending on your travel plans, it may be worth checking for ticket deals during low travel times like off-season or weekend evenings. With a distance of 151 miles between the towns, the trip takes approximately 10h 15min.
Tampa, FL to St. Augustine, FL Bus Time: Daily departures
There are two daily departures from Tampa, FL to St. Augustine, FL Bus. The first bus leaves the terminal at 3:15 p.m. While the second bus departs from Tampa, FL to St. Augustine, FL at 6:30 p.m.
How long is the journey by bus from Tampa, FL to St. Augustine, FL
The journey by bus from Tampa, FL to St. Augustine, FL takes about 10h on long-distance buses and 8h 16min on the fastest bus. There are several stops, so it is necessary to look at which stop you are closest to. Depending on which stop you get on and off, the price will vary. The historic district in St. Augustine is a must-see for anyone who loves history.
What are the departure and arrival stations for bus from Tampa, FL to St. Augustine, FL
Departure bus station: Tampa's main Greyhound station is located on Jackson Street and Himes Ave. The Greyhound bus station is located just a block away from the main street of Florida. However, you will need to take public transport if you want to travel downtown. The station has a cafeteria that serves hot food, drinks, and snacks. There are nice chairs to relax in while you wait for your bus. The terminal is clean and has a pleasant color scheme. There is also an ATM and a gift shop and restrooms, and telephones at the station. The Greyhound ticket office on the second floor and additional ticket counters for buses to other destinations.
Arrival train station:St. Augustine Greyhound Station is where the bus will arrive from Tampa, FL. The distance between the station and the city center is 5 miles (8 kilometers). The station itself offers 24h parking space in front of the station, including free parking. Inside the St Augustine Greyhound Station, there is a Dunkin Donuts, two luggage storage facilities, and one ticket counter operating on weekdays only. There are no telephones available for public use, neither inside nor outside of the station itself. Lots of benches are provided but no seats or couches for waiting passengers. The station doesn't offer bathrooms for travelers. Still, free restrooms are located in the Dunkin Donuts and a gas station across the street, offering free water taps inside its convenience store. Wireless Internet is available at all times for free if you need to connect to your office or reach somebody who might be expecting your call.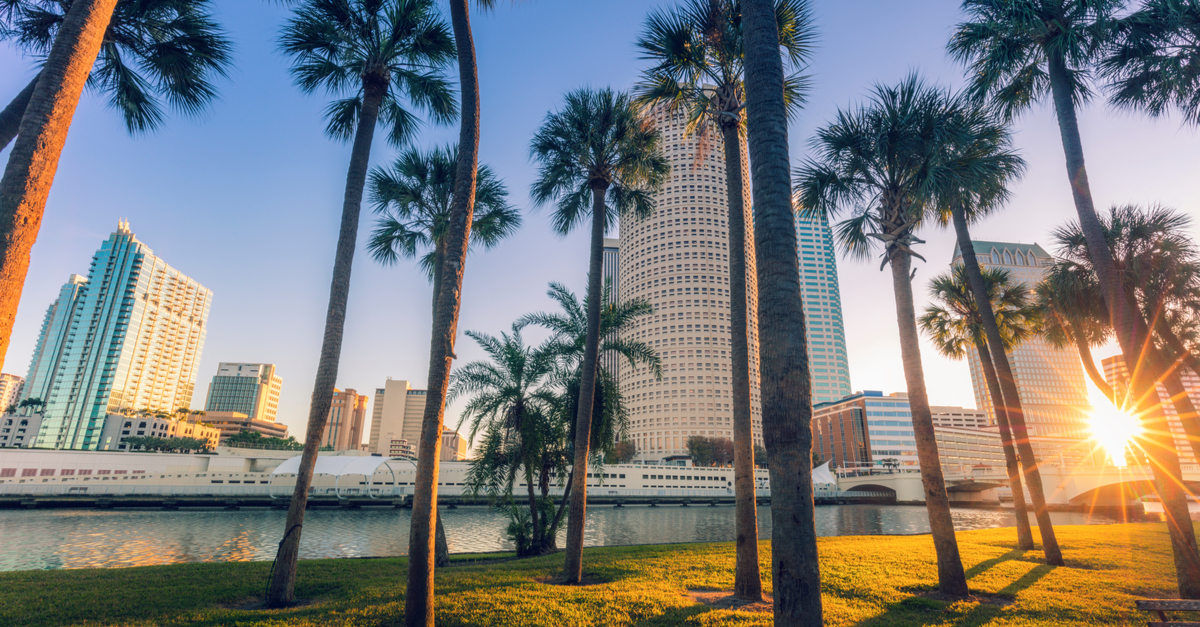 Downtown Tampa. Source: Shutterstock
Which bus companies travel from Tampa, FL to St. Augustine, FL
Traveling to St. Augustine is easy with the bus connection from Tampa, FL. Greyhound Bus Lines serve several routes in Florida and are a great way to travel if you're looking for an affordable ticket without any frills and comfortable enough for long hours of travel. Most Greyhound buses depart from the Tampa station, which provides easy access to downtown Tampa and Ybor City. There are two bus schedules for this route, with seven departures per week on average. Travel times vary depending on the day you travel and what time you purchase your ticket.
Greyhound buses from Tampa, FL to St. Augustine, FL
Greyhound buses Greyhound buses depart from Tampa, FL to St. Augustine, FL daily. No direct buses are operating this route. Passengers will have to change buses at the Orlando bus terminal to continue their journey on another Greyhound or partner coach service towards St Augustine. Greyhound operates long-distance services on this route with up to 2h between each departure. However, the coach company does operate some express services with fewer stops along the way. The high-speed bus offers an Internet connection, electrical outlets for plugging in your electronic devices, and extra-legroom.
Bus Tampa, FL to St. Augustine, FL: Services on Board
Passengers going from Tampa to St. Augustine can choose between a first or a second-class service on board one of the Greyhound buses serving this route. A first-class ticket on board gives riders more room, with extra space for legs, arms, and luggage. It also offers more legroom than second-class seats and free snacks and drinks on board the bus. Furthermore, first-class tickets are refundable, and changes are allowed free of charge. A second-class ticket to St. Augustine is cheaper than a first-class ticket, but it does not offer free snacks and drinks like the former.
Passengers in the second class can also bring an extra suitcase for free of charge, beyond the allowance for small hand luggage. Small pets carried in an authorized pet carrier can travel for free on the Greyhound bus lines. Any animal needs to be transported in a kennel stowed in the luggage department under the bus. Passengers will be allowed two pieces of regular-sized suitcases and one piece as hand luggage with a weight limit of 20 lbs. The bus line offers wheelchair lifts to make boarding easier and special lanes at stations and other facilities like restrooms, ticket counters, and waiting areas that can be accessed easier.
How to find cheap bus tickets from Tampa, FL to St. Augustine, FL
The best way to find cheap bus tickets from Tampa, FL to St. Augustine, FL would be to book in advance through the Omio website and be flexible with your travel dates. One of the most important strategies to get low prices for your ticket is buying it in advance. Generally, when you book at least 15 days in advance, you will get the best offers. Also, make sure you have a printed copy of your ticket with you, as some drivers might ask for it.
Another good tip is to check for a lower price on another date if your first option does not work out. Sometimes, bus companies have promotions that apply only to a specific date. Also, traveling midweek or even during the low season can help save money. If you're flexible on when to travel, choosing a connecting bus to your journey gives you more chances to find cheap tickets.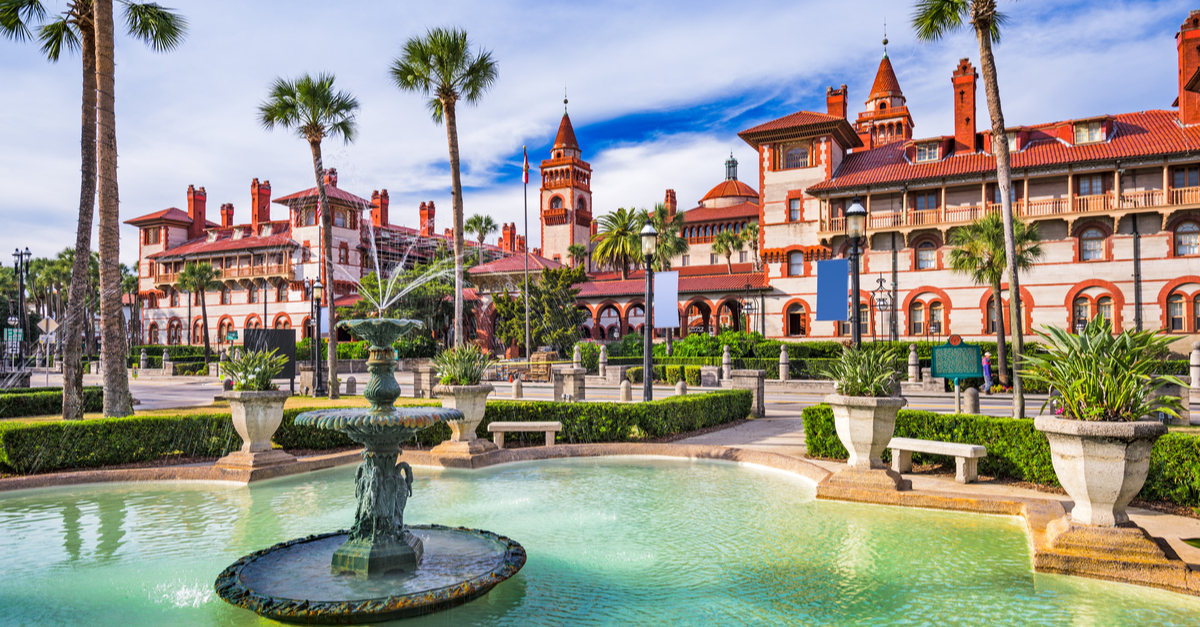 Manchester Flight. Source: Shutterstock
To St. Augustine, FL- travel tips
If you're looking to visit somewhere with a rich history, it won't get any better than St. Augustine, FloridaThe oldest city in the US has been around for over 450 years and contains several historical sites and attractions that will keep you busy for days on end.
One way to see everything St Augustine has to offer is by going on a sightseeing cruise with Old Town Tours. These cruises feature nostalgic, open-air trolleys that are both wheelchair accessible and come with roof-top views. You'll get to see all the attractions listed above as well as other interesting sites around town. There are also ghost tours available if you're interested in checking out some of the city's dark history.
After a long day of sightseeing, it's time to do what Floridians do best: sit back and enjoy the weather with some fresh seafood! If you want an entertaining atmosphere while enjoying your favorite Florida delicacies, check out The Columbia Restaurant. Their menu has a little bit of everything, but I love their mojitos and sangria. If there is someone in your group who isn't so sure about seafood, The Columbia also has solid options for them.