Bus from Naples to Bergamo
If you're traveling to Bergamo from Naples, you should know that the bus provides one of the most convenient ways to get to your destination. There are at least five buses available every day with some days having a higher number. bus from Naples to Bergamo This means that you can freely plan your travel dates without having to worry about odd departure times as is the case with flights.
.
Naples to Bergamo Bus Time: Daily Departures
With about five buses departing each day from Naples, finding a convenient bus for you shouldn't be a difficult task. In fact, peak days (those with a higher demand for buses such as weekends and holidays) can have up to seven or eight buses depending on the bus companies' decision. The first bus leaves the station as early as around 8:00 a.m while the last one can depart as late as around 11:10 p.m. On such days, the departure times are well spread out to avoid a situation where multiple buses are departing at the same time.
How long is the journey by bus from Naples to Bergamo?
Being just over 500 miles (800 km) apart, the journey to Bergamo from Naples isn't too long. On average, it takes about 13h but high_speed buses can take as short as 11h 30min to get to the destination. If there are any changes or transfers, your journey could extend up to 15h depending on the length of the stopover. bus from Naples to Bergamo Be sure to confirm these details when booking to avoid any inconveniences.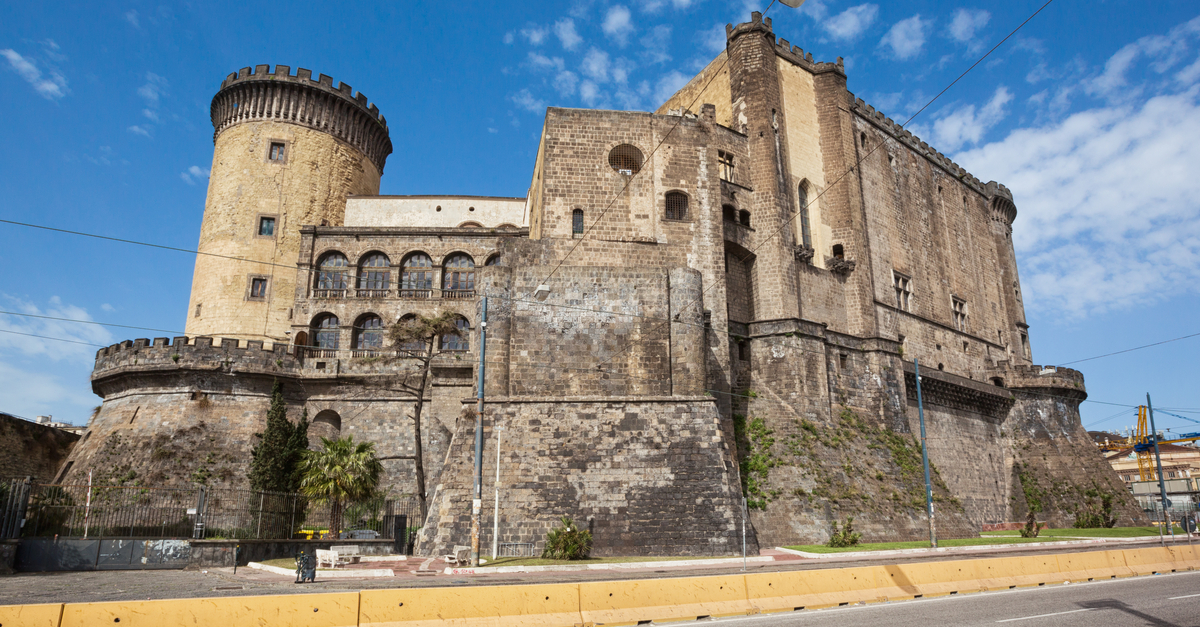 Naples Castle Nuovo. Source: Shutterstock
What is the departure and arrival station for buses from Naples to Bergamo?
Departure bus station: Naples has two major bus stations that facilitate travel to Bergamo. The first one is Terminal Bus Metropark Staz.FS and Napoli Centrale the other. Both of them are fairly close to the city center and are about a five_minute walk away. Some of the amenities you can expect to find include a ticket office as well as a few shops and restaurants.
Departure bus station: When you get to Bergamo, you'll alight at Oriol al Serio in Bergamo Airport or Stazione Autolinee. The airport terminal is 3.85 miles (6.2 km) away from Bergamo city center and you can easily get there by taking bus line 1. Stazione Autolinee on the other hand is just under a mile (1.2 Km) from the city center making it a ten_minute walk. Both stations have several shops where you can buy a few essentials as well as some restaurants and diners where you can get something to munch on.
Which bus companies travel from Naples to Bergamo?
Itabus is the most popular bus company providing travel to Bergamo from Naples with at least four buses departing Terminal Bus Metropark every day. MarinoBus is the other company offering travel between the two cities and despite being more prominent than Itabus, it only has one bus servicing this particular route every day.bus from Naples to Bergamo The other disparity between the two bus companies is the fact that journeys with MarinoBus require one transfer in Bologna while Itabus only does direct buses.
Itabus buses from Naples to Bergamo
Despite being relatively new to the market, Itabus has quickly risen to become one of the local favorites. They offer bus services all over Italy connecting virtually every city and making travel less of a headache. The company has about four daily buses plying the Naples to Bergamo route every day with departure times decently spaced to allow convenience and flexibility for travelers. It is worth pointing out that bus journeys facilitated by Itabus are usually direct and don't require any transfers so you don't have to worry about unnecessary delays.
Traveling by bus is a sustainable journey
For anyone looking to live more sustainably, you should know that bus transport provides one of the most sustainable transport methods. The overall carbon emissions are significantly lower compared to the other alternatives such as flying. Also, the fact that most of these buses are modern models and have a lower fuel consumption means that there are even smaller amounts of carbon being let out into the atmosphere. Lastly, remember that the heavier a bus is the more fuel it burns up and therefore more carbon in the atmosphere. For that reason, try and pack lightly to reduce the overall weight of the bus.
Bus Naples to Bergamo: Services on Board
Itabus provides a range of onboard amenities for passengers and the best part is that you don't have to be in first_class to have access to these amenities. Disabled passengers can request to bring a companion free of charge. This is so especially if they have a problem with mobility. All passengers onboard an Itabus get to enjoy free Wi_Fi (in case you need to access the web for whatever reason), power plugs to charge your devices, and even extra legroom as well as a variety of food options. The company provides a bag allowance of 15kg but you can pay for extra luggage up to 25kg. You are also free to board with your pet as long as they are properly restrained. Finally, it is worth noting that refunds are only available at a cost of the ticket price, depending on how long it is to departure, but you cannot claim a refund less than a day to departure.
How to find cheap bus tickets from Naples to Bergamo?
If you want to reduce the cost of travel to Bergamo from Venice, make sure you book your tickets in advance to avoid the last_minute chaos. Remember the later you wait, the higher prices are likely to be so the safest option is booking a ticket as soon as you make the decision that you will be traveling to Bergamo. Furthermore, try and be flexible with travel days. Avoid weekends and holidays as such days tend to have a higher demand for tickets and therefore higher ticket prices.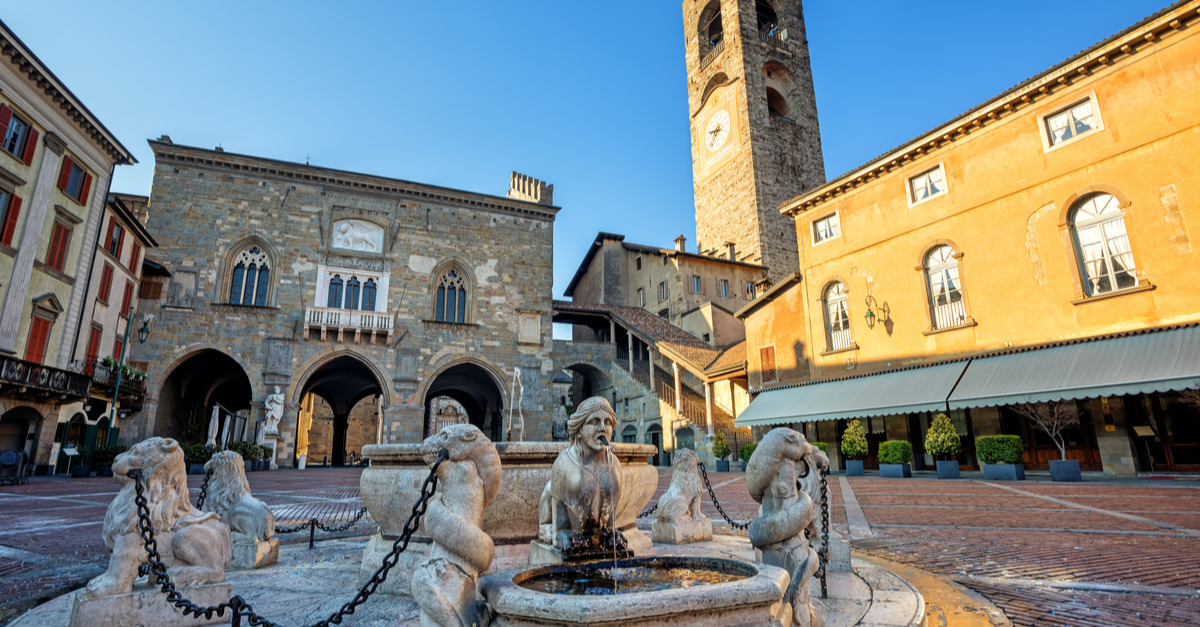 Bergamo Piazza Vecchia. Source: Shutterstock
To Bergamo by bus—travel tips
Bergamo is without a doubt one of the most visited cities in Italy bringing in hundreds of thousands of tourists from all over the world every year. The city has plenty of attractive sites and regardless of what enjoy doing while on tour, you're sure to find something you will enjoy. Here are a few of the most popular attractions in the city;
Accademia Carrara Museum: If you enjoy learning about art and looking at different art pieces by the best artists in the world, this is the place for you. Accademia Carrara di Belle Arti di Bergamo is an art gallery and an academy of fine arts in Bergamo that houses a range of amazing art pieces from top local and regional artists.
Campanone: Initially built to serve as a watchtower, the Campanone now serves as an observation deck from which you can catch scenic views of the city. Well worth visiting especially at night when the city is lit up beautifully.
GAMeC: This is basically an art gallery in Bergamo that showcases some amazing pieces of art from the 20th century as well as impressive pieces by emerging artists.
Bergamo Botanical Garden: Locally known as "Lorenzo Rota", this is a beautiful botanical garden that features a range of flower and plant species as old as over a hundred years. This is a great place to just chill and enjoy the best that nature has to offer.
Civic Museum of Natural Sciences: This is a natural history museum established in 1918. The museum is one of the best in the city with various artifacts, fossils, animal and plant specimens.