Buses from San Jose to Los Angeles
Buses from San Jose to Los Angeles operate daily, including weekends and national holidays. You can get around 12 rides per day, including on weekends. The frequency of approximately 84 services each week facilitates flexibility, enabling you to manage emergencies conveniently. Buses to San Jose can take anywhere between around 6h 40min and 10h 40min, depending on the transfers along the route.
How long is the journey by bus from San Jose to Los Angeles?
Generally, the buses to San Jose can last from approximately 6h 40min to over 10h. You can find two initial rides per day to Los Angeles that take about 10h 25min and 10h 40min. The second-last bus departing every day from San Jose to Los Angeles offers the fastest duration of around 6h 40min, while the last departure takes about 9h 50min. You can get about five direct buses to San Jose each day, taking between around 6h 40min and 9h. The services mostly feature a transfer on the route, including all the morning trains and the final daily departure.
How many buses are there from San Jose to Los Angeles?
You can find at least 12 San Jose to Los Angeles buses daily, maintaining a similar timetable on weekends. This weekly frequency of around 84 rides allows you to get about six buses departing between approximately 6:10 a.m. and 1:05 p.m. The first ride typically begins each day at around 6:10 a.m., even on Saturdays and Sundays. You can find the final two services leaving every night at about 11:35 p.m. and 11:45 p.m.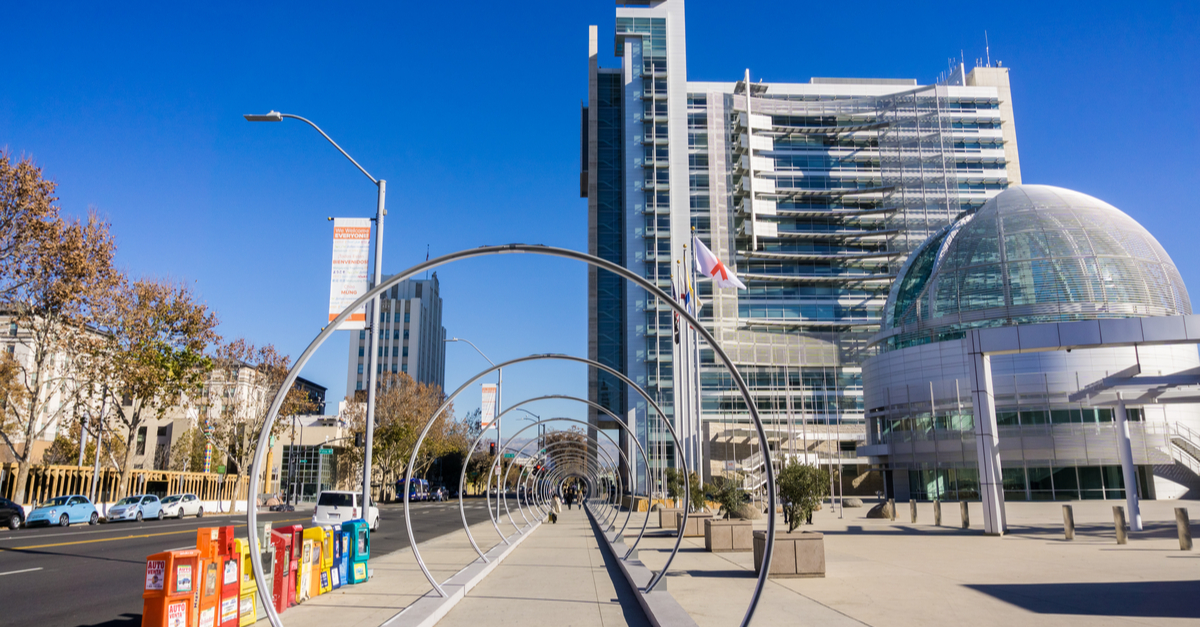 San Jose California. Source: Shutterstock
What are the departure and arrival stations for buses from San Jose to Los Angeles?
Departure bus station: The trip to Los Angeles from San Jose by bus begins at the San Jose Diridon Station. You can ride a bus from the city center to reach the departure station in about 4min or take a tram from Downtown San Jose and access it in around 16min. The transit center at San Jose Diridon Station has different amenities restrooms, bike lockers, an elevator, a telephone, a ticket agent, a ticket vending machine, and a parking space.
Arrival bus station: Your journey from San Jose to Los Angeles via bus can end at two points, the Union Station and Los Angeles E 7th Street/Decatur Street station. You can reach the city center via shuttle from Union Station in around 5min and the Los Angeles E 7th Street/Decatur Street Station in approximately 50min. The former station has a bike share, bike hub, shoeshine, parking, and restrooms available. You can find shopping stores, storage lockers, ATMs, vending machines, and a waiting area with wide-screen TV sets at Los Angeles E 7th Street station.
Which bus companies travel from San Jose to Los Angeles?
You can get buses to San Jose from the Greyhound and Amtrak companies. The former provider offers about four non-stop buses from San Jose to Los Angeles to present some of the shortest traveling times between these two cities. Greyhound also has one afternoon ride setting off at approximately 2:40 p.m. that requires a change. Amtrak runs more buses from San Jose to Los Angeles, with around seven services per day. The company incorporates multiple transfers to deliver longer trips along this course. Nonetheless, it has one daily bus leaving at around 2:55 p.m. that operates non-stop to Los Angeles.
To Los Angeles by bus – travel tips
You can find numerous attractions in Los Angeles, such as Griffith Park, California's largest state park. This venue has the Griffith Observatory that offers stunning views, exhibits, and telescopes to deliver an exciting and experience-based visit. You can look at the planets and moon via Zeiss telescope or the sun using the onsite solar telescopes. When traveling with kids, you can visit The Getty Center in the Santa Monica Mountains to relax around the beautiful grounds while appreciating the unique building.
The center includes an impressive museum hosting various collections, such as sculpture, drawings, decorative arts, European paintings, and photography from the 19th and 20th centuries. Moreover, you can spend time at The Restaurant at the site for casual dining in scenic surroundings. Car lovers can tour around Petersen Automotive Museum to view the remarkable assortment of automobiles. The temporary and permanent exhibits over four floors ensure you can see over 300 motorbikes and cars from different periods, starting from 1886 to the 21st century.
You can enjoy a laid-back visit to Santa Monica to surf on the ocean, skateboard along the boardwalks, or walk along the golden sandy beach. In addition, you can take your family to Santa Monica Pier and ride the iconic Ferris wheel.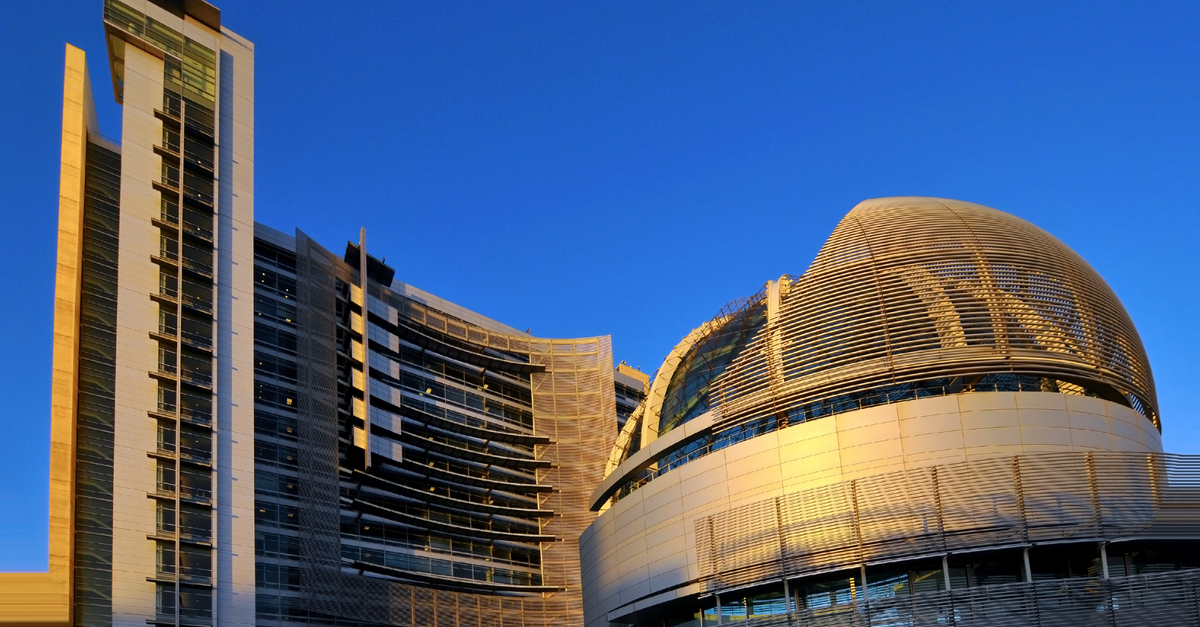 San Jose City Hall. Source: Shutterstock
Greyhound San Jose to Los Angeles
Greyhound is one of the two companies offering a bus to Los Angeles from San Jose. It provides about five services per day, with four in the afternoon and one nighttime departure. The first daily Greyhound shuttle leaves at around 1:05 p.m., and the next three set off at approximately 2:40 p.m. Notably, one of the 2:40 p.m. departures requires a change in San Fernando. The other rides from this company operate directly along this route, delivering some of the most convenient durations.
Amtrak San Jose to Los Angeles
Amtrak is the other provider for buses from San Jose to Los Angeles, offering most daily services. The first Amtrak bus leaves at around 6:10 a.m. each day, while the final daily ride begins at approximately 11:45 p.m. Besides these, it only has one non-stop ride that sets off at about 2:55 p.m., lasting around 9h. The other departures require one to two changes, with some involving train transfers. Amtrak buses leaving at about 6:10 a.m. and 12:25 p.m. need you to switch to a train from Stockton Station to Bakersfield Station before switching to a bus to complete the journey. Additionally, Amtrak buses starting at around 11:35 a.m. and 11:45 p.m. change to a train at Santa Barbara before proceeding to Los Angeles.
San Jose to Los Angeles Bus: Services on Board
Greyhound offers quality San Jose to Los Angeles buses designed with a free Wi-Fi network, allowing you to connect most portable devices and stay in touch with colleagues and loved ones. Most rides also incorporate power outlets to ensure you can journey in comfort without concerns about dead batteries and communication complications.
The company permits you to take a bag on board, which you must fit beneath the seat or in the overhead compartment. Besides, you can store up to three additional pieces of baggage under the bus. Greyhound allows you to journey with a bike securely packed and fastened in a compact canvas or wooden container. However, you cannot travel with your little companion if you have a pet.
Greyhound only allows certified service dogs onboard its rides. This provider has wheelchair-equipped buses with trained personnel to assist disabled travelers. Amtrak buses do not have Wi-Fi connectivity. Nonetheless, the thruway services feature spacious reclining seats for durable comfort. You can carry two carry-on bags. Amtrak only permits travel with service animals and restricts journeying with pets. If you have a bicycle, you can fold it into a tightly packed container to fit the available storage compartments. The lift-equipped and accessible Amtrak buses ensure inclusive comfort for passengers with reduced mobility.