Bus from Houston, TX to Washington, DC
Traveling from Houston, Texas to Washington, DC by bus is both affordable and fascinating. Besides, this is one of the most preferred routes in the US with many travelers using it daily. Your journey from Houston to Washington will cover approximately 1215 miles (1959 km). Your bus will most likely take an average of 34h 55min to cover the distance between these two popular cities.
Houston, TX to Washington, DC Bus Time: Daily Departures
With approximately 14 frequencies weekly (two bus trips per day), the Houston-Washington route offers reliable bus transportation. The first bus leaves Houston to Washington DC at around 4:40 a.m. while the last one departs at 6:15 p.m. Bear in mind that departure times for some buses may differ on holidays and weekends, so it is advisable to book your bus ticket in advance to be sure of your journey at the scheduled time.
How Long is the Journey by Bus from Houston, TX to Washington, DC?
A journey by bus from Houston, TX to Washington, DC takes about 37h 35min. The fastest bus can take around 34h 55min to travel the distance of 1215 miles (1959 km) between Houston and Washinton City. Most of the bus trips on this route are direct, meaning that you won't have to worry about stop-overs or layovers. However, there are a handful of buses on this route that provide three connections per trip. Make your bus trip on this route simple by comparing and choosing the bus that will fit your travel plan and budget before booking your ticket.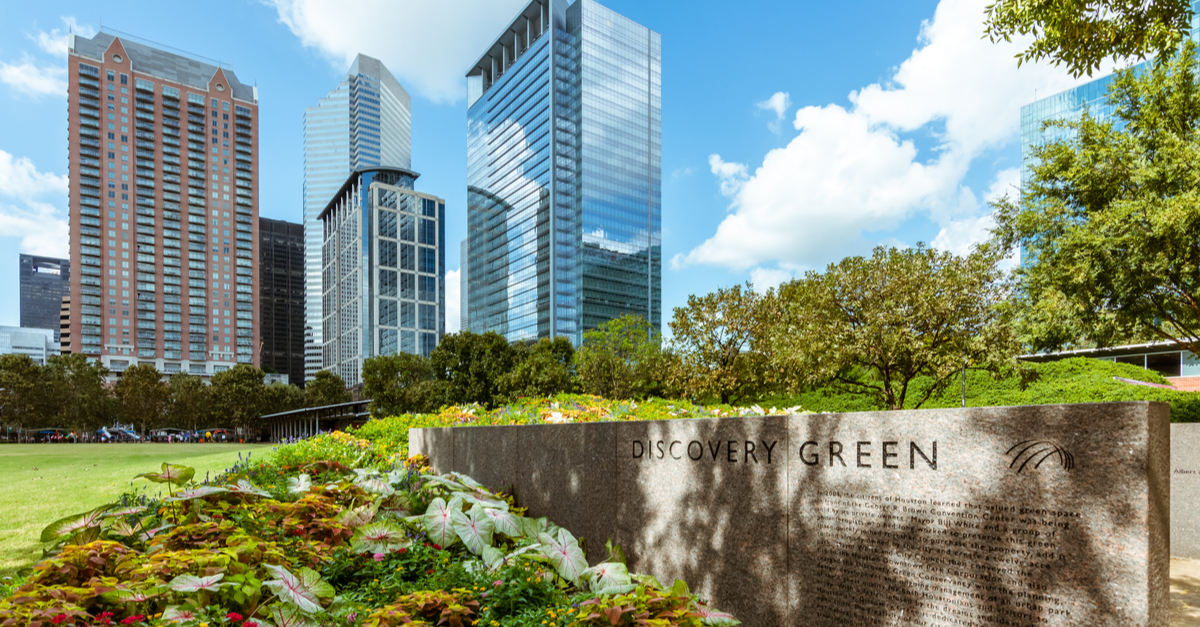 Houston Greens. Source: Shutterstock
What are the Departure and Arrival Stations for Buses from Houston, TX to Washington, DC?
Departure bus station: Downtown Greyhound Station in Houston is the main departure bus station for buses leaving for Washington, DC. Located on 2121 Main Street Houston, TX77002, this bus station is approximately 0.6 miles (0.97 km) from Central Business District. The station is close to eating joints such as McDonald's, Pour Behavior, Nara Express and Louisiana Famous Chicken Restaurants all situated within a walking distance away. If you want rental cars you can just walk a few steps to Avis Car Rental or Enterprise Rent-A-Car located outside Downtown Greyhound Station.
Arrival bus station: Union Station in Washington, DC is the station for buses arriving from Houston, TX. It's also the largest transportation hub in this US capital city, located 5.2 miles (8.4 km) from the city center. Not to mention being the main bus station for intercity bus travel to various cities across the country. The station provides easy transit connections across the DC and beyond. While at the station, you can do some shopping at the onsite shopping mall. If you're a fashion lover, you will find fashion stores like H&M Joseph A. Bank, Victoria's Secrets, and Anny Taylor to be of great help since they are within the station. Accessories and jewelry for your special occasion can be found at Kashmir, Aurea, and Claire's which are also located within Union Station.
Which bus Companies Travel from Houston, TX to Washington, DC?
Greyhound is the main bus company operating on the Houston-Washington route. The number of buses from this company may differ depending on various factors such as the day of the week. Currently, Greyhound provides at least 14 weekly bus trips on this route. While some buses operate direct routes, others have layovers. Make sure to simplify your trip from Houston to Washington by selecting buses that suit your travel needs.
Greyhound Buses from Houston, TX to Washington, DC
If you are planning to travel from Houston, TX to Washington, DC, rest assured that you will use one of the Greyhound buses. With more than two bus trips per day, Greyhound buses are the most reliable means of road transportation on the Houston-Washington route. You can choose a direct bus from Houston to arrive in Washington after a duration of 34h 54min or book one of the buses with layovers if you are not in a hurry to reach your destination.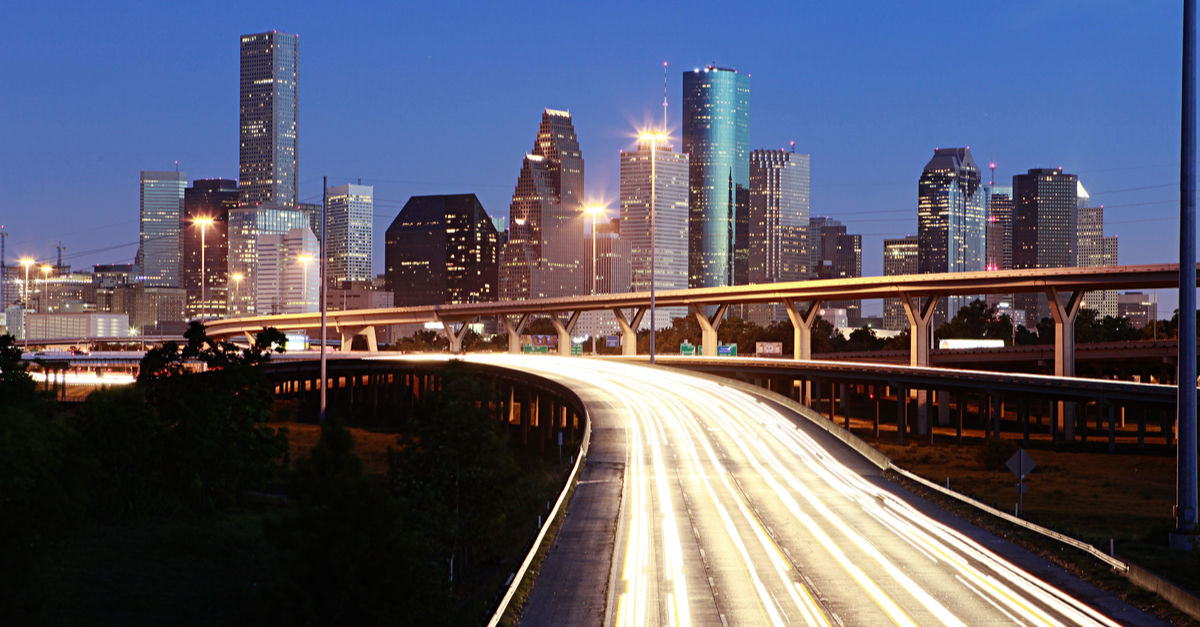 Houston Lights. Source: Shutterstock
Buses from Houston, TX to Washington, DC:Services on Board
Greyhound bus provider is the major company that operates buses between Houston, TX and Washington, DC. As such, you need to know the services on board for the bus you will be traveling by to your destination. Since these are long-distance buses, you should expect services that will keep you comfortable throughout the journey. For Greyhound buses, you will enjoy endless hours of free onboard Wi-Fi to keep yourself entertained during your journey. Air-conditioning is also included to provide enough ventilation for all passengers.
The bus provider has three ticket classes to choose from.You can go for an Economy ticket, which is considered the cheapest option with all onboard perks like power sockets and plenty of legroom.If possible, you can settle for either Economy Extra or Flexible class, both of which allow you to enjoy all onboard services in addition to boarding the bus ahead of the pack.
Pets are not allowed on board for all ticket classes except legitimate service animals. Bicycles, skis, skis poles, and golf clubs must be packed in canvas, wood, or any other substantial containers. When it comes to baggage allowances, Greyhound management lets you board with one bus bag (free) and additional two bags at a small fee. Keep in mind that one bag should weigh up to 25 lb (11 kg).
How to Find Cheap Bus Tickets from Houston, TX to Washington, DC
The most appropriate way to get cheap bus tickets for the Houston-Washington route is to compare bus ticket prices for different schedules. Bus fare prices vary according to ticket promotions, the comfort of the bus, ticket class, and availability. You can also save money by booking in advance. Early booking will enable you to find relatively cheaper tickets than when you book your ticket on the travel day. Another option is to be a little bit flexible with your travel dates. Otherwise, you may opt for slower journeys or connecting buses which most likely will have affordable tickets for passengers leaving Houston, TX for Washington, DC.
To Washington, DC by Bus-Travel Tips
When you arrive in Washington, District of Columbia, from Houston, you will have a lot to do to make your stay exciting and fulfilling. This part of the US exposes you to several breathtaking attractions not found anywhere else. From sightseeing to historical monuments and welcoming nightlife to the best restaurants, Washington, DC will be your perfect tourist destination.
The city boasts several iconic landmarks such as the White House where the president of the United States lives; the House of Representatives, and the Capitol building. Also, DC is home to the National Mall where you can visit the Lincoln Memorial, stop by the World War II Memorial, or pay tribute to the Washington Monument. Visitors with their families can as well tour the world-famous museums in Washington as part of their excursion.
This capital city has a vibrant nightlife, making it rank among the top party hubs in the country. Don't forget to visit the Vibrant Dupont Circle to enjoy your favorite meal or drink from one of the finest restaurants and bars in this US capital city neighborhood. Most importantly, Washington, DC is regarded as a key transportation hub due to the nearby several train and bus stations. The city is also served by three major airports which are Ronald Reagan Washington Airport(DCA), Baltimore/Washington International Marshall Airport(BWI), and Washington Dulles International Airport(IAD).