How to travel to Atlanta
There are several ways of traveling from New Orleans to Atlanta. Travelers can opt to take the train from New Orleans to Atlanta. Train rides to Atlanta are available on the New Orleans, Crescent, and New York routes, and prices vary depending on your station. If you wish to take flights from New Orleans to Atlanta, consider booking flights to Hartsville Jackson Atlanta International Airport, which lies 10 miles (16 km) from Downtown Atlanta.
From the airport, passengers can get ground transportation to their preferred destinations or downtown Atlanta. Several bus lines offer transfers to Atlanta. If you opt for trains, consider taking slow trains as they are cheaper than fast speed trains.
What is the cheapest way to travel to Atlanta
In New Orleans, you will have trains, buses, and flights as the top travel options available. If you opt for trains, consider taking slow trains as they are cheaper than fast speed trains. Flights are the most expensive means of traveling from New Orleans to Atlanta, while the roads are the most affordable. If you book earlier with trains and flights you might end up saving more.
What is the fastest way to travel to Atlanta
Depending on your location in New Orleans, there are fast ways of getting to Atlanta. Flights are generally quicker than most means sine they quickly cover distances within a short while.
You can also opt for speed trains which take faster than the regular trains. Driving is a lot faster than public transport if you opt for road travel since most public transport from New Orleans has stops along the journey.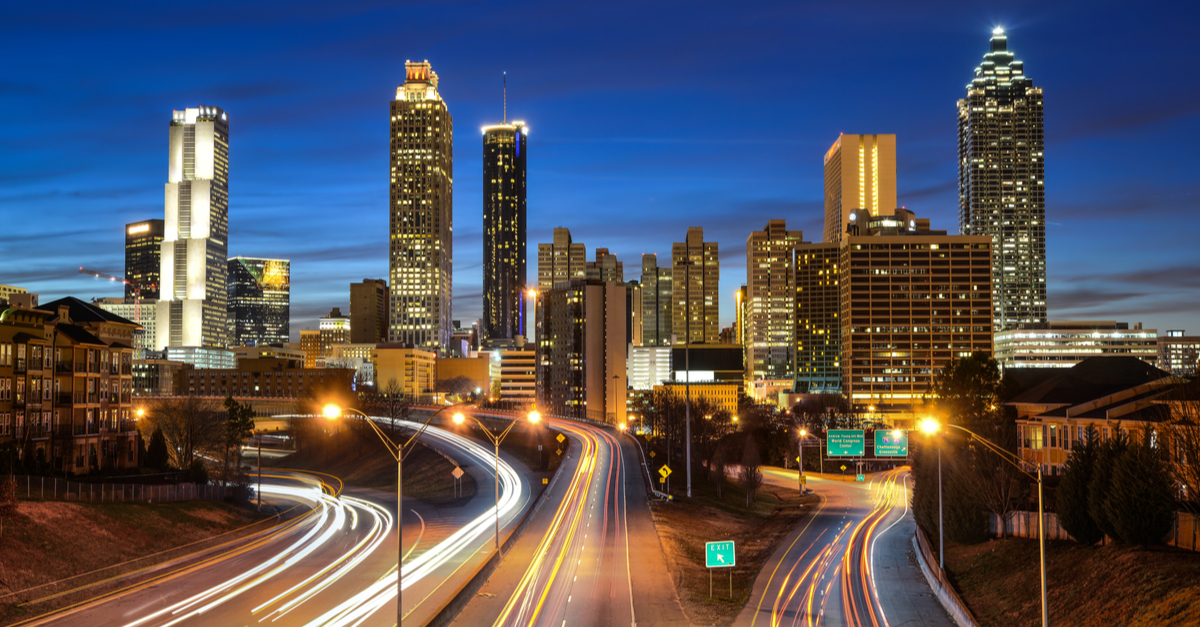 Atlanta Falls. Source: Shutterstock
Find the best tickets to Atlanta and book with Omio
Omio is a booking platform that lets users compare and book all modes of transport available. If you wish to travel from New Orleans to Atlanta, Omio offers train, bus, and flights available to Atlanta and compares the prices of each provider. Omio offers you plenty of companies in New Orleans to choose from, and users can scan all travel options at a glance.
It provides booking and customer services in any language you might prefer. Booking tickets in New Orleans with Omio is easy; you have to input the destinations you are traveling to and the time of the journey. With that information, Omio helps you select the right trip. In case you are okay with your decision, you will receive your ticket on your mobile. Omio magazine describes helpful travel tips that let you discover how to travel to Atlanta.
Train travel to Atlanta
Trains have been an affordable way of traveling for many travelers from New Orleans to Atlanta. But not all the train companies will offer you the traveling convenience you will need. There are various travel companies in New Orleans. You will have to book your train wisely to get the convenience you need during your journey.
Train travel to Atlanta with Amtrak
Amtrak offers daily train rides from New Orleans to Atlanta. The trip has few stops along the route, but it takes longer due to the distance along the way. Amtrak train rides from New Orleans to Atlanta will get you to Atlanta Amtrak Station, which lies between Buckhead and midtown. Travelers can get several means of transportation from the station to their preferred destinations, including train rides and bus rides. Alternatively, passengers can easily walk from the station to the city center.
Buses to Atlanta
Several Bus routes operate in Metro Atlanta. MARTA operates 110 bus lines across Atlanta. GRTA provides rides between downtown Atlanta and Acworth, Stockbridge, Woodstock, Canton, and Midtown. Gwinnett County transit offers express and local services between Midtown and Downtown Atlanta. Train rides and bus rides cost relatively cheaper than private transfers or rental assistance. The buses from New Orleans cover most parts of Atlanta but trains faster due to fewer stops along routes.
MARTA bus to Atlanta
MARTA bus lines operate on weekdays from 5:00 a.m. To Midnight. Since the Bus line provides plenty of rides on different routes, consider getting the MARTA app to view its bus schedule online from New Orleans to Atlanta. Rides are less frequent on weekends and public holidays. Most MARTA bus has regular stops along significant intersections. Once you get to your visit, pull the cords on the sides of the bus to indicate your stop. Five Points station offers printed route maps for MARTA bus routes.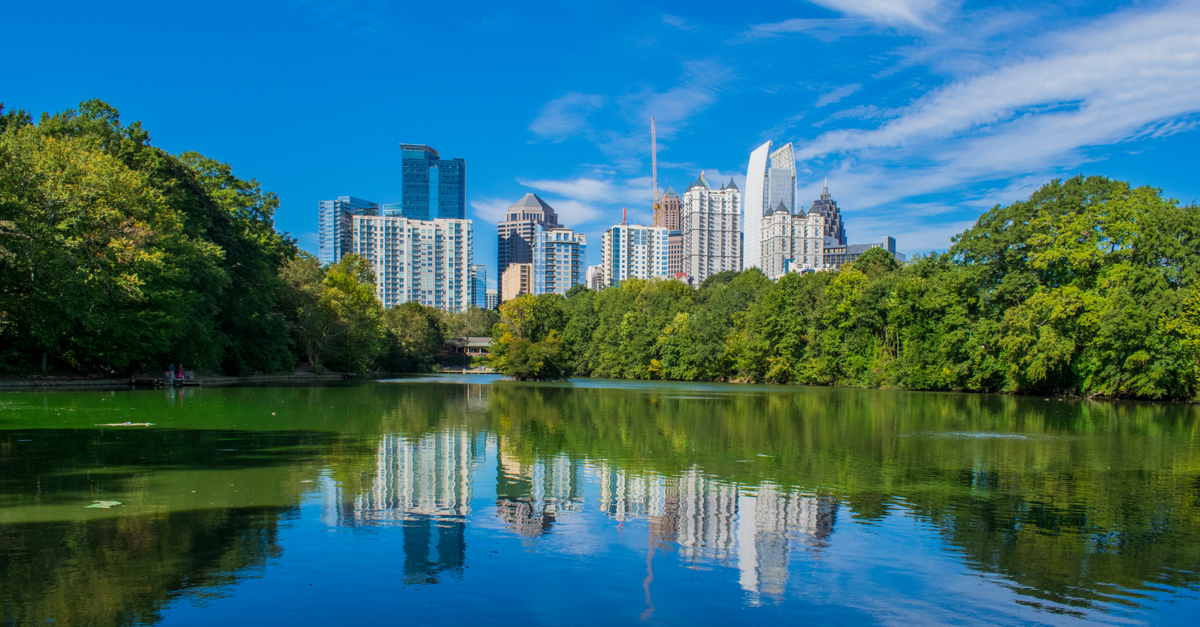 Atlanta Reflection. Source: Shutterstock
Flights to Atlanta
Flying from New Orleans to Atlanta will allow you to take the shortest time compared to other travel options. There are also travel companies available offering convenience. Travelers have the privilege of choosing the flight company of their choice and book their flight.
Flying to Atlanta with Delta Airlines flight
Delta Airlines schedules the most flights from New Orleans to Atlanta. It also provides flights from Frankfurt, Munich, Stuttgart, and Dublin to Atlanta. The airlines also offer transfers from Canada, Southern America, Central America, the Caribbean, Africa, Japan, and East Asia to Atlanta.
However, flights from Athens and Venice to Canada are seasonal. The longest direct flight to Canada takes about 15h 20min. The flight is operated by Delta Airliners, and it offers direct flights from New Orleans to Atlanta.
To Atlanta by train/bus/flight—travel tips
Home to word-class eateries, vibrant nightlife, and scenic attractions, Atlanta is the ultimate travel destination for many people in New Orleans. With cultural attractions, urban adventures, and unique events, the city has something for everyone. Georgia Aquarium lies in downtown Atlanta offering hundreds of thousands of aquatic species, sea exhibits, and exciting shows. Centennial Olympic Park features picturesque fountains and lush green space where several festivals, events, and concerts are held.
Atlanta offers a diverse, eclectic dining scene with a blend of worldwide fares. Krog Street Market houses several eateries with dining and beverage options. General Muir offers great breakfast meal options ranging from beverages to snacks. Atlanta boats several historical and cultural sites, including the National Center for Civil and Human Rights and the King Center.
Atlanta features a diverse music scene with iconic stars like Jermain Dupri. Atlanta houses the Midtown Music Festival, where several artists perform at major music festivals. The Fox theatre features sleek artwork from 1929, and if you are lucky, you are likely to catch performances like movies, ballet, operas, and rock concerts. Travelers can visit the World of Coke Museum, which showcases the evolution of the soda company. Atlanta History center provides seasonal exhibitions and a collection of Atlanta's historical moments.
Visit the High Museum of Art for a chance to view European paintings, modern art, and photography exhibitions. Outdoor Enthusiasts will love visiting Piedmont Park, which houses several walking hiking trails. It also offers a sports field where travelers can enjoy several sports, including tennis and basketball. Piedmont Park provides a scenic waterfront view, a lake with fishing piers, a playground for children, and a swimming pool.
Families visiting Atlanta from New Orleans can check out Lake Lanier Island for watersport activities during the summer and winter pastimes during the winter. Watersports include boating, swimming, canoeing, and kayaking, while winter pastimes for families include ice skating and snow tubing. Families can also catch a game or live music performances from Centennial Olympic Park.