Trains from Raleigh to Durham
It's a short sweet ride from Raleigh to Durham when you're traveling by train. Departures leave four times a day from Raleigh and it takes only 30min to reach Durham, the home of Duke University. With a spread of trains leaving from early morning to mid-evening, it is easy find a time to make the train trip from Raleigh to Durham.
Raleigh to Durham Train Time: Daily Departures
Trains run four times a day out of Raleigh traveling to Durham. Departures leave every few hours throughout the day, including both morning and night. The first train leaves at 6:30 a.m. and the final train departs at 5:30 p.m.. This schedule is maintained throughout every day of the week, which means a total of 28 trains run on a weekly basis headed to Durham.
How long is the journey by train from Raleigh to Durham?
When taking a train from Raleigh to Durham, expect the journey to last about half an hour. There is one train in the evening that runs slightly slower, but will still be delivering you to Durham in around 36min. A great bonus of this journey is that no transfer is required to reach the final destination, so you can sit back and relax the entire way to Durham.
What are the departure and arrival stations for trains from Raleigh to Durham?
Departure train station:Raleigh Union Station. This station is very close to the downtown area of Raleigh. In fact, the R-Line, which circulates around downtown Raleigh has a stop in front of the station. This line also stops at several key places in downtown, including the Convention Center and the State Capitol Building. Raleigh Union Station provides several amenities on top of the usual seated waiting area. This station also includes a ticket sales office, ATMs, restrooms, and vending machines, although there is no Wi=Fi available. Please note that boarding gates close five minutes before train departure time.
Arrival train station:Durham Station. This station is located near two universities in the the area. To travel to Duke University will take about 30min walking, 15-25min via public transportation and around 6min driving. There are three different bus lines available to the university that run every 30min. To reach North Carolina Central University will take 40min walking, 16-18min by public transportation and 7min by car. Amenities at this station include a ticket sales office, pay phones, restrooms and vending machines, though there are no ATMs or Wi-Fi.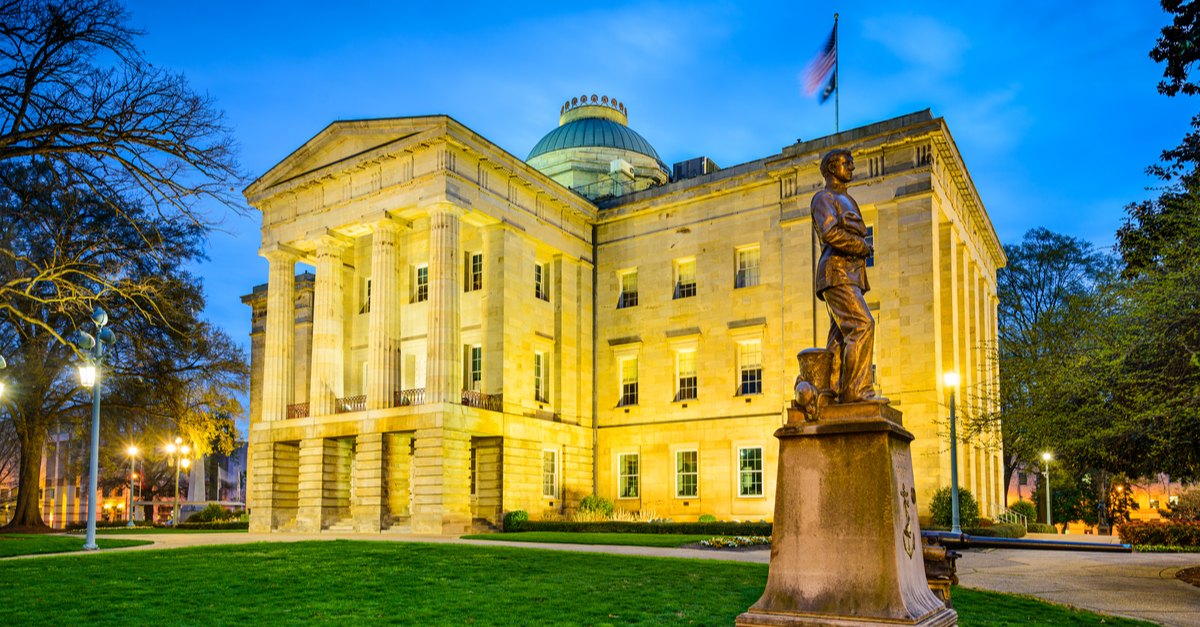 Raleigh Capitol. Source: Shutterstock
Which train companies travel from Raleigh to Durham?
Amtrack is the only company currently providing trains between Raleigh and Durham. When riding with Amtrack you will be traveling on long-distance locomotives equipped with cafe cars and WiFi. There are different options available when you select your tickets in terms of time to destination which can vary by train type and the train line. Depending on which train you select there may also be variations in availability of Business Class, as well as the ability to check baggage.
Amtrack trains from Raleigh to Durham
All trains trips provided by Amtrack between Raleigh and Durham are direct trains. The journey will take between 30-35min, though most trips are typically closer to 30min. There are no transfers required on this journey. There are two lines of Amtrack trains that run this route, the Californian runs from Charlotte all the way to New York and the Piedmont covers the route between Charlotte and Raleigh. They have varying amenities on board. If you are looking for specific amenities, make sure to check what is available on the train you book ahead of time.
Train Raleigh to Durham: Services on Board
When booking a train between Raleigh and Durham, if you are looking to travel Business Class, then book on the Californian Line as you'll receive reserved seating and complimentary non-alcoholic beverages. Other than that, Amtrack does offer Coach Class with reserved and unreserved seating. Both lines do offer a cafe car and have Wi-Fi available. In terms of luggage, each traveler may bring two personal items and two carry on items. Amtrack also allows for two checked bags for free, as well as two more with a reasonable fee per bag.
If you are traveling with pets, dogs and cats up to 20lbs (9 kg) (pet and carrier combined) are allowed on journeys up to seven hours long. The weight limit does not apply to service animals. If you are hoping to bring your bicycle, make sure to check the weight. Up to 50lbs (22 kg) are allowed for carry-on and a bike reservation must be made ahead of time. Bikes must be stored in designated bike racks. For travelers with disabilities, there are Accessible Seats with more room, for passengers who use a wheelchair, have a walker, a leg in a cast or a large service animal. Wheelchair spaces are also available where you can park a wheelchair, though there is no lockdown device.
How to find cheap train tickets from Raleigh to Durham
The best thing you can do to secure cheap train tickets is to book well in advance, particularly when traveling before holidays. Prices tend to spike when booking only a few days ahead of your trip. If possible, also try to be flexible with travel dates. Prices on the weekends or holidays are usually more expensive. If you can adjust travel plans to leave on a Thursday or return on a Monday, that could be a good way to save money.
Another way to save money is to shift your travel time. Avoiding peak travel times and booking early or late tickets can help you save bit. Also keep in mind that Durham is a college town and demand will vary more with big dates along the school schedule. Finally, if there are options for slower trains or trains with transfers, this will increase your travel time, but decrease your spending. Using these tips in conjunction or separately will help you save money on your journey from Raleigh to Durham.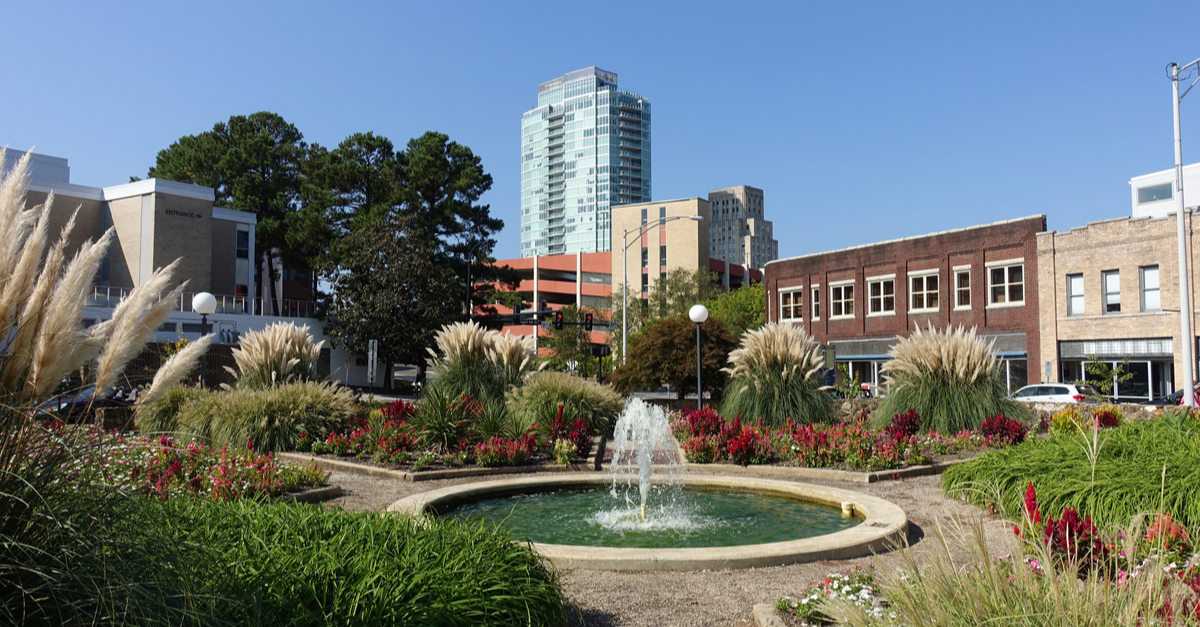 Durham Park View. Source: Shutterstock
To Durham by train — travel tips
Durham is a vibrant city known for its two universities as well as its booming eatery scene. When you're traveling to Durham, prepare for a good time. You can swing by Duke University to walk through the beautiful Sarah P. Duke gardens, or visit their lemur center to see these cuddly little creature up close. This town is packed with sports, from the Duke Blue Devils to the Durham Bulls, there's always a game to catch.
Or stop in at one of the museums in Durham, including the Nasher Museum of Art of the Museum of Life and Science. There is also a lot of history in this town, so you can stop by the Stagville State Historic Site to learn more about Stagville Plantation.
Since Durham is known for the food scene, stroll down streets lined with great, award-winning restaurants. You can grab a bite of soul food, southern cooking or even international fare and sit outside to enjoy the atmosphere of this hip and happening town.