Trains from Raleigh to Charlotte
Most trains that offer rides from Raleigh to Charlotte provide direct connections. The distance between Raleigh and Charlotte is 129 miles (208km). On average, trains take 3h 10min to get between the two cities. Trains are an efficient way of getting from Raleigh to Charlotte. This is because trains are relatively cheaper compared to other means. A train ride gets you in the middle of Charlotte so that you won't have to commute from the station to the city center. The sole provider of train rides from Raleigh to Charlotte is Amtrak.
Raleigh to Charlotte train time: Daily Departures.
There are about four daily trains that operate the Raleigh-Charlotte route. This means that, on average, travelers get 20 different options weekly to choose from. The number of train services provided daily may change depending on the day of the week and the season. The first train leaves Raleigh headed to Charlotte at around 10:30 a.m., while the last train leaves at around 9:30 p.m. Omio provides all provider schedules so that travelers can choose the most convenient schedule.
How long is the journey by train from Raleigh to Charlotte?
The average time for a train ride between Raleigh and Charlotte is 3h 10min. However, trains have different schedules, and some provide direct transfers while some have layovers. The fastest train takes 3h 10min. The 79 Carolinian 19 Crescent train is the slowest train on this route as it takes 9h on this route with a layover at Greensboro.
What are the departure and arrival train stations for trains from Raleigh to Charlotte?
Departure train station: Raleigh Union Station, trains depart Raleigh headed to Charlotte at Raleigh Union Station. It lies in the downtown area at 510 W Martin Street. It operates daily from 5:45 a.m. to 10:30 p.m. It is a walkable distance from downtown, but travelers can get bus, taxi, and train rides to the station. The station provides ATMs, vending machines, and a tickets sale office. There is also a waiting area for passengers to wait for rides. The facility is wheelchair accessible for reduced mobility travelers. Travelers can get checked baggage storage and shipping boxes at the station. Same-day-parking and overnight parking is available at the station.
Arrival train station:Charlotte station, trains arrive at Charlotte station that lies at 1914 North Tyron Street, northeast of the downtown area. It operates 24 hours daily. Travelers can get on bus lines 11, 15,16, 20, 22, 23, 46X, and 48X from the station to other areas of Charlotte. Light Rail 501 also provides rides from the station to other destinations. The station features ATMs, restrooms, Quik-Trak shops, restrooms, payphones, and vending machines. The facility is wheelchair-accessible for reduced mobility passengers. If you have luggage, there are checked baggage storage and services available. Drivers can access long-term and short-term parking options at the station.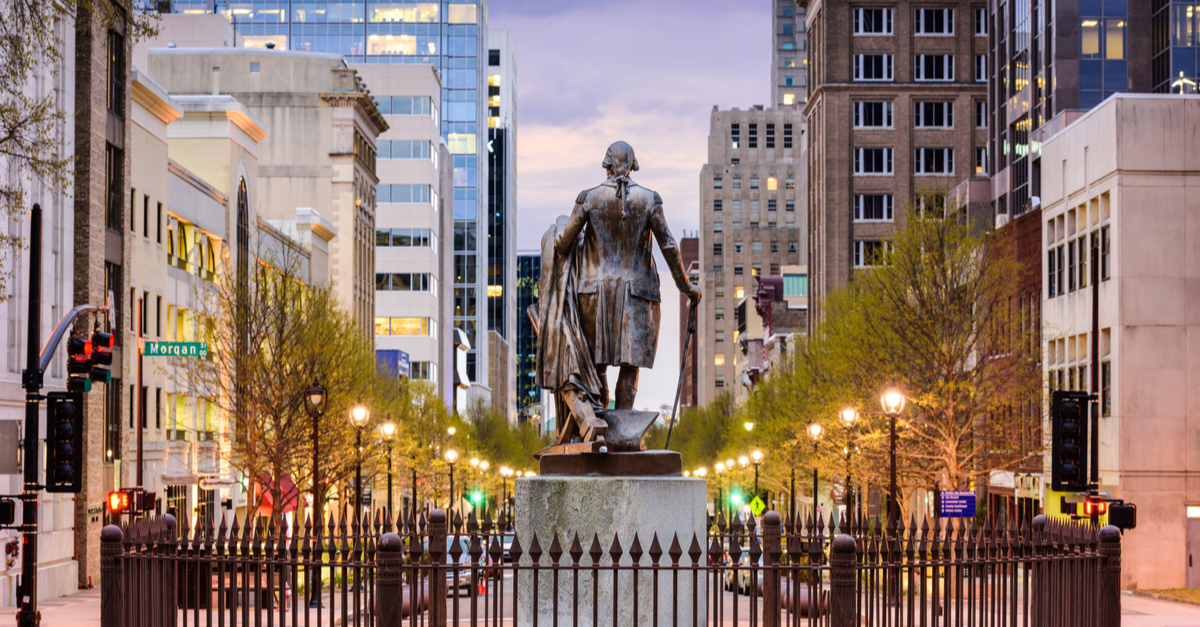 Manchester Flight. Source: Shutterstock
Which train companies travel from Raleigh to Charlotte
Amtrak operates all train rides from Raleigh to Charlotte. It provides the Piedmont/ Carolinian trains that operate the Raleigh- Charlotte route. These trains can operate at 80 mph (128km/h). Depending on the route these trains take, trains come with different facilities. Long route trains typically provide long-travel facilities like cabins that have beds.
Amtrak trains from Raleigh to Charlotte
Carolinian trains travel on the Carolinian route. Some Carolinian train lines provide direct connections, while some provide rides with layovers. The 75 Piedmont, 73 Piedmont, and the 79 Carolinian trains provide direct transfers between the two cities. 79 Carolinian 19 Crescent train provides the longest ride with one stop at Greensboro station taking about 9h to get from Raleigh to Charlotte.
Trains from Raleigh to Charlotte: Services on Board
Carolinian Amtrak train provides business class seating and regular class seating. Business-class passengers get reserved seating, pillows, digital newspapers, complimentary non-alcoholic beverages, and refundable tickets. Plus, they get an extra luggage allowance and priority boarding. Regular class-seating has wide comfortable reclining seats for passengers' comfort. Seating on the regular class is served on first come first-served basis. The trains provide a cafe where travelers can get light meals, snacks and drinks. There's a piedmont lounge car that provides a wide selection of drinks and snacks at reasonable prices. Travelers can also bring carry-on food on board.
Passengers can bring two carry-on pieces of luggage, excluding laptops, purses and strollers. Bags have to be under 50 lbs. (23kgs) and must be less than 28x12x14 inches. Passengers are limited to two checked baggs that are less than 50 pounds (23kg) each. Passengers with checked bags have to arrive at least 45min prior to the departure time. Small pets are allowed on board as long as they are older than eight weeks and confined in carriers. However, if the trip exceeds 9h pets will not be allowed onboard. Trains come with overhead storage racks and designated areas in train cars to store luggage. Passengers are not allowed to place luggage on seats. Trains are wheelchair enabled they come with wheelchair enabled restrooms and entrances. Limited-mobility passengers can also get extra assistance if they make prior arrangements with their carriers.
How to find cheap train tickets from Raleigh to Charlotte?
if you want to score cheaper tickets from Raleigh to Charlotte, consider booking in advance. Train providers often release tickets a few months before their scheduled dates. The earlier you book a ticket, the cheaper it can get. When getting cheaper train tickets from Raleigh to Charlotte, consider flexibility. If you are flexible with your dates you might score cheaper deals. A ticket may be cheaper three days before or after a scheduled date. Travelers can consider buying cheaper tickets during off-peak hours. During peak hours (6:00 a.m. to 10:00 a.m. and 4:00 p.m. to 8:00 p.m.), tickets tend to be more expensive than off-peak hours. Sometimes, trains with layovers can be cheaper than trains with direct journeys. Consider getting trains with layovers for cheaper alternatives.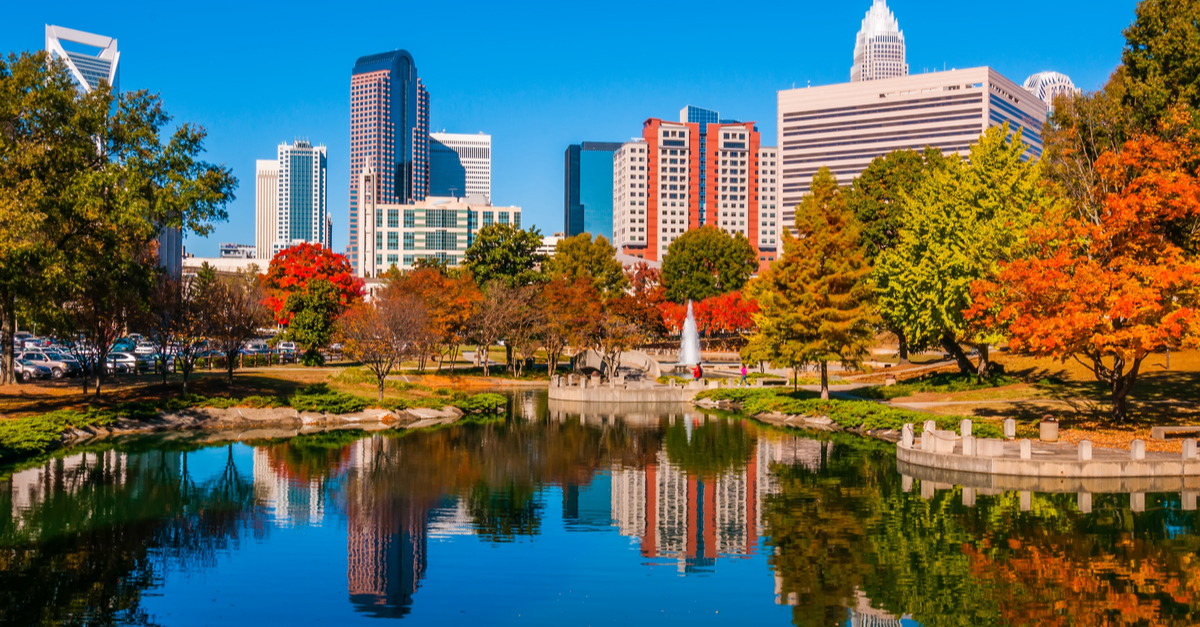 Manchester Flight. Source: Shutterstock
To Charlotte by train- travel tips
A train to Charlotte is an ideal way of getting between the two cities. The Carolinian route features scenic routes of the passing scenery. Charlotte is an ideal destination for any traveler as it blends urban amenities, outdoor attractions, excellent shopping, and top-notch cuisine. Art and culture lovers can visit the Billy Graham Library and soak in history through memorabilia exhibits and multimedia shows.
Discovery Place is an ever-changing museum that showcases interactive exhibits, IMAX theatre, and Explore More Life Lab that lets visitors participate in experiments. Carolinas Aviation Museum is an ideal destination for history and technology lovers as it showcases aircraft exhibits.
Nature and outdoor lovers will love visiting the Freedom Park that offers tennis, basketball, and volleyball courts. Families can catch a game at the park or enjoy strolling on the walking trails. There are picnic grounds and concession stands providing refreshments and meals.
If you are lucky, you might catch a concert or a live performance. Nature lovers will love exploring the Daniel Stowe Botanical Garden that features a five-story glasshouse with an orchid wall and a waterfall. It also features the Four Season Gardens and Cottage Gardens that feature plants and flower species. Thrill-seekers will love a tour to Paramount's Carowinds amusement park, which features roller coasters, water rides, stage shows, and the Boomerang Bay.
A ride on the 325-foot-tall coaster is an ideal treat for thrill-seekers. Sports lovers can catch a baseball game at the BB&T BallPark during their visit to Charlotte. Treat your taste buds to The Asbury's sticky biscuits and chicken sandwiches. Sea Level NC is popular for its three-course meals, while Noble Smoke provides top-notch prime beef briskets.