Trains from Oakland to Los Angeles
There are multiple journeys a day from Oakland to Los Angeles. Some of the trips are direct yet the option with mixed transit is more frequent throughout the day. The trip can take from approximately 8h 40min to about 12h 10min. There are currently six routes a day running on every day of the week and the departures are around every 1h to 2h.
Oakland to Los Angeles train time: Daily Departures
The trains and mixed routes from Oakland to Los Angeles run various times a day on every day of the week. The schedules are constant throughout the week. There are a total of 42 trains per week, with six trains a day. However, not all of the trains make the same route. There is one direct train per day, the Coast Starlight, departing at around 8.50 a.m. out of Oakland. As for the rest of the journeys, there are five routes a day with mixed transit. The San Joaquin train departs from Oakland and arrives in Bakersfield. From there, there is a connecting bus to Los Angeles. The first train for this route leaves Oakland at approximately 7.36 a.m.
How long is the journey by train from Oakland to Los Angeles?
There are two different types of train routes from Oakland to Los Angeles. The direct train on the Coast Starlight avoids making any changes, however this ride to Los Angeles takes about 12h 10min. As for the mixed train-bus route from Oakland to Los Angeles, even though it includes a stopover, the journey is faster. It takes around 8h 40min to get to Los Angeles including the stop in Bakersfield.
What are the departure and arrival stations for trains from Oakland to Los Angeles?
Departure train station: the trains for both routes depart from Jack London Square Station in Oakland. This station is just under a mile distance from the center of Oakland. The best way to get to and from the station is probably walking since there isn't any public transportation between them. The walk to Jack London Square Station is about 20min. The station has restrooms as well as vending machines and waiting rooms.
Arrival train station: the train routes from Oakland arrive in Los Angeles at Union Station. The station is located near the Chinatown district of Los Angeles. Downtown Los Angeles is quite a large area. However, to get to the center of Los Angeles from Union Station there are buses out front that can take you to your final destination. The City Hall Park Center in Los Angeles, for instance, is about 10min away depending on the infamous Los Angeles traffic. Union Station has a wide selection of dining options as well as other useful amenities such as gift shops.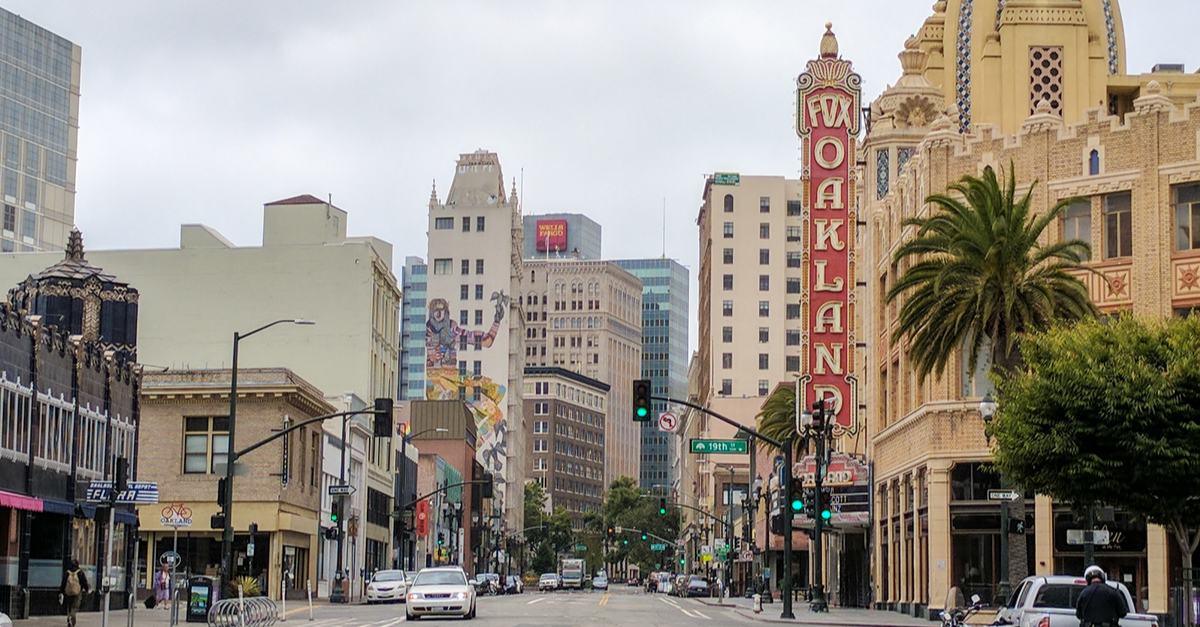 Oakland Downtown. Source: Shutterstock
Which train companies travel from Oakland to Los Angeles?
There is only one company operating the train route from Oakland to Los Angeles. However, this company, Amtrak, has two routes running the trip between the two cities. The Coast Starlight is the train going from Seattle, WA to Los Angeles, CA making a stop in Jack London Square Station in Oakland. The other Amtrak route is with the San Joaquin train. This train travels from Sacramento, CA to Bakersfield, CA. Nonetheless, Amtrak provides a connecting bus service from Bakersfield to Los Angeles. Even though this route has a stopover, it happens to be a faster option than the direct train on the Coast Starlight. The San Joaquin route takes just about 8h 40min to complete the journey as opposed to the 12h 10min on the Coast Starlight.
Amtrak trains from Oakland to Los Angeles
Amtrak offers two options to get from Oakland to Los Angeles. One of the options is the Coast Starlight. This train runs once a day every day of the week, departing from Oakland at around 8.50 a.m. It's a long-distance train coming from Seattle that arrives in Los Angeles at approximately 9.00 p.m., taking 12h 50min. As for the other option, Amtrak has the San Joaquin line. This train starts in Sacramento and passes through Oakland various times a day. This route runs more or less every two hours until the last one leaving Oakland at about 5.36 p.m. It makes a stop in Bakersfield, CA where you have to switch to an Amtrak Connecting Bus that completes the journey to Los Angeles. This entire route takes about 8h 40min.
Train Oakland to Los Angeles: Services on Board
Taking the train between Oakland and Los Angeles you'll have the option of traveling in either Coach or Business Class on the Coast Starlight train. As for the San Joaquin mixed service, the only option is coach class. Whether you travel on the Coast Starlight or the San Joaquin with its connecting bus, you'll have the same luggage allowance. Each passenger is allowed two carry-on items with two personal items onboard as well as two checked bags under 50 pounds each. Traveling with pets is not allowed on the San Joaquin line or its connecting buses. However, the Coast Starlight does allow one small pet weighing up to 25 pounds in a carrier. This pet carrier counts as one of your carry-on items. The San Joaquin routes allow bicycles as a carry-on on their trains, whereas for the Coast Starlight the bicycles must be checked trainside. As for their accessibility, both Amtrak options, including the connecting bus, have wheelchair ramps available for passengers with reduced mobility.
How to find cheap train tickets from Oakland to Los Angeles?
There are a couple techniques to make sure to always find affordable train deals. The main way to find cheaper tickets from Oakland to Los Angeles is by booking in advance. You'll find that last minute tickets tend to always be a little bit more expensive. In addition, if you are flexible with your dates you are most like to find an offer that suits your needs, especially avoiding traveling on holidays. If you can, choose the routes with a layover. In this case you can book one of the San Joaquin trains with the connecting bus in Bakersfield to get to Los Angeles. The direct trains are normally more expensive.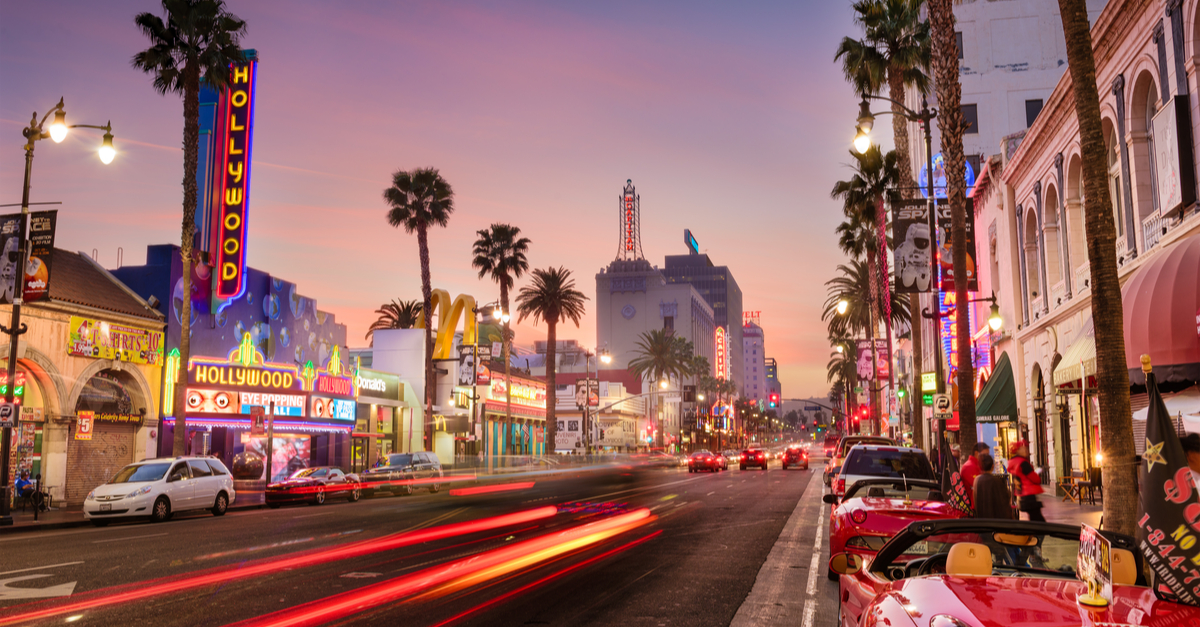 La City Lights. Source: Shutterstock
To Los Angeles by train—travel tips
Los Angeles in sunny California is a city known for its Hollywood film industry and giant sign on the hills as well as the hip Venice and Santa Monica beaches. During your visit to Los Angeles, there are many things you have to see. Take in the great views of the city from the Griffith Observatory. While you're in the area you may be able to catch a glimpse of the iconic Hollywood sign against the hills.
If you're in town with children, both Disneyland Park and Universal Studios Hollywood are nearby. Take a walk along the Santa Monica Pier to people watch and enjoy a bite to eat. If you're looking to enjoy the day and relax a little bit, The Huntington Library, Art Museum and Botanical Gardens are a great place to go.
As for a good place to enjoy some food and maybe some nightlife, make your way to Culver City where you'll find a wide variety of eateries, gastropubs and cocktail bars.