Trains in Sacramento to LA
California boasts of two iconic cities, Sacramento and Los Angeles. Moving from Sacramento to LA, which is about 362 miles (582 km), is more convenient when you use Amtrak train service. Amtrack has well-scheduled departures that will ensure that you reach your destination on time. Their train service is ever-busy, so you should book your tickets a few weeks earlier to avoid any inconvenience that comes with late bookings. Boarding a train from Sacramento to Los Angeles will make your experience and enjoy the wonderful California scenery that you can't see when flying or driving.
Booking your train ticket with Omio for Sacramento to LA
Traveling from Sacramento to LA is now easy, thanks to Omio. At Omio, our experts have put together the necessary information that will enable you to have a smooth trip from Sacramento to LA. Plus, we have partnered with the best train service companies that have the reputation of delivering excellent services. We intend to make your train travel the best with offers that aren't easy to come by. Booking your train ticket with Omio saves you all the trouble and hassle that you'll go through should you decide to book the ticket yourself. Leave the job for us, and you'll surely have an amazing experience as you traverse California with the best train service available.
Train companies in Sacramento to LA
Generally, there are two train companies that service the Sacramento to LA route. Out of the 37 trains that connect the two cities on a daily basis, Amtrak makes 35 trips making it the most reliable train company in this route. Amtrak provides two direct train rides while the rest of the trips are via connecting routes. Over the years, Amtrak has built a reputation for making consistent train trips, making it a favorite for many travelers. All you need to do is contact Omio in advance so that we can book your train ticket on time.
Popular international routes by train from Sacramento to LA
Other than the Sacramento to LA route, Omio serves a host of other routes, including international ones. One of the most popular international routes is London to Brussels. You'll actually be surprised to learn that this route is time-saving, and in addition to that, you get to play your part in saving the environment as opposed to an alternative scenario where you took a plane between the two cities. Some of the other international routes served by Omio include Paris to London and Rennes to Paris. In all these routes, you get to save time as there's no time wasted waiting in line at check-in, at security, as well as when you have to wait to pick up baggage.
When arriving by train in Sacramento to LA
Once you arrive in LA from Sacramento via train, you shouldn't expect a huge change in terms of culture since both cities are in the same state. The residents over there love their basketball, and most of the locals are either fans of the Los Angeles Clippers or Los Angeles Lakers. This is quite different since most Sacramento locals would rather support the Sacramento Kings. When it comes to the food, the culture is practically the same, and you should expect to see a good number of food trucks parked along the roads as well as a good number of restaurants serving a variety of cuisines from all over the world.
Train provider in Sacramento to LA
Amtrak is the main train provider in Sacramento, so you should expect to travel on an Amtrak train. They have several different types of train cars, each with specific functions. The train cars can either be one level (Viewliner) or two levels (Superliner) and could be combined or even taken apart depending on the needs of specific Amtrak routes. Amtrak serves a good number of routes in the United States, with the most popular ones being Acela, Adirondack, and Amtrak Cascades. The Acela route goes from Boston – New York City – Washington, D.C, while Adirondack goes from Montreal to New York City. Amtrak Cascades, on the other hand, goes from Vancouver – Seattle – Portland – Eugene.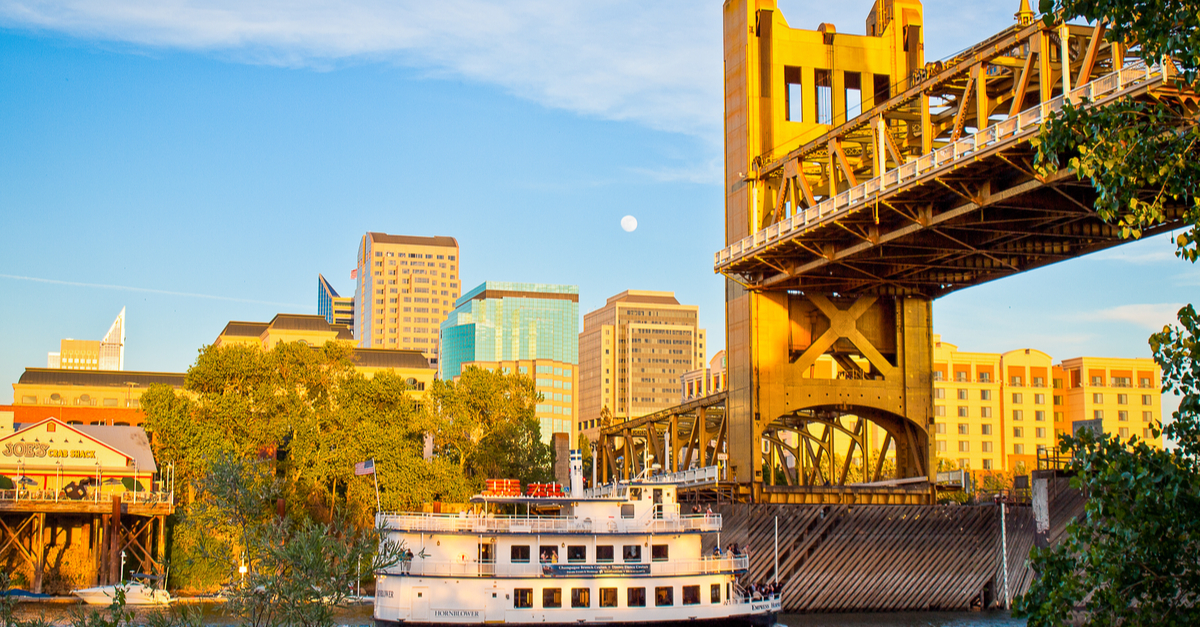 Sacramento Ferry. Source: Shutterstock
Main train stations in Sacramento to LA
When traveling from Sacramento to LA via train, you might come across a number of train stations before getting to your final destination. The main arrival station is usually Union Station in Los Angeles and is usually the last station on that route. It is located in downtown Los Angeles and is only a ten-minute walk from the Los Angeles city center. However, depending on exactly where you're going, you could alight at five other different stations that have amazing amenities such as ATMs, payphones, restrooms, and even ticket sales office.
Popular Journey in Sacramento to LA
Omio offers a range of journeys from Sacramento to other cities in the United States, with some of the most popular destinations being Bakersfield, Davis, and Modesto in California, Eugene in Oregon, and Seattle in Washington. The journey from Sacramento to Bakersfield is just under six hours. The journey to Modesto is shorter and therefore takes a shorter time of around three hours, and the price is $36. From Sacramento to Eugene, you'll take about 12h 30min and pay $70, while to Seattle, it will be just under twenty hours.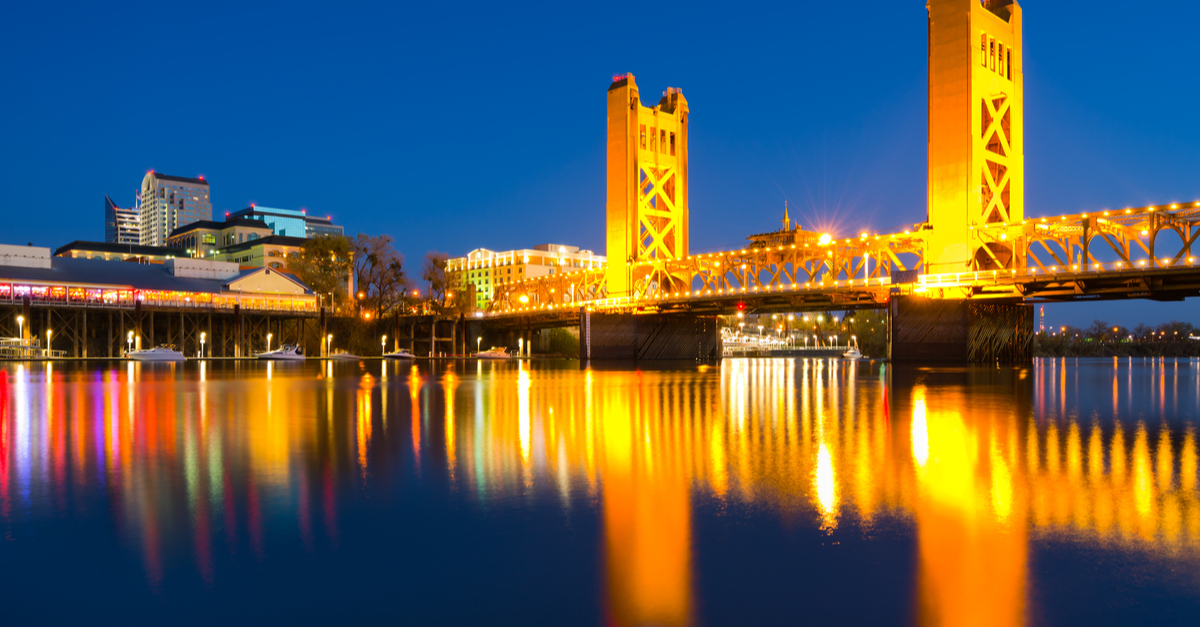 Sacramento Reflections. Source: Shutterstock
Popular train routes from Sacramento to LA
There are two main international train routes from Sacramento, both of which go to Canada. The first one is from Valley Station in Sacramento to Union Station in Toronto, while the other also goes from Valley Station but to Guildwood in Ontario.
Good to know
When traveling from Sacramento to Los Angeles via train, it is important to note that the journey could take a longer time than stated due to delays caused by stopovers at different stations. If you want to travel directly, Amtrak offers that option, and you can expect to save around two hours during the whole journey.
To LA by train – Travel Tips
Understandably, there are plenty of reasons to travel to Los Angeles. It is the city of Angels and boasts a host of attractions as well as activities to engage in that anyone visiting the city is guaranteed to enjoy. Some of the stand-out ones include Disneyland Park, where you will find different kinds of rides ranging from the easy, relaxed ones to the thrilling adrenaline pumping ones. Something else to look out for while in LA is the famous Hollywood sign.
It is quite conspicuous and easy to spot, especially at night when all the lights are beaming. If you enjoy sports, then there's something in it for you as well. The Staples Center is well known for hosting two of Los Angeles' biggest franchises; the Los Angeles Lakers and the Los Angeles Clippers. If that's not enough, or you would much rather attend a football game, then the SoFi Stadium is the place to be as they host both the LA Rams and LA Chargers, two of the biggest football teams in California.