Trains from New Carrollton to Washington DC
Trains from New Carrolton to Washington DC take about 16min, but the fastest trains take about 12min. The distance between the two cities is about 9 miles (15 km). About 12 trains depart New Carrolton, headed for Washington daily. Trains are ideal for travelers that wish to avoid traffic. Since these two cities have train stations at the city's heart, travelers won't need to worry about commuting from the station to the city centers. If you book a ticket with Omio, the website provides all the carrier trains within this route. With Omio, you can easily compare the journey fares and schedules so that you choose the most convenient carrier for you.
New Carrolton to Washington Train Time: Daily Departures
There are about 12 daily trains that provide rides between New Carrolton and Washington DC. Weekends have more rides, about 14 /16 trips, and this means that there are over 100 rides weekly for travelers to choose from. The earliest train departs New Carrolton at 12:00 a.m., and the last train departs at 9.00 p.m. During weekdays some trains depart New Carrolton to Washington as late as 11:30 p.m.
How long is the train journey from New Carrolton to Washington DC?
Since the distance between the two cities is short, all trains with this route are direct. The average train time takes about 16min. The slowest train on this route takes 20min, while the fastest takes about 13min.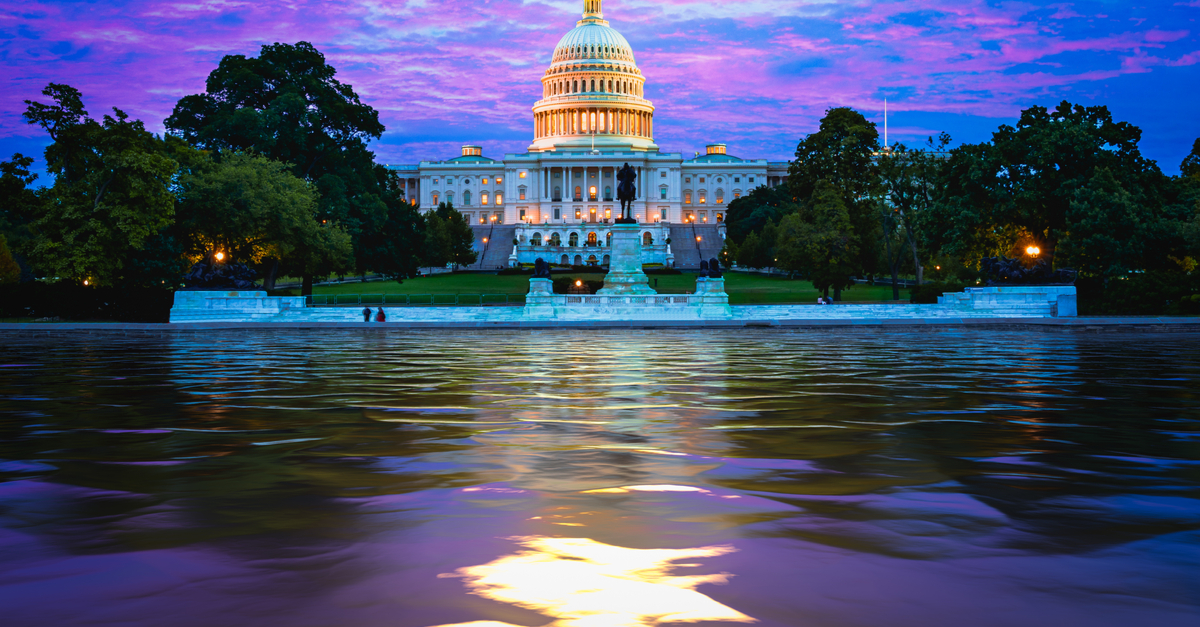 Washington DC Moon Reflections. Source: Shutterstock
What are the departure and arrival stations for trains from New Carrolton to Washington DC?
Departure train station: The departure train station is the New Carrolton Station. It serves Amtrak and MARC trains. Located at 3000 Garden City Drive, New Carrollton, it opens from 4:55 a.m. to 9.00 p.m. It provides ATMs, payphones, Quik-Trak Kiosks, and vending machines. It also features accessibility facilities for reduced mobility customers. Depending on where you are coming from, there are several ways of getting to the station. You can easily walk from the city center to the station. Bus lines F14, F4, F6, and T18, have stops at the station.
Arrival train station: The arrival train station for trains from New Carrolton to Washington Dc is the Union Station in Washington DC. It lies about 1.9 miles (3.05 km) from the Washington city center. Amenities available at the train station include payphones, restrooms, Quik-Trak kiosks, washrooms, and vending machines. The facility is wheelchair accessible. Metro red line, Fredericksburg line, Manassas line, and MARXC have stops at the station for travelers who wish to train. Bus lines 96, GT-US, and NMS also stop at the station.
Which train companies travel from New Carrolton to Washington DC?
Amtrak is the only train company that provides rides from New Carrolton to Washington Dc. It offers different types of trains which include Northeast Regional, Acela, and Vermonter trains. The Northeast Regional is the train with the most frequent rides within this route. No train has stops between New Carrolton and Washington Dc since the distance covered is short.
Amtrak from New Carrolton to Washington DC
Amtrak provides three types of trains from New Carrolton to Washington DC. They include Amtrak Acela, Amtrak Northeast Regional, and Amtrak Vermonter. Amtrak Acela provides high-speed rail services with a speed of 82mph. There is only one Acela trip on the new Carrolton Washington route. Amtrak Northeast Regional connects over 50 cities in the Northeast and Mid-Atlantic regions of the U.S., offering 11 daily tips that take about 15-20min to travel the route. Amtrak Vermonter provides one daily trip between Washington and New Carrollton. It connects St. Albans to New York and cities in between with great scenic views. It takes 14min to get from New Carrolton to Washington.
Washington DC Teenager. Source: Shutterstock
Trains from New Carrolton to Washington: Services on Board
Acela trains from New Carrolton have first-class seating with complementary foods and beverages onboard and lounge access in Washington. Seats are more spacious and offer tray tables alongside power charging outlets. Vermonter and Northeast Regional trains only provide business class seating and reserved seating options. Business-class seats are located in a dedicated section of the train. With reserved seating, travelers can access the best side of the rain, which offers views of the scenic ride. Amtrak also provides private rooms accommodation for travelers that seek privacy. T
ravelers are allowed to bring two carry-on items, personal items, and checked luggage. Carry-on items are supposed to be stored in overhead racks and under the travelers' seats but never on empty seats to avoid confrontation with staff and other travelers. Pets are also allowed on board, provided they are confined in carriers to be stored under the travelers' seats. Bikes are permitted on board at a fee, and they may be checked in a bicycle container charged per luggage. There are train-side bicycle services, while others provide designated spaces within the body of the car.
How to find cheap train tickets from New Carrolton to Washington?
When it comes to cheap tickets from trains from New Carrolton to Washington DC, we recommend booking in advance. When you book in advance, you will find great prices instead of buying tickets at the last minute. Consider booking three months in advance to get cheaper tickets. For commuter trains, consider purchasing off-peak tickets. Off-peak tickets are available during weekends. To get cheap train tickets, be flexible with the travel dates. This is because with a fixed travel date it is easy to miss a cheaper ticket. Also, travels should choose slower trains as they tend to be more affordable. High-speed trains are more often costly.
To Washington DC by train-travel tips
Washington DC is an ideal area for all types of travelers. It is a hub for sports, history, natural attractions, art, and cultural sites. History and art lovers will love a tour of the Capitol, which offers significant historical monuments and architecture from the 18th century. Lincoln Memorial features a 19-foot marble sculpture with murals, while the Lincoln Memorial offers guided historical tours. Outdoor enthusiasts will love the World War 2 Memorial, which hosts firework celebrations of the annual Independence Day and a few festivals.
National Gallery of Art offers decorative arts, sculptures, and paintings. It offers exhibitions of various works of art by major French impressionists like Degas and Monet. Nature lovers will love Jefferson Memorial, which offers all-around water with cherry trees that bloom with pink flowers each spring. The National Zoological Park is also ideal for nature lovers as it offers over 2000 different animal and plant species. It features the Amazonia exhibits where visitors can catch a glimpse of underwater life. The Bishop's Garden offers plants from the medieval period and plants mentioned in the Bible alongside a fish pond.
Families will love a picnic at the United States National Arboretum, which offers scenic gardens, paved walking paths, and picnic facilities. Thrill seeker will love a walk on the Swamp Trail at Theodore Roosevelt Island. The island offers a bridge with great city and island views. The tidal basin offers amazing scenery decorated with cherry blossom trees ideal for nature lovers.
If you are out to some shopping, the Eastern Market offers crafts for sale alongside fresh fruit and vegetables. Washington restaurants offer delicacies from all over the world. Muchas Gracias is known for Mexican Fare, while Anfre DC is popular for its signature seafood dishes. Treat your taste buds to Elle's carti di musica crackers with sun gold tomatoes, homemade burgers, and preserved cherries.