Trains from Lisbon to Coimbra B
On a typical day, you will find approximately 70 to 90 trains for this route that you can choose from. Every hour, there are between five and 10 trains that are serviced. The total number of transfers that are required will vary on your specific voyage, but travelers can expect their train to either be direct or require just one transfer. Journeys for this route often take anywhere from 1h 30min to 4h 5min, depending on if you have a transfer. The distance between these two cities is approximately 125 miles (202 km). When you arrive at your destination of Coimbra, you will find many interesting sights and monuments for you to explore, including the Biblioteca Joanina and the Chapel of São Miguel.
Lisbon to Coimbra B Train Time: Daily Departures
Per day, there are typically 70 to 90 trains that depart for Coimbra B from Lisbon. Per hour, travelers can choose from between five to 10 trains that go between these cities. The first train of the day will normally leave just after 6:30 a.m., with the last train of the day departing closer to 10:00 p.m.
How long is the journey by train from Lisbon to Coimbra B?
Whether or not you have a transfer during your voyage, in addition to how long your transfers is scheduled for, can impact the duration of your trip. In general, trains for this route last approximately 1h 30min to 4h 5min in total. There are quite a few nonstop trains that are available, but there are also many trains that require you to transfer one time before reaching your destination.
Lisboa Woman Yellow. Source: Shutterstock
What are stations for trains for this route?
Departure train station: Trains for this route will leave from either Oriente or Santa Apolonia stations. Oriente is placed approximately 5 miles (8 km) away from the city center. If you opt to drive here from downtown, it will take around 20min depending on traffic. Public transportation is also an option, like the small local Azambuja train, which takes around 6min. Santa Apolonia is around 1.9 miles (3 km) from the city's downtown. If you drive, the trip will take around 10min, while public transportation, such as bus line 734, takes around 20min. Each station has a sitting area, outlets, access to Wi-Fi, and public toilets. Make sure to arrive at whatever station you are leaving from at least 30min before your train departs.
Arrival train station: At the end of your trip, your train will arrive at Coimbra B station. This station is around 3.4 miles (5.5 km) away from the city center. If you need to go l to the city center from here, you can drive, which takes around 15min total. Public transportation cannot be used for this journey. The train station offers basic amenities, like public restrooms, sitting areas, and access to free Wi-Fi.
Which train companies travel between these two cities?
There is one transportation company that offers trains for this route and it is named Comboios De Portugal, otherwise known as CP. This company is one of the main travel companies in Portugal and it has journeys that go between numerous cities and regions. If you will be going between these cities with CP, you can find direct trains. Otherwise, you can have a single transfer during your trip. In addition to a transfer, your train will most likely make stops at other cities along the route before it goes to its final destination of Lisbon.
Night trains Lisbon
When going from Lisbon to Coimbra B, you can catch a night train. There are a few trains that leave in the early and late evening, and there are options until approximately 10:00 p.m. Fewer trains are normally offered per hour during night time than in comparison with the number of trains during daytime.
CP trains from Lisbon to Coimbra B
On a daily basis, CP offers around 70 to 90 trains from Lisbon to Coimbra B, meaning there are approximately five to 10 trains running each hour. The length of your trip with this company will normally be between 1h 30min to 4h 5min depending on if you need to transfer trains and how long your transfer is scheduled for. While there are quite a few daily direct trains to choose from, it is also common to have one transfer during your trip. Trains for this route will typically leave from Oriente or Santa Apolonia and arrive at Coimbra-B station. For journeys like this, CP usually services standard regional trains. The timetable normally is the same on weekends as it is during the week.
Trains from Lisbon to Coimbra B: Sustainability travel
Heading to your destination by train is a great way to travel sustainably, as it is more eco-friendly than other types of transportation, including driving or flying. If you decide to take a train from Lisbon to Coimbra B, you can travel in comfort while knowing that you are also making the best choice for the environment. Plus, it will still be a comfortable and quick trip.
Train Lisbon to Coimbra B: Services on Board
When you choose to travel with CP, you will have access to a selection of amenities that you can benefit from while on the train. Generally speaking, a majority of trips operated by this company have two different ticket classes to choose from, which are Second and First Class. Those that choose to upgrade to a First Class ticket, you will be able to access benefits like extra legroom, bigger seats, and a comfortable train coach that has plenty of room for you to put your luggage and keep your personal items.
It's important to note that CP allows each passenger to bring on board up to three pieces of luggage, as long as these pieces of luggage can fit in the baggage spaces. Passengers can also bring pets as well, but they need to be in a proper animal carrier. You may bring bikes on board and there are usually specific places to store them. CP always operates trains that have accessibility features for travelers with limited mobility or disabilities, and if you or someone traveling with you will need extra help with boarding or disembarking, employees can assist you.
How to find cheap train tickets from Lisbon to Coimbra B?
There are several different ways for you to find cheap train tickets from Lisbon to Coimbra B. For example, if you choose to book your ticket as early as possible, this will typically give you access to prices that are particularly affordable. If you are also flexible with the dates and times that you will be traveling, this will make it more likely that you can find cheap tickets, as you can then choose the most affordable ticket. Trains that have you transfer one time are normally less expensive than direct trains, so you can choose one of these journeys to save a bit of money during your trip.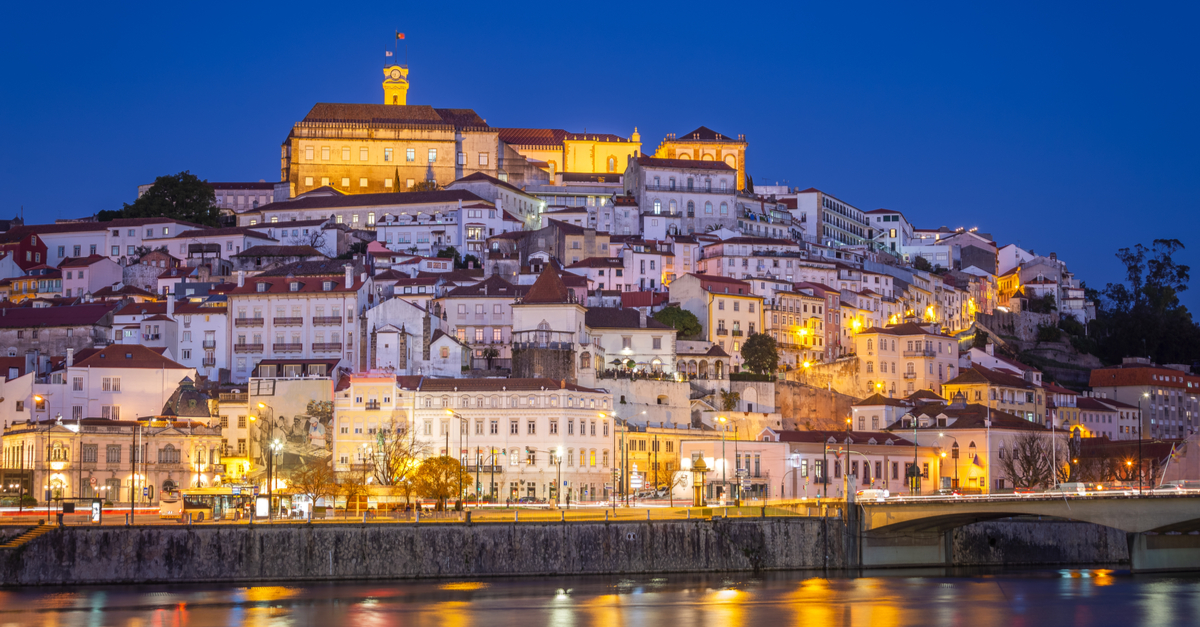 Coimbra Night. Source: Shutterstock
To Coimbra B by train—travel tips
Coimbra is known for having impressive architecture, a rich history, and yummy food that will make you want to come back for another visit. During your trip to this popular city, you will want to make time to visit a few of the most popular sights and monuments in the area, which may include beautiful cathedrals as well as impressive museums that feature some of the most interesting items you have ever seen.
Explore the Machado de Castro National Museum
Walk throughout the Monastery of Santa Cruz
Learn about the Old Cathedral of Coimbra
Stroll across the Pedro e Inês Bridge
Enjoy the views at the Penedo da Saudade