Trains from Faro to Lisbon
There are a number of options available to passengers who are looking to travel via train from Faro to Porta. Those who are researching the trip will find that there are roughly 110 weekly journey options—which is about 16 a day—that are scheduled for the 172 mile (277 km) route. The trip can be as quick as roughly around 3h 5min or as long as about 5h 35min, with transfers typically being the factor that most impacts the duration of the journey.
Faro to Lisbon train time: daily departures
The Faro to Lisbon train routes are available every day of the week, with roughly around 16 daily departures, totaling around 110 weekly options. Each day of the week—weekdays and weekends included—the first daily departure will leave Faro around 7:00 a.m. and the final daily departure will leave around 6:15 p.m. Usually, there are a few service options during the 7:00 a.m. and 8:00 a.m. hours, then there is a halt in service until the 1:00 p.m. hour, when there is at least one option each hour, with the exception of the 3:00 p.m. hour.
How long is the journey by train from Faro to Lisbon?
The length of time that it takes for trains from Faro to Lisbon to complete their journey will typically depend on the departure location, the arrivals location, and whether or not there is a transfer along the route. The quickest train journeys will usually take about 3h 5min; however, longer trips can run as long as about 5h 35min and can stop up to two times.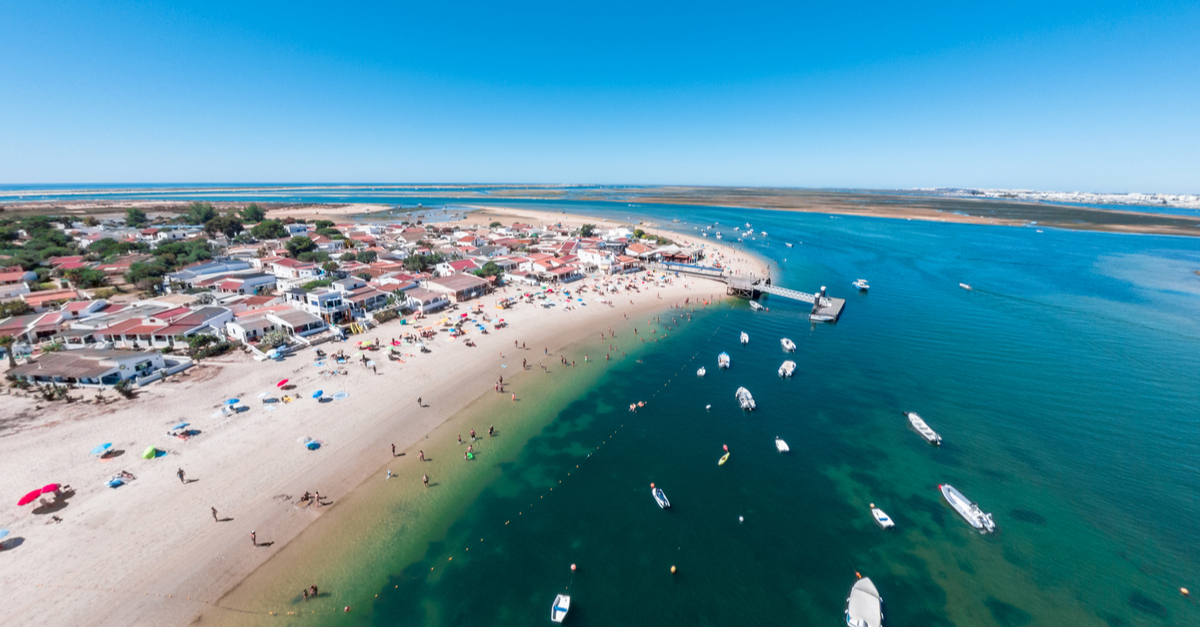 Faro Beach. Source: Shutterstock
What are the departure and arrival stations for trains from Faro to Lisbon?
Departure train station: A train to Lisbon from Faro will leave from either Faro station or Bom Joao station. To get to Faro station from the city center travelers can make the 0.6 mile (1 km) journey by foot in about 12min, or via taxi or rideshare in about 5min. Public transportation, such as the C5a bus operated by Próximo, can take about 4min. From the center of the city to Bom Joao is about 0.8 miles (1.3 km). This distance is walkable in about 16min; a taxi or rideshare takes about 4min, and the C2 bus can take about 4min. At both stations there are ticketing options and waiting areas.
Arrival train station: All Lisbon-bound trains will arrive at either Santa Apolonia or Oriente. The distance to the city center from Santa Apolonia is about 1.4 miles (3.4 km); it is walkable in around 30min. Alternatively, rideshares and taxis take about 5min, and the 734 bus operated by Carris can take about 1min. From Oriente to the center of the city is about 5.2 miles (8.3 km) and can be traveled via taxi or rideshare in roughly 10min. A bus will take about 12min, a train, like the RE 4440 operated by Comboios De Portugal, can take about 7min, and the subway, operated by Metro Lisboa, usually runs around 10min. At each station there are restrooms, ticket options and eateries.
Which train companies travel from Faro to Lisbon?
All of the options for a train from Faro to Lisbon are operated by a single train company, which is Comboios De Portugal. However, travelers will find that the company offers a variety of daily options for passengers looking to make the journey—including about 110 services each week. The routes are scheduled for the morning, afternoon and early evening, with some services operating directly and others operating with one or even two transfers. Transfers typically take place at an second train station in the departure city and/or at a second train station in the arrival city. What's more a number of train types, including the AP, IC and R will run the route.
Night trains from Faro?
There are no night options available to passengers who are looking into options for trains from Faro to Lisbon. The final service that is scheduled each day of the week will typically depart from a Faro train station around 6:15 p.m. and will arrive in the city of Lisbon sometime between 11:13 p.m. and 11:50 p.m.
Comboios De Portugal trains from Faro to Lisbon
To train Faro to Lisbon, passengers will find that Comboios De Portugal operates approximately 110 services every week, with roughly about 16 daily options—Mondays through Sundays. Each day, the train schedule starts around 7:00 a.m. and the final train will depart for Lisbon around 6:15 p.m. These routes can run anywhere from about 3h 5min, which includes direct options, to about 5h 35min, which includes options with one-to-two transfers. Along with transfers, train type also impacts the duration; Comboios De Portugal operates the IC, R and AP trains, among others.
Trains from Faro to Lisbon: Sustainability travel
Those who are looking to make their journey from the southern coast of Portugal to the central coast of the country will find that the northwestern journey can be sustainably and efficiently run via train. There are a range of train routes that are already scheduled each day for the trip, making the option an easy way to alleviate car travel. Better yet, direct service trains can operate the route in a time that is near comparable to vehicle travel. These trains further support sustainable travel by offering free transportation for bicycles and scooters.
Trains from Faro to Lisbon: Services on board
Some of the trains operated by Comboios De Portugal, such as the AP, will offer both a First Class / Comfort ticket class as well as a Second Class / Tourist option, whereas others train types will simply offer the latter ticket option. That said, all passengers will be allowed a personal bag as well as a single carry-on. Any additional luggage brought on board will incur a fee. There is no fee charged for bringing a bicycle on the train. Upon boarding, passengers are required to disassemble and stow their own bike. Similarly, pets can ride for free.
All pets must be appropriately crated for the journey. Guide dogs traveling in service of their owners do not need to be crated; this is one of several accommodations made for passengers with limited mobility. Other support measures may also be available, such as reduced price tickets for the traveler and his or her companion, as well as access to the train company's Integrated Mobility Service, which is abbreviated SIM. The SIM program provides support with travel equipment—like accessible ticket counters—as well as with accessing trains and areas within the stations.
How to find cheap train tickets from Faro to Lisbon
Passengers can impact the cost of their ticket for a train to Lisbon from Faro in a number of ways. For instance, the easiest way to ensure the best price is to purchase a ticket in advance of the travel date and time. Tickets purchased near or on the date of travel will likely be higher due to surge pricing. Additionally, travelers who have flexibility with their travel will want to look at booking a ride on a train that departs mid-week.
Or, if the day of the week if fixed, opting for off-peek departure hours may be more cost-savvy. If a traveler is booked on a train that offers multiple ticket classes, the Second Class / Tourist tickets will be priced more modestly than the First Class / Comfort tickets. Finally, those who are making the Faro to Lisbon train journey with young travelers may find that the youngsters can travel for a discount, or even for free.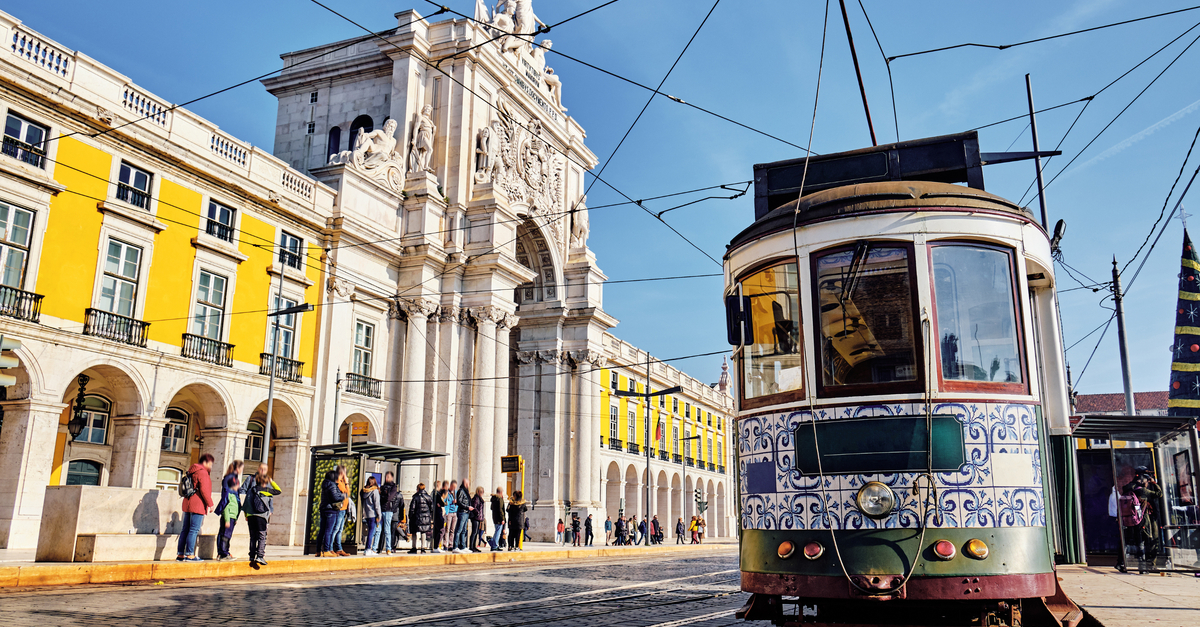 Lisboa Train Market. Source: Shutterstock
To Lisbon by train—travel tips
When preparing for any journey, all travelers are encouraged to visit Window Seat, which is the Omio digital travel magazine, for inspiration. And there is also much to inspire tourists in the Portuguese capital of Lisbon. Travelers will want to take some time to simply wander the streets and glimpse the impressive and extensive street art, which spans general graffiti to colossal works of art that cover entire sides of buildings.
For a spiritual experience, head over to Jerónimos Monastery, also known as Hieronymites Monastery, which is a 16th century gothic edifice that is listed as a UNESCO World Heritage site. While in the ocean-side city, take advantage of the plethora of seafood restaurants, five of which that should be on any traveler's shortlist include:
5 Oceanos
Marisqueira Azul - Praça do Comércio
Cervejaria Ribadouro
Ramiro
Frade dos Mares