Flights in Chicago to New York City
If you consider traveling from Chicago to New York City, there are several flight companies to choose from, including Delta, Jetblue, Spirit Airlines, United, and America Airlines. All these flights depart from Chicago O'Hare International Airport to John F. Kennedy Airport (JFK). Several flight types operate between Chicago and New York, including Boeing 737-800, Airbus A220-100, and Airbus A320-100/200. However, Delta Airlines is the leading company in the United States. Its flights depart from Midway International Airport (MDW) to O'Hare International and land in either JFK, Newark Liberty International Airport (EWR), and LaGuardia Airport (LGA). They operate between Boston and Washington, D.C.
Booking your flight ticket with Omio for Chicago to New York City
Thanks to Omio, booking your flight ticket from Chicago to New York City is easier than you imagined. At Omio, we make traveling easier and hassle-free for all our customers. We ensure that the process is fast, affordable and our customer service is efficient because we offer 18 different languages. This way, our customers never get confused due to the language barrier. We take care of you until you reach your destination. Whether you need a direct flight or need to make a stop, we offer the best flight booking services. Don't stress trying to book elsewhere because we got your back.
Flight companies in Chicago to New York City
Train companies that operate in Chicago to New York City include United, Envoy Air, Skywest Airlines, United, and Republic Airlines. These flights either travel non-stop or make a stop or two before arriving in New York City. If you need the fastest flights, you should choose either United or Southwest Airlines. Using Omio App, you can book a flight ticket quickly and efficiently. Again, using Omio, you can understand the flight companies more, including their offers, timetables, prices, and schedules so that you make the best decision. However, though there are several flight companies, Delta is the best and most reliable company to book your flight through Omio App.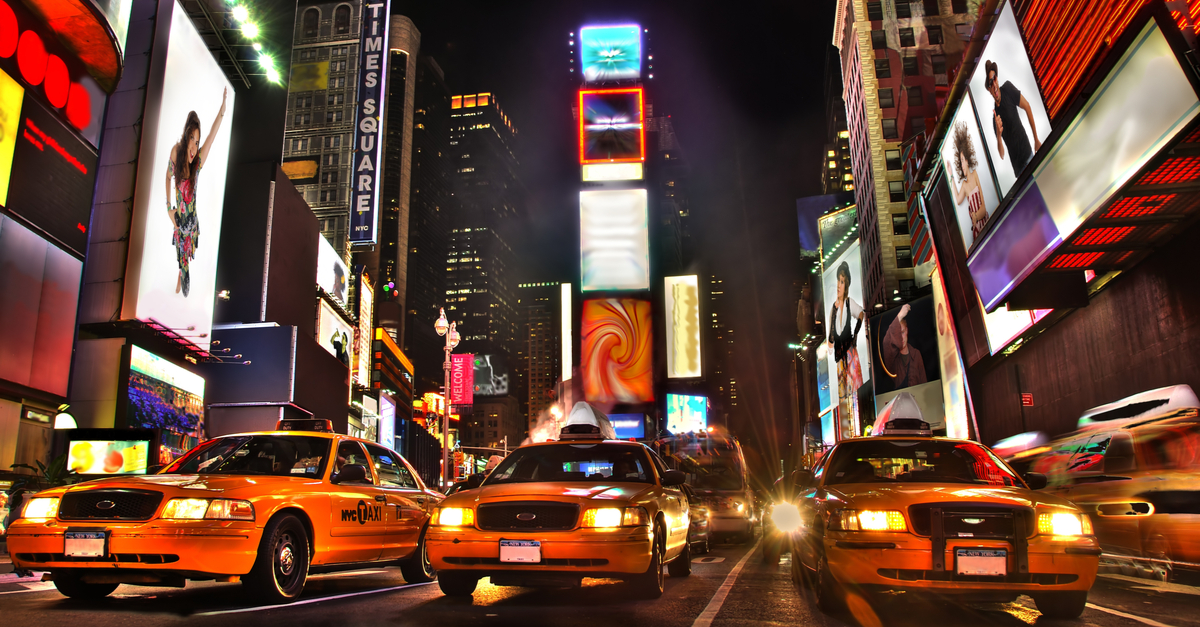 New York Cabs. Source: Shutterstock
Popular international routes by flight from Chicago to New York City
Apart from flights from Chicago to New York City, Delta also offers international flights. The most popular international routes are London to Paris. Using a plane to travel from Chicago to other countries saves you time and gives you a comfortable lifestyle. The atmosphere in the air is soothing, and you don't experience traffic like those traveling by road. Booking your international flight ticket using Omio makes the entire process easy. After purchasing the ticket, we send you the ticket directly to your phone. Other popular international flights include Brussels to Paris and Edinburgh to London, which is affordable and reliable if you use Omio App.
When arriving by flight in Chicago to New York City
Once you arrive by flight to New York City, you see lots of differences compared to Chicago. New York City is denser, and the streets have lots of people. This city is also ethnically diverse. You can access various foods, including pizza, cheesecake, and egg cream, from several restaurants and fast foods. You'll also learn to carry cash to buy snacks and drinks to avoid the high ATM fees. Here, the culture is more diverse, and you notice various cultures, including Harlem Renaissance, salsa, freestyle, and jazz. Some of these cultures are practiced in the streets. Though, some cultural movements take place in a disco.
Flight provider in Chicago to New York City
Popular flight providers include Delta, Envoy Air, Spirit Airlines, Skywest Airlines, and American Airlines. These providers work with Omio to provide efficient services to the customers. Some flights travel non-stop from Chicago to New York City. Other flights land in connecting airports in Boston and Washington if they need to make stops. The flights have economy and business classes where you can book depending on your budget. They serve several routes, including Boston, Philadelphia, Washington, Nashville, and Michigan. One of the common routes includes Chicago – Manhattan -New York City, and most of the routes are connected by several airports stops between Chicago and New York City.
Main airports in Chicago to New York City
When traveling from Chicago, you depart from two main airports in Chicago: O'Hare International Airport – 10000 W O'Hare Ave, Chicago, IL, 60666, USA and Midway International Airport – 5700 S Cicero Ave, Chicago, IL 60638, USA. The final destination in New York City is either John F. Kennedy International Airport – Queens, NY 11430, USA, Stewart International Airport (SWF) – 1180 1st ST, New Windsor, NY 12553, USA, and Newark Liberty (EWR) – 3 Brewster Rd, Newark, NJ 07114, USA. The primary mode of public transport connecting Chicago City to the airport are local buses, shuttle buses, and the CTA rail system. Chicago City airports' main features and amenities are an on-site hotel, aeroponic garden, mother's room, restroom, showers, and yoga room.
Popular Journey in Chicago to New York City
Traveling has become easier because Omio covers several routes of flight from Chicago to New York City. With different airlines, you can take a direct flight and travel faster. The indirect flights make stops either in Boston or Washington D.C. or both. The direct flight is under two hours, and the ticket costs $84. However, the entire flight journey takes 6h 48min, and the charges are $97. The time from Chicago to Boston is 3h 44min and the time from Boston to Washington D.C. is 3h 11min and the time from Washington D.C to New York City is 2h 55min.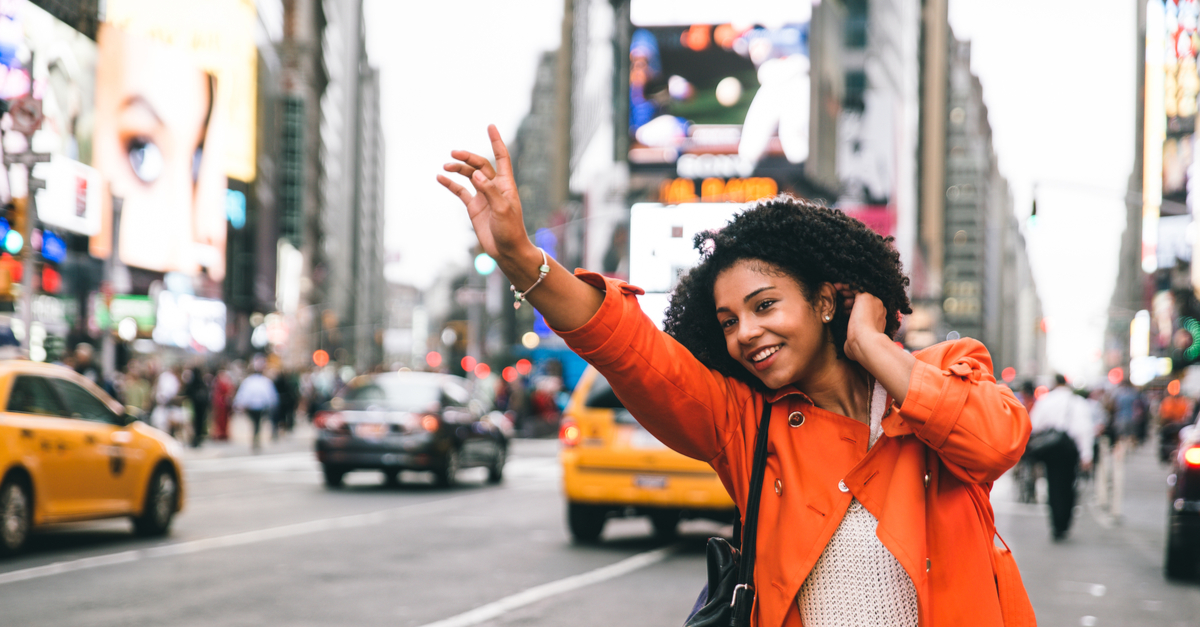 New Yorker. Source: Shutterstock
Popular flight routes from Chicago to New York City
The popular flight routes from Chicago go to London and Paris. These flights land in Heathrow Airport in London and Charles de Gaulle Airport (CDG), Beauvais, or Orly airports in Paris.
Good to know
Traveling by flight is more comfortable and quicker than traveling by train or road. You aren't as tired when you reach your destination. However, you can't enjoy particular scenic views that you enjoy when traveling by road or train. If you need the best flight, Delta has the best options for you. The plane also has the best amenities to enjoy throughout the journey, including drinks and food.
To New York City by flight – travel tips
New York City is an ideal place to visit if you need an unforgettable experience. After taking a flight from Chicago to New York City, you can never be bored. There are five boroughs that you can enjoy watching their richness. They include the Bronx Zoo, New York Botanical Garden, Red Hook, Greenpoint, and Williamsburg neighborhoods in Brooklyn. You can also learn more about New York city culture by visiting the Museum of Modern Art and the Metropolitan Museum of Art, and the American Museum of Natural History to see the blue whale and other animals.
To watch the skyscrapers, you can walk down Manhattan street and view the Chrysler Building, Empire State Building and understand more about the city's vastness. If you get hungry, you have about 23,000 restaurants from where you can eat. You can also enjoy eating food from old-school recipes that have a unique taste. Some of the best foods are found in Dominique Ansel and Katz's Delicatessen. Also, if you are into Jewish foods, you can never run out of options.
After a long day, you can get entertained by listening to live music at night in various venues, including the Beacon Theater, Webster Hall, Madison Square Garden, and Irving Plaza. In New York City, you can never be bored as you watch Times Square. The neon lights and changing pictures will want your eyes to keep glued on them. As if that isn't enough, you can visit the central park and enjoy the breeze from thousands of trees, go to the zoo, and see the lakes. If you love skating and playing hockey, you can visit Prospect Park's LeFrak Center and Central Park's Wollman Rink.