Bus from Naples to Milan
There are frequent buses services from Naples to Milan daily, with about 12 journeys per day. The journey lasts an average of 11h 14min, although the fastest speed train will get you there in about 1h 10min. Of the 12 buses that head to Milan from Naples every day, 10 are direct connections, so passengers can easily avoid journeys that involve changes along the way and take about 12h 15min to complete the trip. Buses pick up passengers at the Napoli central station and drop them off at San Donato in Milan.
Naples to Milan Bus Time: Daily Departures
Normally, 12 buses ply the Naples_Milan route a day, on a journey that lasts an average of 11h 12min, although a direct bus will commute between the two destinations in about 10h 20min. Connections that entail changes during the trip are the slowest and may arrive in Milan after 12h 15min. On the flipside, such buses come with cheaper tickets and come in handy for travelers on a budget and want to make some savings. It's critical to note that bus schedules and travel times can change, especially on specific travel days, holidays and weekends.
How long is the journey by bus from Naples to Milan?
A Naples to Milan bus has an average travel time of around 11h 14min to complete the distance between these popular Italian metropolises. However, a direct connection takes a shorter duration to commute from Naples to Milan. The travel time is longer if you make a connection that involves changes during the trip. You can leave Naples with the earliest bus that leaves the central station at about 5:00 a.m., but if you prefer an evening ride, wait for the last service of the day that departs at approximately 8:00 p.m.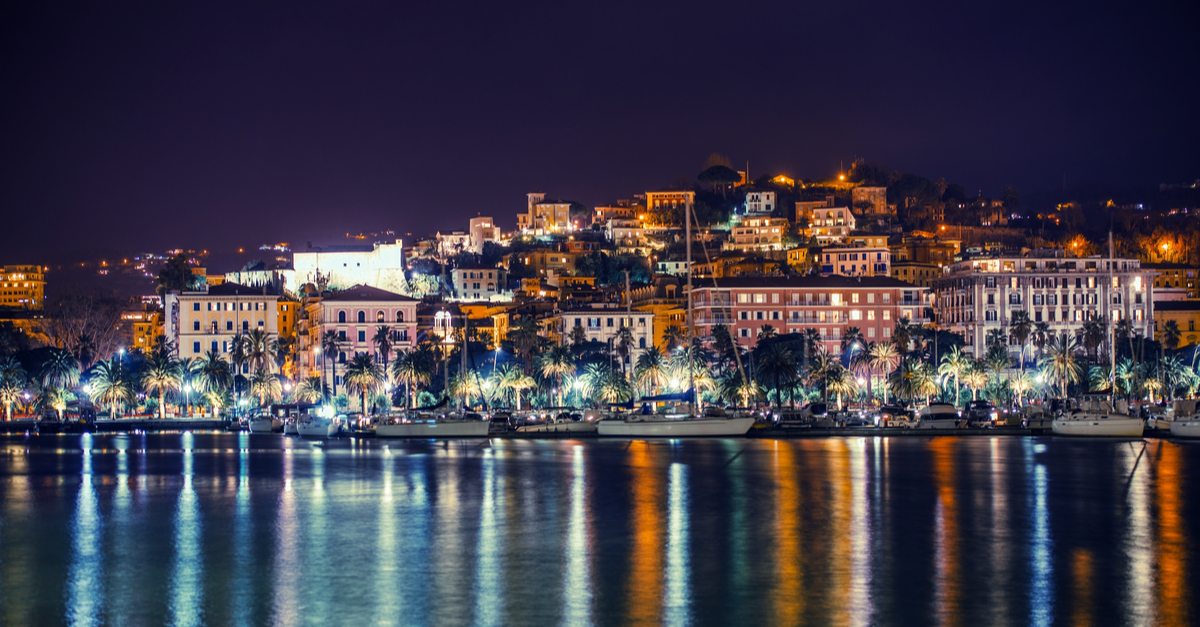 Laspezia Marina Night. Source: Shutterstock
What is/are the departure and arrival stations for bus from Naples to Milan?
Departure bus station: The Metropark bus station is the most popular departure station, with operators such as BlaBlaCar Bus servicing this route. The terminal lies about 1mi (1.6km) from Naples city center and is easily reachable by bus or underground train service. Some of the nearby amenities around this terminal include ticket offices, shops, waiting areas, and refreshment points. Still, the station is connected by taxis, rental cars, Alibus bus service or the S3 line.
Arrival bus station:Passengers arriving in Milan from Naples drop off at the San Donato Bus Terminal, which is well linked to the city center by a public bus network and the red, yellow, and green underground lines. You can also take a taxi to the city center. Major services at this terminal include ticket offices where you can buy tickets before getting on the bus and the waiting areas.
Which bus companies travel from Naples to Milan?
BlaBlaCar Bus offers most transportation services between Naples and Milan. Usually, about 12 coaches commute this route daily, with the journey lasting around 11h 14min. You can also opt, board, and direct connection will get you to Milan after 10h 20min. Those who don't mind taking more hours on the road but spend less, slower coaches are there for your convenience, taking about 12h 15min to cover the journey due to multiple changes between Naples and Milan. Normally, the first bus departs Naples Central Station at about 5:00 a.m., while the last service is at 7:00 p.m.
BlaBlaCar Bus from Naples to Milan
BlaBlaCar Bus is the most popular operator from Naples to Milan, with 12 buses leaving Naples central station per day. Of the 12 buses, 10 are direct connections that make it to Milan in less time. Averagely, the bus takes approximately 11h 14min to cover this trip. Connections that entail multiple transfers during the journey are slower, thus taking more time to reach Milan. These slower connections offer cheaper tickets. Passengers should expect a variance in the schedule and travel times along this route on weekends and holidays.
Traveling by bus is a sustainable journey
A bus as a means of transportation in most European destinations is a sure way of ensuring sustainable travel. They consume significantly less fuel, thereby helping in the reduction of carbon footprint and conservation of energy. Thus, you need to park your private car aside and hop onto the next bus that has fewer vehicle miles of travel, hence emissions.
Bus Naples to Milan: Services on Board
All BlaBlaCar Bus coaches offer standard amenities such as adjustable seating and great legroom, toilets onboard, personal air conditioning systems, charging sockets for your electronic devices, plus some buses offer free Wi_Fi. The operator allows passengers to bring two hand luggage aboard each bus free of charge, plus any luggage that can fit above or below your seat.
Further, you're entitled to one piece of luggage to be kept in the hold. The company can handle travelers with limited mobility and are in wheelchairs.
However, it's helpful to notify the need to enjoy this facility, and they'll arrange for you a slot where the wheelchair can fit. While you may not bring onboard standard full bikes, it must be foldable. For the other bicycle, ensure that you acquire a ticket before it goes to the hold. Pets are not allowed, but the visually impaired can bring guide dogs provided they demonstrate why they need their companionship throughout the trip. If you lose your luggage, report to the management, and they'll work diligently to recover your luggage.
How to find cheap bus tickets from Naples to Milan?
As a frequent traveler, you should devise ways of securing cheaper tickets, particularly on the Naples_Milan route. Top on the list is always to make early reservations when planning to travel from Naples to Milan. You can book your ticket 7 days before your intended departure. Secondly, plan to book slower buses that involve numerous changes along the way. although this service takes more time to complete the trip, you're sure a cheaper ticket helps you cut some costs and spend that money on other items. Spending more time on transit between Milan and Naples lets you experience fantastic attractions between these two cities. Lastly, plan to travel outside peak hours when the demand for tickets is low, and the fee is low as well. Read a travel magazine to get more information.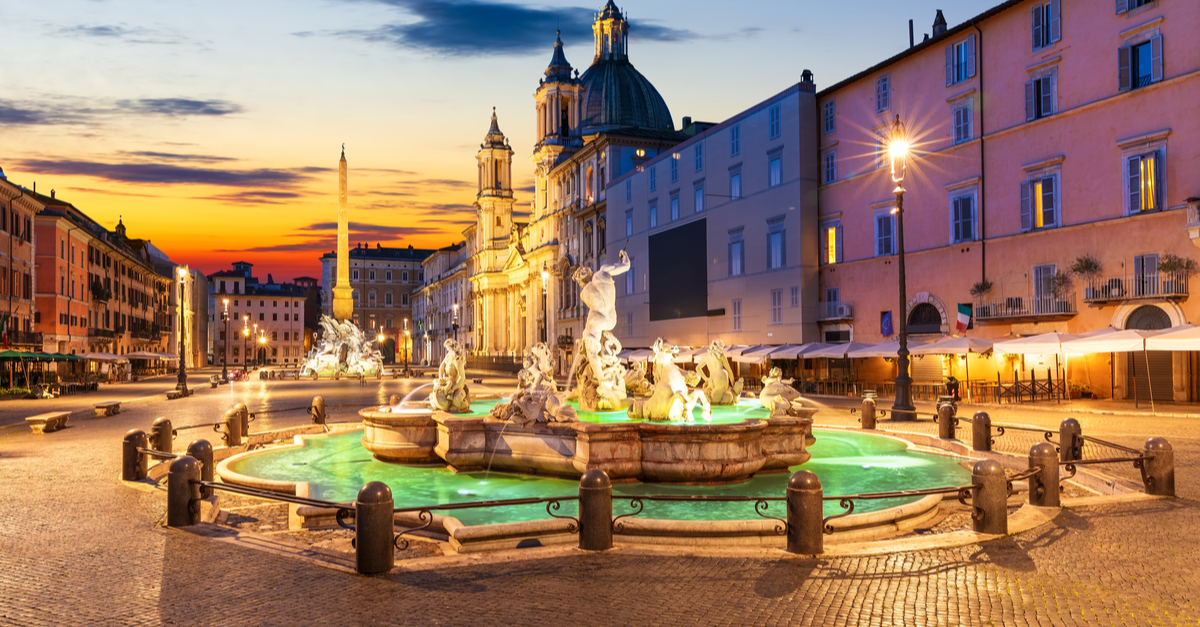 Rome Navona Lights. Source: Shutterstock
To Milan by bus—travel tips
Besides its history, influential past, and rich cultural heritage, Milan has its fair share of lovely attractions. To understand the area's religious background, visit the Milan Cathedral and join other faithful to nourish your spirituality. Famous as one of the world's largest and most elegant churches, this sanctuary also features a jeweled gold reliquary of San Carlo Borromeo. A stop at the Galleria Vittorio Emanuele II lets you marvel at the splendor of Italian architecture. Wander around this vibrant and beautiful place and browse its luxury shops or grab a cup of coffee in its elegant cafés. The Archaeological Museum of Milan is a must_visit if you want to delve into the regions history. It houses numerous artifacts including silver plate, jewelry, utensils and several mosaics. Other attractions at this destination include:
Pinacoteca di Brera
Castello Sforzesco
Opera at Teatro alla Scala
Naviglio
Leonardo da Vinci National Museum of Science and Technology